Daniel Boulud: This chef rocks with Jay-Z and P Diddy
SPOT.ph chats with outstanding restaurateur Chef Daniel Boulud as he gets ready to show off versatility in his new show "One Night in Singapore" and shares that he listens to Jay-Z and wants to battle it out with Mario Battali on the Iron Chef.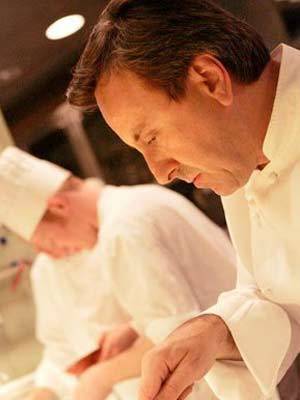 Daniel Boulud is deceiving. At first glance, watching him on television, he comes off as shy or even aloof. A guy like him would never be caught listening to rock or rap music. Bourdain? Sure. Boulud? No, right?
Except that he does. While talking about his upcoming special on the Asian Food Channel (AFC), Daniel Boulud: One Night in Singapore, he shares with SPOT.ph his thoughts on his new restaurant, DBGB, what he listens to both in and out of the kitchen, the intricacies of organizing those fascinating dinners on his show After Hours, and the chef he'd want to challenge on Iron Chef.
A unique part of your menu for the upcoming special, One Night in Singapore, is the creation of separate menus for the men and women. What was your reason for this?
Well, it was a chance to show off some versatility and to do something that really has not been done before. If you come to New York, [to] Daniel, the ladies and gentlemen do have different dishes but the dishes are always compatible, so if you want to taste each other's dish, you can. Also, in Asia, the culture of sharing is very vivid. So, I think it wasn't awkward at all to do it.
ADVERTISEMENT - CONTINUE READING BELOW
Your new restaurant, DBGB, offers more affordable dishes compared to your other restaurants. Is this part of an overall strategy on your part?
Yes it was, even before the economic crisis hit. The restaurant was programmed two and a half   years before, when things were going strong. I wanted to create something that would be a step down from Bar Boulud (his Midtown Manhattan restaurant).   I was also going downtown (with DBGB) and I needed a restaurant that would be right for downtown but, at the same time, also right for me going downtown. The menu offerings and the price point was very important for me to be able to offer both value and quality.
CONTINUE READING BELOW
Recommended Videos
In an interview with Amy Barrett of the New York Times, you said that you listen to hard rock and rap in your car. What do you listen to now?
Bands? Ah, well Talking Heads is always nice, you know, especially at DBGB because David Byrne (of the Talking Heads) has played before at DBGB. We play a lot of Talking Heads and in my car, too. I like classic, old rock and roll, and rap music.
Chef Daniel Boulud on P Diddy and Jay-Z's dining habits.
Who do you listen to now in terms of rap artists?
Ah, I listen to a lot of Jay-Z now. Especially when he collaborates with other artists. I think that's very cool. He comes to the restaurant, Daniel, quite often.
Do you play music in the kitchen?
ADVERTISEMENT - CONTINUE READING BELOW
Yes, but only during preparation, in the morning. At around 4 p.m., or an hour and a half before service, we stop the music and start to put the pressure on ourselves. But we always play music in our kitchen, since we do spend a lot of time there and it's nice to feel that the environment is not too strict or depressing. However, it also cannot be everyone playing their own music because it can become a mess! So it's the chef who chooses the music.
Would you ever consider appearing on Iron Chef?
Well, the producer (of Iron Chef) asked me yesterday if I wanted to do an episode. I told him that I've been doing Iron Chef in New York for the past 25 years! I don't know if I want to go on TV for that.
Let's say you did decide to do one. Who would you want to go up against?
I don't know. I would love to do Mario (Battali) because Italian and French still have a rivalry there. Like Thai and Vietnamese!   (Laughs)
Chef Daniel Boulud on After Hours

After Hours is a very popular show on AFC. How difficult is it to get all those people together?
Well, we do have someone who scouts out the place. But when I do go to another chef's restaurant, I give them the priority to choose who to invite, whether fellow chefs in their own hometown, or perhaps a popular customer, like a musician, artist, or actor or athlete and which food critic. After he makes his choices, we discuss and come to an agreement. I let the chef choose the critic so that I don't make the mistake of inviting a critic who was not good to the chef!
ADVERTISEMENT - CONTINUE READING BELOW
Daniel Boulud: One Night in Singapore will air on Tuesday, October 6 at 9 p.m. on the Asian Food Channel (Sky Cable Channel 58).
Images from asianfoodchannel.com.

Share this story with your friends!
---
Help us make Spot.ph better!
Take the short survey
Load More Stories