10 Things about Nigella Lawson
Writer and TV show host Nigella Lawson is back with a new TV show, "Forever Summer" on the Asian Food Channel. Learn more about the domestic goddess who puts glamour back to the kitchen and WIN a Nigella Express cookbook and a set of exclusive Asian Food Channel collectables.
Nigella Lawson, TV show host and writer, shares her favorite warm-weather recipes on the upcoming show Forever Summer with Nigella on the Asian Food Channel.   SPOT.ph rounded up fast facts about the gorgeous food writer:
1.       Nigella is smitten by British food writer and journalist Nigel Slater.
"I love his food, his writing, him," writes the equally popular food writer Nigella Lawson in her blog. "I am so wonderfully, greedily inspired by Tender, the book that chronicles his own love for the vegetables he grows, picks and cooks.   This is not a vegetarian book by any means--I am mad for a man who can write a recipe entitled 'Broad beans, herbs, bacon and its fat'."
Nigella prepares Roast Poussin and Sweet Potatoes.
2. Nigella loves her roast chicken.
You may often see her whipping up some complicated recipe that always looks effortless in her TV shows, but Nigella has a soft spot for roast chicken. "It's a family joke that if I'm in the kitchen when I answer the phone and I'm asked what I'm cooking, the answer is always 'roast chicken,' " she shares.
"Personally, I don't see what is so funny. A roast chicken is never wrong, and a fridge without some cold chicken in it could not be allowed to exist in any home of mine."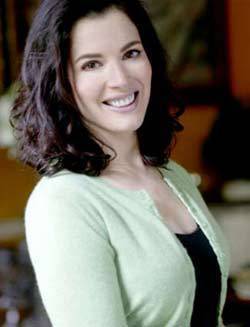 3. Nigella is neither a trained cook nor chef.
ADVERTISEMENT - CONTINUE READING BELOW
Nigella Lawson's popular cooking shows and books belie the fact the she has never been formally trained as a cook or as a chef.   It is her relaxed approach to cooking, attractive presentation of food and her subtle flirtation onscreen which makes her TV shows, like Nigella Bites, a feast for the senses.
4. Nigella does not have a naughty kitchen secret.
Nigella revealed in an interview with a news channel, she insists that she does not have kitchen secrets. "The only thing that I'm ashamed of is that my children do sometimes have microwaveable meals," she said.
CONTINUE READING BELOW
Recommended Videos
5. She likes eating in bed.
"I nearly always eat in bed," she revealed in a news channel interview. "My blankets are splotched with soy sauce."
6. Her mother wanted to name her 'Gondola.'
Her maternal grandmother loved gardening and named her after a flower called Nigella, which means 'love-in the-mist.'
7. Nigella moved around a lot when she was child.
From the age of nine years old until she turned 18, she moved five times. "I just wasn't good with authority," she told a news channel.
8. Writer Anna del Conte is her mentor.
"Anyone who cooks should have Anna's books," Nigella told The Guardian. "She is, I'm telling you, the best writer on Italian food there is.
Her recipes are part of my life and my own cooking history. Some of them have been evangelically reprinted in a couple of my books, and there are so many more that are an intrinsic part of my repertoire."
ADVERTISEMENT - CONTINUE READING BELOW
9. Nigella thinks her sex symbol status is not all about her curves.
"What is appealing to men is that mixture of love and mother, someone who will cook and care for you," she told Times Online of her sex symbol status.
10. Nigella has branched out into designing kitchen items.
Collaborating with designer Sebastian Conran, Nigella Lawson's Living Kitchen was launched in 2002 and has expanded to include more useful kitchenware since then.
Forever Summer with Nigella premieres on November   18, 2009 on the Asian Food Channel.
Want to win a Nigella Express Cookbook and a set of exclusive AFC collectibles?
Answer the question: "What is the title of the new Nigella show on the Asian Food Channel?"
Click here to join the promo.
Images from the Asian Food Channel.

Share this story with your friends!
---
Help us make Spot.ph better!
Take the short survey
Load More Stories