Chateau Verde
Have the ring but don't have the spot for the proposal? Enter, Chateau Verde.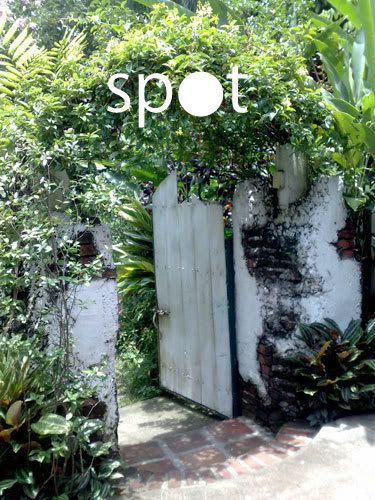 A wooden door leads to Chateau Verde,a  secret garden located in the heart of the UP Diliman campus.
When to Go. Chateau Verde, although being right in the thick of the U.P. Diliman campus, feels farther away than it actually is. This little pocket of greenery is quieter and more serene than its environs and is perfect to go to when you want to enjoy a long, lazy meal in the company of a good friend or even a special someone. The best time to go on a weekend is at around 11 a.m., on a weekday, after 1:30 p.m. It's near the chapel and the church and usually enjoys a healthy crowd for lunch, especially on a Saturday and Sunday, when homeowners and families from nearby villages come to enjoy the Weekend Buffet (Php 360). On weekdays, it's a favorite haunt for U.P. faculty and some students though it never really gets packed to the point where you have to be turned away - unless it gets rented out for a wedding or other occasion (like what happened to me the first time I came to Chateau Verde).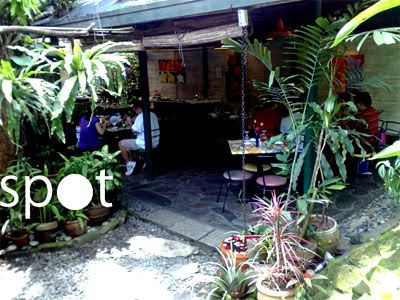 ADVERTISEMENT - CONTINUE READING BELOW
Patrons dine al fresco, where the ambience makes up most of the resto's charm.
What to Eat. The owner, Mrs. Gregoria de Leon Cervantes, happened to be around during the Sunday morning I came to visit. She gamely sat with her customers to chat with them for a bit, a habit of hers when she has time to drop by the restaurant. She told me stories of her more famous clientele (mostly politicians and figures from the academe) and how all of them fell in love with her Paella ala Ima (Php 365).
I've tried a lot of paellas but it's not very difficult to fall in love with this one. Paella is easy to ruin with overcooking. Most of it ends up dry, the viands rubbery. But Chateau Verde's signature dish is perfect. Best to start the meal, though, with some Baked Oysters Chateau (Php 185) topped with bacon, spinach, cheese, hollandaise, and pernod. Or have the Queso Blanco Frito (Php 130). I'm not a big fan of our native kesong puti but this has turned me into a convert. It's fried and then topped with fresh tomato and some basil. It makes for a perfect companion to lightly toasted bread (which was also served).
CONTINUE READING BELOW
Recommended Videos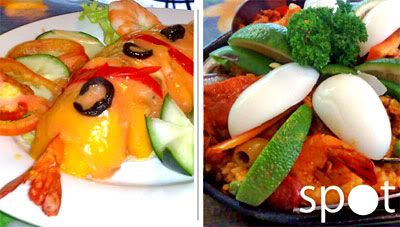 Chateau Verde diners fall in love with the scrumptious Shrimp Mango Salad and the filling Paella.
ADVERTISEMENT - CONTINUE READING BELOW
I also tried the refreshing Shrimp Mango Salad (Php 150), with the sweet taste of our signature fruit, to match our signature tropical weather. Generous slices of mango are sandwiched by shrimp on a bed of lettuce, with a touch of dressing. They also offer favorites such as Salpicados ala Miguel (Php 205) and the Callos ala Carlo (Php 205). For those with a hankering for fish and chicken, try the Blackened Chicken (Php 190) and the Sweet Blue Marlin (Php 220). Chateau Verde also serves a variety of soups, steaks and pastas, and prepares a special menu every month (ask the waiters about them!). I ended my meal with a wonderful take on the Mango Crepe (Php 105), a sugared spider web sat atop my crepe which had generous helpings of vanilla ice cream and mango, chocolate syrup included.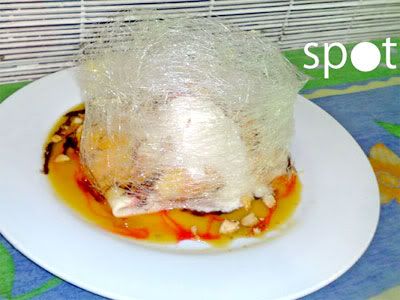 Mango Crepe ala Chateau Verde, a delightful dessert to end one's meal.
ADVERTISEMENT - CONTINUE READING BELOW
The Scene. It feels very much like going to your Lola's for Sunday lunch or to your lovely elderly next door neighbor to visit and enjoy the garden while having merienda. The presence of the owner and her family are seen in all the little touches, apart from Mrs. Cervantes' presence herself. The tables and paintings on the walls (which are for sale) were created by her son. All the dishes I tried felt like their ingredients weren't scrimped on and were of top quality (similar to what your Lola or your mom would serve). The al fresco setting helps firm up the laidback atmosphere. If a guy were to impress a girl who likes treading off the beaten path and would like to have a secluded place to chat and get to know each other without the pretensions of candlelight and violin music playing in the background, this is the place to take her. It's a little difficult to find if you're not familiar with the U.P. Diliman campus but as soon as you've found the churches (apparently they're all in one spot), you're nearby.

Insider's Tips. Chateau Verde discourages smoking so leave your sticks in the car or your bag. Also, if you happen to be engaged in conversation by Mrs. Cervantes, ask to see her garden at the back. It's beautiful and feels very much like a, well, secret garden. She might even give you cuttings from her plants to take home - green reminders of the romance that is Chateau Verde. She's also very accommodating with special requests, such as setups for engagements, anniversary celebrations and the like. And yes, the secret garden will make a wonderful backdrop for a small, intimate wedding.
ADVERTISEMENT - CONTINUE READING BELOW
Chateau Verde is located in 63 Apacible Street, University of the Philippines Campus, Diliman, Quezon City. For directions, reservations and inquiries, please call 928-8180.
Text and images by Patti Malay
Share this story with your friends!
---
Help us make Spot.ph better!
Take the short survey
Load More Stories