Top 10 Vegetarian Haunts in Manila
Yogini, vegetarian, and model Raya Mananquil steers us to the best spots in the city for vegetarian food.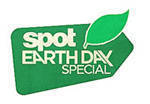 Watch more videos at PETAAsiaPacific.com
While the campaign for saving the planet has been a strong crusade in the recent years, there is a new movement in going green–and it's eating your greens.   If you're like many others who are in the quest to be as environmentally-friendly as possible like toting canvas bags instead of plastic, using energy-efficient bulbs and appliances or carrying your own water bottle, there is now one more thing to consider: the food on your plate.
ADVERTISEMENT - CONTINUE READING BELOW
Most people may not realize this, but food production from the livestock industry, not vehicular emissions, is the number one source of greenhouse gases.   With the scarcity of clean water, imagine that it takes 20 times more gallons of water to produce a pound of beef than a pound of vegetables.   Meat production has also been responsible for deforestations around the world, making room for cattle to graze or to grow crops to feed them.
If that wasn't enough, here's one last food for thought: a vegetarian driving an SUV is more eco-friendly than a meat eater riding a bicycle.   That is how powerful your diet can change the world.   For Earth Week, be part of a food revolution that not only is kind to the planet, but to your health and the animals by eating less meat and enjoying equally satisfying alternatives.   Don't know where to go?   We've compiled a list of our favorite vegetarian restaurants in Manila.
CONTINUE READING BELOW
Recommended Videos
ADVERTISEMENT - CONTINUE READING BELOW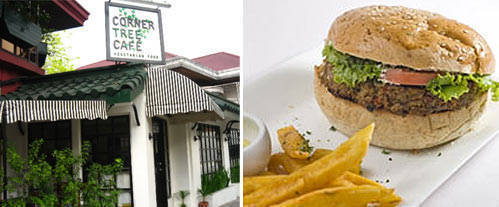 Corner Tree Cafe is famous for its Tofu Walnut Burger (right).
1. Corner Tree Cafe
Address: 150 Jupiter Street, Bel-Air Village, Makati City
Tel. No.: 897-0295, (0917) 848-1004
This cozy little café offers an international fare of Asian, Middle Eastern, African, American and European vegetarian dishes on the menu, using mostly organic and whole ingredients to create simple yet tasty dishes.   I always find myself craving for their famous Tofu Walnut Burger (P260), which can either be eaten with the traditional way on a whole wheat bun or served Filipino style with organic red rice.   For a hearty meal, try the North African Vegetable Stew (P260), a mixture of saffron and Moroccan spices over cous cous.
ADVERTISEMENT - CONTINUE READING BELOW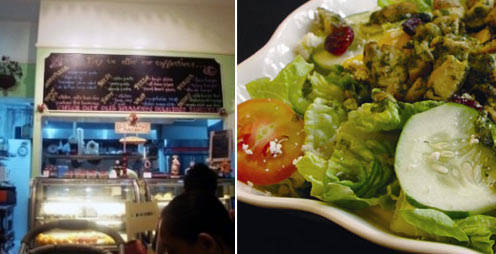 Healthy Kitchen's Monsignor James salad (right) is a mix of tasty tofu pesto and mangoes.
2. Healthy Kitchen
Address: 141 C, Serendra Place, Bonifacio High Street, Global City, Taguig
Tel. No.: 900-6514
With its shabby chic interiors, Healthy Kitchen gives a homely feel to its restaurant with its display of aromatic fresh breads and enticing desserts baked on the premises.   All the recipes are experimented and created on their own, keeping it low-sodium and low-sugar using fresh, organic ingredients.   Try The Harvest (P320), their vegan pizza topped with silken tofu instead of cheese or their best-selling Monsignor James Salad (P260 for the regular size, P340 with tofu and P395 with chicken), an unusual but tasty tofu pesto and mango combination over greens with homemade vinaigrette.
ADVERTISEMENT - CONTINUE READING BELOW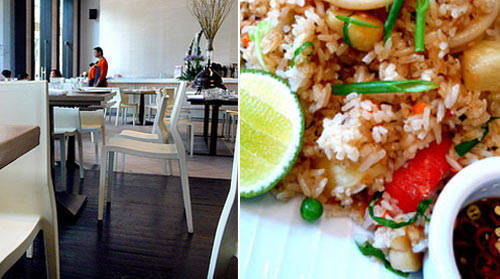 A vegetarian pick at People's Palace: Pineapple Fried rice (right).
3. People's Palace
Address: G/F Garden side Greenbelt 3, Ayala Center, Makati City
Tel. No.: 729-2888, 729-4375
One of the best Thai places in town offers a separate vegetarian menu, so make sure you ask your server for it!   Serving modern Thai cuisine with traditional flavors, their meat free versions of Pineapple Fried Rice (P380) and Curry (red or yellow) of bean curd (P340), pumpkin broccoli and mushroom are my personal favorites.   To sweeten the deal, I finish it off with some Sticky Rice with Mangoes and Coconut Cream (P200) for dessert.
ADVERTISEMENT - CONTINUE READING BELOW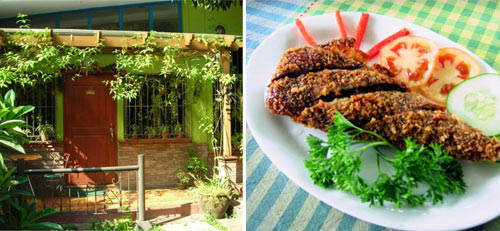 Greens' Veggie "Fish" Relleno (right).
4. Greens Vegetarian Restaurant and Café
Address: 92 Scout Castor Street, Quezon City
Tel. No.: 415-4796, 376-2781
Eating at Greens is like a home away from home, and in fact their location is a house-turned-restaurant.   From the friendly service from the family that runs the place to the comfort food served, the experience is like eating in your own dining room.   My personal favorite is the Grilled Mushroom and Tofu Kebabs (P105) served with brown rice is my personal pick, but the popular dishes are familiar Pinoy favorites like Sisig (P140), Sweet and Sour Supreme (P150) and Veggie "Fish" Relleno (P140).
ADVERTISEMENT - CONTINUE READING BELOW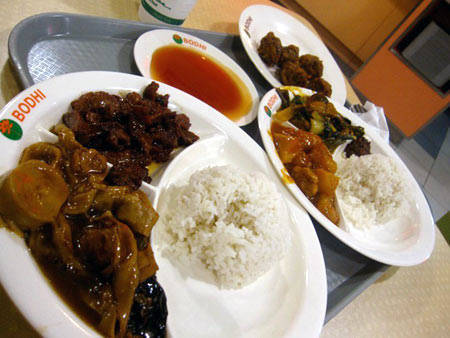 Bodhi's Combo plate
5. Bodhi/ Evergreen
Address: Banawe St. corner Del Monte St., Quezon City (742-6297); Stalls located at SM food courts in Metro Manila
If you're seeking familiar Filipino food, head to Bodhi (sometimes also called Evergreen). Their stalls offer classic dishes like kare-kare (P60) served with with mushroom bagoong, menudo, pancit, and siopao using veggie meat with prices you can't beat.   Veggie meat or mock meat made out of soy is a good source of protein minus the cholesterol or saturated fat.
ADVERTISEMENT - CONTINUE READING BELOW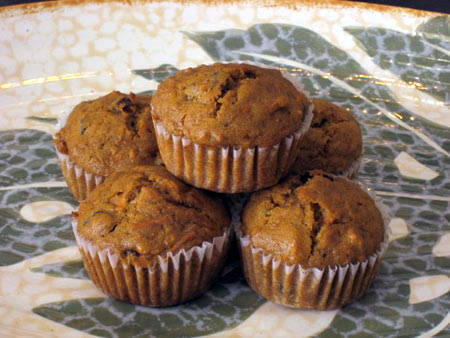 Heart 2 Hearth's best-selling Carrot Orange Cupcakes.
6. Heart 2 Hearth
Address: Salcedo Market at Jaime Velasquez Park, Salcedo Village,   Makati City (0917-8053865)
Every Saturday from 7 a.m. to 2 p.m.
For vegans with a sweet tooth or those who are allergic to dairy, eggs and nuts, Heart 2 Hearth is your stop for all things baked with absolutely no preservatives artificial colors or artificial flavors.   Their best selling Carrot Orange Cupcakes (P300 for a box of 12) is a must-try, as well as their bite-sized chewy Apple Oatmeal Cookies (P240 for a box of 12).   For the chocolate lovers out there, you can have a Chocolate Cake with Strawberries (P360 for a box of 12) baked to order beautifully boxed in recycled material. Be sure to swing by early because they're usually sold out by 10 a.m.
ADVERTISEMENT - CONTINUE READING BELOW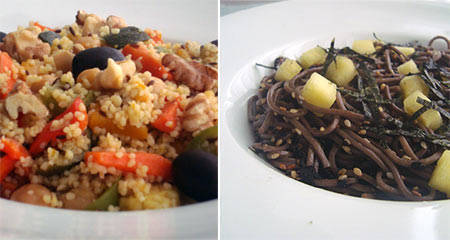 Yogi Chef's Moroccan cous cous (left) and Buckwheat Tokyo (right).
7. Yogi Chef
Address: Legazpi Market, corners of Rufino and Legazpi Streets, Legazpi Village Makati (0908-8842252)
Every Sunday from 7 a.m. to 2 p.m.
You don't have to be a yogi or yogini to enjoy these Ayurvedically-balanced organic homemade dishes.   The Buckwheat Tokyo (P170 for small/ P230 for large) is a flavorful combination of soba noodles, black sesame seeds and chopped pineapple give a twist to a Japanese classic, while their bestselling Moroccan Cous Cous (P190 for small/ P250 for large)   mixed with garbanzo beans and colorful vegetables is a perfect combination of carbohydrates and protein.   The Yogi Chef also has the only vegan yogurt drink available in town, which is always sold out due to popular demand. All packaging used are biodegradable.
ADVERTISEMENT - CONTINUE READING BELOW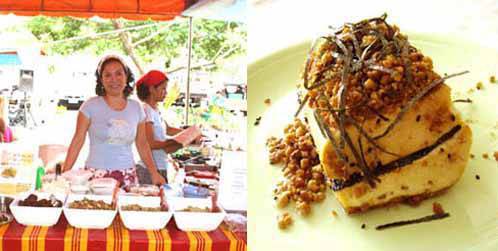 Denise Celdran's Tofu Steak (right) can be cooked Chinese, Italian or Japanese style.
8. Edgy Veggie
Address: Legazpi Market, corners of Rufino and Legazpi Streets, Legazpi Village, Makati City
Every Sunday from 7 a.m. to 2 p.m.
Tel. No.: (0917) 820-2081, (0907)170-5913
Email: deniseceldran@yahoo.com
ADVERTISEMENT - CONTINUE READING BELOW
If tofu has never appealed to you, eating one of their tasty Tofu Steak Meals (P200) could change your mind.     You can choose to have it cooked either Chinese, Italian or Japanese style, each with its distinct flavor profile served with rice and a salad. Their Vegan Lasagna (P150) is sprinkled with nutritional yeast instead of cheese, which is an excellent source of B vitamins.   Excellent taken home frozen for a quick easy meal to reheat.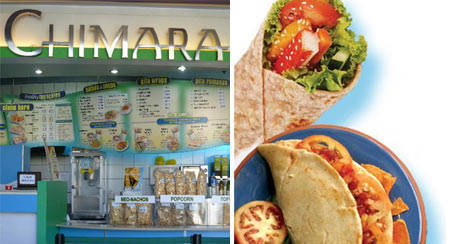 Healthy pita wraps at Chimara Neo-Vegan cafe (right).
ADVERTISEMENT - CONTINUE READING BELOW
9. Chimara Neo-Vegan Cafe
Address: 4th Floor Greenbelt 3, Ayala Center, Makati City
Tel. No.: 757-5652
If healthy movie snacks sounds like an oxymoron, then Chimara has rectified the semantics of it.   Guilt-free munchies like Hearty Olive Oil Popcorn (starts at P65) give a satisfying crunch without the saturated fat of butter, and the Tofu Chips (starts at P75) are baked, not fried.   If you want a little more than a nibble, the Tofu Supreme (P130) is a high-protein pita wrap filled with tofu, soybeans, nuts, carrots, soy bacon bits and organic greens stuffed in a whole wheat pita tortilla.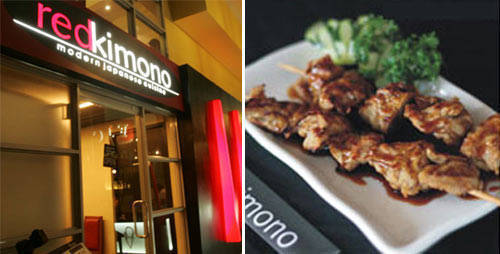 On Red Kimono's vegetarian menu: Veggy Yakitori (right).
ADVERTISEMENT - CONTINUE READING BELOW
10. Red Kimono
Address: The Fort Strip, Bonifacio Global City, Taguig
Tel. No.: 816-6642
Long before vegetarian restaurants popped up in Manila, Japanese restaurants were always my haven when dining out because there was always some sort of tofu dish I could get my hands on.   Red Kimono has taken Japanese vegetarian to a whole new level with dishes like Veggy Yakitori (P160), Veggy Teppan (P295) and Veggy Katsu Curry (P195).   And if you're a sushi lover like me but get tired of the eating cucumber-filled sushi, the Crunchy Veggy Maki (P185) topped with "mock prawn" is a vegetarian's dream come true.   At least, it was for me.
Photographs by Ninfa Bito and Andre Mendoza (Corner Tree Cafe), chotda (People's Palace), redkimono.com.ph, tatersgroup.com (Chimara Neo-Vegan Cafe), bluelawbyanna.blogspot.com (Healthy Kitchen interiors), Edgy Veggie, Greens, Raya Mananquil (Healthy Kitchen, Bodhi, Heart 2 Hearth, Yogi Chef).
Share this story with your friends!
---
Help us make Spot.ph better!
Take the short survey
Load More Stories