10 Best Sisig in the City
Can you resist the sizzle? We visited the best sisig spots which offer their own take on an original Pampango recipe.
Sisig is always an exercise in tolerance. Every Filipino-"Pampango or otherwise-"likes to think that he knows what a traditional sisig looks and tastes like, except that he may be unwilling to recognize that his recipe may not be the original.
Take the sisig reportedly preferred by purists-"a dish served without eggs or any additions whatsoever. It may not sit well with those who believe that sisig is always topped by a freshly-cracked egg, served with red and/or green chili peppers, sprinkled with hot sauce, calamansi, or even Worcestershire sauce.
But who's quibbling?
Whatever the variation, after all is said and done, sisig still is sisig: parts of a pig's face, marinated, chopped, cooked, and served on a hot plate. SPOT.ph sampled the best of the porky lot.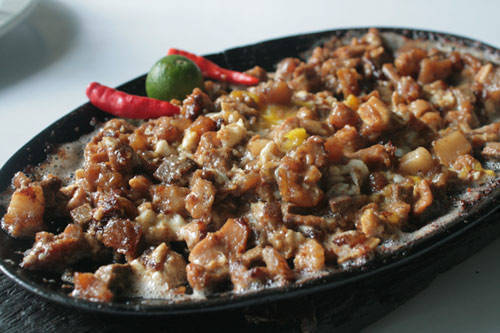 1.   MANG JIMMY'S
MWSS Compound, Balara, Quezon City (Tel. no. 927-2909)
Open 8:00 a.m. to 10:00 p.m. daily (May stay open later if more customers stream in.)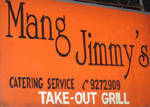 Mang Jimmy's Sisig (P100) undergoes meticulous preparation that takes about four hours.   And that's on a slow day.   Proprietor Jimmy Rico theorizes that this is probably why his sisig is the second bestselling dish, next to the establishment's famous tapa mix.   Topped by an egg, two chili peppers, and a piece of calamansi, Mang Jimmy's take on the original Pampango recipe may not easily please sisig fans because it is served wet. But that still doesn't explain why the eatery regularly runs out of sisig.
ADVERTISEMENT - CONTINUE READING BELOW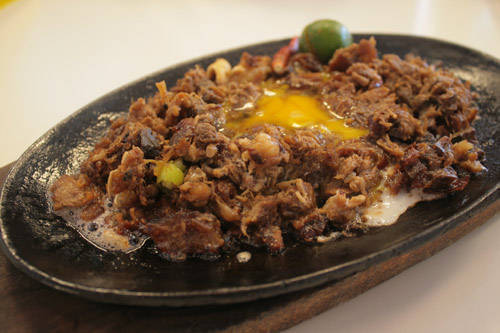 2.   LYDIA'S LECHON
Marcos Highway corner Pambuli St., Marikina City (Tel. no. 682-8927) with branches at Don Alejandro Roces Ave., QC (Tel. no. 376 -5173); SM Makati (Tel. no. 816 -1352); and other locations
Open 8:00 a.m. to 10:00 p.m. daily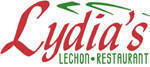 Nobody goes to a lechon place to eat sisig.   That is, not until Lydia's decided to spruce up their menu with their own variation, called-"appropriately enough-"the Lechon Sisig (P175). The dry Lechon Sisig offers the largest sisig chunks south of Pampanga, featuring actual pork strips.   Topped with a freshly-cracked egg and soft green chili peppers, the dish itself is ambiguous-"neither exactly faithful to its lechon nor sisig origins-"but offering distinctive flavors of both.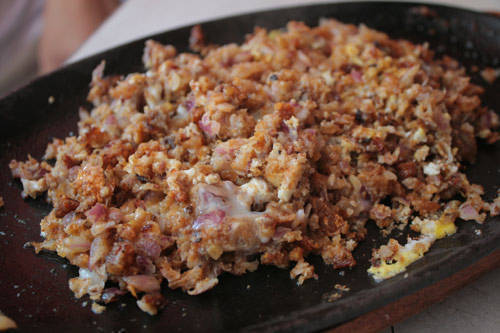 3. AYSEE
#17 St. Martin St., Cityland Townhouses, Oranbo, Pasig City (Tel. no. 634-0443)
Open 10:00 a.m. to 12:00 midnight daily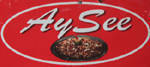 If you sell sisig by the bilao, then you must be doing something right. Aysee's Sisig is dry and crispy, just like chicharon, making it the best companion for a cold bottle of beer or a hot cup of rice, which are both available at the establishment. Once a sisig order is placed, customers are allowed to choose whether to enjoy it with eggs (P90) or without eggs (P85). Meanwhile, onions and chili peppers are standard, prompting customers to come back for more.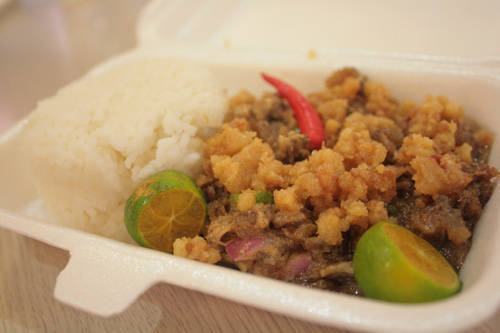 4. SISIG HOORAY
Robinsons Galleria Food Court (Tel. no. 941-9602) with branches at Market! Market!; Ever Gotesco (Ortigas, Grand Central, and Commonwealth, QC); Puregold (Shaw Blvd. and Pasig); SM (Makati and North EDSA); Metropolis (Alabang); and Trinoma Mall, QC; and other locations
Open 10:00 a.m. to 9:00 p.m daily
ADVERTISEMENT - CONTINUE READING BELOW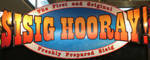 Of the 10 sisig dishes sampled in this list, the Sisig Hooray Sisig version is the cheapest, fastest, and one of the tastiest.   Prepared and weighed right in front of your eyes, the chopped meat strips are sprinkled with a gray-colored "magic powder" and mayonnaise, and is cooked in less than a minute.   Although the dish (P55 with rice) is served in a Styrofoam container instead of a hot plate-"and an egg costs extra-"no one's complaining.   After all, it's the quickest and cheapest solution to anyone's sisig craving.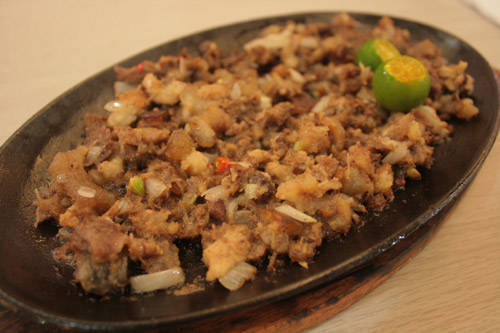 5. RAZON'S OF GUAGUA
Robinsons Galleria Food Court (Tel. no. 638-1898) with branches at Jupiter St., Makati (Tel. no. 899-7841); Greenhills Shopping Center (Tel. no. 726-8727); and other locations
Open 10:00 a.m. to 9:00 p.m daily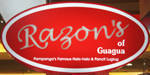 When Razon's said that its sisig was sizzling, it wasn't joking. Once served, bits of meat and other burnt particles fly out of the hotplate, adding a bit of culinary excitement in what still is your basic, regular fastfood meal. Razon's Sisig (P165) is served with a plastic container each filled with hot and soy sauces. Although it's not the crunchiest around, the burnt clumps of tasty meat along the hot plate's sides more than make up for the shortfall.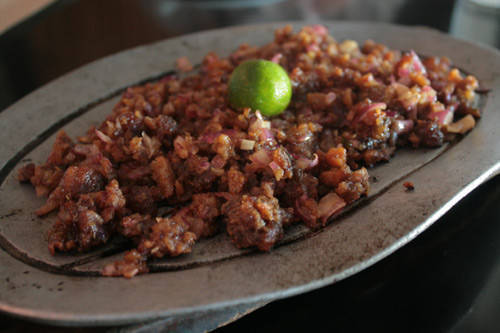 6. KATIPS BAR AND GRILLERY
209 Katipunan Ave., Blue Ridge, Quezon City. Tel. no. 912-9437
Open 11:00 a.m. to 3:00 a.m. daily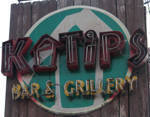 Katips' Sisig (P195) is by far the sweetest. And that's not necessarily a bad thing, especially if you happen to serve more bottles of beer than cups of rice. Like most recipes, Katips' sisig-"its best-selling dish-"is boiled in herbs, mixed with cream and liver, and fried to a crisp. Should you decide to try this out, wait until some parts caramelize-"it provides a different twist to the sisig experience. Just add P17 if you want an egg with it.
ADVERTISEMENT - CONTINUE READING BELOW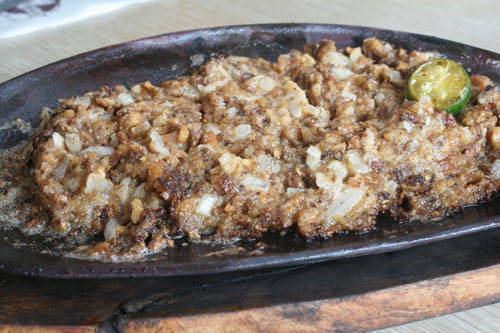 7. CONGO GRILLE
El Pueblo Real De Manila (Tel. no. 638-3857) with branches at Tomas Morato, corner Scout Limbaga (Tel. no. 332-2194); Shopwise Arcade, Araneta Center, Cubao (Tel. no. 709-2472); and other locations.
Open 10:00 a.m. to 12:00 midnight, Monday to Thursday and 10:00 a.m. to 1:00 a.m., Friday to Sunday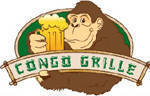 Congo Grille offers three continents in one setting. Its theme is African-inspired, its piped-in music is Latin Jazz (but enough of Filipino faux-samba renditions, please), and its food is Filipino, which includes sisig, of course. According to its menu, Congo Grille's famous Original Sisig (P175) is the champion of the 2007 Sisig Festival. Since it is served wet, its sisig might be an acquired taste since some oil may congeal on your lips.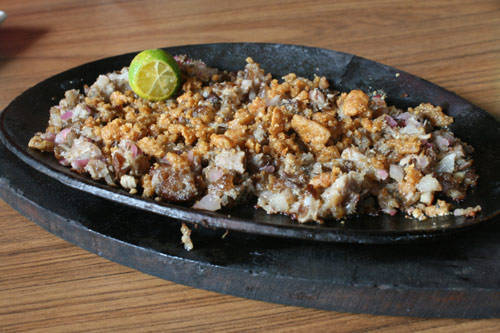 8. GERRY'S GRILL
24 Eugenio Lopez St., corner Tomas Morato, QC (Tel. no. 414-4234) with branches in other locations
Open 10:00 a.m. to 2:00 a.m., Monday to Thursday; 10:00 a.m. to 3:00 a.m., Friday to Saturday; and 10:00 a.m. to 1:00 a.m., Sunday

It took 20 minutes and two follow-up requests before the Sizzling Sisig (P175) arrived. Was it worth the wait? Well, yes. But then again, if a longer wait made for a better-tasting sisig, we could have decided to hang out some more. By the way, good thing we chewed slowly. The toasted sisig came with some tough bits that would likely cause some molar discomfort.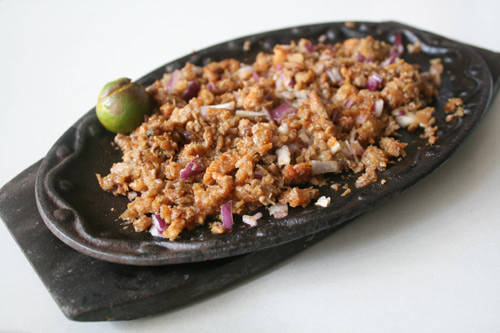 9. DENCIO'S BAR AND GRILL
Metrowalk, Meralco Avenue, Pasig City. Tel. No. 631-3545; with various branches in Metro Manila
Open 11:00 a.m. to 12:00 midnight, Monday to Thursday and Sunday; 11:00 a.m. to 2:00 a.m., Friday to Saturday
ADVERTISEMENT - CONTINUE READING BELOW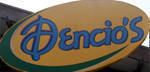 Dencio's Sisig (P190) is one of, if not, the best among the ten establishments in this list. The dish is served with a small ritual-"the meat is placed in a white bowl that is then poured onto a scorching hot plate that cooks the whole dish in minutes. The result? A smoky, toasted sisig with just the exact amount of flavor, enough to tempt you into ordering another one. (And that's not an exaggeration-"Dencio's is the ninth sisig place we visited.)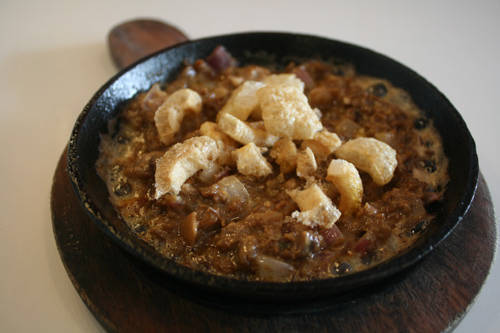 10. HOUSE OF SISIG
Philcoa, Commonwealth Avenue, Quezon City (Tel. no. 407-1964)
Open 10:00 a.m. to 11:00 p.m. daily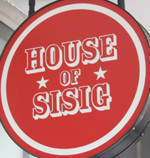 All meals at the House of Sisig come with a cup of rice and a papaya side salad. The salad-"a preparation that looks and tastes more like atchara-"includes carrot slices, swimming in a cold, clear syrupy mix of sugar and vinegar. The whole concoction provides a welcome and sharp contrast to the House of Sisig's various offerings, whether tuna or tofu, chicken or crab. Those with a more traditional sisig bent can try its original recipe, South of Manila or SOMA (P98) is served with vinegar and chilis), and North of Manila or NOMA, which is served with mayonnaise.
Photos by Kevin Sandiego. Mang Jimmy's logo photo from letters2mindanao, Congo Grille logo photo from teamyeheyblog, Lydia's Lechon logo photo from ph88db.com.
Load More Stories