10 Best Spots to Nurse a Hangover
We list 10 places where you can sober up before you head home after an all-nighter.
After a night of guzzling your favorite alcoholic beverages, you can't exactly make your way home if you find yourself with the motor coordination of a two-year-old. You need to sober up with non-alcoholic drinks, good chow, or just a couple of hours of peace and quiet in a clean well-lighted place. SPOT.ph lists 10 places where you can fight your hangover.
1. HACIENDA
Ground Floor, Transcom Building Frontera Verde, Pasig City
Tel. no. 782-2559
Open 24 hours, Tuesday to Saturday, closes at 12:00 midnight on Sunday and opens 7:00 a.m., Monday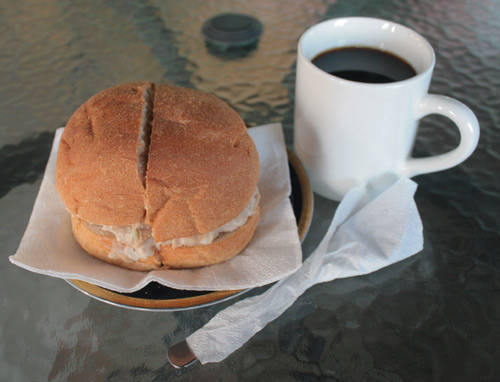 Crowd situation: The place, which opened in October 2008, is strategically situated in the same building as a BPO firm and it's a stone's throw away from Tiendesitas.   Most of the regulars are, not surprisingly, customer care representatives from the BPO firm.   More people start to stream in sometime around 11:00 p.m. to 2:00 a.m. so be prepared for the collective buzz of conversation.   You may even hear a funny call center story if you care to eavesdrop.   In any case, the soothing lighting provides great comfort to tipsy eyes.
Sobering stuff: With Philippine Mountain Coffee as one of its specialty offerings, Hacienda has it in strong, medium, and mild variants.   We got a mug of the Brewed Coffee (P50), strong, and got a caffeine kick that went straight to the brain.   A few sips of the potent brew will surely help you feel human again.   You can also order any of their special pan de sal sandwiches such as the Tuna Melt and Cheese (P65) of the Chorizo Bilbao (P95).   Have no fear. They're hefty–as opposed to puny–pan de sals.
ADVERTISEMENT - CONTINUE READING BELOW
Added attractions: There are old records stashed in an old stereo in one corner of Hacienda. At the counter, there are cigarettes and other treats such as piyaya, peanuts, and chicharon for sale. A drugstore and a convenience store are also located next to it. It's worth coming back to this place when you're sober as it boasts of an array of Filipino dishes, as well as the Lechon Hacienda (P150 for 200 grams).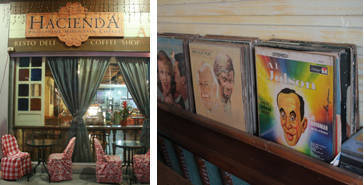 2. GOODAH!!!
Caltex Gas Station, Shaw Boulevard, corner Pioneer Street, Mandaluyong with various branches
Tel. nos. 638-0858 (Centralized Hotline)
Open 24 hours daily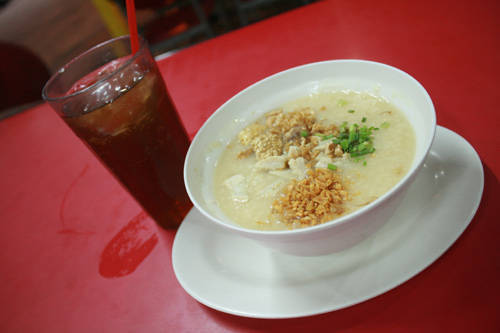 Crowd situation: Call Goodah!!! the great equalizer.   Yuppies, families, call center agents, as well as taxi and tricycle drivers converge in this wall-less establishment.   It tends to get crowded at around midnight up until the sunrise during weekends.
Sobering stuff: Sober up with Goto (P35) and a tall glass of Iced Tea (P26) or Instant Coffee (P20). If you need more food, try the Pares (P69) or the Litsilog (P135).
Added attractions: It's situated right within the gasoline station space with a 24-hour mini-mart right beside it. It's the perfect place to come back to your senses because nobody cares if you look wasted there. Plus, it's easy on the pocket.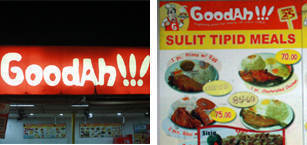 3. SINANGAG STATION
76 Maginhawa Street, UP Village, Diliman, Quezon City with various branches
Tel. no. 489-2728
Open 24 hours daily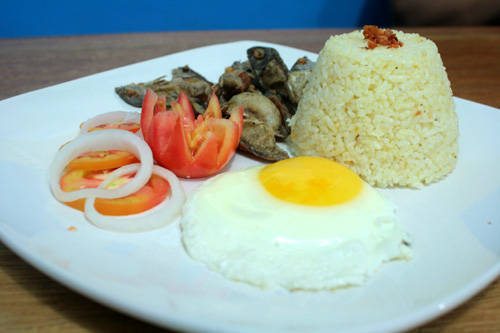 Crowd situation: Students of the University of the Philippines-Diliman and sleepless residents of UP Village are its regulars.   The place, a franchise that started in Cebu, only has around six tables so it easily gets packed during weekends. The place's waitstaff also tend to turn up the radio volume.   You can ask them to turn it down and they will.   But then, you'd have contend with the noise of tricycles.
ADVERTISEMENT - CONTINUE READING BELOW
Sobering stuff: The Dangsilog (P48) washed down with your chosen softdrink or coffee is already a relief to your alcohol-filled tummy.   If you want heavier fare, try the Tapsilog (P65) or the Tangiguesilog (P65).
Added attractions: It's relatively quiet and safe neighborhood. Taxi cabs pass by even during the so-called unholy hours.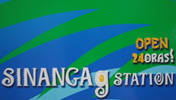 4. JERUSALEM RESTAURANT
M.H. del Pilar Street, Malate, Manila
Tel. no. 523-3164
Open 24 hours daily
Crowd situation: It's the perfect after-gimmick place for Malate regulars. Guests staying at the Hyatt Hotel nearby–as well as other hotels in the area–also grab a bite and hang out.
Sobering stuff: Fill up with the Mixed Grill Plate (P350), which has lamb, beef, and chicken. The Kabsa Chicken (P290 for a quarter) served with basmati rice is so spicy that it'll jolt you out of your tipsiness. You can wash down the food with a glass of Fresh Fruit Cocktail Juice (P135), which is a mix of banana, apple, and orange.
Added attractions: The place is owned by Jordanian expat Khalil Darwish, who married a Pinay back in Kuwait in the 1980s, and then immigrated to the Philippines a few years later. There are shisha water pipes available if you'd like to smoke any of the fruity smokes selections like apple or strawberry.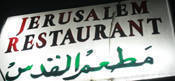 5. MANG INASAL
Tomas Morato Avenue, QC with various branches
Open until midnight (May stay open later if more people drop in.)
Crowd situation: Situated near the T. Morato area, you can decompress there after an early round of drinks to make sure you're good for the commute or the drive home. You'll be rubbing elbows with residents in the area, employees from GMA-7 or ABS-CBN, as well as the after-gimmick crowd. Service gets clogged after midnight though.
ADVERTISEMENT - CONTINUE READING BELOW
Sobering stuff: This is straightforward comfort style food cooked in the traditional inasal way. A Chicken Inasal Meal (P100) comes with an unlimited serving of rice. Unfortunately, it doesn't come with a drink. You can just take your pick of the restos selection of beverages.
Added attractions: If you're just raring to get something in your tummy for the last leg home then Mang Inasal will definitely fit the bill. There are ATMs and convenience stores nearby.

6. GRILLED TOMATO
186-C Tomas Morato Ave., QC with a branch in Banawe Ave., QC
Tel. no. 415-0760 (Tomas Morato) and 411-9345 (Banawe)
Open 11:30 a.m. to 2:00 a.m. daily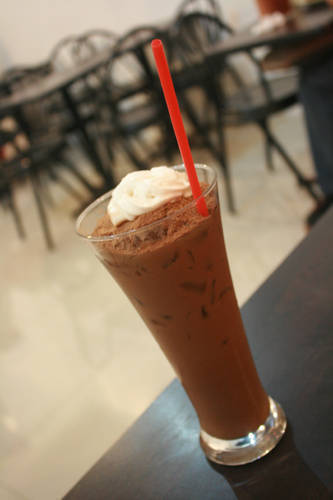 Crowd situation: ABS-CBN employees, Mediterranean food fans, and, of course, the people from the various nightspots of Tomas Morato take refuge here.   The place is currently under renovation so their seating capacity is limited to about six tables inside the resto and around four tables right outside it.
Sobering stuff: They have a special anti-hangover concoction called the Milo Overload (P60), a tall glass of chocolate topped with crunchy cereal bits, Milo powder, and a dollop of cream.   (There's probably a secret ingredient in it as well, but, naturally, they won't tell.)   The drink is a welcome sugar rush for your fuzzy brain.   If you're hungry, you can order the Chicken Tikka (P60) or Lamb Chops (P160).
Added attractions: ABS-CBN talents such as Iya Villania and Alessandra de Rossi have been known to drop in.   In fact, Villania even had an informal birthday gathering here.
ADVERTISEMENT - CONTINUE READING BELOW

7. FILLING STATION
5012 P. Burgos Street, Makati
Tel. no. 897-2053
Open 24 hours daily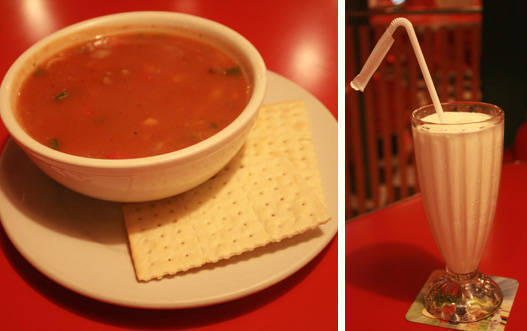 Crowd situation: Theresa Alves, the restaurant's night manager says that the place is a haven for people who've just come in from too much drink. "We really do get the crowd that just wants to chill. Especially since we're near Makati Avenue and there's a pick of bars downstairs," she relates. Peak hours for this place start at 12:00 midnight up to 5:00 a.m.   Though the Burgos area is more famous for girly bars, the Filling Station's crowd is mostly made up of yuppies who want to wind down after a night of partying hard in Makati's bars.
Sobering stuff: Hydrate with Vanilla Milkshake (P236.50). Then, load up on Steak and Eggs (P522.50) or the Super Burger (P401.50). Admittedly, this is a very pricey lot. If it's any comfort, they come in US-size servings.
Added attractions: Opened in the mid 1990s, Filling Station is nothing less than an experience in sheer eye candy–what with busts of Captain America, Superman, and The Hulk (with huge, wearable fists!). It's set up like a 1950s American diner.   It's also very near the Makati Palace Hotel.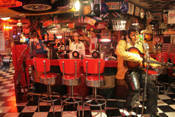 8. RUFO'S
Shaw Boulevard, corner Sheridan Street, Greenfield District, Mandaluyong City with branches in Pasig, Makati, and Quezon City
Tel. no. 633-5936 (Shaw Boulevard), 638-2038 (San Miguel Avenue, Pasig), 631-3378 (E. Rodriguez Avenue, QC), and 899-3811 (Kalayaan Avenue, Makati)
Open 24 hours daily
Crowd situation: Call center agents and after-gimmick/after-party crowds abound here.   The indoor space is rather tiny, with only four tables.   Additional seating is provided right outside.
ADVERTISEMENT - CONTINUE READING BELOW
Sobering stuff: The specialty of the house is Rufo's Famous Tapa (P89), which will help any tipsy eater recover.   If you're not up for anything heavy, get the Pork and Tofu Adobo (P49).   You can order Brewed Coffee (P28) to perk you up.
Added attractions: The place is close enough to several convenience stores and hospitals.   Plus, they offer a 24-hour delivery service.

9. SOMETHING FISHY
Eastwood City Walk, QC
Tel. no. 421-6412
Open from 5:00 p.m. to 3:00 p.m. the next day
Crowd situation: Aside from employees of nearby call centers who want to unwind, groups who have partied the night away in bars elsewhere in the metro converge here.
Sobering stuff: It's a buffet-until-you-drop/sober-up arrangement here. The Midnight-to-Morning Buffet (P129 per head)–which features flapjacks, toasted bread, breakfast favorites–is from 12:00 midnight to 10:00 a.m. The Lunch Buffet (P225 per head) is from 11:00 a.m. to 2:30 p.m. The Dinner Buffet (P395 per head) is from 6:00 p.m. to 10:00 p.m. Both the lunch and dinner buffets boast of Pinoy heavy faves like lechon, sisig and adobo. Bottomless iced tea and soda are at P50. A cup of brewed coffee costs P60.
Added attractions: The resto was started in 2002 by a group of friends who are sport fishing freaks. Thus, some of their prized catches, which are preserved in lacquer, are mounted on the walls. Convenience stores and ATMs are close by.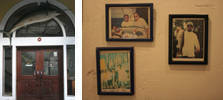 10. JAY-J'S INASAL
92 Mother Ignacia Street, corner Timog Avenue, QC with various branches
Tel. no. 374-3207 (Timog Avenue), 638-6410 (Pasig), 556-1308 (Pasay), and 938-3433 (Fairview, QC)
Open 10:00 a.m. to 6:00 a.m. the next day
ADVERTISEMENT - CONTINUE READING BELOW
Crowd situation: GMA-7 talents and crew hang out here.   The after-gimmick people also drop in.   The place has spacious seating.   It also has a huge courtyard with more seating.   Still, it's almost always packed on weekends.
Sobering stuff: If you've had too much to drink and need something to settle your stomach, go for the delicious Molo Soup (P98). Once you're feeling up for more food get a plateful of Sisig Rice (P145). If you're not a coffee drinker, try the refreshingly tangy Calamansi Shake (P75).
Added attractions: The food is Jay-J's main draw so you should definitely come back when you're sober and can better appreciate the gastronomic delights.   In any case, right beside Jay-J's is the Happy Feet Foot and Body Spa (Tel. no. 416-6121), which is open from 1:00 p.m. to 1:00 a.m. daily. Wouldn't it be nice to get a foot massage when you're still feeling the alcohol buzz?

Photos by Kevin Sandiego.
Load More Stories