5 Places to try this week + 5 steals and deals
Have you tried Harry's Bar at the Piazza at Venice, Seven Corners' "Nouvelle Cuisine," or Decanter and Rocksalt in Quezon City? Plus more steals and deals!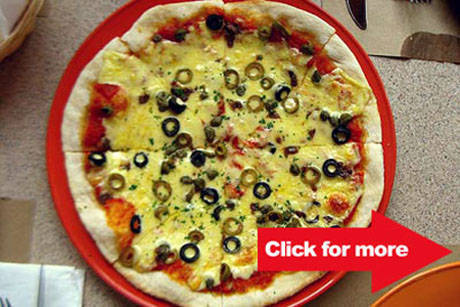 SPOT.ph's STEALS & DEALS GALLERY: Click to see photos.

1. Harry's Bar at the Piazza at Venice, McKinley Hill
Harry's Bar at the Piazza at Venice aims to simulate the cozy air of the famed bar of Harry Cipriani in Venice, Italy, after which it was named. With marble-top tables, white synthetic rattan chairs, glass windows, and a menu with pizza, pasta, wine, and cocktail choices, it is an ideal yuppie lunch go-to place and a dinner and cocktails destination. Owned by Chef Stef Zanirato with partner Paolo Nesi of the L'Opera group, they also have Italian wines personally handpicked by Zanirato from the different Italian regions.
ADVERTISEMENT - CONTINUE READING BELOW
Choose the 4-course set menus at P600, which come with antipasti, entrees and dessert, served with coffee or tea. The best-selling Napolitana pizza (P270), topped with salty anchovies and capers rounds off the strong taste of the olives and melted Mozzarella cheese on thin crust nicely. The Spaghetti Salmone e Vodka in Salsa Rosa (P290), which can be shared by two, has a creamy sauce with only subtle hints of the crisp taste of vodka.
Says Chef Stef Zanirato who is very hands-on with the day-to-day operations of the resto, "Harry's Bar is really a place for casual Italian dining with affordable prices."
Harry's Bar is at the Ground Floor The Piazza at Venice, McKinley Hill, Taguig. Tel. No. 798-0594.

2. Gourmet to-go meals from Rustan's Supermarket
Get tasty, healthy gourmet food to-go from Rustan's Supermarket with their selection of grab-and-go deli-style sandwiches hot and cold sandwiches, salads and platters which make healthy eating possible even while on the run. "People have become increasingly busy and there's always not enough time so Gourmet to-go was conceptualized with that in mind," shares Frances Yu, Vice President for Marketing, Rustan's Supercenters.
ADVERTISEMENT - CONTINUE READING BELOW
With food consultant Chef Beth Romualdez, the selection emphasizes healthy-living, with high fiber content and olive oil-based dressings. Everything is freshly-made on a daily basis, and the selection changes every few months. What we liked: Roast Beef Sandwich (P125) and Ham & Brie in Croissant (P135), Greek Salad (P95) with celery, kalamata olives, cherry tomatoes with feta cheese.
"People are now aware of what they want to eat," adds Chef Beth Romualdez. "What we're selling is healthy food and convenience."
Gourmet to-go is available at the Rustan's Supermarket Makati and Powerplant Mall branch.

3. Vietnamese dishes at Seven Corners' "Nouvelle Cuisine" from May 1 to 31
From May 1 to 31, enjoy a spread of healthy and light Vietnamese dishes at Seven Corners' "Nouvelle Cuisine". Fresh herbs and greens, noodles, and meat dishes will reflect Ho Chi Minh's local cuisine and will be prepared by Master Chefs Nguyen Thi Thu Huong, Hoang Thu Tuyet and Ngo Minh Phuong, from the newly-opened Intercontinental Asiana Saigon.
ADVERTISEMENT - CONTINUE READING BELOW
All diners will also get a chance to win a 3 day/ 2 nights stay at Intercontinental Asiana Saigon with roundtrip tickets for two via Cebu Pacific to Ho Chi Minh City.
The Vietnamese spread will be available for lunch and dinner from May 1 to 31.
Seven Corners is at the 2nd level Crowne Plaza Galleria, Ortigas Ave. corner ADB Ave., Quezon City. Tel. No. 633-7222.

4. Wine and dine at Decanter in Tomas Morato, Quezon City
If you're a serious oenophile or a budding wine-lover, Decanter at Tomas Morato should be a must-try. New World wines rule over Old World picks at Decanter, but with over 150 wines on their list, you don't have to limit yourself to California, Australian and Chilean wines. Pair a glass (or a bottle) with their fusion of Asian and Mediterranean dishes: Chicken Skewers (P217), the Shrimp Scampi (P167/ grande P317), the Bourbon Pan Seared Salmon (P447).
Decanter is at the Ground Floor, Creekside Square Building, Tomas Morato, Quezon City. Tel. No. 726-9166.
ADVERTISEMENT - CONTINUE READING BELOW

5. Chef Rob Pengson's Rocksalt
Rocksalt, in Quezon City, is the teaching restaurant of Global Culinary and Hospitality Academy. Owned by Chef Rob Pengson and partner Benny Ledesma, the second floor serves as the main dining area with unfussy interiors done in cream and white hues.
An open kitchen gives you a view of the chefs preparing your meals, with a simple menu that includes familiar flavors done and prepared gourmet-style. If you're used to dishes with big portions, some dish choices may disappoint in portion size. Your best bet will be to order a few dishes and share them, family-style. Try the Cheese Steak Burger (P365) or Putanesca Negra (P325) and the Cheesecake (P195) for dessert, a creamy confection of sweet cheesecake topped with homemade strawberry compote.
Rocksalt is at Unit 7 and 8 Timog Commercial Complex, Timog Avenue corner Panay Ave, Quezon City. Tel. Nos.   215-0716, (0917)536-0809.

6. Share the T.G.I. Friday's Filipino Platter good for 3-4 persons for P1,225
ADVERTISEMENT - CONTINUE READING BELOW
Enjoy a medley of Filipino favorites with the Filipino Platter: Pork Liempo, fall-off-the-bone Pork Adobo and Slow Roasted Half Chicken served with Friday's ensdalada, which is good for 3-4 persons for only P1,225.
Available at all T.G.I. Friday's branches.

7. A 5-course Vegetable-Tasting Dinner at Restaurant 101, Enderun Colleges for P1,550
A sumptuous 5-course vegetable tasting dinner for only P1,550 per person will be prepared by Enderun Executive Chef Marc Chalopin and 101 Head Chef Vanessa Conanan on May 6, Thursday at 6 p.m at Restaurant 101, Enderun Colleges.
On the menu: Caviar d'Aubergine with Tomato Coulis, Cappuccino of Mushroom, Garlic Croquette, Crispy Vegetable Salad with Pesto, Roasted Vegetables, Parsley, and Kimchi Brie Fritter and Tropical Brunoise Medley with Passion Fruit Sorbet, all paired with wines from Future Trade International.
Restaurant 101 is at Enderun Colleges, 1100 Campus Avenue, McKindlye Hill, Taguig City. Tel. Nos. 856-6000 local 101, 403-7840.

8. All-you-can eat barbecue at the Manila Hotel for P1,450
ADVERTISEMENT - CONTINUE READING BELOW
Enjoy an All-You-Can-Eat-Barbecue for only P1,450 net per person every weekend (Saturdays and Sundays) from 6 - 10 p.m. by Manila Hotel's luxurious pool area.
Manila Hotel is at One Rizal Park, Roxas Boulevard,   Manila. Tel. No. 527-0011.

9. Two-course weekend brunch at Sala Bistro for P690
Enjoy a two-course brunch at Sala Bistro and choose from the scrumptious brunch menu: Bistro Minute steak, Omelette Florentine, Croque Madam, and Steak and Eggs. Or upgrade your brunch to P1,280 to get unlimited bubbly (you may also choose to add cassis, peach or orange juice).
The Weekend Brunch menu is available from 11 a.m. - 2 p.m. on Saturdays and Sundays.
Sala Bistro is at Unit 114 Ground Floor, Garden Side, Greenbelt 3 Ayala Center, Makati City. Tel. No. 729-7500.

10. Summer fruit sherbets at Butchie's Recipes of La Moderna Pampanga
ADVERTISEMENT - CONTINUE READING BELOW
Enjoy summer fruit sherbets from Butchie's Recipes, with new flavors such as watermelon, melon, pineapple, and mango, with their best-selling desserts Red Monggo, Ebun Buro, Malunggay and Gabi sorbetes and and Buco Cheese Dayap Sherbet. (P45 for a single serving and P220 for 500-gram tub).
Butchie's Recipes of La Moderna Pampanga is at G/F, Health Cube Building, 226 Wilson Street, San Juan City. Tel. No. 385-0387.
Photographs from Decanter, T.G.I. Friday's, Rustan's, Crowne Plaza Galleria Manila, Angelo Songco (Butchie's Recipes of La Moderna).

Load More Stories