Where to take your mom on Mother's Day
Where to treat the queen this weekend? From lavish hotel buffets to sumptuous set menus, we give you the top spots. Reserve now!
There's nothing like a hearty feast to show Mom your gratitude. We've rounded up the best spots to take her this weekend: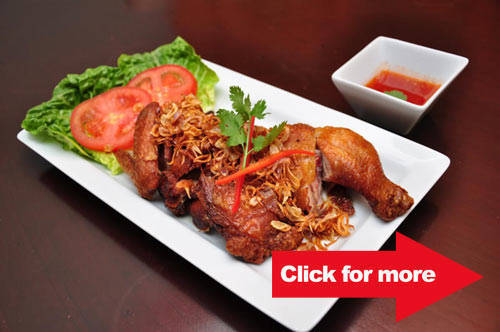 SPOT.ph's Mother's Day Dining Gallery: Click to see photos.
AzuThai
G/F Milkyway Bldg., 900 A. Arnaiz Ave. and Paseo de Roxas, Makati City. Tel. No. 817-6252
Enjoy AzuThai's latest home-style Thai dishes at AzuThai: Thai-style Fried Chicken with Crispy Shallots (P695, good for 2-3 people) on Mother's Day for a Thai feast fit for a queen.
Bizu Patisserie
Click here to see a list of branches.
Give Mom a dose of sweetness with Bizu's Quezo Real Cake (P835 for the midi cake/ P1,795 for the grande), Quezo Real mousse with rich Dulce de Leche filling, Genoise sponge and almond crisp topped with assorted nuts.
Get a FREE 5 pc. 8 ml sampler pouch of Shu Uemura Cleansing Oils for Mom this Mother's Day for any Midi or Grande Cake order and a FREE Shu Uemura Makeover Coupon redeemable in any of their outlets until May 16, 2010.
ADVERTISEMENT - CONTINUE READING BELOW
C2 Classic Cuisine
Click here to see a list of branches.
Feast on C2 Classic Cuisine' Tortang Alimasag, Almondigas, Satay Bagnet, Lumpiang Hubad, Pandan Rice with free C2's Chocnut Souffle, all for P990 (good for 3-4 persons).
Café Mary Grace
Click here to see a list of branches.
Bring home sweet goodies for Mom from Café Mary Grace: choose from the Apple Pie (whole pie is P520), Chocolate Mousse (8-inch round cake is P452) or the Truffle Cake (8-inch round cake is P795/ mini-cake is P248), which are sure to bring a smile to her face.
Chateau 1771
GF Greenbelt 5, Makati City. Tel. No.   729-9760
CONTINUE READING BELOW
Recommended Videos
On Mother's Day, the paella version of Chateau 1771's Jambalaya comes with grilled salmon, scallops and prawns on top of the usual ingredients: clams, mussels, chopped sausage, ham, green bell peppers, onions and rice, all cooked together then baked Creole-style.
Available for lunch and dinner, at P850 per serving.
Chef Laudico Bistro Filipino
G/F, Net 2 Bldg., 3rd Ave., Fort Bonifacio, Taguig City. Tel. No. 856-0634
Chef Laudico Bistro Filipino's Order-all-you can at P788 / person will be available the whole weekend of Mother's Day from May 7, Friday lunch to May 9, Sunday Dinner. Special treats from the patisserie will also be given away to all Moms.
You may also gift her with Chef Jackie Laudico's Chocolate Truffles and Pralines which uses only the finest European Chocolates with the freshest Filipino flavors sans the preservatives.
These beautiful chocolate creations are handmade in the traditional way using the best natural ingredients with no preservatives.
ADVERTISEMENT - CONTINUE READING BELOW
Conti's
Click here to see a list of branches.
Head to Conti's and try out their new dishes: Fish Kebabs (P275), Seafood Au Gratin (P240), Chicken Ballotine (P225), or the Mango Salmon Panini (P195).
Cupcakes by Sonja
Serendra Piazza, Ground Level Mckinley Parkway, Fort Bonifacio Global City, Taguig City. Tel. No. 856-0308
Sweeten her day with Cupcakes by Sonja's Mother's Day Cupcake Pot (18 Vanilla Cupcakes in a Flower Pot, P950) or surprise her with a box of cupcakes with edible Photo Frame toppers (additional P85 on your favorite cupcake).   Call 856-0308 to order.
Delifrance
Click here to see a list of branches
Treat Mom to Mother's Day brunch at Delifrance with a 2-course meal which includes Frittata with Stuffed Tomato and Blueberry pancake with frankfurters and fruit plate, all for P299. All meals are served with a Mimosa cocktail and bottomless coffee.
Duo
Serendra Piazza Ground Level Mc Kinley Parkway, Fort Bonifacio, Taguig. Tel. No. 856-1200
Duo's special Mother's Day menu at P1,000+ per person includes: Mom's Choice Salad, with prawn, watermelon, orange, pistachio nuts and crumble of goat cheese in citrus vinaigrette dressing; Cream of Spinach and Corn Soup, Grilled U.S. Top Blade Steak in bourguignon sauce served with potato au gratin and vegetable or
Baked Sole Fillet stuffed with mushroom and spinach in leek - chardonnay sauce served with brown rice risotto. Dessert is Strawberry - Mango Mascarpone topped with vanilla ice cream and kiwi sauce, with coffee and tea.
El Cirkulo
Milky Way Bldg., 900 Pasay Rd., Makati City. Tel. No. 810-8735
ADVERTISEMENT - CONTINUE READING BELOW
Show your appreciation with food and treat Mom to Cirkulo's Cochinillo Asado (P4,950 whole/ P2,500 half-order) or a Certified Angus Porterhouse Steak with Thyme Salt and Roasted Vegetables (P2,950 for 3-4 persons) this Mother's Day.
Call 48 hours before to place the orders for Cochinillo Asado.
Je Suis Gourmand
G/F Net One Center, 26th Street corner 3rd Avenue, Bonifacio Global City,Taguig. Tel. No. 815-8801
Go French on Mother's Day with Je Suis Gourmand's set menu at P1,550 per person: Pan fried duck foie gras with warm lentils and arugula, or Smooth salmon crepe with chilled prunes salad;   Fresh calamansi sherbet; and a choice between Roasted Salmon and Scallops or U.S. Black Angus Sirloin or Pan-Roasted Veal chops. Dark chocolate lava cake with Grand Marnier ice-cream will be served for dessert.
Meals come with coffee or tea, available for lunch and dinner.
Maitre Chocolatier
28 Jupiter Street Corner Astra Street, Bel-Air Makati City. Tel. No. 897-8559, 896-2529.
Get on her good side and indulge her sweet tooth with the Lindt Chocolate Pistachio Cake (P250) from Maitre Chocolatier. You may also pick out a few boxes of other delectable sweets for yourself with their range of chocolate desserts: Ferrero crunch cake (P250) and the Sweet Revenge (P250), a dark chocolate molten lava cake filled with spicy chocolate sauce.
Milky Way Café
2/F 900 A. Arnaiz Avenue (Pasay Road), Makati City. Tel. No. 843-4124
Indulge Mom with her Original Milky Way favorites: Halo-Halo and Ice Cream Sundaes.   All Mother's Day guests will be treated to Milky Way ice-cream, which are available in half-gallons to take home.
ADVERTISEMENT - CONTINUE READING BELOW
Pepper Lunch
Click here to see a list of branches.
Take Mom to Pepper Lunch and get free Cooler shakes for the first 80 mothers who dine with their families on May 9, Sunday.
*First 80 mothers per store will be given free coolers.
Restaurant Cicou
2 San Lorenzo Drive corner A. Arnaiz Avenue, Makati City. Tel. No. 887-8080
Choose from the Mother's Day special dishes available on May 9:   Oven-baked Homemade Duck Confit,   Pork Sausage Cassoulet and   Whole Australian Lamb Shoulder Confit with fresh herbs and lemon (each dish is P2,700++, good for 4-5 persons); US Duck 3-ways with Roasted breast and orange sauce, comes with leg confit and tourte with duck liver and puff pastry (P2,900++, good for 2-3 persons) and Bouillabaise of assorted seafood (prawns, scallops, seabass, pampano and red mullet), which comes with potatoes, croutons, aioli and rouille (P2,900++, good for 4-5 persons).
Regular a la carte menu also available for lunch and dinner.
T.G.I. Friday's
Click here to see a list of branches.
Share the big platters at T.G.I. Friday's on Mother's Day lunch or dinner: Triple Chicken Sampler (P925), Seafood Platter (P945) or the Jack Daniel's Sampler (P1,285), all good for 2-3 people.
Zuni
G/F Greenbelt 5, Makati City. Tel. No. 757-0361
Take mom out to lunch or dinner at Zuni and order the set menu at P1,250+ per person, which includes: Baked Scallop and Shiitake Mushroom with mesclun salad topped with crispy kani in mango-tomato-cilantro relish; a choice of Chicken and Corn Chowder; Grilled New Zealand Beef Tenderloin in porcini mushroom sauce served with sautéed potato, welted spinach and carrot vichy or Duet of Salmon Paillard and Tiger Prawns in amaretto sauce.   Dessert is White Chocolate Pistachio Mousse topped with strawberry chilled flambéed with mango sauce.
ADVERTISEMENT - CONTINUE READING BELOW
Set menu comes with coffee or tea.
Hotels
Crowne Plaza Galleria Manila
Ortigas Ave. corner Asian Development Bank Ave., Quezon City. Tel. No. 633-7222
Enjoy a buffet feast at Seven Corners Restaurant or Xin Tian Di and get a Mother's Day Cake, a miniature of this tributary "Mothering Cake" which originated in England during the 17th century.
Aside form the Mothering Cake, a special treat also awaits diners as they will also get to experience authentic Vietnamese Cuisine at Seven Corners. A spread of Vietnamese dishes prepared by chefs from Ho Chi Minh City will be offered in each of the stations.
Xin Tian Di, Crowne Plaza's premier restaurant will celebrate Mother's Day with delicious Asian set menus that boast of culinary masterpieces from Singapore, Hong Kong and China.   A few of the Asian dishes that will be executed by Chinese Executive Chef Sam Lee are Barbecue Combination Platter, consisting of Peking Duck with Mango, Suckling Pig, Sushi and Jellyfish, Seafood Salad Roll,   Deep Fried Tiger Prawns with Pumpkin Sauce, Steamed Garoupa with Minced Pork in Garlic Chili Sauce, Baked Lobster in Sambal Sauce and Steamed Chicken with Chinese Ham and Shark's fin Clear Soup.
Discovery Suites
25 ADB Avenue, Ortigas Center, Pasig City. Tel. No. 683-8222
Take the whole family to celebrate with a lunch buffet at 22 Prime for only P1,500+ per person or opt to go out for dinner where there will be Prime Rib carving station along with favorites from the a la carte menu. For every group of 6, get a complimentary glass of Bellagio wine.
ADVERTISEMENT - CONTINUE READING BELOW
Dusit Thani Manila
Ayala Center, Makati City. Tel. No. 867-3333
Make reservations for Dusit Thani Manila's Crossover Buffet and enjoy food from the hotel's four specialty restaurants - Umu Japanese Restaurant, Tosca Italian Restaurant, Royal Thai Benjarong Restaurant and Basix which offers international buffet dishes with a special Indian Cuisine spread, Chinese dim sum and Wok station, create-your-own salad, and soup and crepe stations.
The Sunday Family Crossover Brunch is from 11:30 a.m. to 3:00 p.m., 50% off for children 6-12 years old and children 5 years old below dine for free.
EDSA Shangri-la
1 Garden Way Ortigas Center, Mandaluyong City. Tel. No. 633-8888
Enjoy a lavish buffet at HEAT on Mother's Day for P1,700++ for lunch and P1,850++ for dinner or treat her to an Italian feast at Paparazzi with a special set menu (P2,000+ for lunch and P2,400++ for dinner).
Hyatt Hotel and Casino
1588 Pedro Gil Corner M.H. Del Pilar, Malate, Manila. Tel. No. 245-1234
Go Cantonese with Li Li's set menu at P1,988+ for lunch or dinner or head to the The Fireplace Grill for different variations of the Alaskan King Crab, including a refreshing salad of Fresh Mesclun with Warm Crab Meat, Potatoes and Green Beans Drizzled with a Tart-Sweet Pommery-Lemon Vinaigrette (P850); a hearty bowl of rich, luscious and luxurious Crab Chowder with Home-Made Cheese Crackers (P480); and, for the main course, a choice of Steamed Crab Legs with Broccoli and Lemon Butter Sauce (P3,200) or Gratinated Crab Legs with Grilled Asparagus (P3,500).
The Alaskan King Crab specials are available at The Fireplace Grill for the whole month of May.
ADVERTISEMENT - CONTINUE READING BELOW
Makati Shangri-la
Ayala Avenue, Makati City. Tel. No. 813-8888
Head to Circles for a special buffet (P1,842 net per person for lunch and P2,087 net per person for dinner) or enjoy a brunch buffet at Red with free-flowing champagne for P3,600 per person from 11:30 a.m. to 2:30 p.m.(P2,600 if diners opt for just the standard drinks: local beer and house wine, softdrinks, fruit juices).
All mothers who dine in at any Makati Shangri-la restaurant outlet get a raffle stub with a chance to win a pearl necklace from Jewelmer.
Mandarin Oriental Manila
Makati Avenue, Makati City. Tel. No.750-8888
At the Mandarin Deli, Executive Pastry Chef Roberto Molleman and his team will prepare elegant hampers brimming with exclusive homemade goodies that include biscotti, raspberry pralines, strawberry meringue, cheese sticks and breadsticks, chocolate heart, homemade strawberry jam and macaroons, and pistachio cookies. The hampers are available beginning May 1 for P2,800 net, and can be pre-ordered.
Paseo Uno lays out a sumptuous buffet spread for lunch and dinner, freshly prepared from its interactive kitchens, to whet her appetite for choice dishes prepared by Executive Chef Rene Ottlik and his brigade.
Manila Marriott Hotel
10 Newport Blvd., Newport City Complex, Pasay City. Tel. No. 988-9999
Enjoy Marriot Café's brunch buffet from 11:30 a.m. -3 p.m. at P1,850 per person or opt to go to Cru for their 3-course lunch set at P1,850 per person   or P2,100 for a 4-course meal. Both set menus include a glass of sparkling wine.
Oakwood Premier Joy~Nostalg Center Manila
17 ADB Avenue, Ortigas Center, Pasig City. Tel. No. 637-7888
ADVERTISEMENT - CONTINUE READING BELOW
A lavish brunch buffet will be prepared at Oakroom for Mother's Day for only P1,600++ per person (P800++ for children below 10 years old). All mothers will receive   a complimentary gift from The Body Shop.
The Peninsula Manila
Corner of Ayala and Makati Avenues, Makati City. Tel. No. 887-2888
Treat Mom to a Sunday Brunch Buffet from 11 a.m. - 3 p.m. at The Lobby. Adults are at P1,600++ and children under 12 years old at P900.
Mothers also get complimentary pampering at the "Mom and Her Girls' Lounge" at the Conservatory and receive mani and pedis from the Nail Bar, a Clarins back & neck massage, and a Murad or Dermalogica express facial courtesy of Rustan's Cosmetics. The Lounge will be open from 11:30 a.m to 2:30 p.m. on May 9.
Renaissance Makati City Hotel
Esperanza Street, Corner Makati Avenue, Makati City. Tel. No. 811-6888
M2M will lay out a brunch buffet at P1,788 net per person, which comes with a standard drink or P1,988 for brunch and dinner with a glass of sparkling wine.
Sofitel Philippine Plaza
CCP Complex, Roxas Boulevard, Pasay City. Tel. No.   551-5555
Dine at Spiral on May 9 Sunday and choose from their brunch and dinner buffet spread (P3,915 per person for brunch and P3,178 per person for dinner). All diners get a chance to win in a raffle draw with prizes such as Le Spa gift certificates, an overnight stay at Sofitel Philippine Plaza and candlelit dinner for two at Spiral.
Kids 6 years old below are free, 7 -12 years old at 50% off.
ADVERTISEMENT - CONTINUE READING BELOW
Photographs from AzuThai, El Cirkulo, Milky Way, Chef Laudico Bistro Filipino, duo.com.ph, zuni.com.ph, Peninsula Manila, EDSA Shangri-la, Makati Shangri-la, Cafe Mary Grace, tgifridays.com.ph, contis.ph.
---
Help us make Spot.ph better!
Take the short survey
Load More Stories