The Carinderia Gets Fancy at Petra and Pilar
Petra & Pilar definitely intrigued us with their 'high style carinderia dining' concept.
Petra & Pilar on its first lunch day
We love eating and discovering new food haunts as much as the next guy, so when we were sent an invite to discover high-style carinderia dining, we wasted no time in checking out Petra & Pilar.
Petra & Pilar is a far cry from your usual carinderia. Yes, they do serve food over the counter, remniscent of high school cafeterias. But that is where the turo-turo concept ends. Petra & Pilar's interiors are quite cozy with the ambient lights and minimal décor. In this carinderia, food is anything but common.
I only got to sample the dessert fare (sansrival, cheesecake and brownies) which I found out, were part of the many recipes that Katrina Ponce Enrile, foodie and owner of Petra & Pilar, unearthed from her grandmothers' recipes (hence the name Petra & Pilar). In fact, we enjoyed them so much that we dove right in and I forgot to take food shots!
Sansrival goodness, just like how lola made them
On one side of the restaurant were sliding doors that revealed 21, a private function room which can be reserved for small parties where you can customize your menu for three to seven-course meals, have a private bar all to yourself and have your own butler, too. Now, that's cool.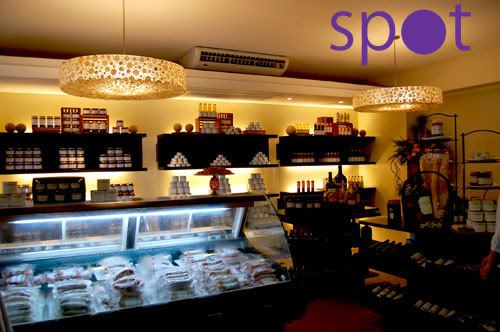 Deli goodies at Petra & Pilar
Petra & Pilar also houses a deli, where you can pick out Delimondo sausages, condiments, wine, even chocolate fondue, so make sure to check it out. Personally, I'll be heading back to this place soon and to see how fun it is to order my carinderia favorites in high style. Expect an editorial review within the next few months, spotters. In the meantime, check out Petra & Pilar yourselves and let us know what you think.
ADVERTISEMENT - CONTINUE READING BELOW
Petra & Pilar is located at the Ground Floor of the JAKA Center Building, Export Ave. corner Pasong Tamo, Makati City with telephone number 887-5168.
Images by Trixie Zabal
Load More Stories