10 Best Tapsilog in Manila
It's beefy goodness all the way! SPOT.ph samples tapsilog for every kind of crowd.
Traditionally, beef tapa is made by marinating slices of beef overnight and then drying them out in the sun. These days, though, tapa comes in many forms-"especially when it's served as part of tapsilog.
Arguably, the tapsilog-"a combination of tapa, sinangag (fried rice), and itlog (egg)-"was originally intended to be quick breakfast fare. But the combo has become so popular that Pinoys-"Manila denizens,in particular-"opt to eat it for lunch and dinner as well. In fact, the tapsilog has produced a number of iterations (replacing tapa but retaining the si and log) such as tocilog (tocino) and longsilog (longganisa), among many others.
One thing's for sure: The tapsilog is still the most sought after combo. SPOT.ph asked some Metro Manila residents which tapsilog hit the spot for them and we came up with this list. We sampled the tastiest tapsilog in the city-"from the low-end to the high-end variants. There's a tapsilog for every crowd.
1. MATY'S
0395 Quirino Avenue, Dongalo, Parañaque
Tel. no. 854-0889
Open from 6:00 am to 4:00 am daily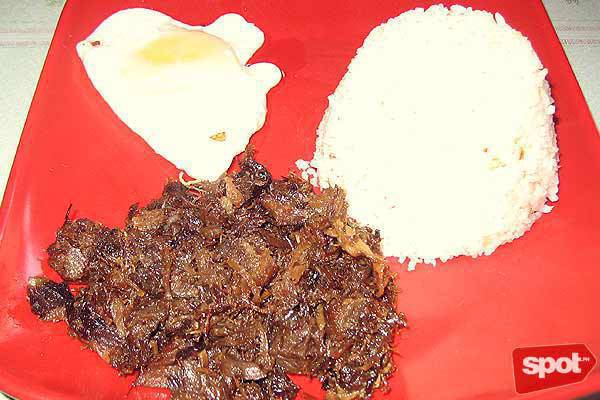 ADVERTISEMENT - CONTINUE READING BELOW
Service, quality, and affordability are valued principles at Maty's, especially when it comes to its Tapsilog (P56), which appears to be one of its flagship offerings. Since service is quick, all portions of the combo meal are served to you in less than five minutes, all piping hot. The tapa in Maty's tapsilog is soft and has the right blend of sweet and salty. It's a no-nonsense meal that's perfect for post-party stops.
2. GOODAH!!!
Caltex EDSA Station corner Connecticut Street, San Juan. Tel. No. 409-7521
Open from 6:00 am to 4:00 am daily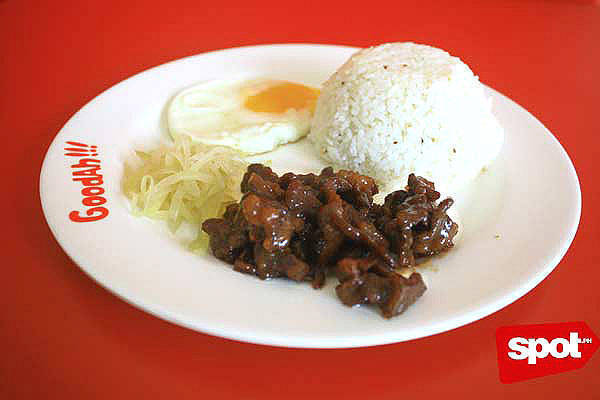 CONTINUE READING BELOW
Recommended Videos
The Classic Goodah!!! Tapa (P75) is among the "pricier" fares at this "cheap eats" establishment, but you'll understand why the moment you taste it. The sweet beef slices have the right hint of saltiness. The meat is soft and juicy. The staff are forbidden from discussing the recipe, though.
3. THE ORIGINAL SINANGAG EXPRESS
Makati Cinema Square, Pasong Tamo, Makati City
Tel. no. 811-1569 or 811-1365 and 525-4089 or 526-6992 (Manila Branch)
Open 24 hours daily
ADVERTISEMENT - CONTINUE READING BELOW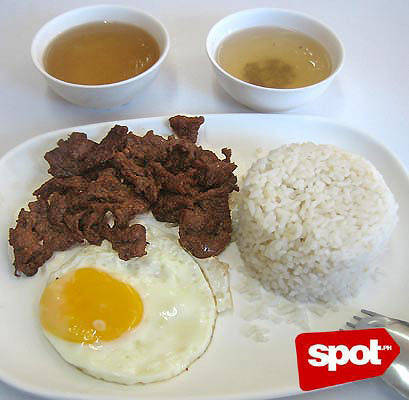 The Original Sinangag Express offers another reason for visiting Makati Cinema Square other than scouring cheap DVDs, used appliances, and antique furniture. Besides offering a host of other meals-"either to go, delivery, or dine-in-"the restaurant also sells two different tapa combo meals: the Tapang Tapat (P95) and Tapa Orig (P70). The former has bigger servings of tapa and rice and two fried eggs. Both, if not all, of their meals also come with hot soup, which is a welcome bonus since their tapa could use a little more flavor and a little more frying. The restaurant-"also known as SEX-"offers unlimited rice to its dine-in customers.
4. RUFO'S
Shaw Boulevard, corner Sheridan Street, Greenfield District, Mandaluyong City with branches in Pasig, Makati, and Quezon City
Tel. no. 633-5936 (Shaw Boulevard), 638-2038 (San Miguel Avenue, Pasig), 631-3378 (E. Rodriguez Avenue, QC), and 899-3811 (Kalayaan Avenue, Makati)
Open 24 hours daily
ADVERTISEMENT - CONTINUE READING BELOW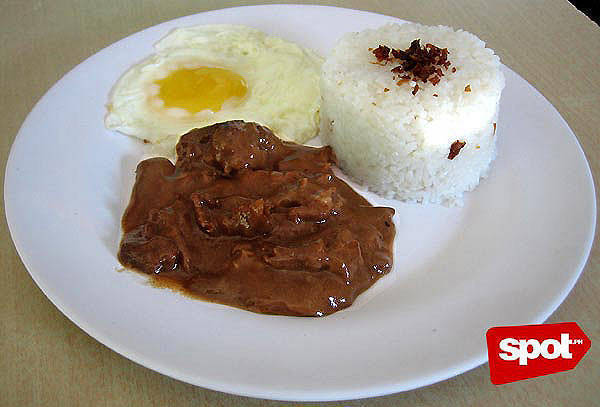 Of all beef tapa establishments visited, Rufo's is the only one that serves its flagship offering swimming in its special sauce. But instead of overwhelming the dish, the sauce-"a sweet, brown-colored, gravy-textured mixture-"enhances its taste, thereby allowing for a one of a kind tapsilog experience. When its proprietors said that "sauce pa lang, ulam na," (the sauce itself is so good you can eat it on its own), it wasn't joking. It makes you wish that their servings were bigger.
5. RODIC'S
Masaya Street corner Maginhawa Street, UP Village, Diliman Quezon City and Stall No. 9, University of the Philippines-Diliman Shopping Center
Tel. no. 436-4389
Open from 11:00 am to 9:00 pm daily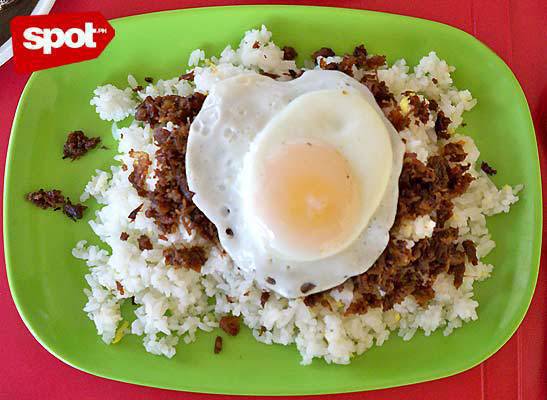 ADVERTISEMENT - CONTINUE READING BELOW
Rodic's has been cooking good food for 50 years or so. These days, it boasts of its own unique Tapsilog (P65), as the tapa seems that it's been tossed inside a blender. The shredded meat is more on the sweet side and the accompanying fried rice and runny sunny side-up egg only enhances its taste. The sinangag gets extra points for being nicely moist.
6. MAX'S
Elliptical Road, Quezon Memorial Circle, Diliman, Quezon City with various branches
Tel. no. 924-3392
Open from 7:00 am to 9:00 pm daily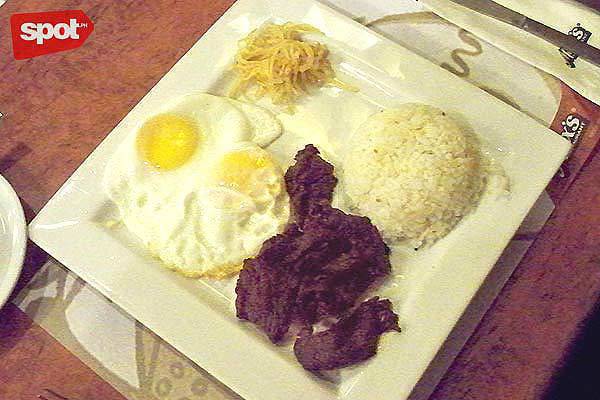 The house that chicken built actually serves very good tapsilog. The Max's Tapsilog (P162), which is served with two fried eggs, features the traditional sun-dried tapa. The tapa is equally sweet and salty and the eggs are perfectly fried. And, yes, the tapsilog is available all day.
7. TAPSI NI VIVIAN AT BULALUHAN
6 Lauan St., Barangay Duyan-Duyan, Project 3, Quezon City
Tel. no. 433-4267
Open 24 hours daily
ADVERTISEMENT - CONTINUE READING BELOW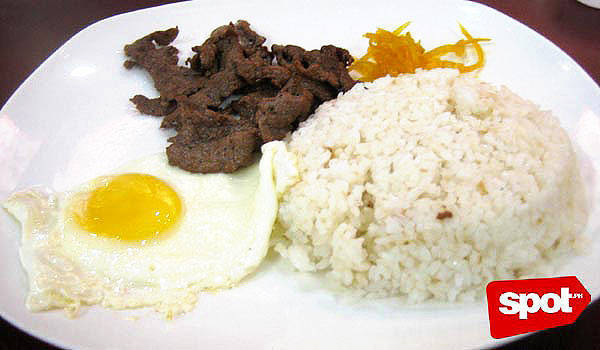 Although the establishment was founded in 1984, very few outsiders, to this day, know who Vivian really is. Management and staff-"who, by the way, wear signature pink shirts and visors -"are tight-lipped about her identity although pictures of a smiling middle-aged female-"presumably Vivian-"are displayed prominently inside the dining area. Fortunately, the big to-do about her identity has not gotten in the way of her famous dish. Although the Beef Tapa (P80) itself is served cold-"having been mixed and cooked beforehand -" the strips are tasty and the portions generous.
8. JOLLIBEE
Philocoa, Diliman, Quezon City with various branches
Tel. no. 8-7000 (Hotline)
Open 24 hours daily (select branches)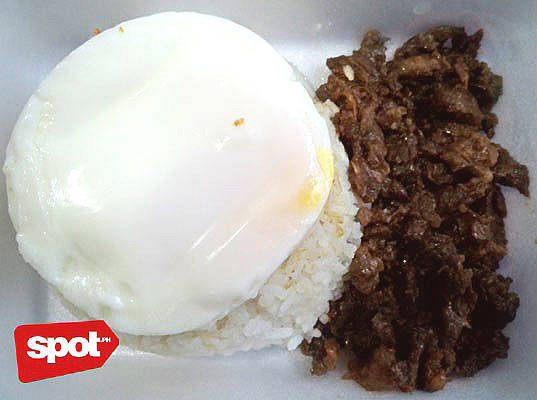 ADVERTISEMENT - CONTINUE READING BELOW
The fastfood Tapsilog Combo Meal (P76) comes with a regular-sized drink of your choice and is only available during breakfast. (That would be from 6 a.m. to 10:30 a.m.) The tapa comes in the form of beef bits. More on the salty side, it's served with a cup of fried rice and poached sunny side up egg. It's not "classy" tapa but it sure has its fans.
9. TAPA KING
National Book Store Mall, Quezon Avenue, Quezon City with various branches
Tel. no. 387-2432
Open from 10 a.m. to 9:00 p.m. daily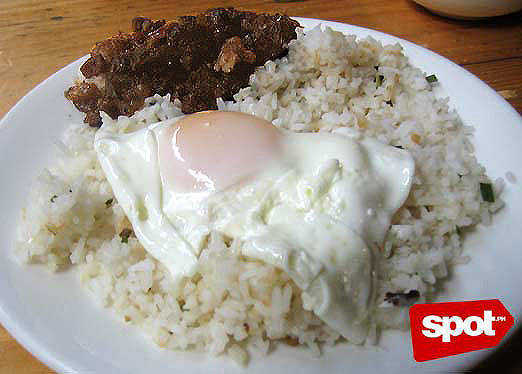 The tastiest Tapa King dish is not its house special, which is named-"you guessed it-"Tapa King. It is Tapa Queen (P125). Although the first offers the natural flavor of tapa, the second is perhaps the store's runaway winner because it is sweet and spicy. But then again, why quibble over details? After all, besides being served with the customary fried egg and rice, its four beef tapa variants-"and a separate spicy pork tapa dish-"are enhanced with its atchara (papaya relish).
ADVERTISEMENT - CONTINUE READING BELOW
10. MR. JONES
Greenbelt 5, Makati City
Tel. no. 501-3111
Open 11:00 a.m. to midnight daily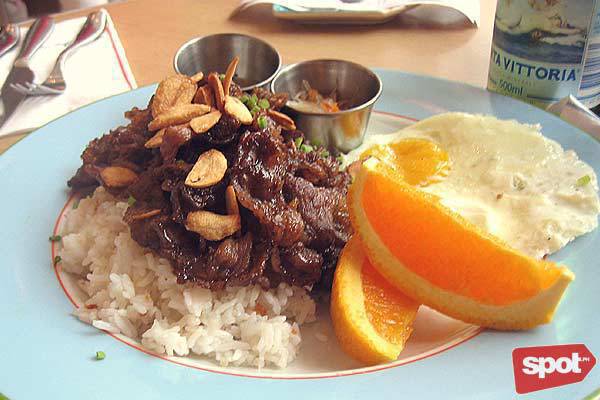 Perhaps the most indulgent tapsilog in the city can be ordered and enjoyed at Mr. Jones: the U.S. Beef Ribcap Tapa and Garlic Overload (P295). The tapa strips dominate the whole dish, emphasizing what diners will immediately be glad to find out-"that the tasty beef portions far exceed the weight and the volume of the fried rice. And that's just for starters. Besides being served with two fried eggs, the dish is topped with garlic chips the size of twenty-five centavo coins and two orange slices. Chef Kalel Chan explains that the tapa is made from Yakiniku cut US Ribcap Beef, which is given a slight adobo treatment. This explains why this indulgent dish comes with a high price tag, which you won't mind once you've cleaned your plate.
SPOT.ph wants to know: What's the best tapsilog for you?
ADVERTISEMENT - CONTINUE READING BELOW
Photos by the SPOT.ph team, Kevin Sandiego (Goodah!!!), and Erwin Dwight D. Valencia (Max's and Jollibee).
---
Help us make Spot.ph better!
Take the short survey
Load More Stories