10 Pinoy Food Carts in Manila: Our Top Picks
Food carts are the answer to quick 'n' cheap tummy fillers. Which ones top your list?
It's a no-brainer: food carts at the mall, in office buildings or at train stations offer a speedy respite from hunger pangs. Offering quick meals on the cheap, food carts serve just about anything–from flavored French fries, dimsum, to the well-loved Pinoy bibingka. 
Carts have been in the Philippines since the 1980s, with the earlier carts having wheels, echoing the appearance of a carriage on wheels which could be pushed to one's chosen location. According to Entrepreneur magazine's Philippine edition, Popperoo Popcorn was the very first cart business that entered a local mall in the 1990s. Now, food carts–sans wheels–are a ubiquitous bunch, occupying space near the grocery, train terminals, and even walkways to parking areas in malls.  SPOT.ph munched on food from 10 of our favorite "carts."   (Never mind if the term is now a misnomer.)
ADVERTISEMENT - CONTINUE READING BELOW
What are the food cart franchises you can find in Manila?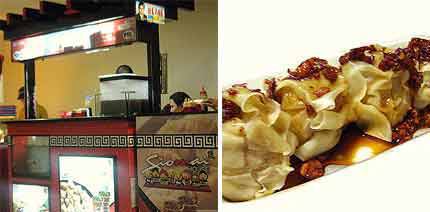 SIOMAI HOUSE
Best-seller: Pork and shrimp siomai (4 pieces for P25)
Food cart appeal: Cheap, tasty dimsum
Probably the best-tasting "food cart siomai," an order comes with four hefty pieces of pork and shrimp siomai, generously topped with chili garlic bits. Rarely soggy, Siomai House's dimsum is steamed just right, and for P25, a real steal. They also serve ice-cold gulaman for a measly P10.
ADVERTISEMENT - CONTINUE READING BELOW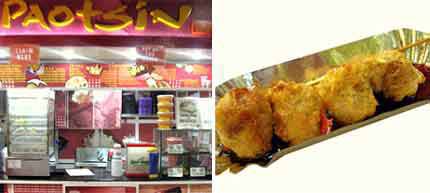 PAOTSIN
Bestseller: Steamed or fried dumplings (P35) and dumpling meals with rice (P45 to P48, choice of Hainanese, Lemak, or plain rice)
Food cart appeal: Affordable dumpling rice meals
In the age of penny-pinching, office workers and students are equally drawn to Paotsin with their array of dumplings and rice meals. Either steamed or fried, the dumplings are tasty and best dipped in their spicy soy sauce.   The rice meals, on the other hand, come with a generous serving of green-colored steamed rice, (which is cooked in pandan leaves, lending the green color to the cooked grains) Hainanese, or Lemak rice.   Some Paotsin carts offer their version of Laksa, a spicy noodle soup, that's both filling and hearty at P53.
ADVERTISEMENT - CONTINUE READING BELOW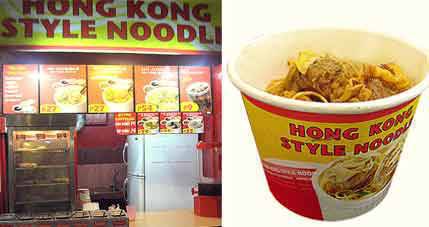 HONG KONG STYLE NOODLES
Bestseller: Regular-sized noodles at P27 (choice of beef or pork); Jumbo size (P54 with 4 pieces of dimsum)
Food cart appeal: Quick, inexpensive carbo-loading
Judging from the long lines alone, Hong Kong Style Noodles is one of the most popular food stalls in the city. A serving comes with pre-measured stir-fried noodles, bean sprouts, and two pieces of dimsum (you get 4 pieces for the jumbo size), but the real fun comes when you are tasked to make your own noodle sauce. With choices that include teriyaki, Szechuan, toyomansi, oyster, chili, and peanut sauce, each cup will probably taste differently from the first, unless you've got your own formula down pat.
ADVERTISEMENT - CONTINUE READING BELOW
Though you can't expect to have the best tasting noodles, its winning combination of calling out to consumer creativity (you do make your own sauce after all) and cheap prices undeniably captures mass appeal.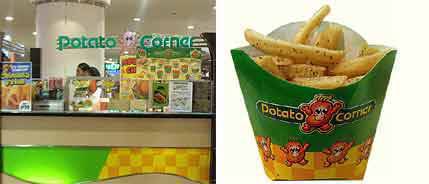 POTATO CORNER
Bestseller: Flavored fries in cheese, barbecue or sour cream and onion (regular size is at P33, large size is at P48)
Food cart appeal: Yummy flavored French fries
ADVERTISEMENT - CONTINUE READING BELOW
Starting out in 1992, Potato Corner is top of mind for local flavored French fries. The thick potatoes are deep-fried on the spot and mixed in with your fave flavor: cheese, barbecue or sour cream. Proudly halal-certified, Potato Corner also introduced new sizes to cater to a wider range of French fry cravings:   Jumbo Fries at P68, Mega Fries at P95 and Giga Fries at P149. You can also choose the Trio (P70) which has all three flavors and has browns at P35 per serving.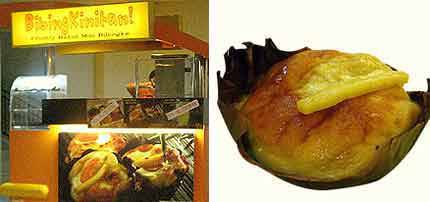 ADVERTISEMENT - CONTINUE READING BELOW
BIBINGKINITAN
Bestseller: Mini-bibingkas at P20 each; a box of 6 is P120
Food cart appeal: Personal-sized bibingka for the mini-meals
Bibingkinitan serves moist, fluffy mini-bibingka (P20 each), which are baked in a clay pot and smothered in butter. They also have a merienda combo of the rice cake paired with barako coffee for P50 and boxed sets with six pieces which you can tote home (P120 for 6 pieces).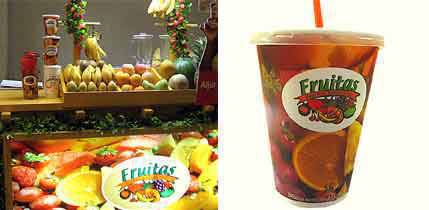 ADVERTISEMENT - CONTINUE READING BELOW
FRUTAS
Bestseller: Fruit shakes (starts at P35)
Food cart appeal: Affordable and healthy thirst quenchers
Every Frutas cart is fruit central–ripe, fresh fruits are on display, all of which are used in churning out cups of fruit shakes which are mixed with honey and milk. Not just offering the usual mango or banana shake, they have other fruits for your drink of choice: watermelon, apple and even strawberries are also available.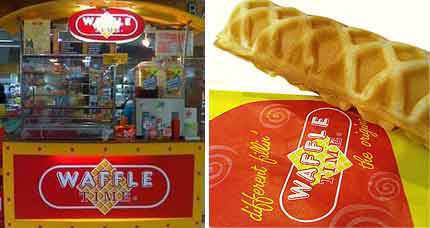 ADVERTISEMENT - CONTINUE READING BELOW
WAFFLE TIME
Bestseller: Waffle snacks with every filling possible (starts at P10 per piece)
Food cart appeal: Cheap tummy fillers
Waffle Time takes the classic waffle snack and fills it not only with hotdogs, but with pineapple, Swiss chocolate, Bavarian cream, tuna salad and bacon. At only P10 to P18 a piece, you shouldn't expect gourmet fare. The American Hotdog (P15), Cheese Delite (P12) and German Cheese Franks (P18) are popular choices for those wanting quick and cheap munchies while en route to work or those on the way home.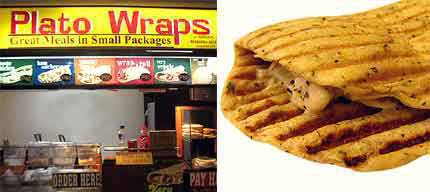 ADVERTISEMENT - CONTINUE READING BELOW
PLATO WRAPS
Bestseller: Grilled wrap sandwiches (starts at P46)
Food cart appeal: Filling meals sans the grease
Serving grilled wrap sandwiches with your filling of choice: chicken, ham and cheese, tuna or veggies with olive oil, Plato Wraps offers an alternative to those who like less grease in their meals. Opt to go with the pesto or whole wheat wrap (with an additional charge), and eat it as soon as it's off the grill–it can go soggy in a matter of minutes.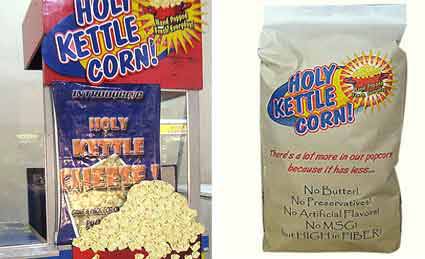 ADVERTISEMENT - CONTINUE READING BELOW
HOLY KETTLE CORN
Bestseller: Original flavor popcorn (starts at P30)
Food cart appeal: Great-tasting popcorn without the butter and preservatives
The first stall in Alabang Town Center in 2004 attracted even the north dwellers, with its promise of MSG, butter-free popcorn. Made with natural sweeteners such as molasses, honey and sugar, Holy Kettle Corn was soon popping bag after bag with more carts and kiosks all over the city with light, fresh and sweet-tasting popcorn.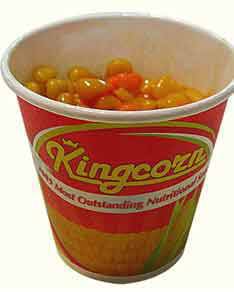 ADVERTISEMENT - CONTINUE READING BELOW
KINGCORN
Bestseller: Shredded corn with butter or cheese (P28)
Food cart appeal: Quick corn snacks at less than P30
Open since 1992, Kingcorn stalls offer both corn on the cob (starts at P22) and shredded corn kernels flavored with salt, butter and the optional cheese powder (P28). Simple snacks that still appeal to corn-loving Pinoys, Kingcorn now also serves popcorn in their carts all over Manila.
SPOT.ph wants to know: Which are your favorite food carts in Manila?
Recommended Videos
Load More Stories