MOVIE REVIEW: Eat, Pray, Love
The long-awaited film adaptation starring Julia Roberts, to say the least, is like a travel book come to life.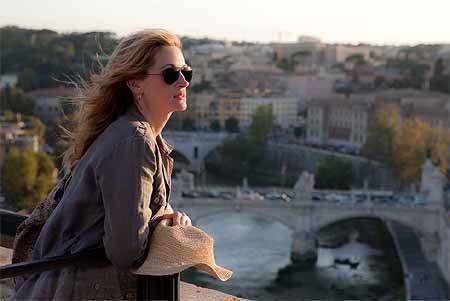 The most I know of Eat, Pray, Love was that it was based on the book of the same title, and that the book was based on the life of its author (and eventual movie protagonist), Elizabeth Gilbert. I've had a copy languishing on my bookshelf for months and I've yet to cover it in plastic, much less crack it open and read for myself what the fuss is all about. I suppose that was the reason why I was chosen to review the movie--I had no idea what the movie was about, and my idea of the synopsis came from what I read off Amazon readers' reviews of the book. Let me please state that this is a review of the film, and my reaction comes from my being ignorant of its literary cousin.


Eat, Pray, Love is the story of Liz Gilbert (Julia Roberts), a woman who falls into the category of Has-It-All: an unbelievable career as a travel writer, a husband who adores her, acceptance in New York literary society, and a very, very deep bank account. You may think that I'm being shallow by mentioning her bank account, but really, it's the third major character in this film, as Elizabeth Gilbert financed her trips to the places where she ate, prayed, and loved. The lead character is Liz, the scenery is second runner-up.

The movie begins with Liz going about her business as a travel writer. She bicycles her way through the rice-paddied lushness of Bali to the home of a local wise man named Ketut (Hadi Subiyanto), who reads her palm and says that she will soon be in a world of change. Change makes itself known to Liz quick, fast and in a hurry as she soon finds herself divorcing her husband (Billy Crudup), falling into a relationship with David (James Franco), a young theatre actor, and then arguing with her friend Delia (Viola Davis) because New York has become so uninspiring to her that she practically has "no pulse."
ADVERTISEMENT - CONTINUE READING BELOW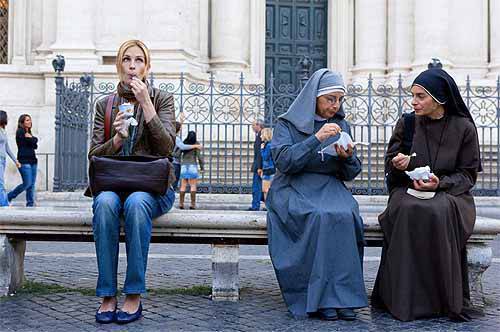 To find herself, Liz then travels to Italy where she eats and discovers the Italian concept of "il dolce far niente"--the sweetness of doing nothing. Italy then gives way to the crowds and congestion of India, where she finds herself as part of an ashram of a guru introduced to her by her thespian beau. At the end of her year-long sabbatical, Liz makes her way once again to Bali to round-off her year of insight.

I will not spoil the film for those who have yet to read the book, but it won't stretch your imagination too far to guess as to how this story will end. But let me just say that the best parts of Eat, Pray, Love can be best summed up thusly: the cinematography and Viola Davis.

The entire movie looks like a travel book come to life. Italy is old, and in a quaint form of disrepair where each crumbling facade was like a piece of a dream. This is where the eating part of the story took place. Every time Liz is presented with a dish, you could almost smell the aroma of basil and tomato wafting toward you. India, even at its dustiest, was picture-perfect. Every color is heightened to such fever-pitched hues that it is almost like stepping into a photoshopped version of the world. It is so vivid that you could almost forget the rivulets of sweat pouring down Liz's neck in every scene. Bali of course, was is perfection. Believe me when I say that the movie looks like a moving postcard.

Julia Roberts is at her Julia Roberts finest. There wasn't much acting done--but there was a whole lot of talking. The words did the scenes; maybe this is the downfall of lifting a story from a book? The story should have been relatable to most women, and in print, I suspect that it was. But carried over to the big screen? Something got lost in translation. Even in the scenes with Felipe (Javier Bardem), the ruggedly handsome man she meets in Indonesia, where we should have been on our feet hollering at Liz to just jump him, there was nothing. Julia was beautiful and Javier was hot, but together they just fizzled with nary even a pop of chemistry.

A light shines through Viola Davis, though. She is only on screen for about a tenth of the movie, but she fully occupies every scene she is in. There are very few actors who can tell a story with a raise of an eyebrow or a shrug of the shoulder, but Viola should be nominated for an award just by the way she sits on a chair. When a peripheral character embeds herself more fully than the lead, there is something wrong with the equation. Come to think of it, most of the supporting cast was much more colorful than Julia Roberts. Was this done on purpose because of Liz Gilbert's state of mind in the story, or was this thoughtless casting?

I'm not one for romance movies. In fact, I find Eat, Pray, Love a little too saccharine for my taste. And too reminiscent of Under the Tuscan Sun, to be honest. I understand that Liz needed a break from an environment that was clearly too much, but the movie never really showed why that was. Why was New York too much? It didn't seem like she was in it enough because of her job and a one-sentence explanation as to why her marriage was so unfulfilling wasn't enough. Even the voice-overs that let viewers know what Liz was thinking were inadequate. This movie was based on a book supposedly so moving it spent over 100 weeks in the best-seller list, surely, surely, a better script could have been made out of it. Instead what I got was the impression that the only way I could resolve my personal issues was if I went gallivanting in picturesque locales. At the end of the movie I found myself wondering if, in the middle of all of that, the concerns that made her leave New York were resolved. Or did they just sort of melt away the way problems do when you're on vacation, and pop up when you're back home? What? What happened?

To someone who read the book and loved it, the film may make more sense to you because you're able to fill in holes in the storytelling and therefore, not miss much. To viewers who want to see a sweet, uplifting story about a woman who rediscovers what she's known all along, this may be your film. To everyone else, the movie may just be too confusing. But if you find yourself asking more questions than watching the movie, get over the questions and just look at the scenery. That alone will be worth the price of admission.
CONTINUE READING BELOW
Recommended Videos
ADVERTISEMENT - CONTINUE READING BELOW
RATING: 3 out of 5 Spots ...

Eat, Pray, Love opens October 6.
Photographs from Columbia Pictures.

Share this story with your friends!
---
Help us make Spot.ph better!
Take the short survey
Load More Stories