According to Marc Matsumoto, author of the food blog, No Recipes: Cooking is More Fun Without Them, "Bulalo is a light colored soup that's made rich by cooking beef shanks and beef marrow bones for hours, until much of the collagen and fat has melted into the clear broth. The seasonings vary from chef to chef with some using only salt and black pepper while other variations call for patis, bay leaves or even garlic. But at its core, Bulalo a simple cattleman's stew, best made in a large cauldron with whatever (vegetables) are growing near by."
While health freaks may balk at consuming bulalo, its fans tag it as "pampalakas ng tuhod." Though many foodies swear that the best bulalo places are in Batangas or Tagaytay, our task was to find good bulalo spots in Metro Manila. That being said, SPOT.ph lists 10 places in the metro where you can get good bulalo...for whatever purpose it may serve.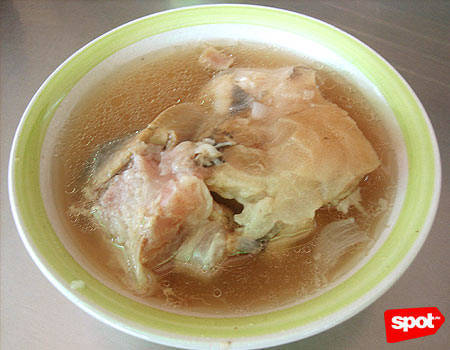 ADVERTISEMENT - CONTINUE READING BELOW
10. BULALUHAN SA N. RAMIREZ
55 N. Ramirez St., Galas, Quezon City
Tel. no. 731-1818
Open from 10 a.m. to 5 a.m. daily
Plain Bulalo, P65 and Bulalo Special, P115
This establishment has two faces. The first is located along its actual street address, where it maintains an informal, turo-turo style outlet for its regular customers comfy with sturdy metal chairs and tables bolted to the floor. However, for those who want better seats and a little more privacy, they can choose to move to the other end of the establishment But the food--bulalo and otherwise--remains the same. The soup of its plain bulalo is based on sinigang. The broth is lightly seasoned and the meat is nicely tender. It's a no-nonsense dish, which is to say you can suck the marrow from the bone without much trouble.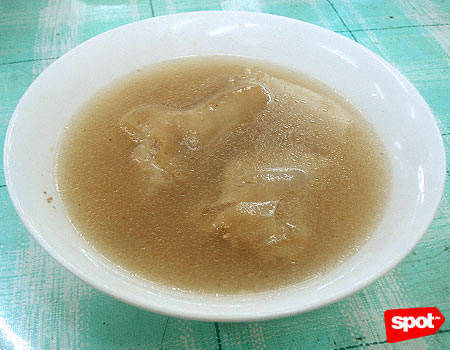 9. BULALUHAN SA ESPANA
2166 Espana corner Josefina St., Sampaloc, Manila
Tel. no. 781-7353
Open 24 hours daily
Plain Bulalo, P62 and Bulalo Special, P110
ADVERTISEMENT - CONTINUE READING BELOW
Recommended Videos
This is as basic as you can get. Its plain bulalo dish is served in a medium-sized bowl filled with nothing but two pieces of beef cooked in a clear sour stew. The lightly salty broth complements the beef nicely. Diners--and tipplers--flock to this spot for a hearty fix of bulalo. Marrow retrieval is also a breeze.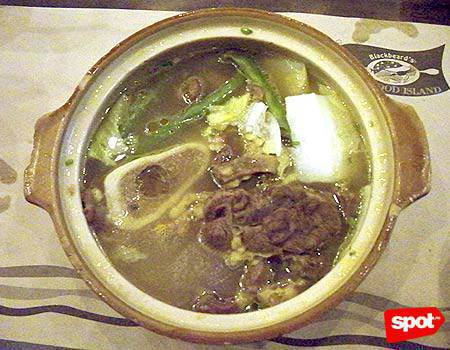 8. BLACKBEARD'S SEAFOOD ISLAND RESTAURANT
Market! Market! grounds with various branches
Tel. no. 889-7321 or 886-7692
Open 11 a.m. to 9 p.m. daily
Islas de las Filipinas Bulalo, P365
Despite its name, the pirate-themed establishment serves a variety of Pinoy dishes such as Islas de las Filipinas Bulalo, their take on the famous Batangas Bulalo. The dish, which comes in a large clay pot, is served piping hot. The beef broth is mildly salty. Chopped spring onions, Baguio beans, and Chinese cabbage are perfect complements for the generous chunks of beef and the large shank with the marrow. There's no need to "fish out" the marrow, as it's already partially out.
ADVERTISEMENT - CONTINUE READING BELOW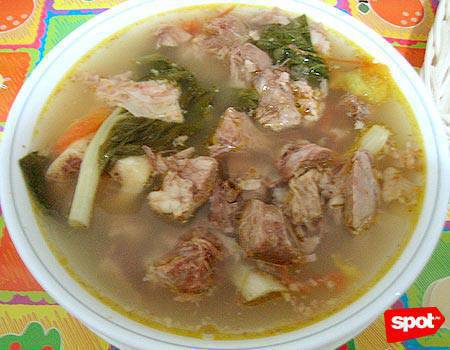 7. LUTONG PINOY NI ALING NENE
Market! Market! outdoor food court
Open 11 a.m. to 9 p.m. daily
Bulalo, P200
The bulalo is made of lightly peppered beef stock and contains chopped tomatoes and pechay. It also has a generous helping of beef fat, which makes it sinfully good. The beef chunks are very tender and the marrow in the beef shank has an almost-creamy texture.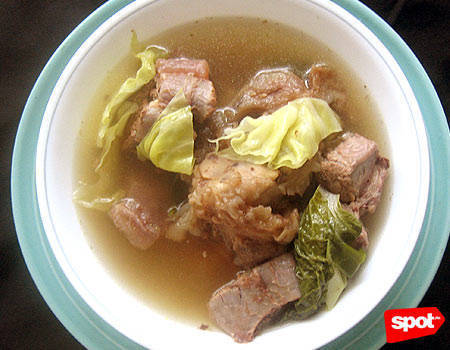 ADVERTISEMENT - CONTINUE READING BELOW
6. MARINA SEAFOODS
Market! Market! outdoor food court
Open 11 a.m. to 9 p.m. daily
Bulalo, P220
Though seafood is the establishment's specialty, they serve good bulalo that has a huge shank in clear well-seasoned beef broth. Chopped pechay and cabbage are also part of the dish. The beef chunks are very tender and the creamy marrow easily slips out.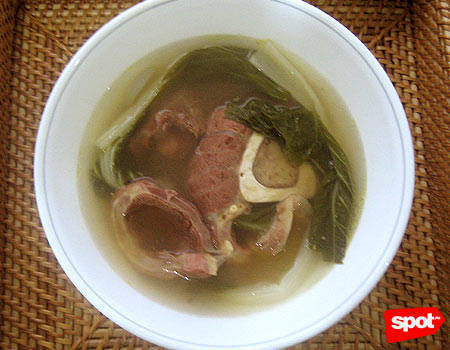 5. FRESKA
Market! Market! outdoor food court with various branches
Open 11 a.m. to 9 p.m. daily
Ilonggo Beef Bulalo, P200
Though Freska takes pride in offering "the best of Ilonggo seafood," it has other non-seafood offerings. Among them is the Ilonggo Beef Bulalo. (The dish is only available is select Freska branches.) The dish has a flavorful beef broth and an almost-flat beef shank with marrow. Pechay leaves and chopped leeks further enhance the bulalo, which contains very little beef fat.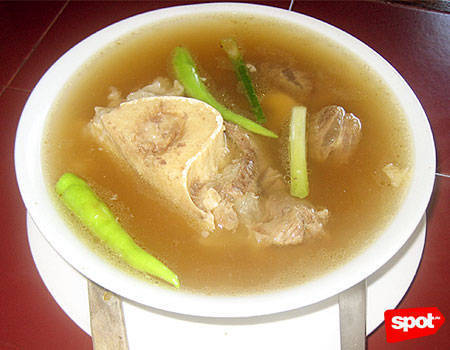 ADVERTISEMENT - CONTINUE READING BELOW
4. BULALO FIESTA
Block 75, Lot 14, Neopolitan Sitio Seville, North Fairview
Tel. no. 418-7804
Open 24 hours daily
Plain Bulalo, P225 and Bulalo Sweet Corn, P255
The establishment is perhaps Quezon City's best kept secret as far as bulalo is concerned. This is because those intending to drop by for a visit may find themselves lost in Fairview's confusing highways and byways. (Bulalo Fiesta is on the right side of Regalado Avenue on the way to SM Fairview.) However long and confusing, the trip is well worth it. Bulalo Fiesta offers all manner of bulalo variants imaginable to the connoisseur--from pochero to sinigang sa sampalok, from bulalo lomi to yes, kare-kare. Meanwhile, it's plain bulalo is not something to ignore--with its well-seasoned broth, beef chuncks, and the bone chunk with the delicious marrow.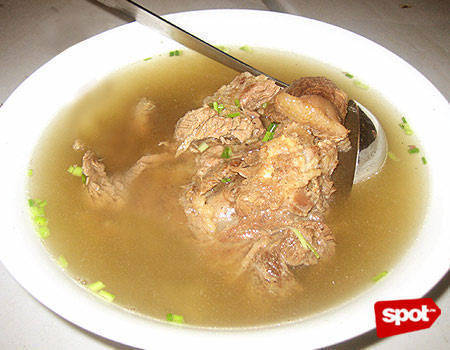 3. R&J BULALOHAN AND TAPSILOGAN
600 Boni Avenue, Mandaluyong City
Tel. nos. 533-4811 and 746-5432
Open 24/7, Monday to Sunday
Plain Bulalo, P199 and Bulalo Special, P249
ADVERTISEMENT - CONTINUE READING BELOW
Bulalo is supposed to be salty and served in huge chunks. And this is exactly the kind of bulalo served at R&J's Bulalohan and Tapsilogan. Its plain bulalo dish is cooked nilaga-style, unlike the others, which are cook their regular bulalo sinigang-style. Which probably explains why it keeps on attracting customers--from the hoi polloi to yuppies--despite its location. It's squeezed right between a Petron gasoline station and a fastfood chicken establishment, making parking difficult. But its patrons don't seem to mind that at all.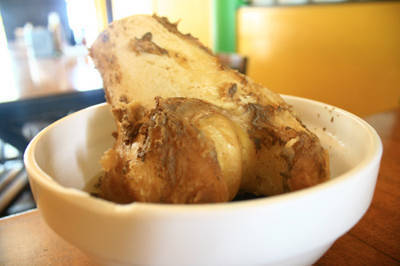 2. PAT-PAT'S KANSI HOUSE
8809 Sampaloc Street, San Antonio, Makati City
Tel. no. 890-6179
Open from 9:00 am to 11:00 pm daily
Kansi, P135
Kansi is the Ilonggo version of the bulalo and Pat-Pat's serves the best in the city. Of two special implements provided with an order of Kansi-"a barbeque stick and a thin, serrated steak knife--the latter proves more useful. The soft, rich, if stubborn flesh lodged inside the bone is complemented by the specially formulated broth.
ADVERTISEMENT - CONTINUE READING BELOW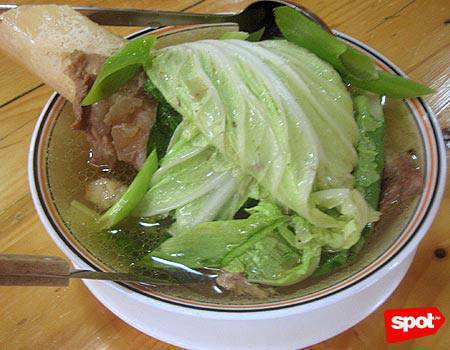 1. TAPSI NI VIVIAN AT BULALOHAN
No. 6 Lauan St., Barangay Duyan-Duyan, Project 3, Quezon City
Tel. no. 433-4267
Open 24 hours daily
Bulalo, P225
The establishment offers the most bang for the buck, or the most marrow for the money, so to speak. The bone and its meat are served in one whole bowl the size of a basketball cut in half. The dish is complemented by vegetables, which are wrapped around the meat. A separate smaller bowl of soup is provided, making it one of the most authentic bulalo dining experience in the city.
Photos by the SPOT.ph team, except for Pat-Pat's Kansi House (Kevin Sandiego). Styling was done on Marina Seafoods, Freska, and Lutong Pinoy ni Aling Nene bulalo.
Share this story with your friends!
---
Help us make Spot.ph better!
Take the short survey
Load More Stories