There is something compelling about a piece of well-cooked steak. The dish speaks to an innate primalness in everyone, the relative simplicity of its preparation hearkening back to a time when the tribe got to eat only when it was successful during a hunt. Perhaps this is why steak has such a macho connotation: it isn't so much the act of eating a hunk of beef as much as it is about the collective memories subconsciously associated with it.

One would think that it would be hard to mess up a piece of steak. After all, what is steak but a slab of beef cooked over a flame or hot surface, then served anywhere from well done to near raw? And yet it seems easier to ruin a perfectly good piece of steak than it is to perfect it, especially here, where people tend to serve it well done as a matter of course.
ADVERTISEMENT - CONTINUE READING BELOW
That said, I have to say that this was one of the hardest articles I've ever had to write, as there are so many excellent steak places in Manila and I only had ten spaces to fill. And while I know that I'm certainly going to get flak for not including this or that restaurant, or not limiting my list to a certain kind of beef or places that exclusively serve steak, let it be known that again, there are more excellent restaurants than spaces in a Top 10 list, and that to list only steakhouses would be, in my humble opinion, unfair to the regular folk who don't care where they eat, as long as they dine on an excellent piece of beef. Here, our top picks.  (Note: With the exception of #10, the steak in all of the restaurants were served medium rare.)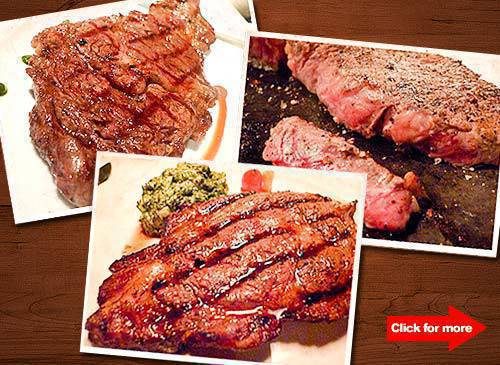 ADVERTISEMENT - CONTINUE READING BELOW
Recommended Videos
So much at stake. Click for more photos.
Photos by Yvette Tan, Frannywanny.com, and courtesy of Melo's.  Artwork by Warren Espejo
ADVERTISEMENT - CONTINUE READING BELOW
Share this story with your friends!
---
Help us make Spot.ph better!
Take the short survey
Load More Stories