Five Smokin' Picks at Chili's
ESPN, comfy seats and a steady stream of tostada chips (with guacamole, please!) may find you and your friends getting along quite well, thank you, at Chili's.
Being a laid-back, casual hang-out, it's not a wonder if a long-time Chili's regular has got dibs on a particular seat at the bar. Or if you're at the Greenhills branch, you might find yourself sitting next to a table of tall, muscular guys from a popular PBA team, their plates littered with the remains of a few strings of home-style fries.
Chili's was cultivated in the Philippines circa 1996 with its first branch in Makati. The Greenhills branch followed suit two years later and then the Tomas Morato hang-out in 2000. The American menu has made its mark in the Filipino palate that Chili's recently introduced a spin on some of its old favorites.
Here are five more reasons to lounge longer at Chili's (bottomless tostada chips not included):
1. Big Mouth Burger Bites (P325). These mini burgers are Chili's new burgers on the block. A plate holds four little burgers tucked in specially made buns (think "Honey, I shrunk the bun!"). Burger Bites has its own flavor-base, which means it's not a pint-sized version of the Oldtimer or Ground Peppercorn. The new burger may come in a small package but the flavor isn't dainty: the meat patty is as moist and juicy as the regular Big Mouth. It is topped with smoked bacon bits, cheese, sautéed onions, and ranch dressing. It packs such a punch that it needs a thicker-than-usual wooden toothpick to hold the whole thing together. You can pop it in your mouth at one go, but it's much better to have delicate nibbles and take in all the salacious details like the jalapeno pepper added into the dressing. It's ranch with a punch.
ADVERTISEMENT - CONTINUE READING BELOW
CONTINUE READING BELOW
Recommended Videos
Don't be fooled by the word "bites". This appetizer is good for four people.
2. Fajitas! Fajitas! Buffalo Chicken Fajita (P450) is the newest addition to Chili's sizzling line of fajitas. To assemble: cut into a breaded chicken breast, pile on the fire-roasted peppers and onions into a tortilla and scoop a bit of the blue cheese crumble and bacon bits. Then anoint with the holy four–guacamole, salsa (a.k.a. pico de gallo), mixed shredded cheese, and sour cream so thick it can pass as cream cheese. Your masterpiece will bear a noticeable crisp courtesy of the breaded chicken, which by the way is spiked with buffalo sauce. Eat immediately.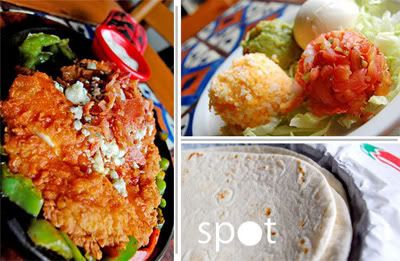 ADVERTISEMENT - CONTINUE READING BELOW
Be sure to wash your hands before handling the Fajitas - part of the fun is getting down and dirty with your hands.
3. Fire-Grilled Chicken & Shitake Mushroom (P450). The chicken gets its character from the peppercorn sauce but the marinated shitake donates a salty, smoky and earthy flair to this grilled entrée. If mushroom is the stuff your lunch is made of, this dish should seal the deal. Mashed potatoes and fresh veggies on the side tame the hint of brine. Other new entrées on the menu include the Santa Fe Steak and Salpicao Skillet.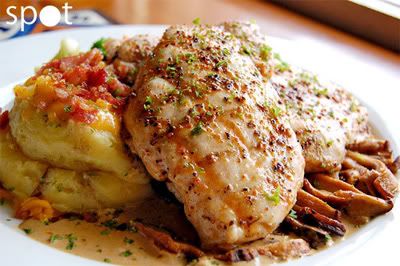 This dish is a bit on the spicy side so be sure to have plenty of coolers on hand.
4. White Chocolate Molten Cake (P370). The fair sister of Chili's signature Molten Chocolate Cake, the white version is a perilous journey to a much sweeter, richer side of chocolate. White chocolate contains only the cocoa butter, butterfat, milk solids, lecithin, sugar, and flavoring. Hence, the absence of the chocolate solids lifts the dark, lusty flavor of cocoa out of this dessert. What we get, then, is a sisterhood of vanilla and butter flavors which are apparent in the miniature bundt-shaped white chocolate cake in this dessert. Its golden brown exterior reminds me of those cream-filled sponge cupcakes sold in single packets.
ADVERTISEMENT - CONTINUE READING BELOW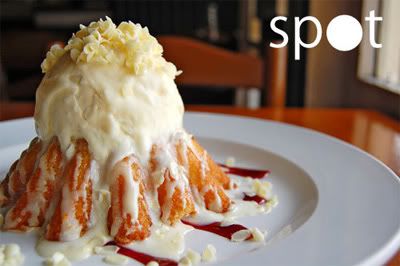 If the white chocolate proves too much to handle, request for more raspberry sauce.
The trek could have stopped at this heavenly cake base but within it is a filling of warmth–molten white chocolate to be exact. To mimic the dangerous lava, a stream of raspberry sauce provides a citrus counterpoint to all the white goodness, staining the white chocolate curls strewn in the vicinity with red. The raspberry is actually the sigh of relief I hear from my companions as they happily complain against the white chocolate overload. Lastly, the whole lot has a snowcapped peak of vanilla ice cream protected in a crunchy shell of hardened white chocolate. It all comes crashing down when spoons dig in and conquer. I could almost hear the chocolate shell cracking against the spoon, shattering into little pieces and the ice cream slowly melting into an edible mess on the plate.
ADVERTISEMENT - CONTINUE READING BELOW
5. Margarita Bar. Okay, so margaritas are Chili's signature drink and that's old news. But ordering a Presidente Margarita (P275) is always refreshing especially when the bartender grins and hand-shakes it. He fills up a margarita shaker with a shot of Jose Cuervo Gold Tequila, Grand Marnier and brandy then blends the mixture with a series of moves. One order is good for three, salt-rimmed martini glassfuls to be sipped with a thin black straw.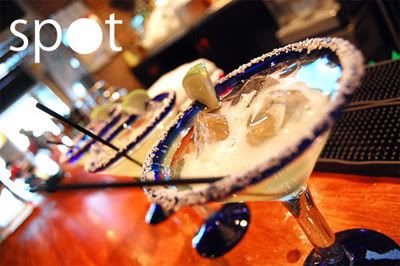 The margarita of Chili's is the drink of choice for all the characters of the American version of The Office.
A couple of Chili's bartenders are known to kick ass during the Star Bar Challenge (the next one is on August 27) so one could never go wrong ordering a margarita at Chili's. The bar dedicates almost a dozen kinds of margaritas, ranging from the premium El Nino or Blue Pacific, to Top Shelf and Caribbean. From classic to custom, just tell them how you like it and they'll keep the margarita flowing.
ADVERTISEMENT - CONTINUE READING BELOW
The eponymous blue glass margarita shakers, strung together with cord, adorn the top of the Margarita Bar counter. Other specialty drinks include the classic Tom Collins, Mai Tai, Screw Driver, and Bloody Mary as well as local draft beers and imported ones like Heineken, Corona and Vodka Ice.
Images taken by Karl Bustamante.
Let us know what you think of Chili's new items!
---
Help us make Spot.ph better!
Take the short survey
Load More Stories