CHECK IT OUT: TWG Tea Salon and Boutique at Greenbelt 5 in Makati
The Singapore tea-lover's staple is now in Manila!
TWG Tea Salon and Boutique
Level 1, Greenbelt 5
Legaspi Village, Makati
Open from 11 a.m. to 9 p.m. (Monday to Thursday); 11 a.m. to 10 p.m. (Friday to Saturday); 10 a.m. to 9 p.m. (Sunday)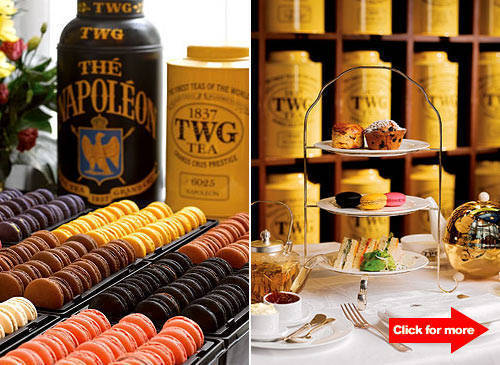 A tea and dessert lover's dream. Click for more.

(SPOT.ph) The rows upon rows of canisters catch you first: cylindrical tins large and small in cheery yellow, cerulean blue, bright pink, bold red, and almost every other color of the rainbow stacked with precision-the large yellow ones reaching the ceiling, the smaller ones on the lower shelves competing for your attention. Even from the outside, it's hard to drag your eyes away from the elegant prettiness of it all, and once you step inside, you'd be hard-pressed to settle on one thing too quickly. Especially when you realize that each tin holds a different type of tea, and each type smells nothing short of heavenly.

The feeling of being slightly overwhelmed by the variety is, we learned, intentional: "We want people to take their time. Sit, enjoy. Relax," says Louise Benzrihem of TWG Tea Company in Singapore, originator of TWG Tea Salon and Boutique. She suggests three ways to help narrow down the options when faced with their tea menu, which lists 1,000 different varieties (prices start at P190): first, pick a country-they have teas from practically every country in the world, from China to South America; second, ask someone from the staff for a recommendation, as they've been trained to identify which tea you're most likely to enjoy based on your preferences; or third, do it the old-fashioned way-close your eyes and point at something on the menu! The Silver Moon is always a bestseller, as well as the Singapore Breakfast. The Pink Flamingo, a white tea blend, is a surprisingly fun, delicately pink candy-flavored drink, and the Chocolate Earl Grey is a delicious black tea blend that boasts a mild floral flavor layered with spice and chocolate. 

The rest of their menu features tea-infused salads, sandwiches, and pastas, including some of the salon's signature dishes: the TWG Tea salad, the Wagyu burger, the TWG Tea lasagna, a roast apricot cod, and pastries like macarons, scones, and muffins for afternoon tea. So much eye candy, an irresistible menu, and a setting that almost transports you to a genteel world of high tea, top hats, and fascinators? It's all enough to make us think that a lot of people will want to sit back and relax much more often.
ADVERTISEMENT - CONTINUE READING BELOW
Recommended Videos
Load More Stories