CHECK IT OUT: Watami at SM Mall of Asia, Pasay City
<em>Okonomiyaki</em>, <em>sukiyaki</em>, pepper rice, sushi, ramen, <em>katsu</em>, and <em>yakitori</em>? All here.
Watami Japanese Casual Restaurant
2nd level, Veranda Bayside, Entertainment Mall, SM Mall of Asia, Pasay City
Tel. Nos. 836-7141, 0927-564-1815, 0915-720-6577
Open from 10 a.m. to 10 p.m. (Monday to Thursday); 10 a.m. to 11 p.m. (Friday to Sunday)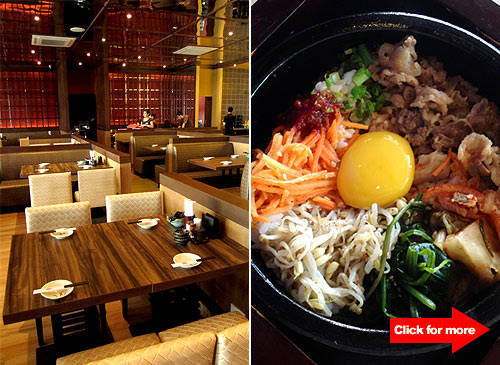 Bibimbap in a Japanese restaurant? Click for more.


(SPOT.ph) The plates are almost funny, small round things no bigger than an ashtray. But with arguing over the dizzying menu; debating about what to re-order; laughing and gossiping in between bites, you won't really notice the difference-only that the plates are, in fact, a tad too big. In Watami, there's more to eating than gastronomy; good companionship is part of the experience.

Built under the principle of ishokuya, a balance of delicious grub, casual ambience, and flawless service, Watami breaks new ground in SM Mall of Asia with Japanese fare that inspires terrific conversation to go along with great food. 

Hidden along the perimeter of MOA's Entertainment Mall, Watami is understatedly cozy and casual. The natural light from the open bayside casts a warm glow on the earthy interiors, while the ceiling-made entirely of mirrors-is stunningly modern. The food? A conglomeration of Japanese favorites like okonomiyaki, sukiyaki, pepper rice, ramen, katsu, and yakitori.

One might have trouble picking through the photo-heavy menu, but when it comes to the Watami Salad (P350), there's absolutely no argument. The restaurant's namesake starter is a chunky display of refreshing iceberg lettuce, chopped cherry tomatoes, crisp lettuce, and shrimp; onions and corn manage the subtle sweetness while a scoop of Japanese mayo topped with crab roe adds richness. The Caesar Salad (P200 to P320), of course, is also a fail-safe choice. Watami's is creamed with poached egg.

The classic Okonomiyaki (P195) is not to be overlooked. Though pleasantly light, bonito flakes make the egg-and-okonomi-batter mixture extra bold. Work your way to the more flavorful Beef Rice Bowl (P195) served Tokyo style. Rice and beef strips are served piping hot with thick beef sauce and chives bringing out the flavors. On the other hand, the Beef Kimchi (P245) seems to have wandered into the Japanese menu by mistake but the artfully presented, bibimbap-looking dish, encased in a stone pot, is so delectably smoky and fiery that we don't question it.

A sleeper must-try is the Nagasaki Ramen (P295). Onions, carrots, green capsicum, pork, corn and seafood work together to flavor this Japanese favorite. If you want to get a little creative, Watami also provides hotpot and grilling options like Assorted Skewers (P295) and Sukiyaki (P365).

"Our concept is about providing a big variety of delicious and authentic Japanese food in a casual environment, at an affordable price," said Watami International President Satisgu Kurihara. Variety is right, and what's even more amazing? How everything can fit in your plate.
ADVERTISEMENT - CONTINUE READING BELOW
CONTINUE READING BELOW
Recommended Videos
Are you sure you want to delete this list?

Load More Stories