CHECK IT OUT: Kichitora of Tokyo at SM Megamall
A new ramen joint opens in SM Megamall!
Kichitora of Tokyo
2nd Level, Mega Atrium, SM Megamall
Tel. No. 451-2218
Open from 10am to 9pm (Sunday to Thursday); 10am t0 10pm (Friday to Saturday)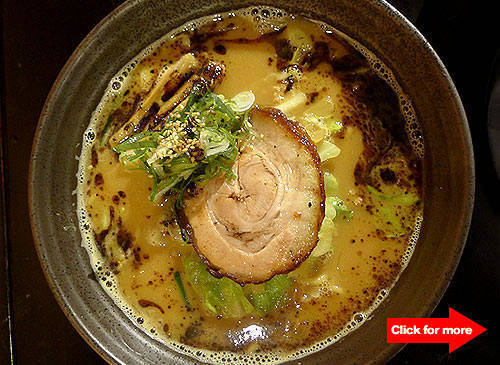 Get in mah belly!

(SPOT.ph) On Kichitora's second day of operations, a curious diner came in to have lunch, perhaps to see what this new ramen place is about. "She returned with another set of friends for dinner," Larson Chan, the young President of Kichitora Foods Corporation, says with much delight. This, he continues on, is one of the best compliments they've received since they opened last month.

Kichitora comes in at the right time, right when ramen is hitting an all-time high in Manila. And it comes in with all the right moves. They studied the local market, did their ramen research, and put it down to the simplest of terms. Unlike a lot of ramen restaurants where not knowing what to order feels like a sin, Kichitora remains friendly to what its diners want, and how. The menu is relatively simple, there's something for everyone, and hey. The food is actually very good!

The idea is very simple: It's a restaurant with ramen at its core. They have, essentially, five ramen dishes on offer. There's the Shoyu (soy sauce), Shio (salt), and Paitan (white) -all of which have chicken for topping and thin noodles accompanying a very flavorful soup. And then there's the Crab Seafood Ramen and the Miso Chasu Ramen which both have thicker noodles than the first three; the Miso Chasu has super tender pork as topping. We liked that Kichitora plays around with its noodles, using thicker ones for soup that has more intense flavors.

But Kichitora is smart. For hardcore ramen enthusiasts-and there are many-they added the Tsukemen menu, where the soup and noodles come separately so that the fun begins in the dunking of the noodles into the soup; and a list of additional toppings with which ramen enthusiasts can bling their ramen. Complementing the basic ramen menu are the rice bowls, the gyoza, and the desserts. There is a set menu for people who know exactly what they want.

While Kichitora is serious about its ramen-its dark interiors will have you thinking the same-it's actually delightful and fun and filling. Our experience receives a validation when Yuya Egawa, the Japanese head of operations, tells us that the proper way of eating ramen is to actually slurp it. Happily, we did.
ADVERTISEMENT - CONTINUE READING BELOW
CONTINUE READING BELOW
Recommended Videos
Photos by Tanya Rodriguez
Load More Stories