New Vietnamese restaurant, La Petite Camille, opens at Greenbelt 5
SPOT.ph blogger Alicia Sy talks about her favorite Vietnamese haunt, now in Manila
(SPOT.ph) I have been eating well lately. Maybe a little too well. With the holidays in full swing, I, as I hope most of you, have been enjoying quite a number of memorable meals with friends and family in places old and new. I've found a bunch of new contenders for our evolving list of Manila  restaurants we love. I have said it before, and I'll say it again, our local food scene just keeps getting better and better every day.

This week, La Petite Camille, a  popular Vietnamese kitchen by way of Millbrae, CA,  has opened its very first satellite restaurant in Greenbelt 5, Makati. A favorite of many who have spent time in the San Francisco Bay area,  the concept was brought to Manila by the East Orient Fine Dining Corporation, and will be operated by the same professional team behind  the successful eateries Super Bowl of China, Nanbantei, and the recently opened Yomenya Goemon.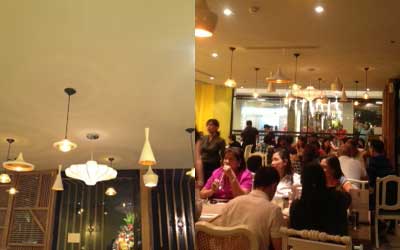 Photos by Yanna Yang


ADVERTISEMENT - CONTINUE READING BELOW
La Petite Camille was founded in 1993 by Phon Sui Khuu, a first generation Vietnamese immigrant to the United States, known affectionately to all her regular patrons as "Mamafong." Since then, La Petite Camille has been charming diners with its tasty food served in generous portions, and has always been easy on the pocket.

" La Petite Camille has always been a family favorite," shares local proprietor Richie Yang. "We have always enjoyed eating there whenever we were in San Francisco and we noticed that many Filipinos loved it there too, so we approached Mamafong with the idea of opening in Manila and fortunately she agreed. "
CONTINUE READING BELOW
Recommended Videos

While the French Colonial inspired interiors , designed by Noel Bernardo are perhaps more gentrified and polished than the original shop in California, the cuisine is as simple, straightforward, and delicious as I remember. Mamafong has been in Manila since November, training the local staff  on how best to prepare her original recipes. She plans to stay until late February to give time for the kitchen to come together on its own.
My favorite starters are of course, the  Vietnamese spring rolls. Served with a dipping sauce, both the fresh  Summer Rolls (fresh prawns, vermicelli, and lettuce sealed in rice flour wrappers) and the deep-fried Imperial Rolls (stuffed with minced pork or vegetables) are a perfect way to begin your meal. Also noteworthy is the Raw Beef Salad, seasoned raw beef tossed with a medley of fresh  sliced vegetables and topped with crispy shallots. I had not had this before and was pleasantly surprised at how much I liked it.
ADVERTISEMENT - CONTINUE READING BELOW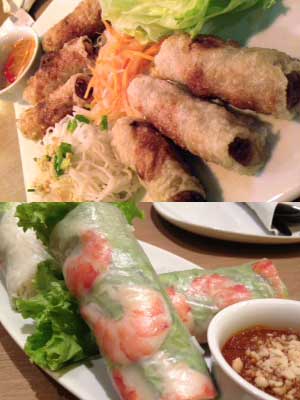 Top to bottom: deep-fried Imperial spring rolls and then the fresh Summer rolls
Photos by Yanna Yang
For most people, a meal at a Vietnamese restaurant would not be complete without a bowl of  hot noodle soup garnished with fresh herbs. My choice on both occasions that I dined at La Petite Camille was the PHO Combination with slices of beef and beef balls. The Beef Stew noodle soup is also recommended for those who like it hot and spicy.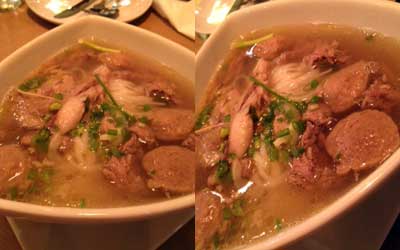 Pho Combination photo from the iPhone; Photos by Yanna Yang


ADVERTISEMENT - CONTINUE READING BELOW
Clay pot dishes have always been a perennial favorite. There is something about the revelation of  slowly cooked meat, fish, or vegetables  that lay underneath the ceramic lid that has always fascinated me. Usually this cooking technique allows for intense flavor  and the clay pot dishes that I ordered did not disappoint. I enjoyed the Special Rice in Clay Pot,  fragrant jasmine rice cooked with prawns, chicken, and Chinese chorizo,  but I must say that my favorite was definitely the Catfish Fillet simmered with fish sauce and chili. This may just be my favorite dish on the menu.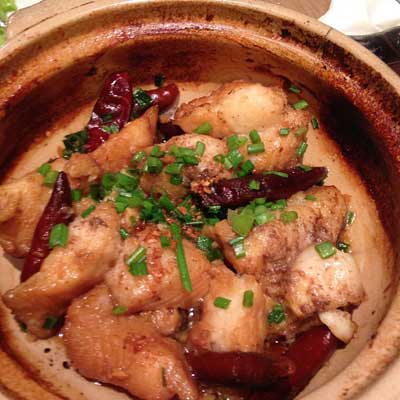 Straight off Alicia's instagram: The Claypot Catfish



Should you desire a crispy fried catfish, that is also available and while it wasn't as crispy as I had hoped, the meat was soft and succulent.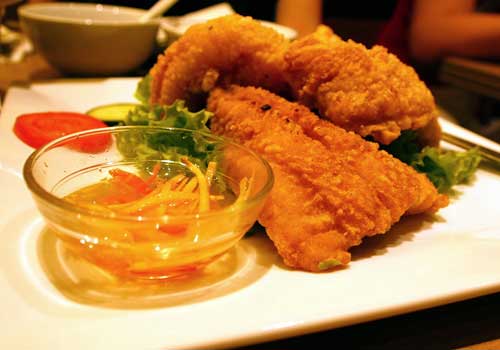 The crispy catfish; Photo by Yanna Yang
ADVERTISEMENT - CONTINUE READING BELOW
A spectacular discovery for me  was the Camille Special Eggplant, firm slices of eggplant sautéed with chunks of tender chicken, Chinese sausage, and dried shrimp. The pungent taste of the familiar fermented shrimp paired with the subtle bitterness of the eggplant, I found to be quite enjoyable.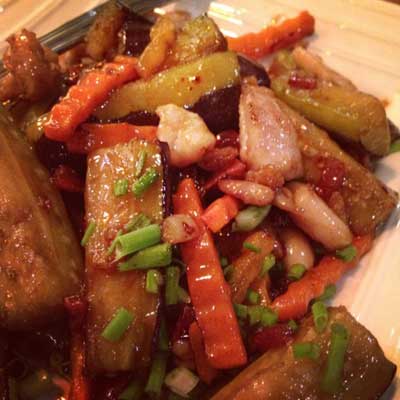 And another off Alicia's instagram: the Camille Special Eggplant


Another mainstay when sitting down to a Vietnamese meal are the Pork Chops. Sweet yet savory,  the grilled slices of pork on the bone are one of the reasons I will keep coming back to La Petite Camille. If you prefer chicken prepared in the same fashion, that is available as well and equally as delectable.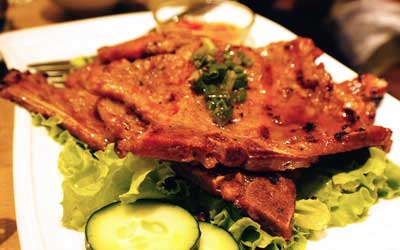 The Porkchop; Photo by Yanna Yang
ADVERTISEMENT - CONTINUE READING BELOW
For dessert , the Vietnamese Jell-O and the Deep Fried Ice Cream are definite crowd pleasers.  Personally, I loved the Pandan and Yellow Mung Bean cakes with an extra dollop of coconut milk washed down with my iced Vietnamese coffee.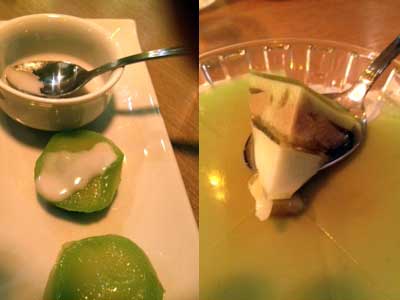 Pandan and yellow mung bean cakes; Photo by Yanna Yang


My one disappointment at La Petite Camille was the absence of  Banh Mi on the menu. Enjoying a renaissance of sorts,  this popular Vietnamese sandwich served on a crunchy baguette has long been one of my favorite sandwiches. Whether served with sweet pork or with a country pork pate, and in some cases a combination of both, I was looking forward to being reunited with this all-time Vietnamese classic most especially since Banh Mi in various incarnations have been resurfacing on menus in establishments around Manila.


All in good time, I am reassured.  I keep the faith.


La Petite Camille
Level 2, Greenbelt 5, Makati City
Tel. No. (02)728-4884








ADVERTISEMENT - CONTINUE READING BELOW
Share this story with your friends!
---
Help us make Spot.ph better!
Take the short survey
Load More Stories