SPOT.ph Roadtests the KFC BBQ Shredder Sandwich
We weigh in on the "finger-lickin' good" food chain's new offering.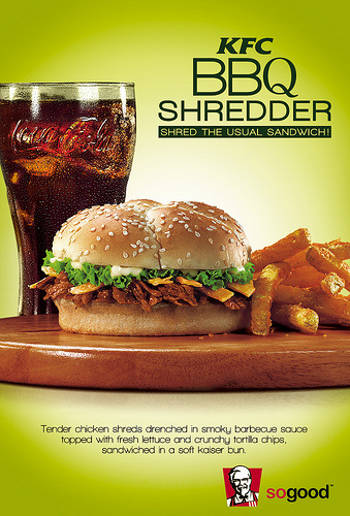 (SPOT.ph) When creatures of habit are tempted to try out something new, they either discover better-than-sex treasures or they end up wanting their money back.
Now, I'm a big KFC fan. I can eat KFC Chicken for every meal of my sorry life and I chug KFC gravy like a camel gearing up for a trek through the Sahara. My mouth waters at the very thought of KFC Chicken. As for its other offerings, I am-to be very diplomatic about it-very conflicted. Because I almost died ROTFL-ing when they came up with that (formerly) newfangled disaster called the Streetwise Cheese Top Burger. Then, when I tasted it, I cussed like a druggie on his first day at rehab.
ADVERTISEMENT - CONTINUE READING BELOW
But I digress.
Despite my not-so-wise encounter with their looks-like-a-mistake Cheese Top Burger, I was all too eager to try KFC's latest innovation. (I am a sucker for these things.)
Behold, the KFC BBQ Shredder Sandwich. The nifty-looking promotional poster boasts that the said item is made up of "tender chicken shreds drenched in smoky barbecue sauce topped with fresh lettuce and crunchy tortilla chips, sandwiched in a soft Kaiser bun." They had me at "tender chicken shreds."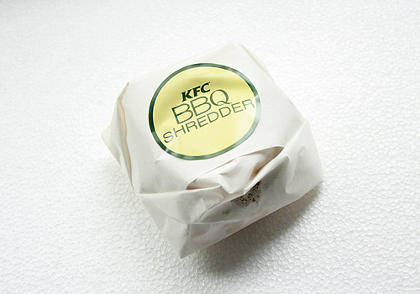 ADVERTISEMENT - CONTINUE READING BELOW
Price and availability: ₱55 ala carte
Best for: Those no-choice rush food stops when you absolutely just have to put something-anything-in your belly so you don't pass out from hunger. It's better than the Cheese Top Burger, though.

Best with: Soda. The fizz and the sugar rush will make you feel somewhat good about what you're eating.
Tastes like: Mayonnaise. For a brief this-has-possibilities moment at my first bite, I got a hint of an almost-delightful smoky flavor and a bit of crunchiness from the tortilla chips. (The tortilla chips, though, looked and tasted more wonton wrapper bits.) However, the mayo took over from there. I had friends taste the burger, too, and  it was rather unsettling that several of them said they thought they were eating pork or tuna shreds. That's how much the mayonnaise ruined the sandwich.
Manage your expectations: It sounds and looks better than it tastes. The sandwich's name is definitely cool despite being a mouthful and it looks so darn good with its plain white paper-and-sticker packaging that you wish it would taste great, too.
ADVERTISEMENT - CONTINUE READING BELOW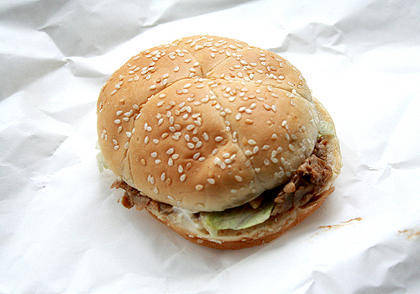 Yay or nay: Nay. I'm pretty sure that on my next trip to KFC, I won't be tempted to order this. Paging Colonel Sanders! (Yes, I know the guy is dead and that he's not a real military colonel. I'm just passive-aggressively calling the powers-that-be of the food chain.) This sandwich really ought to be court martial-ed. (Pardon the military reference. I couldn't resist it.)
ADVERTISEMENT - CONTINUE READING BELOW
Roadtester's note: I understand that there are fans of the KFC BBQ Shredder Sandwich and respect their opinion. This is just my review of the Shredder and is not meant to change anyone's mind or dissuade anyone from trying it. Please don't have a heart attack on account of my review. Also, I paid for the burgers used for this SPOT.ph Roadtest. For the record, I was not commissioned  or paid (either in cash or buckets of chicken) by KFC to say any of the things that you read in this article. I bought it, I ate it, and I didn't like it. It's as simple as that. I still love KFC Chicken and KFC gravy.
Photos by Warren Espejo and promotional poster made available to the public by KFC Philippines

Recommended Videos
Load More Stories