Calderon Cocina Tapas y Bebidas
403 F. Calderon St., Little Baguio, San Juan
Tel. No. 238-22-64
Open from 11a.m. to 11p.m., Tuesdays to Sundays
(SPOT.ph) Some days really just require a drink. You know, when a contemplative glass of wine is the only thing that can, as the Internet likes to say, calm your t*ts; a bottle of craft beer to help you get rid of the day's dirt; or a pitcher of sangria to get your bearings back, in time for dinner.


Well, residents of Wilson and that area of San Juan can consider themselves lucky. Off the bustling J. Abad, along F. Calderon street, stands Calderon, a newly opened Spanish eatery. Its coming may seem a bit tardy, what with a global village scene already in place. J. Abad already boasts of a Yugoslavian kitchen (Balkan Express), a Mexican joint (Ristras), a Greek restaurant (Greeka Kouzina), and a myriad of Chinese eateries. But, there's always room for good food. More so, a glass of wine. These are exactly what Calderon offers.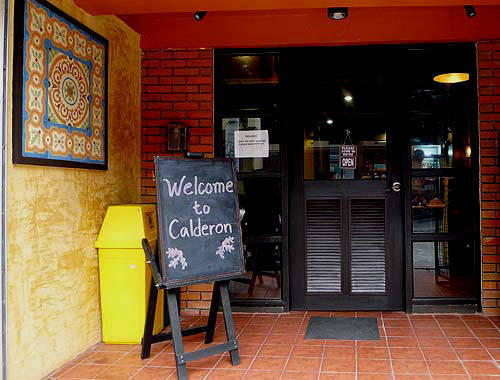 The entrance of the charming Spanish kitchen
ADVERTISEMENT - CONTINUE READING BELOW

Calderon is the brain child of three couples living in the area, one of whom is Spanish food connoisseur and Salcedo market staple Monchet Carballo. "He is actually Sabor de Espana," informs jovial co-owner Marmi Perez, "so what you get here in Calderon is just as good."


At the core of Calderon is the Spanish tradition of tapas, or pica-pica as we like to call it. "That's why we don't close in the afternoons," says co-owner Angela Melo. "Eh, that's when you have your pica-pica, right? It's the hour of the tapas."
Photos by Tanya Rodriguez
The on-their-way-home crowd is quick to pick up, making a pit stop here for an end-of-day drink. Couples seeking a casual wine-and-cheese date are a common sighting, as well as young mothers from nearby schools whiling the day away as they wait for their sons and daughters.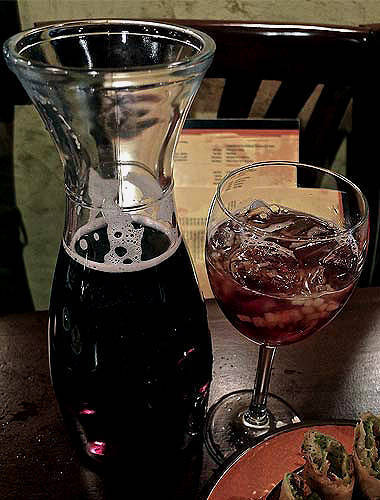 A carafe of Sangria is good for 4 glasses
CONTINUE READING BELOW
Recommended Videos
The Bandeja de Jamon, Chorizo y Quezo (P800) is a beautiful platter of meats and cheeses that surprisingly goes a long way. It may seem small in size but don't go belittling it just yet. Head Chef Rafa Ysip, who arranges the platter, is very generous with the amount of Jamon Serrano and Morcilla; he cuts the manchego and goat cheese (immersed in red wine) big and beautifully. You'd be pleasantly surprised at how the platter seems perennially untouched despite your persistent picking.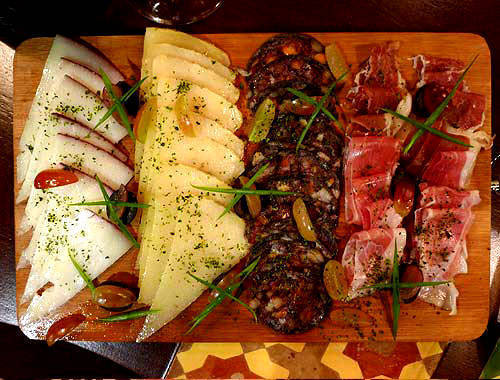 Calderon's bandeja is a thing of beauty
The Dynamita Fritos (P280) meanwhile, is a lovely version of lumpia/ cheese sticks: it's cheese inside pepper inside meat, and for good crunch and measure, inside a lumpia wrapper. If dinner is in the plans for the night, you might want to tread this carefully. A stick is quite heavy and Calderon is generous in its serving size.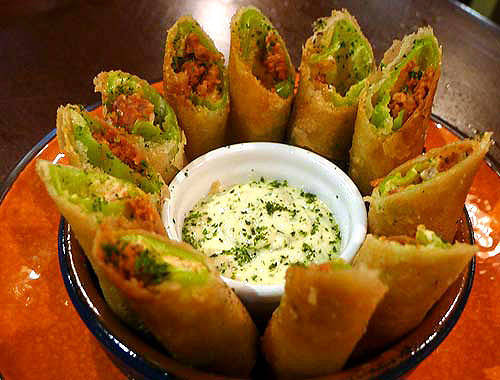 Dynamita Fritos
ADVERTISEMENT - CONTINUE READING BELOW
But what a pity, and shame, if you pass on having their mains. Calderon's entrees are proving to be rightful headliners, so that it's fast becoming a top spot for families out to have a nice Sunday lunch. Since their opening in December 2012, Calderon's paellas and main entrees are proving quite a find. "Paella is the star by default," says Marmi. "We serve Spanish food so it goes without saying that our paella must and should be good!" Young professionals who come here for a drink end up having some Callos or Bacalao for dinner, while the Sunday brunch crowd feasts on Calderon's excellent paella.
While the Valenciana (P700 for 24") is the owners' top of mind when asked which is the easy bestseller, SPOT.ph is enamored with the Paella Negra (P500 for 24"). It comes peppered generously with seafood on top of the squid-ink rice, which is nicely toasted at the sides and warm and moist in the middle. Aioli sauce comes on the side, adding an extra shade of flavor to the already tasty dish.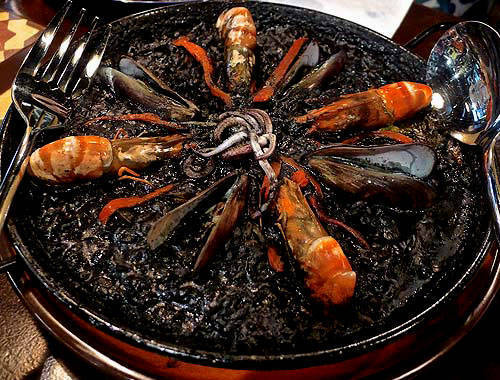 The Paella Negra
ADVERTISEMENT - CONTINUE READING BELOW
The Pollo Iberico (P800) and the seasonal Cangrejos ala Calderon (P1000) are testaments to Chef Rafa's know-how with regard to herbs and spices. "Tarragon and crabs really go well together," the young chef explains when badgered with surprised "hmm, what's that?" upon first taste of the crabs, with the tarragon magically revealing itself. It surprises you, after which it lingers longer than expected. "Maganda ang kapit." This is a definite scene-stealer.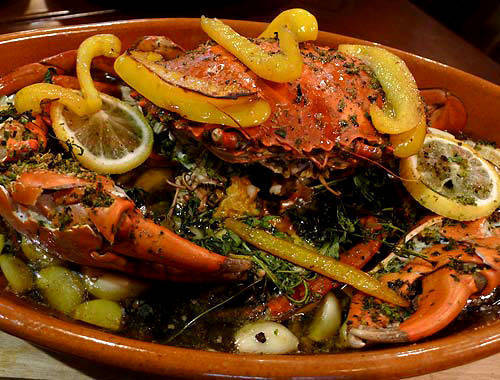 The Cangrejos ala Calderon
The chicken, meanwhile, is a massive little thing best shared. It lies on top of potatoes and garlic, all so well-seasoned that eaten alternately-a forkful of chicken, half a baby potato next and then finally, a clove of garlic- tastes like a complete meal in itself. Good for maybe four to five persons, we recommend this for Sunday lunch or on a payday when your team decides to go out for a decent meal.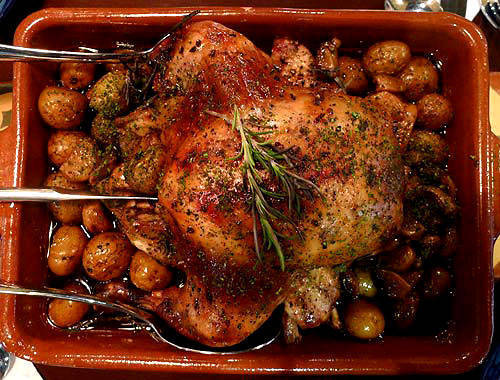 Pollo Iberico
ADVERTISEMENT - CONTINUE READING BELOW
A refreshing break from a flavorful assault is the Chef's personal favorite, the Esparragos en Aceite Oliva (P170). Have a forkful between bites of the chicken or the paella and you should be ready for another round. If however, you're ready to move on to dessert, try the Churros con chocolate (P250). The chocolate, thick and warm, is especially delightful.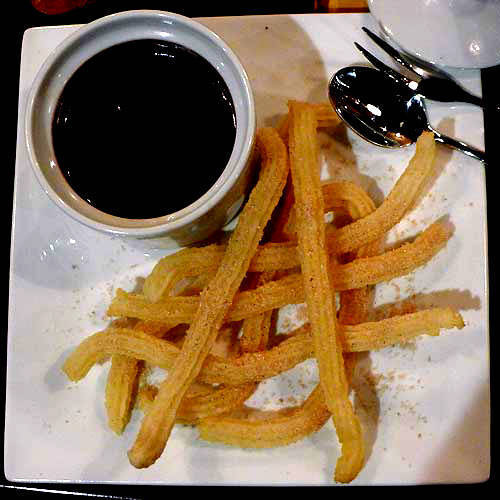 Churros to end the meal


Share this story with your friends!
---
Help us make Spot.ph better!
Take the short survey
Load More Stories