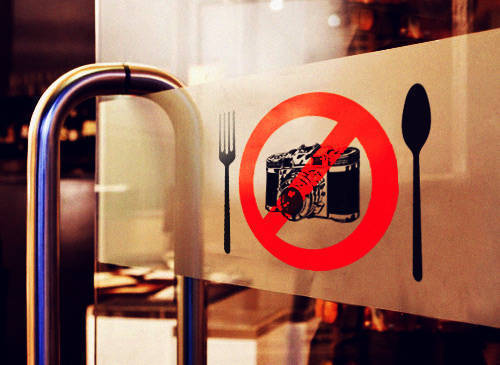 (SPOT.ph) We all know how it goes.
A new restaurant opens and gets people talking, and all of a sudden the hungry hordes descend upon it faster than you can say "omnomnom."
They arrive in droves, absolutely buzzed and chuffed to chow on something new, with friends and cameras-both big and small-in tow.
I am one of them, and most probably, so are you.
But just last week the almighty New York Times put out a piece on how some restaurants are banning the act of photographing your food. I know the wunderkind David Chang started this in his fine dining restaurant, Momofuku Ko, quite some time back...I guess it kind of snowballed from there. Some places have taken to giving you a CD of their dishes for you to do with as you please.
Much ado about this, of course, especially in our fair city of food-mad people and bloggers-along with, I would think, a lot of Asia (I'm talking to you, Hong Kong and Singapore!)-though opinions I hear are almost always split down the middle.
ADVERTISEMENT - CONTINUE READING BELOW
There are those who just want to eat, period, and enjoy their meal with their dinner companions without being disturbed by anything. Nothing wrong with these sentiments, of course, because there is no doubt that the pleasures of a meal are always in the way in which, and with whom, it is partaken.
Then there are those who just want to document whatever it is they eat, be it the new aratiles flavor of Chippy, or that funky new gelataria with the cookie batter-kimchi-and-candy sprinkles flavor, or that art-on-a-plate 40-ingredient microscopic foie truffle uni in aspic haute cuisine creation. They will probably Instagram it, or tweet it, or lie in their bed at night ogling it and fantasizing about it before they go to sleep. The formidable Amy Besa of Purple Yam fame calls them "food anthropologists" with her tongue firmly planted in her cheek.
I rather admittedly fall in the latter category, but I also have a foot planted in the former. I don't find anything wrong with taking pictures - we take pictures of each other in restaurants as souvenirs, don't we? And hey, we're PAYING for this stuff! But as in all things, there are things to ponder when doing so.
ADVERTISEMENT - CONTINUE READING BELOW
Recommended Videos
1. Don't be a flasher-if you must take a picture, TURN OFF THE DAMN FLASH. First of all, it's probably going to look ugly...natural light is always best. Which isn't to say that you have to bring your plate to a nearby windowsill and pretend it's a Sports Illustrated swimsuit model.
2. Be a ninja-discretion is advised. Especially in a fancy restaurant. By all means, shoot away if you wish, but it's best to use a small camera or your quiet phone cam. Unless you're with the press or you're invited to take photos as a blogger, you don't have to bust out the bad boy DSLRs and (gasp!) tripods. (It's been known to happen!)
3. Take me out of the dark, or don't shoot at all. I don't care how delicious your medium rare slab of expensive beef is-if it's too dark to get a decent profile, why bother at all? Just enjoy the dining experience and play footsies with your dinner date. Provided it's not your mom, dad or sibling-because that would be very awkward.
ADVERTISEMENT - CONTINUE READING BELOW
4. Play only with yours-your food, I mean. Take your epic portraits of your own grub, bub, and not your seatmate's, unless it's okay with them. Like a good kid, always ask for permission.
5. Never get in the way of another person's eating. I myself have been guilty of this, myself: stopping someone from taking a bite of their much-awaited grub because I wanted to take a snapshot. I've realized that's just douchy. Sorry, Mom. (Be especially wary at a slow-moving Chinese lauriat where EVERYONE just wants to eat. You might just get a chopstick poked in your eye.)
Should food photography be banned? Personally, I don't think so. I think it's just a simple matter of minding your manners, and not getting in anyone's way. Be a John Lloyd-sensitive.
And it's always good to remember why we gather to dine out in the first place: not to "Instagram that shit," but to taste deliciousness; savor the atmosphere by being in the now-be it in some dingy beer-soaked bar or white table-cloth temple to haute cuisine or some hot dog cart at the supermarket; and make good conversation (an almost lost art in this smart phone age) and lasting memories.
ADVERTISEMENT - CONTINUE READING BELOW
Artwork by Warren Espejo
Share this story with your friends!
---
Help us make Spot.ph better!
Take the short survey
Load More Stories