Top 10 Gourmet Beef Burgers (2013 Edition)
We have a new No. 1!
(SPOT.ph) As with many dishes, the hamburger has already gone through many transformations and variations-from a mix of different ground meats to form the juicy patty to a bevy of bread spreads aimed at adding another layer of flavor to the sub. Fortunately, many chefs took notice and have used it as a canvass to display their culinary creativity, turning everyone's fast food favorite into a more refined and epicurean delight. Here are 10 outstanding gourmet burgers that made our list.
All SPOT.ph Top 10 lists are researched, paid for, tested, and selected by the writers and editors. They are discreetly conducted without any notice made to the restaurants or their owners.
Read about our Top 10 Gourmet Burgers (2011) here.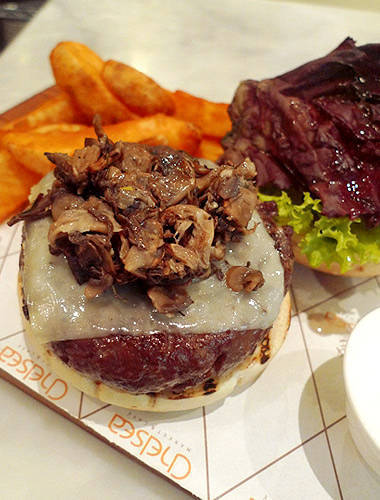 10. Truffled Mushroom and Gruyere Burger from Chelsea Market and Cafe (P595)
Formerly No. 8
This burger is composed of lightly dressed fresh mixed greens, a juicy slice of tomato, the Angus burger, melted Gruyere cheese and a mound of truffled mushrooms. The patty is thick enough to hold its own in between the bread, and eaten as a whole, the slightly sweet citrus dressing on the lettuce complement the earthy mushrooms. Reserve the ketchup for the fries and use the ginger mayo dip to slather on the burger. As you take a bite, the truffle's flavor profile, which is similar to that of the mushrooms, is the first thing that hits your buds, with the peppery ginger taste just sneaking in at the end. It's peculiarly interesting and satisfying-the perfect foil to its rather plain looks.
ADVERTISEMENT - CONTINUE READING BELOW
Chelsea Market and Cafe has branches in Serendra and The Podium.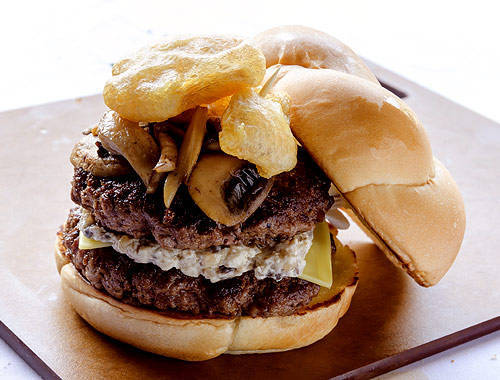 9. The Rising Shroom from BurgerBar (P280/single patty, P375/double patty)
Newcomer
CONTINUE READING BELOW
Recommended Videos
It seems like loaded is an understatement when it comes to this burger: the mushrooms practically cover the whole burger, including the patty. Apart from the sautéed mushrooms bathing in truffled cream cheese, two pieces of oyster mushroom tempura sit proudly on top and give an added crunch to every bite. Yet even if the mushrooms come aplenty, it doesn't steal the show from the rest of the components. The patty, which is made up of sirloin and chuck and is cooked on a very hot griddle, consequently making it crusty. Even the buttered Kaiser roll is noteworthy as it is soft, subtly sweet and crisp around the edges.
The burger doesn't come with any sides and is noticeably smaller than the others on the list. Nevertheless, what it lacks in width, it more than makes up for in height, what with the tower of mushrooms. For an order of fries and soda, you have to surrender an extra P85. Also, all burger patties are cooked to medium.

BurgerBar is at the Ground Floor, Greenbelt 2, Makati City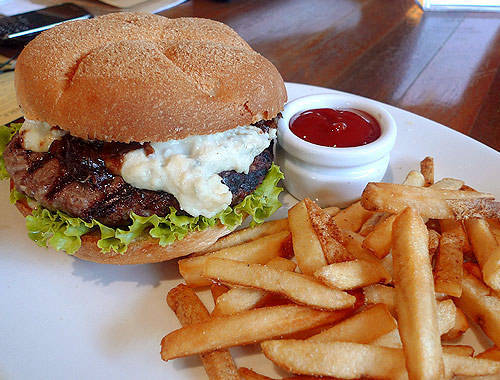 8. Bleu Cheeseburger from Draft Gastropub (P390)
Newcomer
ADVERTISEMENT - CONTINUE READING BELOW
The filling effortlessly oozes out as soon as the knife presses the bun. And since most of the flavors come out, you are forced to scoop and spread them back on, not letting anything go to waste. This burger is constructed pretty well. The bun is warm and not grilled to the point of being hard that it scratches the roof of your mouth. The sweetness of the onion jam cuts through the pungency of the blue cheese, making for a marriage of flavors that promise gustatory bliss. It's quite a complex dish, with punchy flavors trying to outdo each other, but in the end, not one prevails as it consequently strikes a pretty balanced taste.

Draft Gastropub has branches in The Fort Entertainment Center and Power Plant Mall.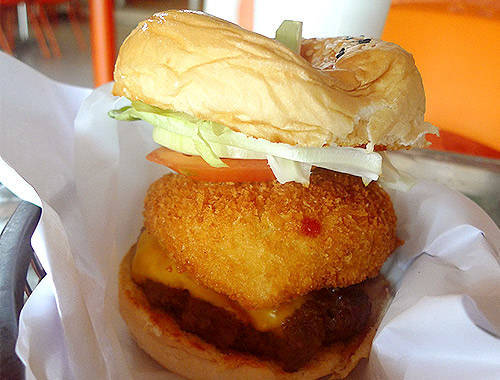 7. Black Angus Burger with Shrooms from Charlie's Grind and Grill (P415)
Formerly No. 10
"How the hell am I going to stuff that beast in my mouth?" is most probably the first thing that comes to mind upon seeing this tall burger. It's a good problem to have, and no matter how you resolve it, rest assured, you will come out of it very satisfied.
ADVERTISEMENT - CONTINUE READING BELOW
It came to the table without any utensils and side dishes. And the skyscraper of a sandwich actually doesn't need any extras as it calls for pure, unadulterated burger pleasure. The deep fried, Panko-crusted, cheese-stuffed Portobello is twice the size of the Angus patty. It is sandwiched in between a black-and-white sesame seed bun along with lettuce, white onion, tomato, pickles and mustard, which collectively sit like an ill-fitting toupee on a bald head. It's massive and you know that it's just going to be messy no matter how you go at it. And that's exactly how it should be attacked-with clean hands and the option to tuck a napkin under the chin. Your jaw might hurt but your tummy will thank you for it as the lovely textures and flavors sing in sync, with not one taking the limelight from the other.

Charlie's Grind and Grill has branches in Kapitolyo and Ronac Art Center (Greenhills).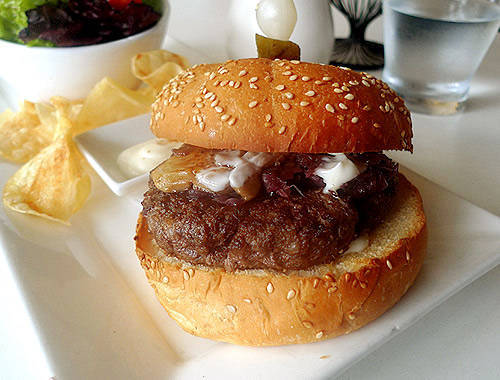 6. FC Burger from Florabel (P695)|
Formerly No. 3
ADVERTISEMENT - CONTINUE READING BELOW
If there's a word that best describes this burger, it's generous. For one, an order comes with a bowl of fresh green salad. And it's not just a couple leaves of lettuce. This has mixed greens, cherry tomatoes, micro herbs and cheese. On top of that, it has thin crisp potato chips with a complementary garlic aioli.
Now on to the burger. The hefty toasted sesame bun conceals a tender patty topped with a slice of seared foie gras. It is layered with onions that have been caramelized to achieve that naturally sweet flavor perfect in complementing the buttery, distinct taste of the liver. The truffle in the mayo barely makes its presence felt, but it helps in keeping the whole burger moist and well lubricated. Each bite is tender, with no ingredient offering any crunch or resistance. For that, you have the skewered baby onion, pickle, and plump baby tomato holding the whole burger together.

Florabel is at the Ground Floor, Unit 108, The Podium, 18 ADB Avenue, Wack-Wack, Mandaluyong.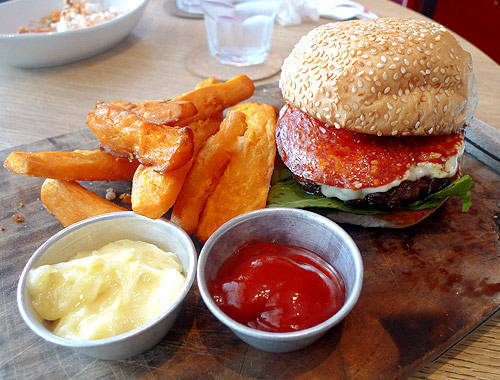 5. Cue Burger from 'Cue Modern Barbecue (P420)
Newcomer
ADVERTISEMENT - CONTINUE READING BELOW
It may look no different from a standard fast food burger in terms of size. But don't be fooled by its girth because flavor-wise, it packs a whopping punch. For one, you can forget about the ketchup and garlic aioli it is served with since it has a lot of stuff going on already, including the six-ounce patty with a house blend seasoning that pumps up the beefy flavor. Thinly sliced chorizo and two kinds of cheeses lend the saltiness that the burger needs. In addition, the smoked provolone adds a slightly sharp undertone while the mozzarella cheese gives a chewy, stringy consistency. Wilted arugula takes the place of the run-of-the-mill lettuce, adding a peppery and bitter taste. And the red wine BBQ sauce slathered on the bun adds sweetness, on top of the one provided by the side of thick sweet potato fries. Everything is served on a rather beat-up wooden board, somewhat giving you the license to throw the crisp white napkins out and get down and dirty with the Cue Burger.

'Cue Modern Barbecue is at the Ground Floor, Bonifacio High Street Central, 7th Ave. corner 29th St., Fort Bonifacio, Taguig.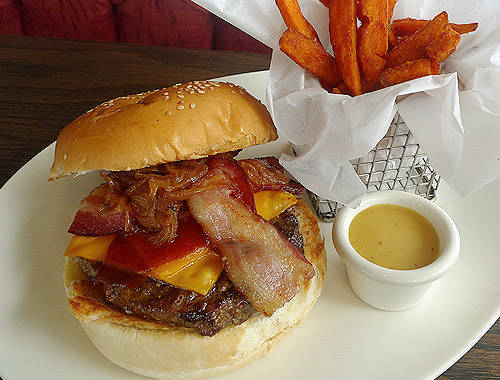 4. Cowboy Burger from Village Tavern (P595)
Newcomer
ADVERTISEMENT - CONTINUE READING BELOW
This is one of those rare times where your burger does not come with fresh vegetables, be it on top of the patty or on the side. But while it lacks lettuce or tomato, it has a gamut of ingredients that deliver an appetizingly good Wild Wild West flavor.
No fancy foie gras or truffle here; this burger is stripped of any luxury and goes rough and rowdy with a mouthwatering combination of strong flavors. The strips of applewood-smoked bacon as well as the slightly spicy barbecue sauce turn the hefty burger into a Texan throwback. The smokiness comes through just right, while the spiciness of the velvety thick sauce lingers longer. To the rescue is the saccharine sweetness of the caramelized onions, which offsets the spice and balances out the piquancy brought by the barbecue flavor. If that's not enough, you have the basket of sweet potato fries and honey mustard sauce to give you more of that subtle sweet fix.

Village Tavern is at the 2nd floor, Bonifacio High Street Central, 7th Ave. corner 29th St., Fort Bonifacio, Taguig.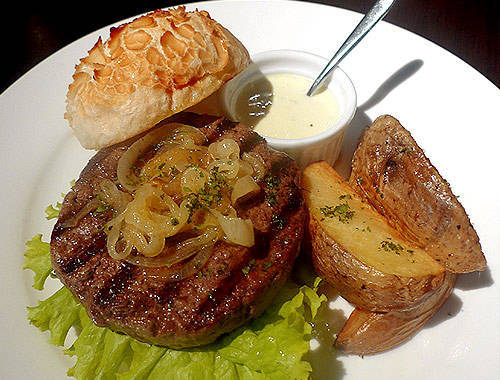 3. Chef's Burger from Elbert's Steak Room (P1100)
Formerly No. 1
ADVERTISEMENT - CONTINUE READING BELOW
Upon introduction, it may look pretty lean and devoid of any trace of sinfulness. But slice through that baby and you will instantly realize how deceivingly indulgent the patty is. Served with roasted potato wedges and a chunky Cambozola sauce, the Chef's Burger keeps delicious globules of bone marrow trapped within the already-flavorful aged tenderloin patty. When you bite into these small nuggets of marrow, out flows a richness that coats your tongue and tickles your tastebuds. You'll also get a very faint taste of truffle from the tenderloin patty. Go easy on the blue cheese sauce as it can overpower your palette and blanket all the other flavors offered by the burger.
This burger is not on the menu and has to be ordered at least a day in advance. The meal comes with soup or salad, dessert and coffee or tea-as if the burger isn't a meal in itself already.

Elbert's Steak Room is at the Sagittarius Building. III, 111 H.V. Dela Costa Street Salcedo Village, Makati.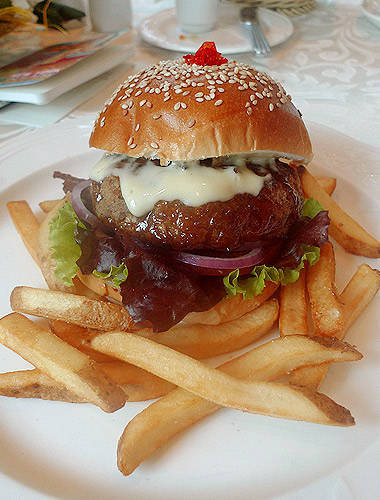 2. Black Angus Beef Burger with Goose Liver from Chef Jessie (P1200)
Formerly No. 4
ADVERTISEMENT - CONTINUE READING BELOW
Compared to the soufflés and many other classic French dishes on offer at Chef Jessie's, the burger may seem simple and less elaborate. Still, Chef Jessie has put enough thought into it to make her Beef Burger just as stellar and delectable as the rest. For instance, she serves it on a hot plate and the patty is warm all the way through, including the perfectly seared goose liver encased in it.  The Black Angus patty is ground finely and mixed with minced white onion and a bunch of seasonings, making for a mousse-like consistency. Nevertheless, the beefy flavor remains and is quite pronounced in the dish. The red onion rings, sliced tomatoes and lettuce definitely add a flash of freshness to every bite, but what makes this a knockout is the raspberry honey that ingeniously marries the bitterness of the foie with the tartness of the sauce. Sweet has taken on many forms in different burgers, from caramelized onions to honey mustard, but this takes top honors as it brings to the table not only a toothsome taste but also a subtle tartness that rounds out all the varying flavors.

Chef Jessie is at the Ground Floor, Rockwell Center, Amorsolo Drive, Poblacion, Makati.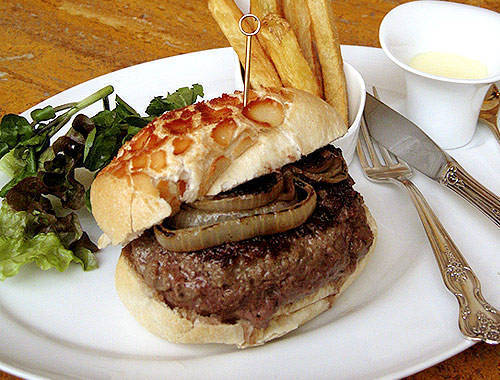 ADVERTISEMENT - CONTINUE READING BELOW
1. Demi-Pound Burger from Lusso (P625)
Formerly No. 2
A number of restaurants carry a foie gras burger, but of the lot, none can stand against or even beside Lusso's. It's a build-your-burger kind of dish-the dressed greens are on the side and the usual sliced cheese takes on a different form, as the luscious Cambozola sauce. The burger is simply topped with grilled onion rings and is free of any other filling, like tomato or a mayo spread, typically present to make every bite juicy. Here, the patty alone provides the juiciness. And the Dutch crunch with the mottled crust is there to soak it all up for you.
There's nothing fussy about the Demi-Pound Burger. It has just a few components and yet each-from the delicately tasting smooth cheese sauce and the moist patty to the crisp and not so oily fries and homemade burger bun-collectively makes for a dish that trumps the rest in its category.

Lusso is at Greenbelt 5, Legaspi Street, Legaspi Village, Makati City.

Share this story with your friends!
---
Help us make Spot.ph better!
Take the short survey
Load More Stories