Top 10 Sisig (2013 Edition)
Which restaurant in Manila serves the best version of this Pinoy favorite?
(SPOT.ph) Sisig, like most Filipino favorites, have seen a lot of reinventions-from new meat variants like tofu, bangus, and chicken; to a wide array of toppings making it every Juan's favorite dish next to our beloved adobo.
In spite of its various interpretations, sisig will always be sisig. It's definitely here to stay, not just in our meals, but also in our inumans. SPOT.ph sampled the best of these dishes in the metro, from the popular ones to those hole-in-the-wall establishments looking for variants that deserve to be touted the best sisig in the city.
All SPOT.ph Top 10 lists are researched, paid for, tested, and selected by the writers and editors. They are discreetly conducted without any notice made to the restaurants or their owners.
Read about our Top 10 Sisig (2010) here.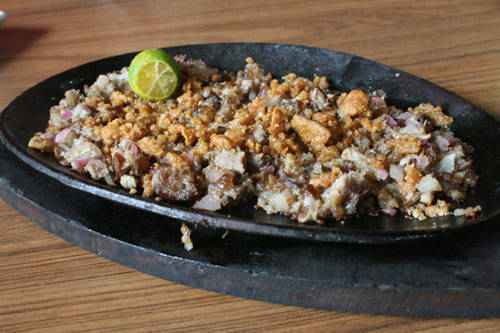 10. Gerry's Grill (P189)
Formerly No. 8

Simple, no-frills sisig served sizzling in a hot plate. A little bit chewy, with hints of onions and flavorful pork belly. Topped with a generous serving of chicharon, this is best eaten with a tower of your favorite local beer, good friends, and memorable stories.

Gerry's Grill has various branches around Manila and other locations.

ADVERTISEMENT - CONTINUE READING BELOW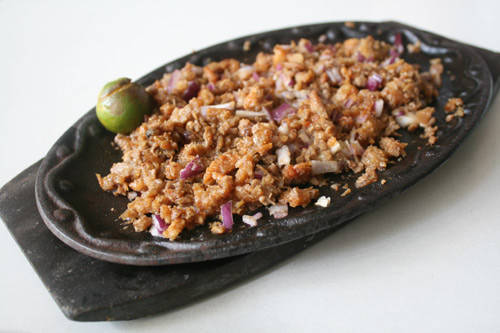 9. Dencio's Bar and Grill (P190)
Formerly (and still) No. 9

CONTINUE READING BELOW
Recommended Videos
Dencio's sisig will never be a bore as each bite is an interesting array of textures and flavors from the different kinds of pork mixed in it. It has the slight smoky taste of a good liempo, with crispy bits of pork skin. It's not too salty nor too spicy, and best paired with a warm pandan-infused cup of rice.

Dencio's has various branches in Manila and other locations.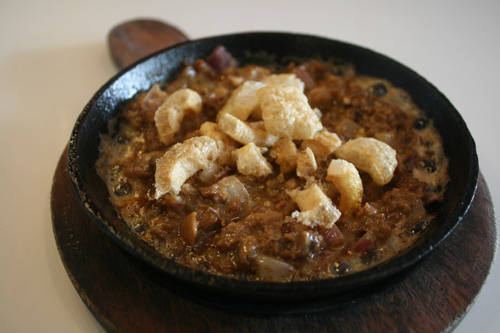 ADVERTISEMENT - CONTINUE READING BELOW

8. House of Sisig (P100 to P150)
Formerly No. 10
They're called House of Sisig for a reason and it's because they've got a wide array of sisig variants to choose from.  Try their original recipe, South of Manila or SOMA (P98), served with vinegar and chili peppers, and North of Manila or NOMA, which is served with mayonnaise. Their sisig is on the saucy side with hints of vinegar and pulled-pork bits, reminiscent of salty tapa.

House of Sisig is at Philcoa, Commonwealth Avenue, Quezon City.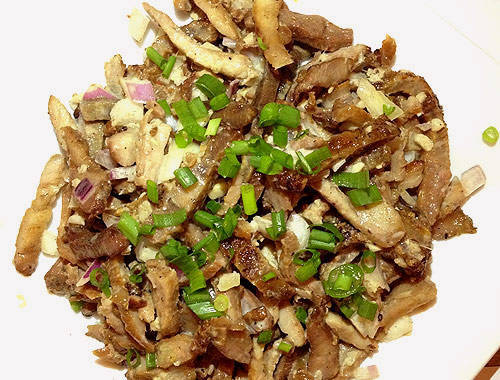 7. Wooden Spoon (185)
Newcomer

Wooden Spoon's Dinakdakan is an interesting take on sisig's northern roots with vinegared pork belly, grilled fatty portions of pork, shallots, calamnsi, and onions. This dish is quite close to the taste of Aling Lucing's sisig at her famous restaurant in the fringes of Clark Airbase. It's worth the restaurant's usually long waiting list.
Wooden Spoon is at 329 Katipunan Avenue. Loyola Heights, Quezon City.
ADVERTISEMENT - CONTINUE READING BELOW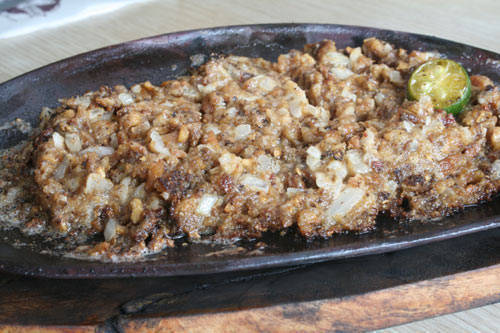 6. Congo Grille (P175)
Formerly No. 7

Congo Grille's version is said to be one of the best as it was the champion of 2007's sisig festival. It's a little bit on the oily side as its sisig uses the richer, fattier portions of meat. This sisig stands out for its slightly sweeter taste and hint of liver.
Congo Grille has various branches in Manila and other locations.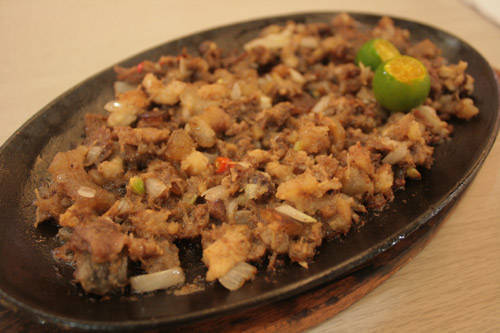 5. Razon's of Guagua (P180)
Formerly (and still) No. 5
ADVERTISEMENT - CONTINUE READING BELOW
What's so good about Razon's sisig is that it doesn't hold back on the fat. It is served piping hot, causing its meat to slowly clump together and form crispy clusters of heaven. Slightly spicy, this sisig dish is on the wet and chewy side with hints of richness similar to their sizzling bulalo. It pairs well with a dash of an all-around seasoning or Worcestershire sauce.

Razon's has various branches in Manila and other locations.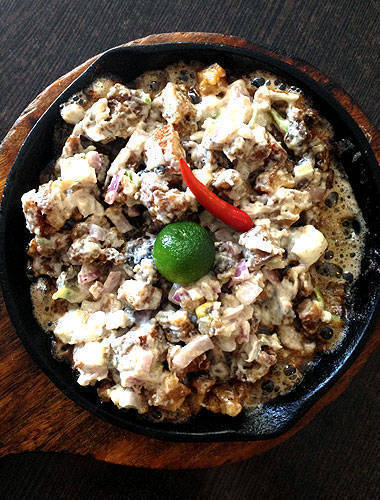 4. Crisostomo (P250)
Newcomer

What makes Crisostomo's sisig a favorite among locals and foreigners alike is the fact that each bite gives you a consistent dose of flavor. It is always a little bit savory, sweet, and spicy in every spoonful. It includes deep-fried clumps of lechon kawali, onions, and mayonnaise. It's simple and straightforward, while keeping its charm by giving us the familiar taste of a Filipino favorite.

Crisostomo has branches at Newport Mall, Eastwood Mall, and Alabang Town Center.
ADVERTISEMENT - CONTINUE READING BELOW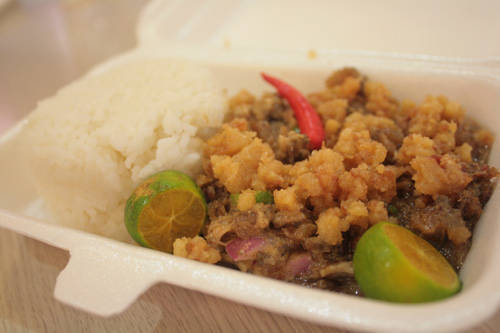 3. Sisig Hooray (P70)
Formerly No. 4

Sisig Hooray's simple formula of crispy pork strips, chili peppers, and minced chicharon, along with a big dollop of its secret brown sauce is the cheapest, fastest and one of the most flavorful versions of sisig. At P55, this is definitely a steal. More often than not, you'll find yourself ordering extra rice.
Sisig Hooray has various locations around Metro Manila.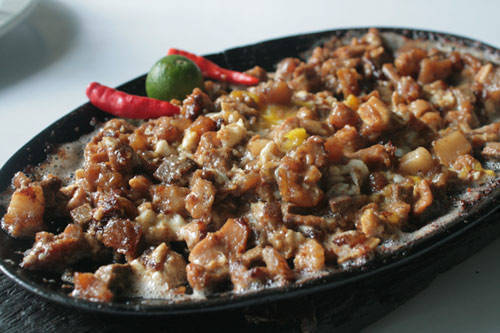 2. Mang Jimmy's (P110)
Formerly No. 1

ADVERTISEMENT - CONTINUE READING BELOW
With sisig that is meticulously prepared for four hours, it's no mystery why patrons of Mang Jimmy's keep coming back for more. Topped with an egg, chili peppers, and a generous serving of pork, liver, and fat trimmings, this sisig is definitely worth the repeat visits. It has a rich array of flavors that you can tweak with grated cheddar cheese.
MWSS Compound, Old Balara, Quezon City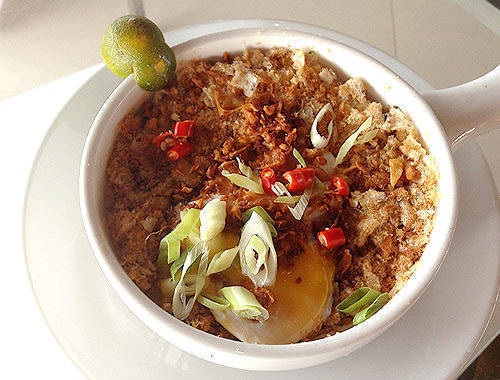 1. LaB Gastropub (P195)
Newcomer

Lab Gastropub gives us a refreshing take on the popular sisig with its Lab Sisig. This is basically a sisig that comes with juicy chunks of pork, chili, a secret sauce, and then topped with egg and pork floss instead of chicharon. The mix is surprisingly good as the floss complements the richness of the pork and egg. This makes it to the top of our list for striking a perfect balance between a traditional sisig with a totally new and inventive take on the well-known dish.
ADVERTISEMENT - CONTINUE READING BELOW
Oceana Culinary Complex, Building A, SM by the Bay, Pasay City
---
Help us make Spot.ph better!
Take the short survey
Load More Stories