L'incontro
This Italian gem along Reposo is soon becoming a favorite. Here's why.
If you ask me, there are 5 reasons for going to L'Incontro:
1. The Chinese Fortune Cat
2. 120 dishes
3. Neil and Freddie
4. Gino
5. Ninoy Aquino
Let me explain.
1. Find the Chinese Fortune Cat. Step into L'Incontro and the high ceilings and golden wash from mounted pin lights are telltale signs that you've just stepped into an Italian Ristorante. Even the shelves with their firing squad of wine bottles scream Italy. But look closer and you'll notice it's not another snobby Italian restaurant.
When it comes to décor, L'Incontro defines the word 'hodgepodge.'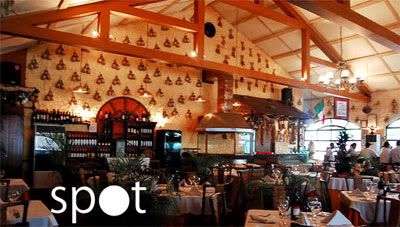 High ceilings, ample natural light and the varied selection of wall art gives L'incontro
a warm, romantic ambience.
On the textured cement walls you have dried corn ears, varnished yellow for posterity. Wine bottles in woven holders are suspended haphazardly on the walls by some gravity-defying feat. Interspersed with the corn and wine are enough garlic garlands to ward off the most intrepid of vampires.
ADVERTISEMENT - CONTINUE READING BELOW
One wall is a hall of frames, ranging from paintings of Italy to still life, abstract to photographs, and a very interesting caricature of owner, Gino Martinel, clad in Italian flag-striped shorts holding a smiling rabbit over a boiling cauldron.
Littered on the tables at the entrance are figurines that in any other place would just be ghastly. And by the bar, that's where you will find the small family of those friendly golden cats that wave tirelessly at you beside an assortment of jade figures.
But somehow, it works.
2. 120 is the magic number. L'Incontro has 120 dishes all created by Gino Martinel. It may take a few visits, but you might just be able to try them all.
CONTINUE READING BELOW
Recommended Videos
Italian food is many things, but above all it is fresh. And when it comes to food, L'Incontro is all-Italian. All the meals are prepared fresh, right in their kitchen. From the complimentary bread to the pasta, market fresh fish and even the juices. By tradition, Italians love to eat. They have a course roster that will give the Chinese Lauriat a run for its money.
L'Incontro's menu is sectioned according to the traditional Italian courses. For starters you have the soups, salads and other antipasto. These consist of cold cuts, carpacio (salad) to antipasto. The bestseller, Crespella de L'Incontro is a crepe stuffed with ham and cheese and drowned in truffle oil and mushroom sauce. With a plate-sized serving and creamy consistency, it's a meal on its own.
ADVERTISEMENT - CONTINUE READING BELOW
For the primo (first course), they offer risotti (rice meals) and pasta.
Pasta Fresca, meaning fresh pasta are obviously, made fresh right in the kitchen of L'Incontro. They come in a colorful assortment of green, white, and black pastas with sauces that range from the light basil to the heavier tomato based to the spicy.
After 20 something years of pasta eating, I thought I knew what al dente meant. You don't know the meaning of the phrase until you've tried L'Incontro's homemade Tortellini with Four-Cheese Sauce. This green pasta is stuffed with mixed veggies that simply burst out the moment your teeth break through. Balance the creaminess of this dish with a pairing of chilled Chardonnay. Though just a tad pricier than the Pasta Secca (dry pastas), if you want authentic Italian, you've found it.
The Tortellini with Four Cheese is homemade and goes well with Chardonnay.
Pasta Secca, the dry pastas are basically spaghetti, rigatoni, penne, and linguine and come in the more pop Italian dishes (I say pop because everyone, even Filipino restaurants have these variants) like Pesto, Arrabiata, and the ever-reliable Bolognese. If you can't part with your penne, Penne al Gorgonzola (blue cheese sauce) is an adventurous choice.
ADVERTISEMENT - CONTINUE READING BELOW
For the Secondi (second courses), they offer mainly meat courses characterized with a lot of veal, beef and some chicken dishes. Want something lighter? They also offer seafood dishes. Both meat and seafood dishes have grilled variants.
Now, if you have a sweet tooth, then chocolate is the center of your universe. Here, L'Incontro shows you the alternatives to chocolate (yes, they do exist). L'Incontro offers custards, cakes, fruit and cheese platters, homemade ice cream (gelato della casa), and the most divine Tiramisu. Homemade of course, the Tiramisu is a cool treat. The cake base is moist and light with a subtle citrus sweetness topped off with a light whipped layer of icing with a fluffy barely-there texture.
When in Rome, take your caffe strong. L'Incontro doesn't use regular coffee beans, but imports vacuum-sealed espresso caps packed with caffeine goodness. These caps prevent the coffee from losing its freshness and flavor by protecting it from the elements like nature and temperature change. Be warned, this little demitasse will keep you up late at night. Now, if you weren't an Italian in your past life, request to have your espresso made into a cappuccino, latte or, gasp! an americano.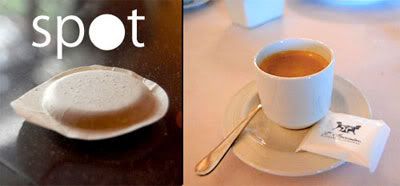 ADVERTISEMENT - CONTINUE READING BELOW
Vacuum-sealed espresso caps makes for an intense caffeine experience.
But wait, that's not all. Food-loving Italians have one more course, the digestivo (digestives or "coffee killer"). In L'Incontro this is the Traffole. This paper-thin treat is basically thin dough lightly sweetened with powdered sugar. It reminds one of a thin version of funnel cake. Traditionally served on the last week of Italy's annual Carnivale, the Traffole is served daily at L'Incontro and with the compliments of the restaurant.
L'Incontro boasts of a vast wine selection, mostly of Italian and Australian origin. For those who like to take their wine with a few cigarettes, there's a Smokers Area for, err, smokers.
3. Neil and Fred. According to Gino Martinel, service is top priority in L'Incontro. The moment I stepped in the restaurant, Neil the waiter attended to my every beck and call. Not long after, Fred followed. It's a good place to be spoiled in.
4. Gino. If you get the time to talk to the owner, Gino Martinel, go for it. He's engaging, easygoing, smokes like a chimney and shoots espressos like there's no tomorrow.
5. Ninoy Aquino. With prices ranging from P200 - P300 for a filling pasta meal or antipasto, you could actually get away with spending less than P500 in L'Incontro. That's not bad for a classic and authentic Ristorante.
For reservations or inquiries, please call 899-0638 to 39. L'Incontro is located at 207 Nicanor Garcia Street (formerly Reposo), Makati City.
Share this story with your friends!
---
Help us make Spot.ph better!
Take the short survey
Load More Stories