Grace Park
Ground Floor, One Rockwell Building
Rockwell Drive, Makati
Tel. No.: 0917-5138945
Operating hours: 11 a.m. t0 3 p.m. and 6 a.m. to 11 p.m.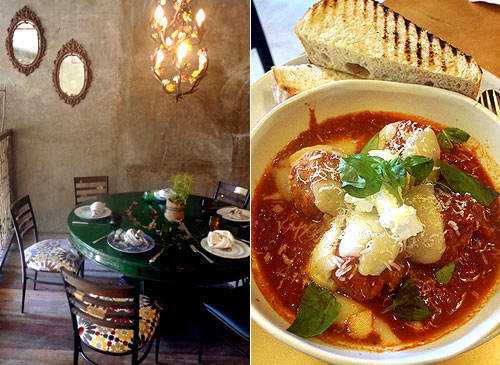 (SPOT.ph) Grace Park, chef extraordinaire Gaita Fores' latest venture, finally swung its doors open to an excited lunch crowd on March 21. Loyal patrons were treated to a mix of traditional Italian fare, dishes served at events her company had catered, and new ones born of the chef's culinary creativity.


ADVERTISEMENT - CONTINUE READING BELOW
The menu is comparatively short, but it has more than enough dishes to stir anyone's appetite. Starters include an Asparagus Pecorino Dip, Sardine Spread, and Panzerotti, which resemble mini empanadas-all interesting in their own right but none as enticing to a pork lover as the Baked Crackling Two Ways (P200).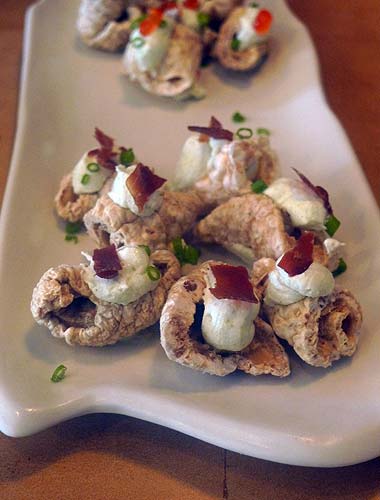 ADVERTISEMENT - CONTINUE READING BELOW
Recommended Videos
If you've attended an event catered by Cibo di M, then most likely this dish is no stranger. Chicharon smeared with what the waiter claimed was chive mousse is topped with salmon roe or crispy prosciutto. We couldn't quite taste the chive in the cream cheese-based mousse, but regardless, it lent a smooth mouthfeel to the crunchy crackling and tamed the saltiness of the two main ingredients, turning a deep-fried snack into a gourmet appetizer and a winner.


Of course, since Fores is known for Italian cuisine, we had to order pasta. Of the lot-there was orecchiette, tortellini, and gramigna-we went for fettuccine, the spinach kind, with a classic Bolognese sauce. It was highly recommended by the chef herself, who stopped by our table to ask how things were coming along.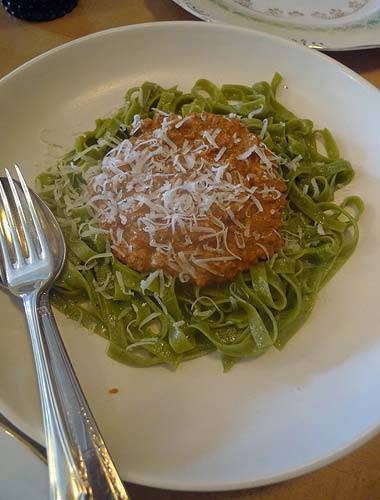 Spinach Fettucine (P495)
ADVERTISEMENT - CONTINUE READING BELOW
The noodles are handmade and like all the dishes in the menu, made with organic ingredients. This is in line with the restaurant's goal to pioneer the farm-to-table and back-to-basics concept. The side dishes, as a matter of fact, vary depending on the produce delivered to the restaurant. As for the Bolognese, it benefits from the advocacy by having a rich and flavorful sauce, developed through long hours of cooking and the lovely addition of cream.


The Three-Cheese Meatballs (P495) is composed of ground beef and Italian sausage flavored with fennel seeds and other seasonings, cooked and served in a tomato basil sauce, and finished with melted provolone, a sprinkling of grated pecorino, and a dollop of ricotta cheese.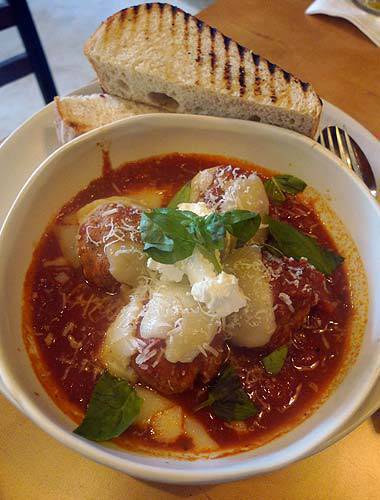 ADVERTISEMENT - CONTINUE READING BELOW
It's a meal in itself, filling enough to satisfy any hungry appetite especially when eaten with the grilled bread wedges served on the side.


The same goes for the Muscovado Beef Belly (P510), an order of which can easily feed a party of three to four. Plated alongside roasted baby carrots, potatoes and beets, the fork-tender slab has a subtly sweet glaze that had us wanting more so we could douse each sliced piece in its delicious glory.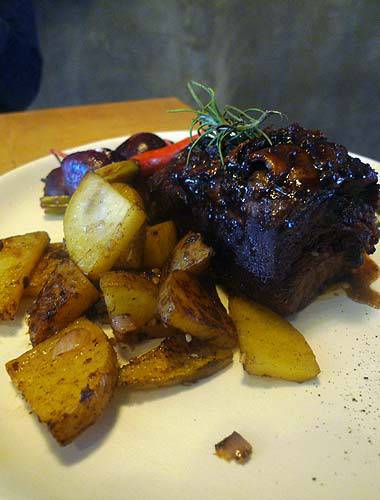 ADVERTISEMENT - CONTINUE READING BELOW
Upon entry, one will immediately notice that Grace Park is nothing like any of Fores' other restaurants, design-wise. The exposed piping and bare cement walls are a far cry from Lusso's luxe style and Cibo's edgy design. Industrial lamps hang beside antique chandeliers, while upstairs, the wooden floor panels cling to the edge, as if it's a construction job gone wrong. The glassware comes in a variety of colors, shapes, and sizes, while the mismatched chairs and the assortment of wooden tables give off a uniquely odd appeal, becoming all the more charming upon discovery that they are refurbished pieces that are actually 20 years old. It's kitschy without looking cheap, and consequently, more interesting than intimidating.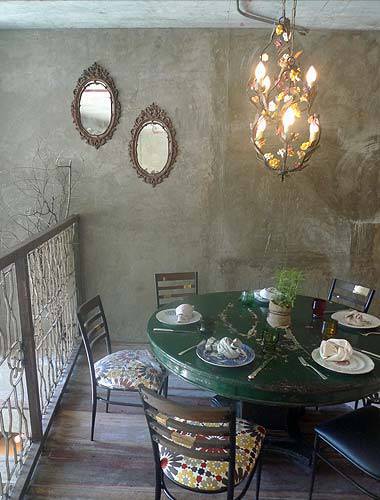 ADVERTISEMENT - CONTINUE READING BELOW
Grace Park reveals a side of renowned restaurateur Gaita Fores that is familiar to only a few. It lets us into her personal life, from the desserts made by her business and life partner Alvin Lim, to the silhouette of cats seen throughout the restaurant, representing her three black cats. The name Grace Park alone holds so much history, referring to an area in Caloocan where her paternal grandmother used to live. There, many good memories were formed and here, at its namesake, the same is sure to happen as Fores opens "her home" to everyone.
Share this story with your friends!
---
Help us make Spot.ph better!
Take the short survey
Load More Stories