CHECK IT OUT: Chez Bøugue at Bonifacio High Street Central
Revolutionary Pinoy cuisine from a chef descended from revolutionaries.
Chez Bøugue*
2/B Bonifacio High Street Central
Bonifacio Global City
Taguig
Open Mondays to Thursdays, 3 p.m. to 9 p.m., Fridays to Sundays, 11 a.m. to 10 p.m.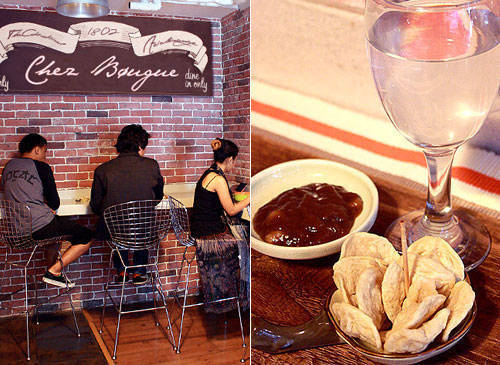 Revolutionary Pinoy cuisine from a chef descended from revolutionaries.
(SPOT.ph) While it seems appropriate that one of the newest innovators of Filipino cuisine can be found in the fast-rising foodie region known as Bonifacio High Street Central, Chez Bøugue sticks to its hard-fought indie roots by choosing a location that's...pretty difficult to find.
ADVERTISEMENT - CONTINUE READING BELOW
CONTINUE READING BELOW
Recommended Videos
"I wouldn't say our location was sadya," says chef-owner Rey Peter Nioco, who chat with us beneath the brick-lined walls of his restaurant as diners faint in ecstasy around us. "But it's definitely part of our image. I believe that food-from preparation to cooking to actually getting a seat at the restaurant-should be difficult."
Challenging was the right word for Nioco's foodie philosophy. He got his start as an unwashed bus boy in the prestigious Escherichia Ecolé at Paris, working his way up and paying his dues in the underbelly of the cooking world. Upon returning to Manila, he took the food world by storm with a no-nonsense hard-boiled approach (not to be confused with the way he cooks his eggs). To get the ingredients for his Kare-Kare Universale (P410), he is not above reaching up the free-range rectum of a dead pig to choose, by intuitive palm feel alone, the choicest entrails.
ADVERTISEMENT - CONTINUE READING BELOW
"I guess that kind of fearlessness is in my blood," Nioco says. He proudly traces his ancestry to a family of Filipino-Chinese chefs who, upon after renouncing their craft and joining the revolution, were captured and tortured by the Spaniards. Their legacy lives on in the hardwood acacia slats each dish is served on-reminiscent of the racks upon which his ancestors were waterboarded-then overlaid with a choice Pinoy dish. Cuisine as a subversion of imagery? We're drooling already.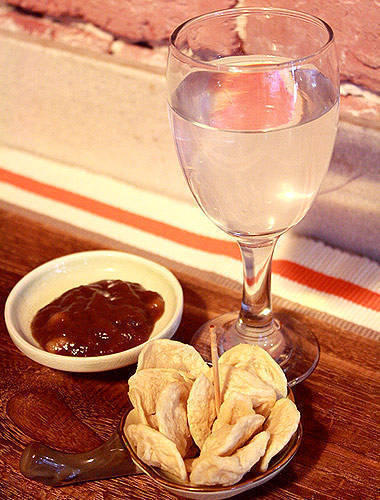 Kanto 10 Fishballs
ADVERTISEMENT - CONTINUE READING BELOW
For most of his dishes, Chef Nioco deconstructs typical Pinoy street food in unexpectedly gastronomic ways. His Kanto 10 Fishballs (P178) are artfully arranged, lotus-like, on a lahar plate, with a sugary homemade sauce on the side. Though it comes with an organic toothpick, Nioco argues that true fishballs must be eaten in true native style-with your hands. But the real controversy comes with the included drink. "It looks like water," says Nioco. "But it is actually coconut juice."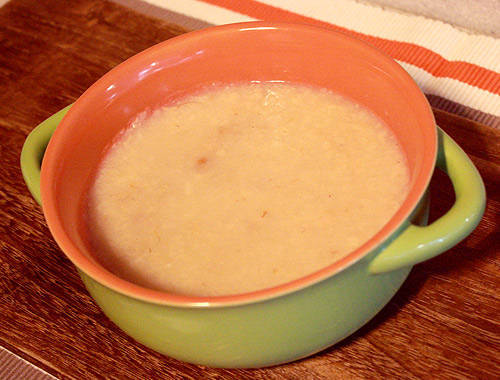 Signature GOTO
ADVERTISEMENT - CONTINUE READING BELOW
The Signature GOTO (P350) is fast becoming our, ahem, "go-to" dish. The sliced entrails are cleverly hidden under the soup of Himalayan rice, so that when the order comes, you'll think that the waiter mistakenly brought you Chez Bøugue's Signature LUGAW (P349). As you turn to confront him in anger, the waiter will dip his fingers into the soup to reveal the entrails, chopped spring onions, and calamansi round. Despite the revolutionary presentation, we appreciate its down-home, hearty taste.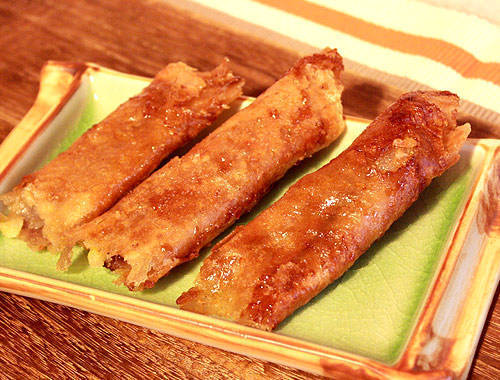 Banana Fritter Sweet Roll
ADVERTISEMENT - CONTINUE READING BELOW
For dessert, we turned to the Banana Fritter Sweet Roll (P219), which, as its name promises, is almost too much of a good thing. Fair trade muscovado sugar (as a show of support for his political causes, Chef Nioco buys them from Sulu farmers in Sabah) mixes evenly with the sweet texture of plantains for the perfect dessert. We're surprised to learn that it's actually Chez Bøugue's own unique take on the humble turon. We would never have guessed.
*Yes, this restaurant is fictitious. Happy April Fool's Day from SPOT.ph!
Load More Stories