CHECK IT OUT: Oriang at Market! Market!, Taguig
It's a Filipino food revolution.
Oriang
Fiesta Market, Market! Market!, Taguig City
Tel. Nos. 625-0597, (0927) 724-0543
Open daily from 11 a.m. to 12 a.m.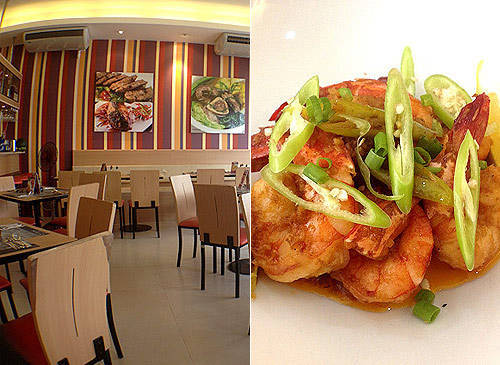 (SPOT.ph) History and gastronomy? It's an untested combination, but one, we discovered, that is disarmingly appealing. In Oriang, you learn a little history with every bite.

Owned and managed by the same people behind Cafe de Bonifacio, it only seemed natural to name this proudly Pinoy restaurant after Andres Bonifacio's wife, Oriang-short for Gregoria de Jesus. Oriang, like her husband, was heavily involved in revolutionary activities for Katipunan. "She was in charge of hiding the important documents while they moved from place to place to hide from the Spaniards," said co-owner Freddie Wenceslao; it's a story diners would not be likely to forget as it's also printed on the namesake restaurant's placemats. Wenceslao and his brother, Vic, were activists during the Martial Law period and it was only apt that they pay tribute to the supremo of Philippine revolution through their restaurants. "As activists, we live by the mantra, 'To serve the people'," he added.
ADVERTISEMENT - CONTINUE READING BELOW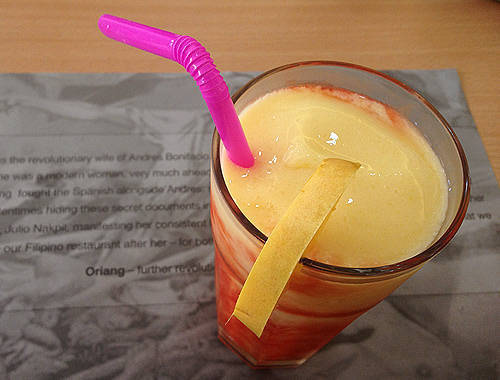 This sweet blend (P75) combines the best of tropical Philippines: mango juice with buko cream. Grenadine gives it a touch of sweetness.
CONTINUE READING BELOW
Recommended Videos

Though Oriang's cooking prowess is undocumented, Chef John Cu-Unjieng fills the gap with 70 of his own Filipino recipes. The description "with a twist" becomes almost a joke with most new restaurants, but Chef Cu-Unjieng impressively makes the effort for flair, adding vestiges of his own style in his dishes like raisins in his special tuyo fried rice and Mandarin oranges to fried chicken. (Both ingredients are rare in Filipino cuisine).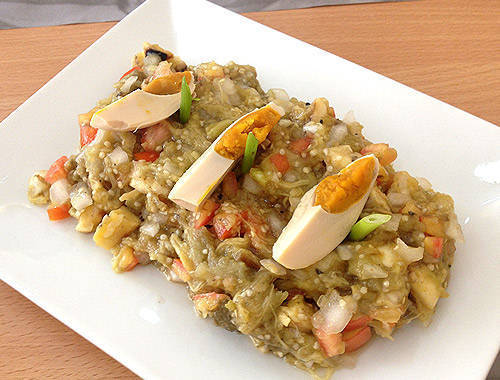 Spot the saba!
ADVERTISEMENT - CONTINUE READING BELOW
The very familiar Lumpiang Hubad (P135), meanwhile, takes its twist in presentation. Chef Cu-Unjieng maintains the relaxed facade of homey Pinoy fare, but this lumpia undergoes a bit of a facelift; it's served taco-style with carrots, jicama, and chopped green beans sauteed in a sweet sauce and measured into a pastry cup. The chef also adds cubed saba in his Ensaladang Talong (P135), a soft sweetness that goes a long way for a basic salad.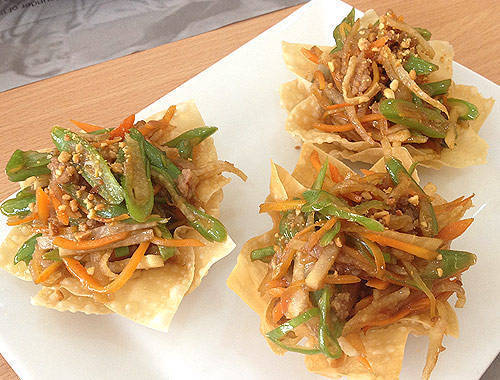 Eat it with your hands for that full Filipino effect.


For soup, it's a toss-up between the mild Binakol na Manok (P265) and the power-packed Sinigang na Inihaw na Hito (P285). (Hito, by the way, makes several appearances on the menu, all of them nothing short of sublime.) Grilled pieces of catfish provide an unfamiliar but nonetheless delicious layer of smokiness to the world-famous tanginess of sinigang. On the other hand, the Binakol, which is a close cousin of  tinola, is cooked with savory chicken stock and buko juice then furnished with lemongrass, ginger, chicken, and slices of fresh buko.
ADVERTISEMENT - CONTINUE READING BELOW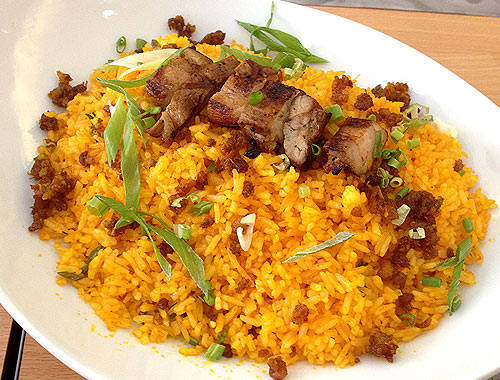 Three layers of deadly delights: taba ng talangka, longganisa, and liempo. At least there's a bit of garlic in there.
By now, we've learned that nothing is ever too ordinary in Oriang. Rice, of course, comes in three variations: Tuyo Fried Rice (P155), Pinakbet Rice (P195), and Oriang Super Fried Rice (P215). The latter holds nothing back; a complete meal on its own, rice is sauteed in taba ng talangka, giving it that luxuriant orange hue. A hefty amount of garlic "tries" to counter the  richness the taba, but the sprinkling of Vigan longganisa and liempo strips truly make this dish heartstopping.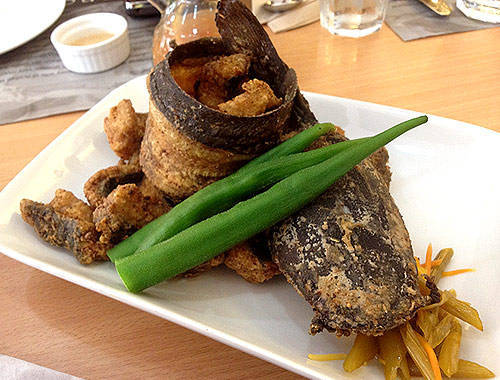 ADVERTISEMENT - CONTINUE READING BELOW
You did not live in vain, my friend.

Pair it with the Crispy Hito (P265). Though only lightly coated, this crowd-pleaser is delightfully crisp with the seasoning just enough to compliment and not completely overpower the naturally delicate flavors of catfish. Wenceslao admits that the image of the fish looking up at its impending eater, is unnerving. We're happy to report, however, that its life was not put to shame.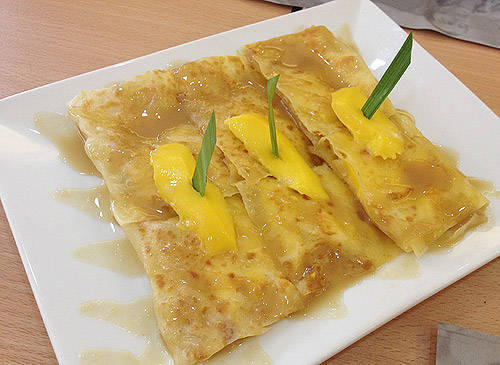 The Mango Roti Latik (P85): you can send it back if the mangoes aren't sweet enough.


Chef Cu-Unjieng  went back to the drawing board for his reworking of the traditional turon. Deconstructed, Turon de Gregoria (P95) is served in layers with spring roll wrappers and thin banana slices placed on top of one another, creating a gorgeous four-tiered tower. A scoop of vanilla ice cream rests on the side and the entire spectacle is then drizzled with sweet latik.
ADVERTISEMENT - CONTINUE READING BELOW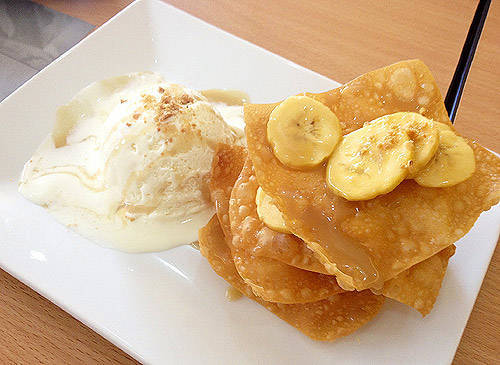 The Turon de Gregoria. Eat it by layers or slice it like a lasagne. Your choice.

Like its elusive namesake heroine, Oriang is nearly hidden alongside the perimeter of the Fiesta Market section, but it's in little hideouts like these where a revolution was born in the late 1800s... and here, it's certainly making a repeat, albeit in food.
Share this story with your friends!
---
Help us make Spot.ph better!
Take the short survey
Load More Stories