Brotzeit German Bier Bar & Restaurant
Shangri-la Plaza Mall, Unit 112, Street Level, Mandaluyong
Tel. Nos.: 631-1489, 668-4325
Open daily from 11 a.m. to 11 p.m.
(SPOT.ph) German cuisine instantly conjures thoughts of jolly men enjoying their sausages and sauerkraut while listening to the tune of banging beer-filled mugs and an oompahpah song. It is loud and noisy-not the irritating, but the entertaining kind. On April 2, during Brotziet's grand opening, such was practically the scene in every corner of the room.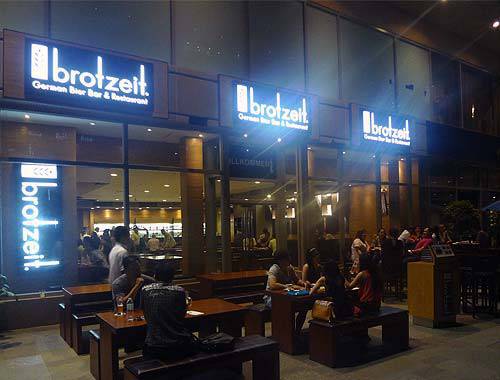 The calm before the storm: Brotzeit right before the merriment took place during its launch


ADVERTISEMENT - CONTINUE READING BELOW
According to Francis Aswin, Head of Marketing, Brotzeit was born out of frustration for something authentic. A group of Germans based in Singapore longed for food that's close to home and not the Swiss or Austrian-influenced fare, which was commercially available in the country. They wanted the real thing. It was the same case with the beer. What was at hand back then were Belgian bottled beers and the supermarket kind. And so it was this longing that eventually inspired the group to fill the void and set up Brotzeit, a casual dining restaurant serving Bavarian cuisine and world-famous German beers on tap. The first one opened in 2007 and six years later, there is already a total of 11 branches operating all over Asia, including Thailand, Vietnam, Hong Kong and now, the Philippines.


With many people embracing Singaporean exports like Hainanese Chicken, it is about the right time to bring Brotzeit to Manila. Add to that the lack of German restaurants in the city and the demand for good Bavarian food from the massive German community in the country.


ADVERTISEMENT - CONTINUE READING BELOW
Recommended Videos
Dishes come in huge portions, which is something Filipinos will definitely appreciate, since we're used to sharing our food. The Backhendlsalat (we dare you pronounce this when ordering) or Crispy Chicken Salad (P295), for instance, can be a meal in itself. It's a layered dish with a crown of breaded and deep-fried chicken fillet strips on top, mixed greens, sweet corn kernels, sundried tomatoes and sliced cucumbers in the middle, and a mound of chunky mashed potatoes hidden underneath. The house dressing is redolent of lemon and adds a tangy taste to the myriad of fresh flavors and textures. It's good alright, but this place is a sausage and sauerkraut haven. It's a sin not to sample the heavy hitters.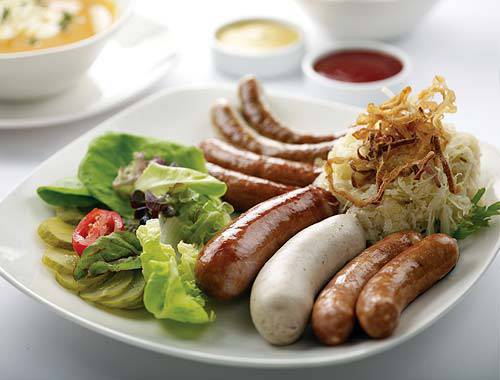 Care to taste some, ehem, German sausages? The Brotzeit sausage platter (P980)


ADVERTISEMENT - CONTINUE READING BELOW
Of the lot, which includes the Knoblauchwurst (smoked pork and garlic), Nürnberger (grilled pork bratwurst) and Bockwurst (smoked fine pork), we were served the Currywurst (P430), which was double the length of the usual hotdog, swimming in a pool of chilli-curry sauce and served with potato wedges. Initially, it may seem like a rip-off for the price, but once you taste the sausage, you'll realize that it is of premium quality, and the kind you might not want to share with the other people at your table. At first sight it might seem like it's not enough, but beware, it's deceivingly filling.

The Schweinshaxn (P1280), on the other hand, came as the turkey to a Thanksgiving table. It is quite a hefty dish and can easily feed a party of four or more. The meaty pork knuckle is reminiscent of our Crispy Pata, only instead of rice and atchara, you get potato salad, sauerkraut, and homemade sauce.
ADVERTISEMENT - CONTINUE READING BELOW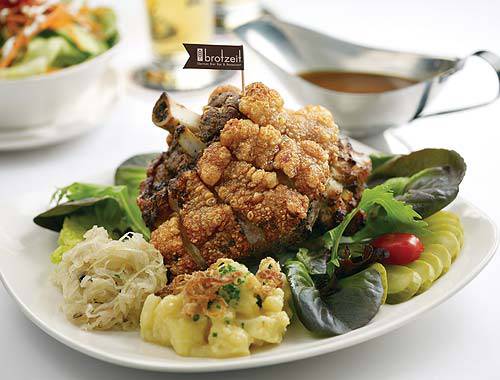 The Schweinshaxn: the German version of our beloved Crispy Pata
Two things you shouldn't miss are the Griebenschmalz aka Bacon Spread (P290), which will remind you of rillette, and the Cheese Spätzle (P580), which was akin to gnocchi, but with a bit more bite and chew. It is doused in stringy, melted cheese and topped with thin and crisp onion rings. It was the hit of the night, at least at our table, where we requested another order.


ADVERTISEMENT - CONTINUE READING BELOW
For beer, they've got Paulaner, the best-selling Munich lager in the world. They serve it in different volumes (0.3 liter, 0.5 liter and 1 liter) with varying prices, depending on the hour of day (before or after 6 p.m.).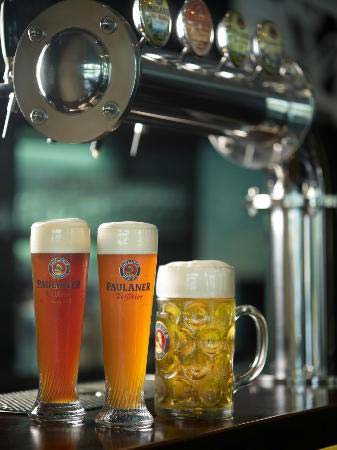 After 6 p.m., half a liter of the Paulaner is at P300
ADVERTISEMENT - CONTINUE READING BELOW
The place is a great pick for happy hour, especially since it offers dishes that make for the perfect bar chow. Better get your oompahpah on!
Share this story with your friends!
---
Help us make Spot.ph better!
Take the short survey
Load More Stories