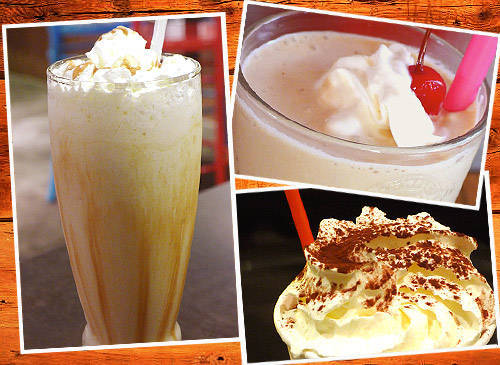 (SPOT.ph) SPOT.ph rounds up some of Manila's best milkshakes: cool, frothy, sugary drinks that so perfectly complement a good burger, a serving of crisp fries, and, of course, summer! But the Pop-Tate days of simple Chocolate, Strawberry, and Vanilla are gone. Nowadays, they come in a plethora of flavors and are done in so many ways-chunky, creamy, too-sweet, subdued, plain, complex-each one, however, a treat anybody can enjoy.
All SPOT.ph Top 10 lists are researched, paid for, tested, and selected by the writers and editors. They are discreetly conducted without any notice made to the restaurants or their owners.
Read our Top 10 Milkshakes (2011 Edition)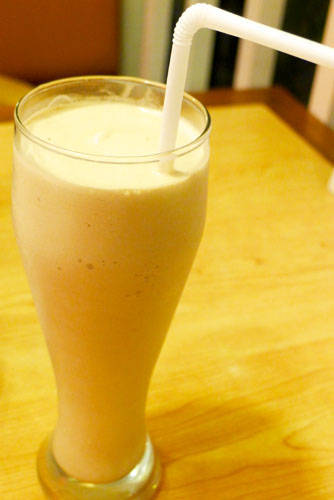 10. Racks' Hazelnut Milkshake (P145)
Newcomer
It's not every day you come across a hazelnut milkshake, more so in a restaurant more known for its meat selection. But Racks' hazelnut milkshake is a keeper. At first sip, it comes to the palate as a chilled mocha drink; the nuttiness comes a moment later, leaving with a distinctly rich nutty taste that calls to mind a favorite childhood spread.
ADVERTISEMENT - CONTINUE READING BELOW
Click here for a list of Rack's branches.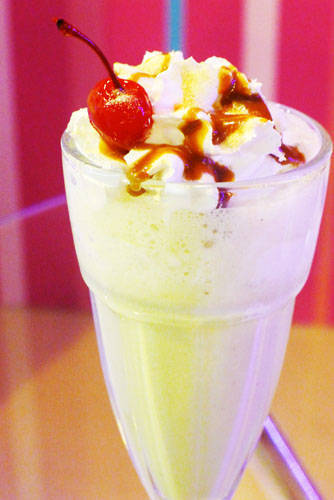 9. Picket Fence Milk and Ice Cream Bar's Pistachio Milkshake
Newcomer
For a milkshake chain that's relatively small in scale, Picket Fence's milkshakes have been getting a lot of buzz. Their Pistachio Milkshake is among their bestsellers (the others being Coffee Chocolate and Chocolate) and guaranteed to be worth your while. It's a sugar-happy type of drink comprised of creamy gelato, nuts, caramel syrup, and a tower of whipped cream. The best part? It's non-fat!
Picket Fence has branches in FBR Arcade, Katipunan and Aseana One, Parañaque; and stalls in SM Mall of Asia, SM North EDSA, SM Southmall, and Alabang Town Center.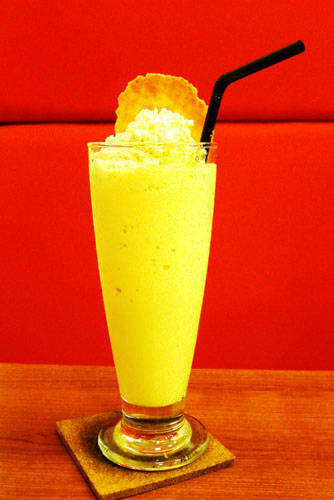 8. Chuck's Deli's Queso and Caramel Arce Dairy Milkshakes
Formerly No. 7
CONTINUE READING BELOW
Recommended Videos
The secret is the base. Chuck's Deli uses Arce Dairy ice cream for their milkshakes, resulting in an instant milky, not-too-thick-not-too-runny, subtly sweet drink. The Queso and Caramel (P195) ties for eighth simply because they're both beautifully done. The Queso is thick with the cheese distinct but not overwhelming; the carabao-milk-infused Caramel takes a backseat to another popular flavor, Peanut-butter, but it has that soft, dense sweetness that we love.
Chuck's Deli is at Serendra, Bonifacio Global City, Taguig.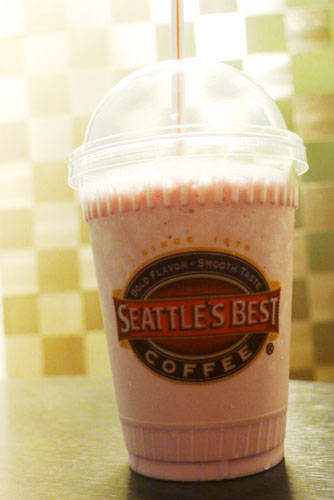 7. Seattle's Best Coffee's Strawberry Milkshake
Formerly No. 6
S-W-E-E-T is the qualifier that separates SBC's Strawberry Milkshake from the rest. We're giving it a nine out of 10 on the sweetness scale. Though a definite sugar rush especially for those who aren't expecting it, the consistency is especially creamy (not icy at all) with that familiar strawberry tang standing out amid that sugar.
Click here for a list of Seattle's Best branches.
ADVERTISEMENT - CONTINUE READING BELOW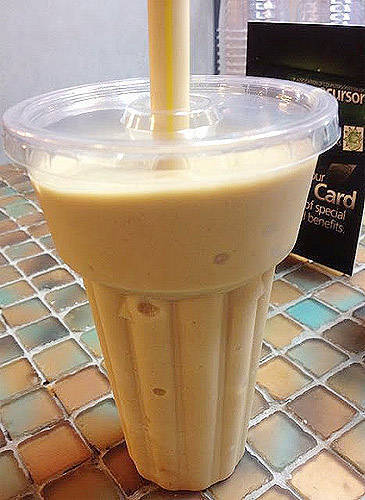 Photo by Regina Macapinlac of comfortfoodstuff.blogspot.com
6. Starr's Famous Milkshake's Caramel Cookie Dough Milkshake
Newcomer
We have to give it to Starr's for the warning: their shakes are dangerously thick. Seriously, you better make sure that you have enough lung power to suck the luscious concoction that seems hell bent on being stuck inside the straw. They're so thick it makes us wonder just how low-fat they are. The Caramel Cookie Dough is the bestseller. Think fresh-off-the-oven butter cookies liquefied into a drink and there you have it: a caramel-kind-of-sweet with surprise chocolatey cookie crumbs that give it the change in texture it needs from being cloying and overly rich.
Starr's is at 48 Esteban Abada Street, Quezon City.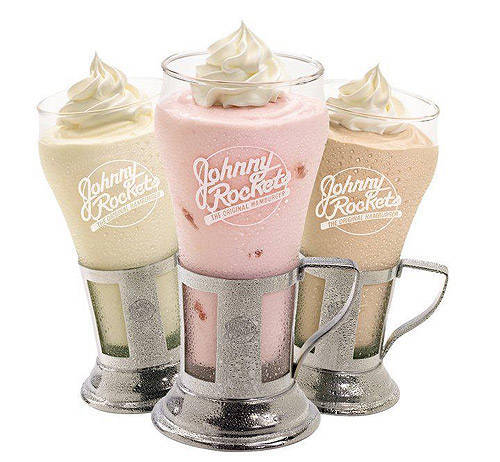 ADVERTISEMENT - CONTINUE READING BELOW
Photo from Johnny Rockets
5. Johnny Rockets' Strawberry Milkshake
Newcomer (Johnny Rocket's Strawberry Milkshake was formerly No. 3)
Johnny Rockets' Strawberry Milkshake is the type that gets you wanting more. Imagine what fun it would be to devour a tall glass of unparalleled strawberry goodness, topped with a hefty serving of whipped cream and a sweet cherry. Then, just as you are about to consume the drink in its entirety, you are reminded that this close-to-perfect drink comes with an extra helping, as if Johnny Rockets had anticipated that a glass of the good stuff wouldn't be enough.
Johnny Rockets has a new branch in the East Wing of Shangri-La Plaza.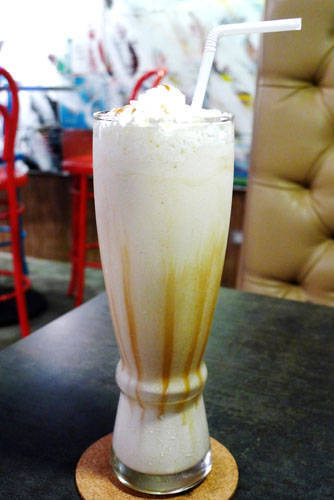 4. Burger Bar's Salted Caramel Milkshake
Newcomer
Burger Bar has jumped onto the salted caramel bandwagon, taking on the ­flavor of the century and incorporating it into a drink any dessert-crazy foodie would enjoy time and time again. The milkshake is able to successfully combine the subtle flavors of salt and caramel, both of which give an interesting contrast to the sweet aftertaste of whipped cream.
ADVERTISEMENT - CONTINUE READING BELOW
Burger Bar is at Greenbelt 2, Makati City.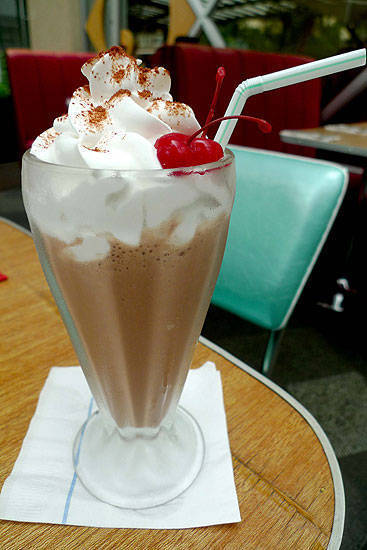 3. Mr. Jones' Classic Chocolate Malt Milkshake
Formerly No. 1
The thickness puts up a fight, but not as much as Starr's. It's cool and creamy, like drinking semi-melted ice cream- it promises the same comforts as ice cream too!-with a punchy chocolate flavor (and not that watered-down sort that we so often taste in others) made bolder with more chocolate syrup and a hefty dollop of whipped cream; a final sprinkling of chocolate powder gives it a deep, dark finish.
Mr. Jones is at Greenbelt 5, Makati City.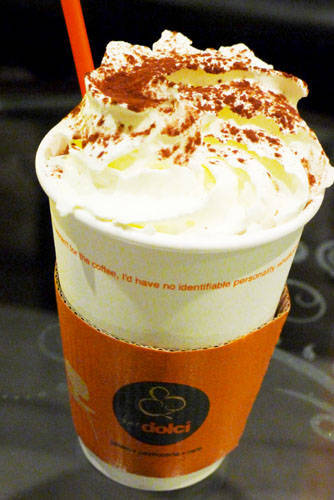 ADVERTISEMENT - CONTINUE READING BELOW
2. Bar Dolci's Ferrero-Coffee-Valrhona Frappelato
Newcomer
Ferrero, Coffee, and Valrhona dance in one sweet, delicious movement in Bar Dolci's Frappelato. The effect is pure decadence where nuttiness, bitterness, sweetness, and richness collide in perfect synchrony, assaulting your tastebuds with nothing but a chunky chocolate kindness. In just a small cup, Bar Dolci demonstrates how one can never have too much of a good thing.
Bar Dolci is at Burgos Circle, Bonifacio Global City, Taguig.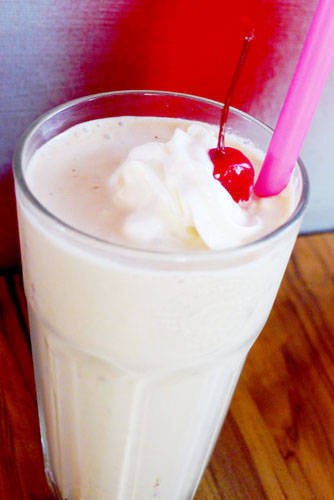 1. Grams Diner's Whoppers Malt Milkshake
Newcomer (Gram's Old-fashioned Chocolate Milkshake was formerly No. 9)
The presentation is a little too un-extraordinary: just the shake off the blender into a glass with a cherry plucked from a box in the freezer tossed in. No frills. But aren't those the ones that are most comforting? This Grams favorite is consistently smooth, creamy, and rich from start to finish. Just like its namesake candy, the malt evens out the heaviness of chocolate well, giving it beautiful proportions that won't make you give up halfway into the glass. The chocolate is pronounced, but the bliss is indescribable. This is just a yummy old-fashioned favorite made to perfection.
ADVERTISEMENT - CONTINUE READING BELOW
Share this story with your friends!
---
Help us make Spot.ph better!
Take the short survey
Load More Stories