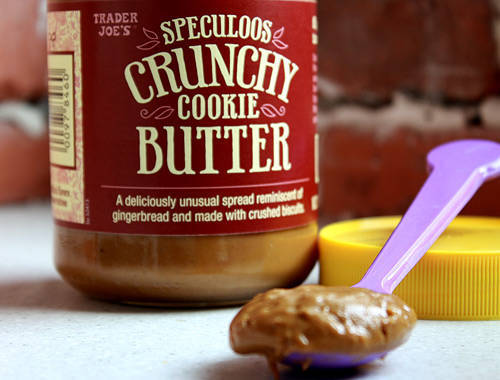 Crunchy versus creamy? You can guess which one we pick.
(SPOT.ph) Speculoos. It's a strange word but one that's likely to get stuck: first because it sounds funny and second because it sounds like something stuck to the bottom of your shoe that you want to shake off. Speck-you-loose. "There's speculoos under my trainers"-it has a nice little ring to it. If there was ever something right about our flawed interpretation, however, it's that Speculoos sticks. A brown, gooey, spiced spread that's now stuck on the toast and hearts of Filipinos.
Speculoos is actually a type of shortbread biscuit popular in Europe but never gained traction among the Sky-Flakes-eating Philippine population. Ground, mixed with vanilla and cinnamon, and put inside a jar and it's a different story-a story that, in our case, started last August.
We don't claim propriety for starting the "Cookie Butter" mania. Even though Trader Joe's Cookie Butter was one if the hottest commodities in the United States in 2012, most Filipinos were too busy guzzling peanut-butter, hazelnut, and last year's vogue, Chocnut, to care. Locally, Speculoos confined itself within the territory of "foodies" who hoarded it from abroad, gifting it to friends, inventing desserts, or pretty much just stocking it for as long as they could.
ADVERTISEMENT - CONTINUE READING BELOW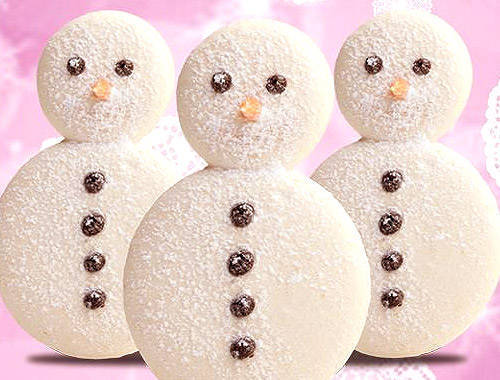 Speculoos snowmen from Cibo
As the gingery spiced spread doesn't seem to fit the sweet and savory Pinoy palate, our discovery and subsequent feature of Trader Joe's Cookie Butter in Manila was a revelation: it was a tip from foodie to foodie rather than a promotion for Filipinos to turn their backs against peanut butter. Cookie Butter, then with an almost cultish following, was an elusive, little-known treat that seemed set to stay that way. Suffice it to say, we were blind-sided.
ADVERTISEMENT - CONTINUE READING BELOW
Recommended Videos
Soon after, dessert shops and confectioneries began introducing a "new" flavor in their arsenal. Speculoos ice cream, speculoos cake, speculoos macarons. While the fame shifted towards Trader Joe's, majority of these culinary artisans were actually using the pioneering but less popular Lotus, a different company that made their own brand of speculoos cookies called Biscoff. With the more pronounced Biscoff as foundation,the cinnamon-laced gingery flavor eased into its place beside chocolate and vanilla. In December, Bizu came out with a limited line of snowmen-shaped Speculoos macarons and trendsetting MerryMoo developed Biscoff-based Cookie Butter ice cream. But customers wanted more: they wanted the real thing.
Since then, more stores have set themselves up for the challenge, stocking and stacking jars of the sugary brown stuff that makes you think of butterflies and meadows and overall bliss. But despite its burgeoning popularity, Trader Joe's Cookie Butter remains as elusive as it was when we first discovered it in Milkyway Deli seven months ago. Since the speculoos outbreak in February, Filipinos have been suffering from a severe Cookie Butter addiction-and thanks to the Cookie-Butter-crazed populace, we who can't reach the stores fast enough have, in turn, been suffering from serious separation anxiety.
ADVERTISEMENT - CONTINUE READING BELOW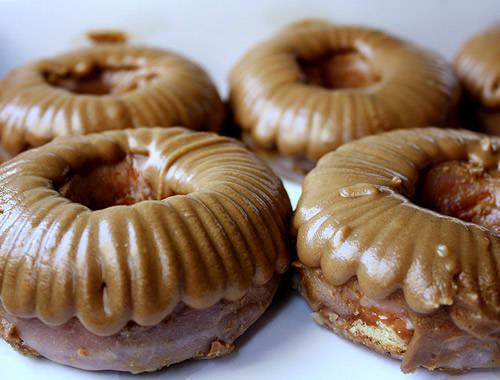 Speculoos donuts from Go Nuts Donuts
Case in point: Prior to this article, SPOT.ph scoured seven stores in search of Cookie Butter (or Biscoff, we'll take what we can get!): three Healthy Options branches were regretfully out while Lorena and Loreta generously added us to their waiting list. We expect our order to arrive in June. The newly opened Food Bin, the old standby Milkyway Deli, and the fail-proof Blue Kitchen were stocked but only barely-the supply never lasts too long and timing is imperative. At the moment, none of them has Biscoff. Indeed, in less than a year, Cookie Butter has gone full circle: rare because no one wanted it and practically extinct because everybody can't get enough. And like gum on your shoe, it doesn't seem intent on leaving.
ADVERTISEMENT - CONTINUE READING BELOW
Why, though? How did the sweet-loving Pinoy fall under the spicy charm of speculoos/Cookie Butter/Biscoff? Let's analyze, shall we? Trader Joe's Cookie Butter is a "deliciously unusual spread reminiscent of gingerbread and made with crushed biscuits." It's rich with a feel-good gooeyness and a slight cinnamony shade that breaks what could otherwise be a cloying affair. First of all, it has the look and feel of an all-time favorite, peanut butter. Just the thought of finding a "new kind" of peanut butter, which is how Lotus markets their Biscoff Spread, is enough to catch attention. It's not nutty, but it has the same lush, spreadable consistency and even that grainy Ludy-like texture. Like peanut-butter, both Biscoff and Cookie Butter are available creamy and crunchy-though the latter variation is harder to spot than, say, a panda in the wild. Second, the gingerbread flavor, though unusual, is not unfamiliar. We know what cinnamon is (can you say Cinnabon?), we know what gingerbread is. The combination isn't too difficult to warm up to.
ADVERTISEMENT - CONTINUE READING BELOW
The third, and probably most plausible cause, is the snowballing. It's a contagion much like Avian Flu and jeggings. Seeing jars of speculoos spread on Instagram piques curiosity and the frustration from the search only aggravates it. The satisfaction then of finally holding that round jar of cookie butter goodness makes it better than it actually is-and it's already so good to begin with.
Like green tea and Earl Grey and Nutella and red velvet-all of whose culinary permutations have been so exhausted we're expecting a red velvet chair to be launched soon-people have been experimenting with the possibilities of Cookie Butter. So, while waiting for shelves to restock, sate your cravings with speculoos-inspired confections. Following the lead of Bizu and MerryMoo, these establishments (the primary hoarders!) have discovered new scrumdiddlyumptious ways to help you savor that delightful spiced flavor: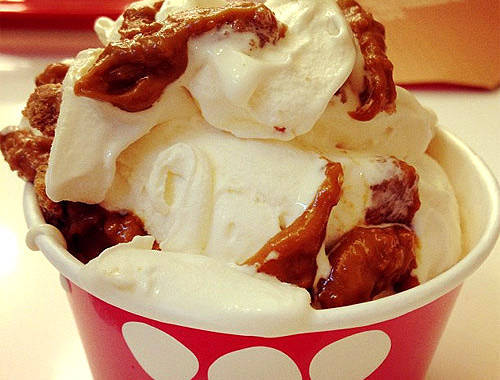 ADVERTISEMENT - CONTINUE READING BELOW
Bono's Speculoos Gelato from their Instagram
1. Speculoos Gelato, Bono Gelato: using the more flavor-potent Biscoff as base, Bono prepared an ultra smooth blend speckled with cookie crumbs. The spices, especially the cinnamon, kick in as it reaches the back of your throat. Yum!
2. Speculoos Cheesecake, Bonbonierre: This doesn't hold back with its Speculoos cookie crust, Speculoos Cookie Butter-infused cake, Speculoos Cookie Butter frosting, and Speculoos cookies on top of everything. Dark chocolate ganache gives it a pleasantly bitter contrast.
3. Speculoos Polvoron, Speculoos Milk Tea, and Speculoos Shakes, Curly Pepita: Pepita rolled up her sleeves and dug deep into that jar of Cookie Butter. Right now, we're imagining sticking a straw into a jar of Trader Joe's.
4. Speculoos Ensaymada, Baby Pat Breads and Pastries: Baby Pat has been known for using trendier flavors in their favor. They followed up their bestselling Nutella Ensaymada with a speculoos-flavored pastry topped with muscovado.
ADVERTISEMENT - CONTINUE READING BELOW
5. Speculoos Banana Pie, Edgy Veggy: Yes, this luscious spread is Edgy-Veggy-approved, 100% vegan. The pie gives us the usual amount of GV we get from any other dessert with an added bonus of being healthy.
6. Go Nuts' Cookie Butter Donuts: Original glazed donuts lathered generously with that special spiced spread. Surprisingly, it's not as treacly as it looks. The effects of sugar will come much later-after about a dozen.

Photos by Gerra Asumo (Trader Joe's Cookie Butter), Sasha Lim Uy (Go Nuts Donuts)
Share this story with your friends!
---
Help us make Spot.ph better!
Take the short survey
Load More Stories