The Clubhouse
Upper ground level, Robinsons Magnolia Town Center, Hemady Street corner Aurora Boulevard, Quezon City
Tel. No. 442-5571
Open from 10 a.m. to 10 p.m. (Monday to Thursday), 10 a.m. to 11 p.m. (Friday to Sunday)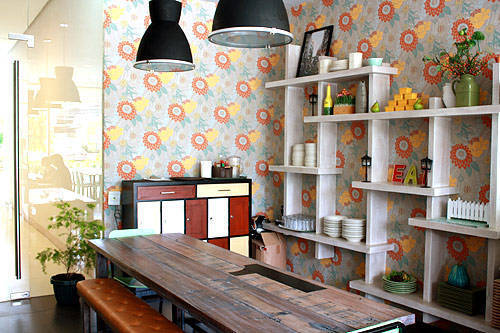 We're digging the larger-than-life table numbers.
(SPOT.ph) One wall is brick and whitewashed with a sprinkling of exquisite photographs; the other just photographs, nearly every inch of it; the last one is flowered and lined with shelves full of curious little knickknacks. The effect is disarming, but only slightly. With the battered picnic tables, long benches, and clipboard menus, the hodgepodge builds up a charming chic appeal.
ADVERTISEMENT - CONTINUE READING BELOW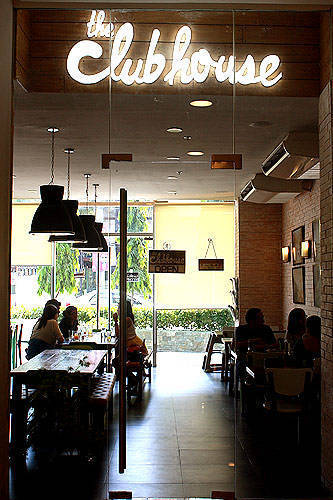 From the  inside of the mall, the entrance is tucked away like a secret known only to residents
It's representative of the different personalities that make up the barkada-owned The Clubhouse. "One of us wanted the bricks, the other took the photographs," says co-owner Sharlene Tan, the food writer and stylist designated to "kitchen duty." While she's busy with the menu, one of her friends is in charge of operations, another for construction. "Every one in our barkada is in a different field," she says, and like the mishmash of walls, they strangely fit.
ADVERTISEMENT - CONTINUE READING BELOW
Recommended Videos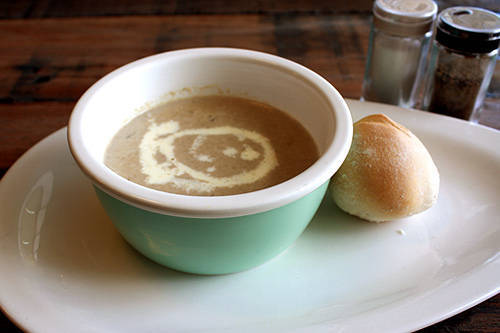 No frills, just mushroom soup
Growing up in the area, Tan and her friends didn't have much of a hangout save for the old Magnolia Flavorhouse. The Clubhouse, hence, was designed to fit that purpose. It has a laidback, I-could-live-here vibe that invites you to stay for hours (which, unfortunately, you can't do with the number of people waiting for seats). Don't worry: the menu, a whopping seven pages and mouthwatering despite having no photos, won't be enough to cover in one visit.
ADVERTISEMENT - CONTINUE READING BELOW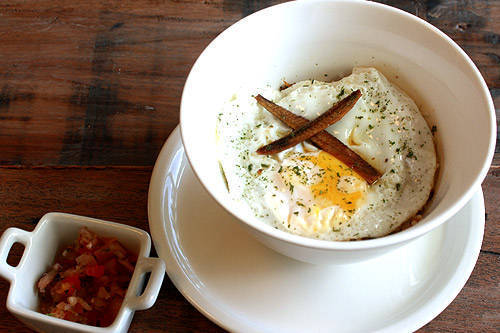 The star of our meal: Tuyo Fried Rice
There's no set theme for the culinary repertoire, says Tan, who aims to target whatever the customer is craving at the moment. Her personal favorite is the Vigan Longganisa Hash (P225), an invention she cooked up long before The Clubhouse's opening three months ago. Two breakfast favorites are smashed together in one smashing savory dish. With diced potatoes, the skinless sauteed longganisa resembles a sort of mashed menudo, but it still packs that familiar garlicky-salty flavor. You can get your eggs any way you like, but you can't go wrong with scrambled: an incredibly fluffy, parsley-speckled mound that will make you wonder how you can eat anything else less perfect afterwards.
ADVERTISEMENT - CONTINUE READING BELOW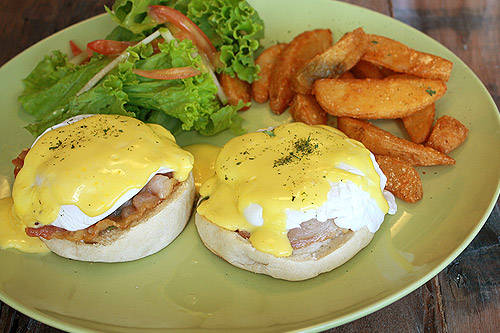 There are no words to describe The Clubhouse's Eggs Benedict
Customers will find true comfort in one of The Clubhouse's rice bowls. Most rice bowls are guilty of cheating diners with too much rice and sparse viands, but not here. Filling and easy-to-eat with perfect proportions of carb and "goodies," the Tuyo Rice Bowl (P185) is a popular choice. Garlic fried rice is tossed with tuyo, olives, mushrooms, and capers creating a rich profile of smoky saltiness and only a touch of tang. To add spice, tell the servers you want it hot.
ADVERTISEMENT - CONTINUE READING BELOW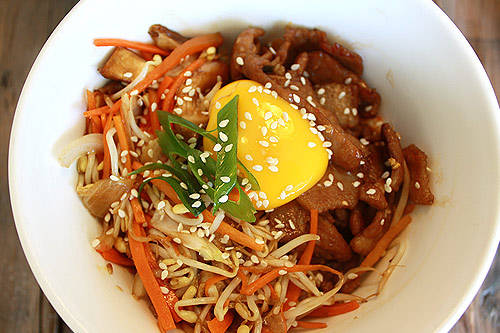 Bulgogi Bibimpap!
Tan doesn't feign authenticity with her menu. "We play around with the flavors," she admits, adding, "it may not taste 'authentic' but we can assure you that it's really good." Take for example the Kimchi and Bulgogi Bibimbap (P185). Two Korean staples combine to make a delicious showstopper: strips of melt-in-your-mouth sweet beef add to the saucy, textural explosion of your everyday bibimbap. Unless it's a Rolex-or a friend-who needs authentic, really, when it's just plain good?
ADVERTISEMENT - CONTINUE READING BELOW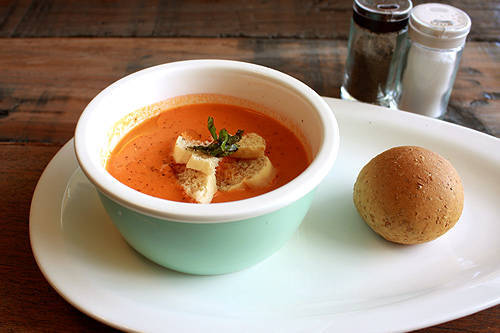 Choose your own bread
Quiet afternoons call for some soup and sandwiches. The Velvety Tomato Soup (P115)  lives up to its name: a frothy concoction of cream and pureed tomato with just the right shade of zestiness. Basil provides the minty edge. On the other hand, fresh mushrooms are slow-cooked and blended to make the equally luscious Mushroom Soup (P135), a Clubhouse bestseller.
ADVERTISEMENT - CONTINUE READING BELOW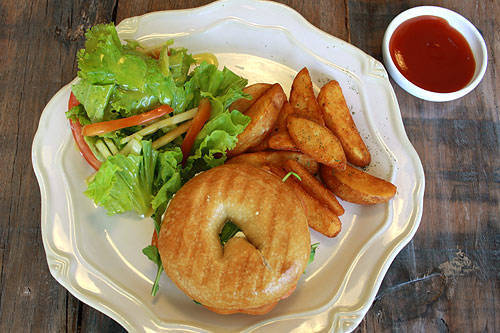 Not enough for one, we're afraid. It's that good.
The bagel in the relatively new Bagel and Lox (P285) is a masterpiece on its own. It's toasted and firm, perfectly complementing the plush salty salmon inside. Each bite is a yummy palette of rich cream cheese, tangy tomato, and bitter arugula.
ADVERTISEMENT - CONTINUE READING BELOW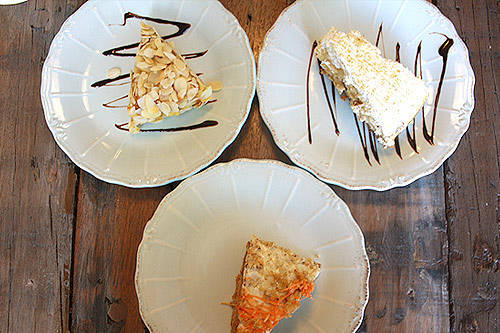 From left, clockwise: sansrival, banana cream pie, and carrot cake
Cakes take a backseat in the menu, but a bite of the Sansrival proves that it's a front runner: the impressive layered construction holds even after the first forkful; it's flaky, interspersed with a hefty amount of nuts and minus the heart-stopping amount of butter. The Banana Cream Pie (P60), meanwhile, will brighten up anyone's day: it's fuss-free comfort of cream and banana chunks over a cracker crust.
ADVERTISEMENT - CONTINUE READING BELOW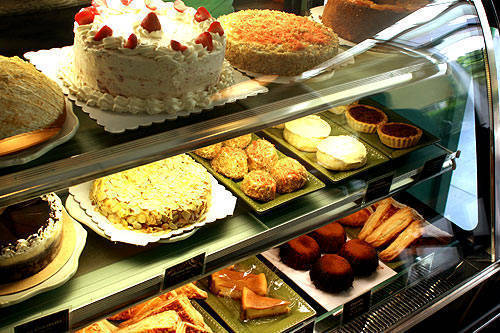 A display of mouthwatering goodies
The Clubhouse was designed as a neighborhood hangout, but we wouldn't be surprised if residents from other cities start to flock to this inconspicuous venue. For the Tuyo Rice alone, we would travel miles.
Share this story with your friends!
---
Help us make Spot.ph better!
Take the short survey
Load More Stories