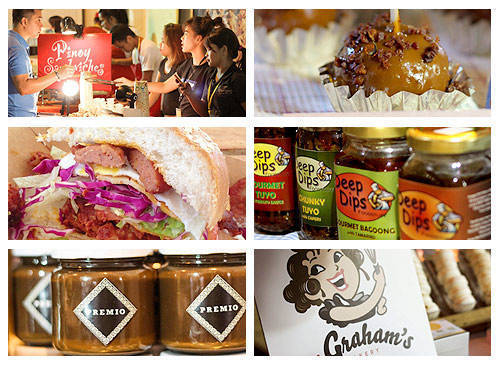 (SPOT.ph) Hundreds of foodies went to the NBC Tent over the weekend when Best Food Forward, the annual benefit food fair, had its much-anticipated third run. The decorative stalls, the scent of hamburgers and corn on the cob on a hot grill, and the welcoming entrepreneurs all played bait to the willing guests. And while there were live cooking demonstrations peppered throughout the two-day event, it seemed that people couldn't stop satisfying their appetites. Who can blame them, with all that food? Here are 12 unique finds that excited the taste buds of foodies who attended.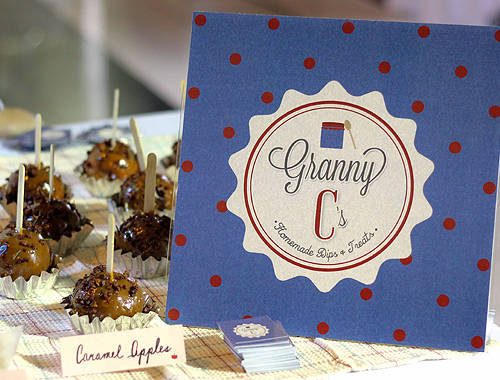 ADVERTISEMENT - CONTINUE READING BELOW
Granny C's popular Caramel Apple


Granny C's Homemade Dips and Treats
Like many startup food businesses, Granny C's started with a bunch of dips, which Corina Yenko would bring to potluck parties. Her Mushroom Pate, Spicy Herbed Cheese, and Maple Bacon Butter became such crowd-pleasing hits that family and friends encouraged her to seal and sell her crave-worthy creations. And that she did, starting Christmas 2011. Now, she has expanded her line with the likes of Salted Caramel, Rosemary Rice Crispies and Caramel Apples encased in sweet toffee, bacon and fresh rosemary-a wicked combination that works.
Contact info: 0922-8351121, grannycsph@gmail.com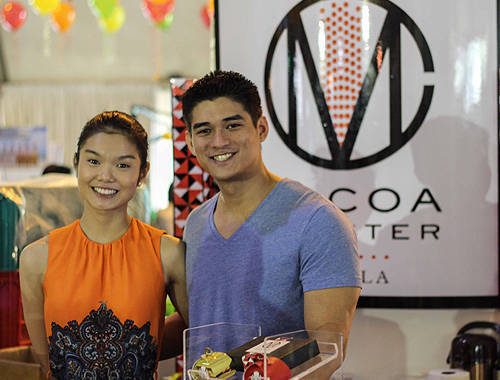 Couple Timothy and Darlene Lim say their cacao hails from Mindanao, mostly from Davao. Proudly Pinoy!
Cocoa Monster
Cocoa Monster is not only the name of this young artisanal chocolate company, but also what you'll become once you've sampled their products. It just opened in February 2013 but already, they have 13 variants of fine chocolates (bestsellers are the Dried Mango and Chocolate Truffle), Dutch-processed Cocoa powder, premium chocolate tablea and chocolate fondue. It's such a strong start for a budding company, and judging from the passion the owners have for their main ingredient, we're betting that much greater things are coming. Until then, we can indulge in these.
Contact info: 838-8067 to 69, 0922-8736638, sales@tpfoodcorp.com
ADVERTISEMENT - CONTINUE READING BELOW
Recommended Videos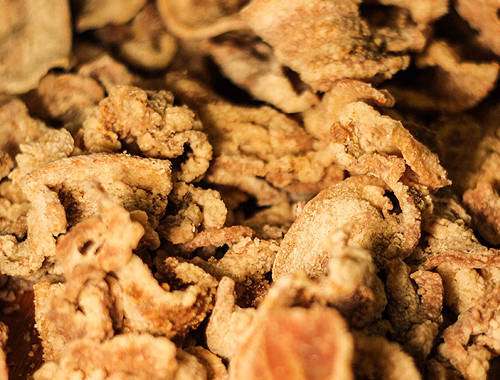 Even popcorn is no match for the Crunchy Belly.
Crunchy Belly by Carlo's Kitchen
Move over chicharon: the spotlight for sinful snacks has moved onto Crunchy Belly. A staple in weekend markets, Carlo's Kitchen offers reasonably priced steaks with rice and egg, but they've gotten more acclaim for their deep-fried, thinly sliced pork belly crisps. It is a once-you-pop-you-can't-stop type of snack; something the doctor won't recommend but secretly stashes in his cupboard. It's so darn good that you can very well end up finishing a whole bag.

Contact info: 0927-3062738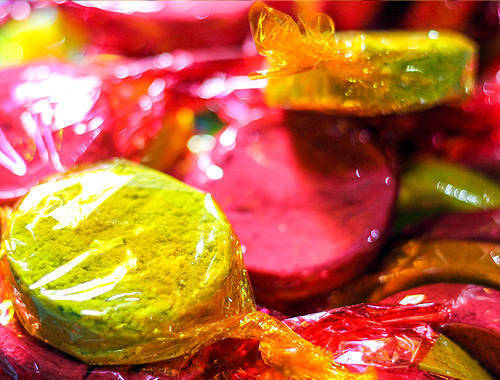 ADVERTISEMENT - CONTINUE READING BELOW
Speculoos polvoron from Little Pepita's
Little Pepitas
It seems that Lileya and Liyora, the pretty daughters of lechon queen Dedet dela Fuente, have caught the food biz bug, with their own creations nonetheless. And no, they don't use of leftover roast pig. In time for the city's current flavor fad, the girls made tempting delights made of Speculoos, in the form of polvoron and hot and cold beverages. Speculoos Happiness is a spinoff of Chocolate Happiness, a DIY hot chocolate, which they sold years back. Today, they still carry the original, along with the cookie butter version and the all-time favorite Nutella.
Contact info: 425-2605, (0917) 866-0662
Special thanks to Gwen Cariño and Timmie Hilado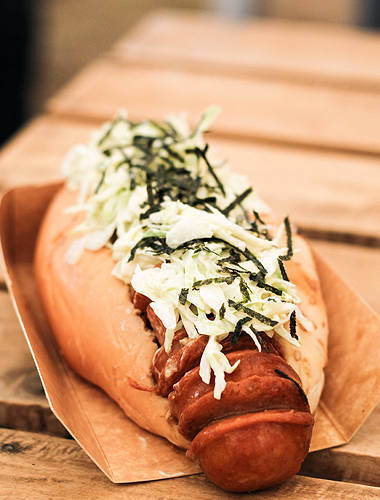 Check out that gourmet weiner!


Schmidt's Gourmet Hotdogs
As the stall closest to the entrance, it was hard not to get lured by the aroma of sausages cooking on the pan. They also sell hotdog variations that piqued everyone's curiosity-among them are the Seattle with spicy sriracha, the Aucklander with Mint Jelly, the bestselling Coney Island with homemade chili, and the Wagamama with Japanese curry and shredded nori. A definite bang for your buck as the dog comes longer than the bun and the toppings are quite generous.
ADVERTISEMENT - CONTINUE READING BELOW

Contact info: (0917) 893-9287, schmidtshotdgos@yahoo.com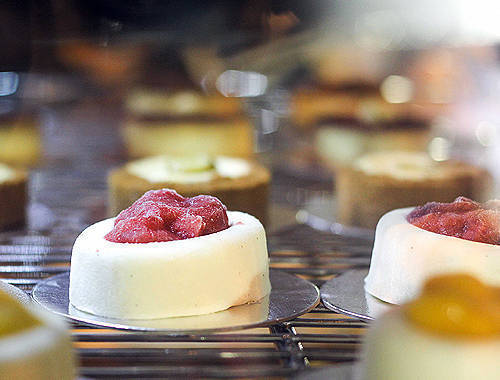 Elegant, delicious cakes by French-schooled pastry chef, Angela Villoria


CINQ Dessert Boutique
There are cakes, and then there are CINQ's cakes, which never fall flat on flavor and design. Since 2007, Angela Villoria has been churning out beautiful creations from her kitchen, like the Mayumi, a Chocnut truffle cake; Lily, a banana tart made with peanut butter; and Alessandra, an individual-sized tiramisu. The newest addition to her premiere line-Gigi, Gianduja cookies, and Georgie, chocolate and peanut butter cookies-are just as gratifying. They come an inch thick, crumble in the mouth, and hit the right sweet spot.

Contact info: (0917) 625-2611, 890-6858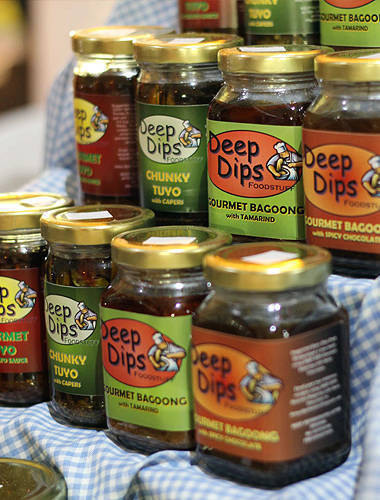 ADVERTISEMENT - CONTINUE READING BELOW
Arnold and partner Sam Ybañez confess to experimenting on two to three more bagoong varieties.
Deep Dips
Arnold Bernardo's Tomato Eggplant Paté, Spicy Tinapa in Tomato Sauce and Pinoy Antipasto are like troubled teen star Lindsay Lohan, but in a good way. Trapped within a nice package is a complexity that seems to have people hooked. The same goes for his latest products-Gourmet Bagoong with Tamarind, and another with Spicy Chocolate. Use them for turnips, green mango, or Kare-Kare for a meal made more interesting in an instant.

Contact info: 214-9495, (0917) 805-1188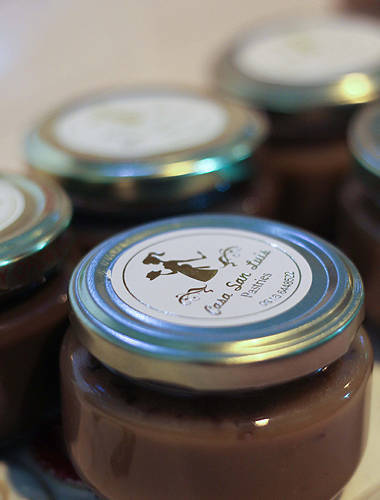 It's easy to fall in love with Casa San Luis's White Chocolate and Salted Caramel cookies.
Casa San Luis
Seven years into living in France, boulangerie-trained pastry chef Carmela Villegas decided to pack her bags and move back home with a pastry business in mind. It took the form of Casa San Luis and for two years now, it has been giving popular commercial desserts in Manila makeovers, such as their amazing chocolate chip cookies and fruitcake. For instance, its recipe for salted caramel comes from where the sauce originated, Brittany, France. And to take it up a notch, she has infused it with bacon, chocolate, and vanilla bean.

ADVERTISEMENT - CONTINUE READING BELOW
Contact info: (0916) 644-8522, casasanluispastries@gmail.com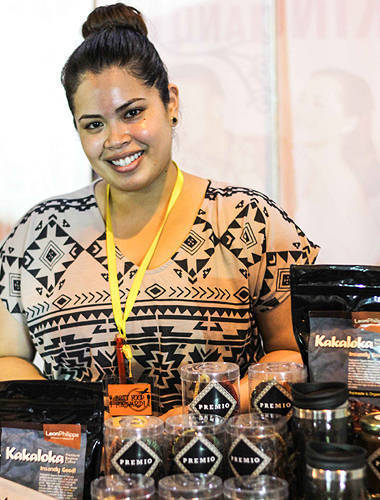 Francesca Cariño is the beauty and brains behind Premio. Here, she gamely poses with her culinary creations.

Premio
A bar and restaurant in F1 City Center BGC that's known for its Pork Belly Kare-Kare and Goat's Milk Panna Cotta, Premio joins other commercial establishments in offering its prized goods to the requesting public. The table laid out a sampling of the resto's homemade items including pastrami, double-smoked bacon, brookies (brownie cookies), their delicious buffalo wing sauce, cajeta or goat's milk dulce de leche and smoked Pangasinan salt. Finally, Premio is now more accessible; their take home-worthy goods are sure to create a buzz.  

Contact info: (0906) 231-1147, (0921) 962-3998, 869-7142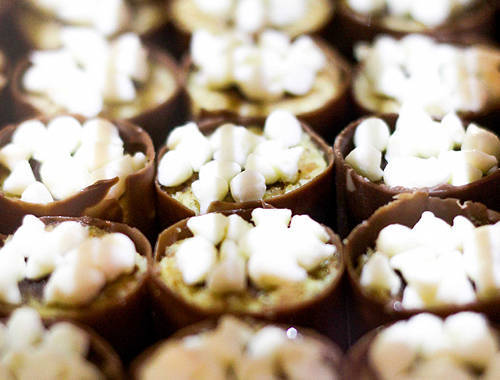 ADVERTISEMENT - CONTINUE READING BELOW
No need for wasabi here. Buy a box of 18 and get a free pair of metal chopsticks.
Kashi Maki by Pink Wasabi
If you think they are hand-rolled sushi, well, you are kind of right. They're more sweet than savory, though. At the core is a cake, filled and topped with sugar in different forms-white chocolate strawberry and strawberry roe for Oolong Berry and cashew nut paste and Belgian milk chocolate for Choco Loco, for example-then wrapped with tubes made with more chocolate. It's a non-conformist way of presenting desserts and the novelty plus nine flavor combinations serve as its driving force. Now, decadence is only a pop-in-the-mouth away.

Contact info: (0947) 865-8634, mypinkwasabi@gmail.com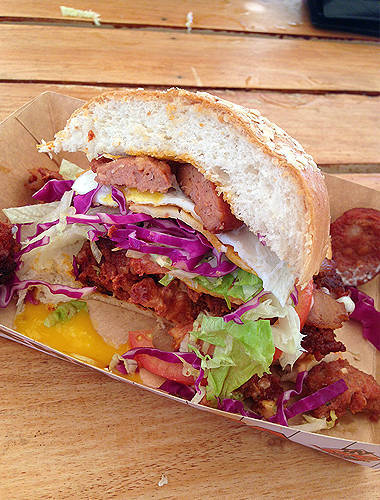 The burger seen here is topped with sliced sausages instead of bacon. Regardless, it was good, with the patty tasting like chorizo.
The Big Ohhh by Eat My GF
While many burger places are proud to offer 100% Angus beef, Eat My GF stakes its claim on having the unique combination of 50% pure beef and smoked bacon for the remaining 50, packed in a half-pound patty. The combo makes perfect sense as the addition of bacon makes it juicy and at the same time salty (in this case, also smoky). It's a simple and logical equation but something no one has thought of before. Thank God Eat My GF had the wits to concoct The Big Ohhh, which, by the way, is also topped with two strips of smoked bacon-just because!

ADVERTISEMENT - CONTINUE READING BELOW
Contact info: 0917-8195875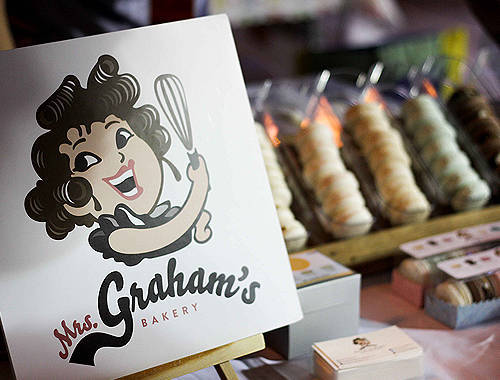 Sweet, delicate treats brought to you by young couple Chris and Anna Graham. The missus was at home baking macarons for the event's second day, the husband confesses.

Mrs. Graham's Bakery
Perhaps the unanimous favorite at this year's fair was Mrs. Graham's. After finishing a box of The Breakfast Club in mere minutes, we had to spread the word. S'mores, Cookie Dough, Malibu Rum and Tequila Rose make up some of its flavors but it's the monthly special composed of Pancake with Maple Buttercream, white Coffee and Cornflakes in Milk that has everybody talking-and eating. They come cheaper than many commercial macarons, too.

Contact info: (0917) 805-5479, mrsgrahamsbakery@gmail.com


Share this story with your friends!
---
Help us make Spot.ph better!
Take the short survey
Load More Stories