Paseo Uno
G/F Mandarin Oriental Hotel, Makati Avenue corner Paseo De Roxas, Makati City
Tel. No. 750-8888
Open daily from 6 a.m. to 10 p.m.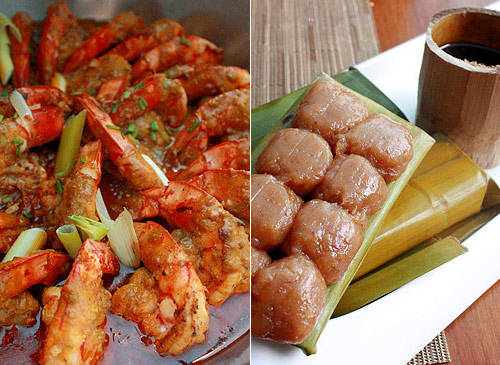 Our mouths are watering...
(SPOT.ph) He doesn't have to yell in the wee hours of the morning to catch the attention and appetite of groggy early risers. Against the luxurious backdrop that is Mandarin Oriental, this magtataho, in his white camesa and red bandana, two buckets precariously dangling on the ends of a thick pole balanced on his shoulder, doesn't need much to draw attention. He just goes about things like it's business as usual-which it is. The magtataho is an integral part of Paseo Uno's Flavors of the Visayas Festival. As in previous years, US-trained Chef Pauline Gorriceta-Banusing returns with recipes from Iloilo, giving diners a smorgasbord of authentic Ilonggo cuisine.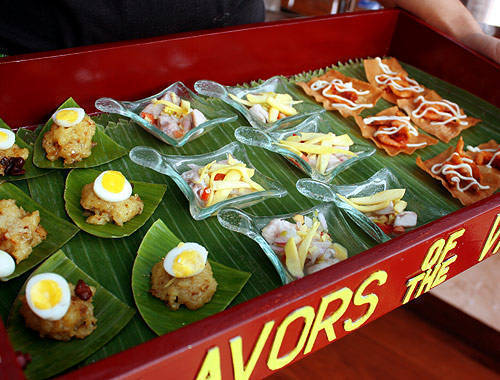 ADVERTISEMENT - CONTINUE READING BELOW
We recommend the kilawin (center)
Unlike previous years where dishes are integrated into the existing buffet, this time, Uno is holding a full-on Ilonggo market complete with "street vendors" and stalls for souvenirs. Apart from Kuya Magtataho, you'll see roving concessionaires carrying box trays of bite-sized Kilawin, Nilasing na Hipon, and Native Valenciana, which are all good, of course, but it's the smoky smell from the actual buffet that will have your mouth watering.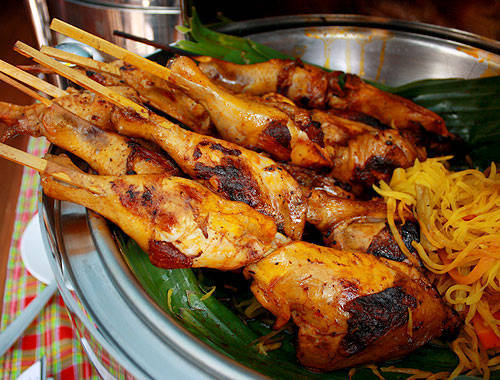 The even yellowish tinge (save of course for the delicious char) displays patient basting needed for perfect inasal.
Where is it coming from? It's not the Chicken Pancit Molo, mellow but flavorful and overflowing with strips of wanton and wads of ground chicken. It's not the Native na Manok Sa Gata Na May Estiwitis with its subtle sweetness perfectly highlighting the firm gamey meat of native chicken from Guimaras. It's not even the Chicken Inasal, tangy, moist, and peppery-a flawless demonstration of perfect and patient basting.
CONTINUE READING BELOW
Recommended Videos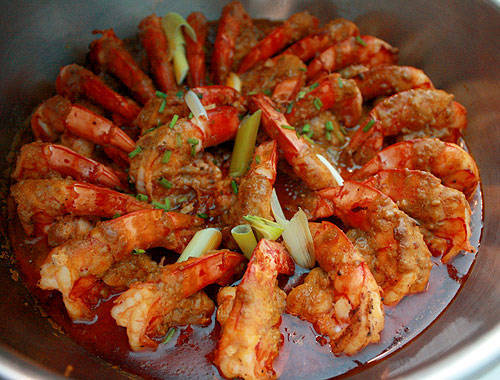 Yes, those are fat shrimps bathing in crab fat and oil.
The smoke is a few pans away. Inside a chafing dish that hides, unassumingly, a heartstopping masterpiece. We mean that literally, of course. The Lukon na may Aligue kag Paho: fat medium-sized prawns arranged artfully in spiraling layers then dressed in sauteed crab fat and topped with tangy slices of green mango. Each bite thickly coats the insides of your mouth with rich fatty goodness that harmoniously pairs with the muffled crunch of fresh shrimp. Despite being liberally painted with crab fat, the dish doesn't feel as heavy as one might imagine which, in turn, buys you several trips back to the buffet line.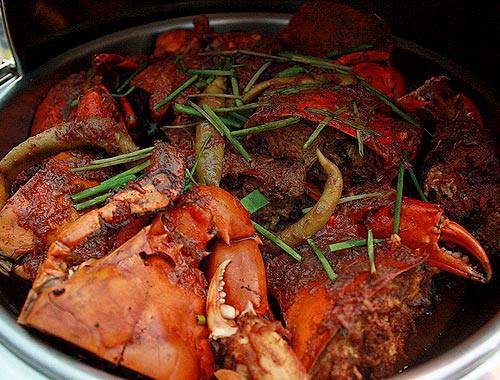 Make sure to bring a bib!
ADVERTISEMENT - CONTINUE READING BELOW
Once the mystery of the smoky aroma is solved, feel free to peruse through the rest of the repertoire. The Alimango na may Ginisa na Guinamos features crabs deep-fried, causing the exposed bagoong-infused flesh to crunch up into salty and tongue-tickling treat. Eat it the right way-with your hands. The steamed Lampirang, on the other hand, is a curious option. For a person so used to seeing capiz on window panes, it's intriguing to see the actual oysters tucked inside the iridescent flat shells.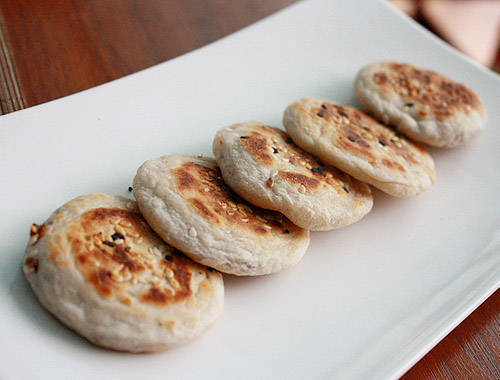 The piaya is made fresh in a live station.
Finally, course through the desserts. The taho, of course, with the mangtataho, is a crowd pleaser, but the Piaya is a must-try. Unlike the giant piayas we usually see, this petite Oreo-sized affair boasts of only a thin layer of muscovado filling-the proportions of which are perfect for the unleavened bread. The Suman which is mouthwateringly gooey, meanwhile, features the most decadent latik (coco-butter syrup) that will have you wondering if you could have a bucket-full. The Yema Cake is an indulgent affair that combines sweet, creamy yema with a crunchy base that reminds us of a perfectly baked sansrival.
ADVERTISEMENT - CONTINUE READING BELOW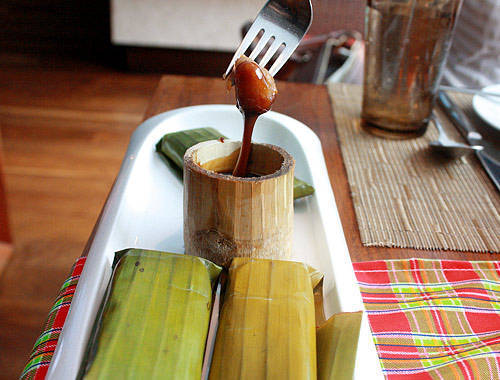 Check out that gooey action!
Some of the dishes may appear to be unorthodox renditions of the Ilonggo food we know, but Chef Banusing assures us otherwise. "This is how it's supposed to be. This is how it's supposed to look," says the Ilonggo cuisine expert. And as far as flavor goes, we're not complaining. Too bad it's only for a week. Oh well, there's always next year.

Paseo Uno's Flavors of Visayas is priced P1,990+ and P2,450+ and is available from May 6 to May 12 only.
Share this story with your friends!
---
Help us make Spot.ph better!
Take the short survey
Load More Stories