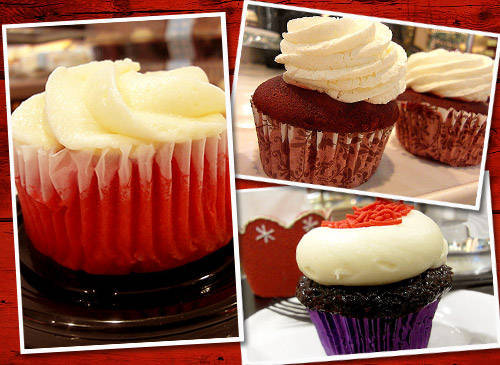 (SPOT.ph) Just a few years ago, red velvet cupcakes were a rare find in Manila, but thanks to the surge in popularity that propelled it to its currently secure status as a continuing food trend, these treats now seem to be everywhere. They've become a staple at cupcake shops, a specialty of several home bakers, even an additional offering at milk tea chains and coffee shops.
Two things make a red velvet cupcake successful: a moist, dense yet tender crumb that's been dyed a deep, dark red hue with just enough cocoa powder to make it different from a plain vanilla cake, but not too much that it turns into a chocolate cake; and a tangy yet sweet cream cheese frosting. Of course, the two should complement each other, resulting in a cupcake with a zesty flavor and a characteristic "velvety" texture.
The red velvet cupcake is so popular that many of its fans have embarked on a search for the best ones in Manila. So have we-here are our top 10 picks.
Read our Top 10 Red Velvet Cupcakes (2012 Edition)
Photos by Micah Sulit (Slice, Cukay's, GIGI, Sophie's Mom, Cupcake Lab), Roselle Miranda (Parvati, Sonja's, Park Avenue), and Sasha Lim Uy (Vanilla, Karen's Kitchen)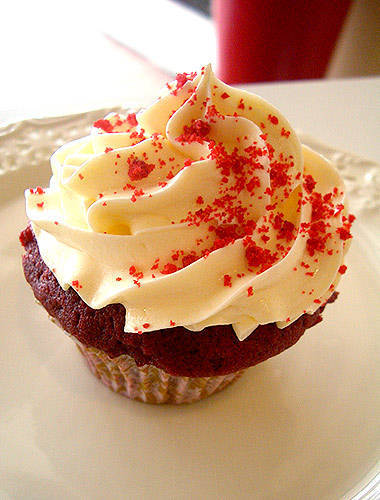 ADVERTISEMENT - CONTINUE READING BELOW
10. Park Avenue
Formerly No. 6
The lone cupcake in PAD's impressive array of desserts, this red velvet (P65) treat is topped with a tall swirl of light buttercream frosting that hints at a cream cheese flavor. The frosting is still more buttery than it is tangy, and may disappoint fans who are looking for decadent cream cheese frosting. The cake itself is a compact, crumbly sponge cake. Overall, this cupcake is delicious and still counts as a good red velvet offering in our book.
Park Avenue Desserts (PAD) is located at MagaCenter, Paseo de Magallanes Commercial Center, Makati City. Call them at 852 6141, or visit www.parkavenuedesserts.com or www.facebook.com/pages/Park-Avenue-Desserts/201284547144.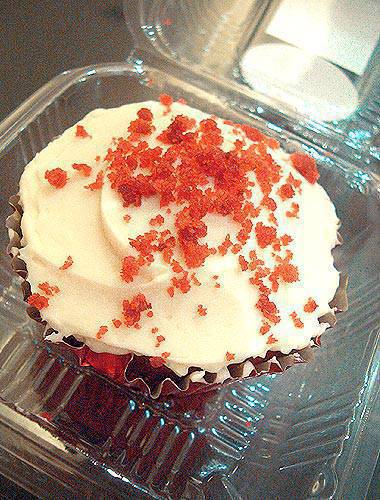 9. Parvati
Formerly No. 7
Supplied by Christina's Kitchen, this red velvet cupcake (P60) isn't as dark red or slathered with as much frosting as some of the others we tried, but it has that hint of cocoa that elevates it from ho-hum to oh-yum! The cake has a creamy texture similar to a pound cake's, and the cream cheese frosting has just the right balance of sweetness and tartness.
CONTINUE READING BELOW
Recommended Videos
Parvati is located at the Mindanao Lobby in Trinoma. Call them at 901-1428, or visit www.facebook.com/TheParvati.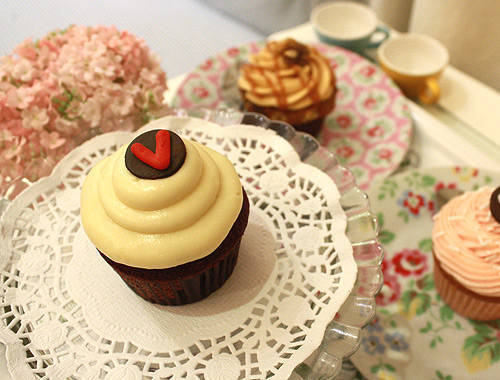 8. Vanilla Cupcake Bakery
Newcomer
Vanilla Cupcake Bakery is one of the newer (and prettier) cupcake shops in town, and at P85, its red velvet confection is also one of the priciest. The dark red cake has a faint cocoa flavor, and is not as moist as other cupcakes on our list. It's topped with a generous amount of frosting, which is thick and sweet, with a slight tartness from the cream cheese.
This cupcake has received mixed reviews. Some customers who've tried it simply say they've had better, but some are huge fans who come back for more.
Vanilla Cupcake Bakery is at Glorietta 4 and Trinoma. Call them at 0918-888-3772.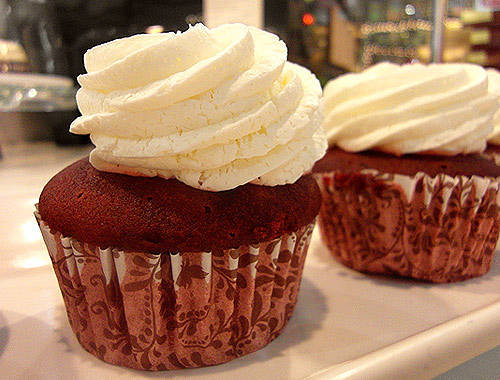 ADVERTISEMENT - CONTINUE READING BELOW
7. Slice
Formerly No. 3
The first thing one would notice about this red velvet cupcake (P80) is its cream cheese frosting-a tall, impressive coif on top of the cupcake. It's light yet unmistakably tangy. It doesn't end there: the dark red cake reveals a fluffy, moist crumb that can only be described as melt-in-your-mouth.
Overall, this red velvet cupcake is lighter than others in both texture and flavor, and is a must-try for those who prefer their cupcakes less sweet and less sinful.
Slice is at Bonifacio High Street Central at The Podium. Call them at 553-7783, or visit www.facebook.com/SliceHighSt.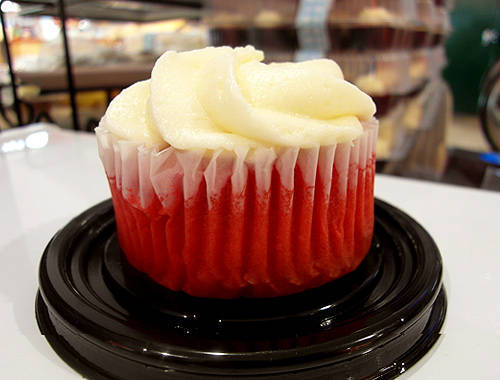 6. Cukay's
Newcomer
Cukay's might not have its own brick-and-mortar store, but it certainly has a big following, and its red velvet cakes and cupcakes are fan favorites. The red velvet cupcake boasts a bright red cake that's soft and moist, topped with creamy cream cheese frosting. It's a melt-in-your-mouth combo that's delightfully satisfying but not overly sweet.
ADVERTISEMENT - CONTINUE READING BELOW
Regular-sized cupcakes are P60 each, while mini cupcakes sell for P20 each (packaged individually), P50 for a box of three, or P180 for a box of 12.
Cukay's is available at bazaars; locations vary weekly. Call them at 502-0573 or 0917-859-6244, or visit www.facebook.com/pages/Cukays/173900202709894.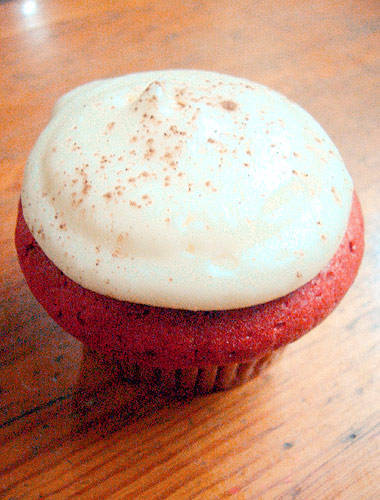 5. Cupcakes by Sonja
Formerly No. 4
Sonja Ocampo's Red Velvet Vixen (P78) seems to be quite the polarizing cupcake-some love it, while others feel it leaves something to be desired. Bright red in color, the puffy cupcake is dense and crumbly. It has a sweetness that leans toward a vanilla sponge cake flavor and makes it a treat on its own. The cream cheese frosting is sweet and tangy, and lightly dusted with cocoa power. After a while, the cake and frosting combo becomes too sweet, so unless you're a cupcake fiend, better split this with someone-it's big enough to share.
Cupcakes by Sonja is located at Serendra, Bonifacio Global City, and at Glorietta 1. Call them at 915-2936, or visit www.facebook.com/CupcakesBySonjaOfficial.
ADVERTISEMENT - CONTINUE READING BELOW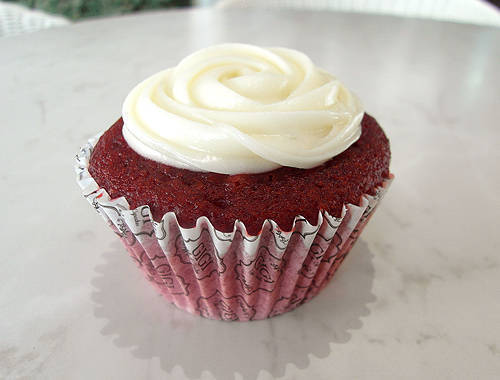 4. GIGI Coffee & Cupcakes
Newcomer
The relatively thin layer of beautifully piped cream cheese frosting initially had us worried-this cupcake has less frosting than you'd find on others-but it turns out GIGI's got the perfect cake-t0-frosting ratio down pat. The cream cheese frosting is on the sweeter side, so a bit of it goes a long way.
At P40 per piece, GIGI's best-selling red velvet cupcakes definitely offer good value for your money. Their store's pretty, garden-themed interiors are a bonus, too.
GIGI Coffee & Cupcakes is located at the ground floor of the Felina Corporate Plaza in Eastwood City. Call them at 234-2842, or visit www.facebook.com/GigiCoffeeAndCupcakes.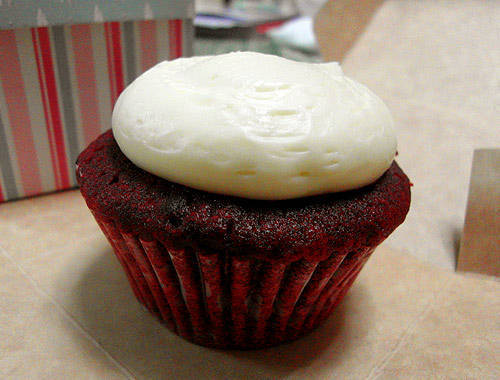 3. Sophie's Mom
Formerly No. 8
ADVERTISEMENT - CONTINUE READING BELOW
Sophie's Mom keeps it simple and straightforward, offering a no-frills red velvet cupcake topped only with a dollop of frosting (P60). Of all the cupcakes on our list, this dark red cake has the most chocolate flavor and even has chocolate bits mixed into the batter.
The heavy frosting features much less sugar and much more cream cheese than most-resulting in a tanginess that some may find overwhelming. Nonetheless, it delivers that sour-with-a-bit-of-sweet combo that a cream cheese frosting should have.
Sophie's Mom is located at 8760 Santol Street, San Antonio Village, Makati City, with kiosks at SM Megamall A, SM Southmall, and The Block at SM North Edsa. Call them at 856-4849 or 0920-946-3048, or visit www.facebook.com/sophiesmomonline.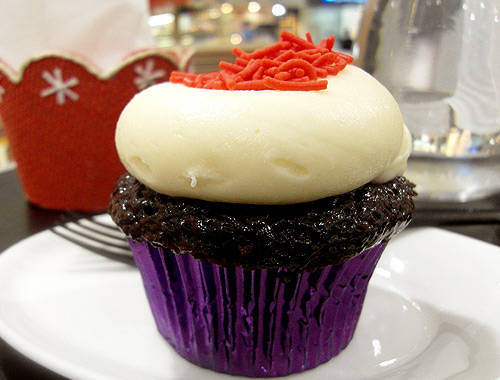 2. Cupcake Lab
Newcomer
Cupcake Lab's menu describes their Red Velvet offering as an "ultra moist chocolate cake with cream cheese frosting," and they aren't exaggerating. This glazed cupcake features a strong chocolate flavor, and is, by far, the moistest of the bunch-it's almost fudgy, so prepare for a bit of a mess when biting into it. The cupcake is topped with a generous helping of dense, rich frosting that's sweet yet still tastes of cream cheese. At times, the sweetness of the frosting can be overwhelming.
ADVERTISEMENT - CONTINUE READING BELOW
Overall, this red velvet is a must-try for those with a major sweet tooth, who like their cupcakes a notch or two higher on the sugar scale. Some might find the regular-sized cupcakes (P70 each) too much for one sitting, but the mini cupcakes (P25 each) are just the right size for a quick red velvet fix.
Cupcake Lab is located at The Podium. Call them at 400-2296 or 0918-445-1749, or visit www.facebook.com/CupcakeLab.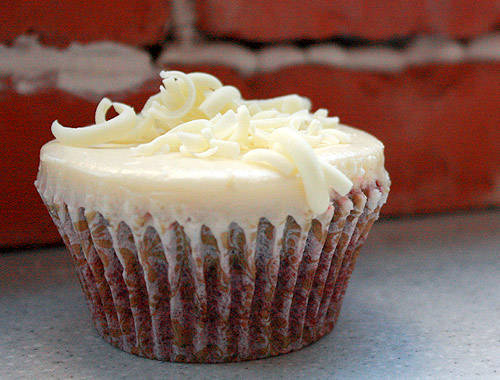 1. Karen's Kitchen
Formerly and still No. 1
Not even the new contenders on the block can budge Karen's Kitchen off the top of our list. After making a name for herself supplying a noted cafe's red velvet cakes, Karen Young took her bestselling desserts more mainstream.
A tiny shop inconspicuously located at a gas station, of all places, Karen's Kitchen holds one of the best-kept secrets in a red velvet lover's world.
Hidden under a layer of cream cheese frosting and white chocolate swirls is a reddish brown cake that's very moist, with strong chocolate notes. The cream cheese frosting is thick yet light, and tastes as it should-a little sour and creamy from the cheese yet sweet from the powdered sugar. Karen's Kitchen seems to have perfected that delicate balance of tangy and sweet; neither the cake nor the frosting is too sugary that it overwhelms the palate, yet the cupcake is still flavorful and will satisfy any red velvet craving.
ADVERTISEMENT - CONTINUE READING BELOW
Whether you're looking for a cupcake (P75) or going for one of their full-sized cakes (P550 and up), this is one version of red velvet that's worth seeking out.
Karen's Kitchen is located at Petron Dasma and at Unit 107B, No. 210 Zodiac Street, Palm Village, Makati City. Call them at 898-2280 or 0917-539-4968, or visit www.facebook.com/mykarenskitchen or http://www.karenskitchen.com.ph.
Share this story with your friends!
---
Help us make Spot.ph better!
Take the short survey
Load More Stories