Chops Chicago Steakhouse
4/F Greenbelt 5, Makati City
Tel. No. 945-8088
Open daily from 11 a.m. to 11 p.m.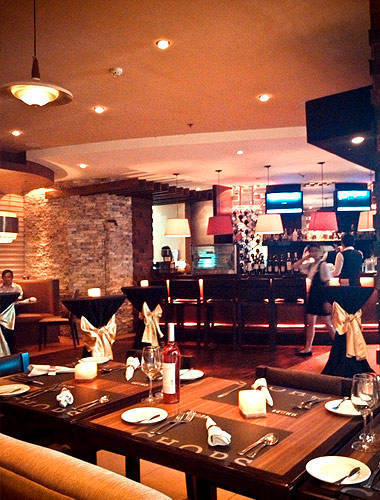 Chops is a local, original concept by the people behind SumoSam and Banana Leaf.
(SPOT.ph) A lecture is never a good start to any meal, but this is what you'll get at Chops Chicago Steakhouse: a 101  on the merits of dry-aged, Prime, Wagyu where the server acts-and does so convincingly-as the maven of beef. A tray of the day's fresh cuts is laid out in front of you and, as if a multiple-choice exam, it's up to you to choose the best answer.

But unlike any other test, cheating is allowed, and by that we mean cheating your diet because really, there's no way to enjoy 21 ounces of cow when you're counting every calorie. Today, the Steak Board consisted of a 10-ounce Snake River Farms Wagyu (P3,850), an eight-ounce Wisconsin Beef Tenderloin (P700),  a 21-ounce Prime Chicago Beef Rib Eye (P5,100), and a 21-ounce Black Angus Dry-aged Porterhouse (P3,975). Our Mr. Miyagi of Steak was kind enough to explain the difference: tenderloin or filet mignon is the least intimidating, tender but milder in taste; the dry-aged has a more saturated flavor; medium-rare belies a brick-red core with its seared exterior; Snake River Farms is a company that produces some of the finest meats in the world.
ADVERTISEMENT - CONTINUE READING BELOW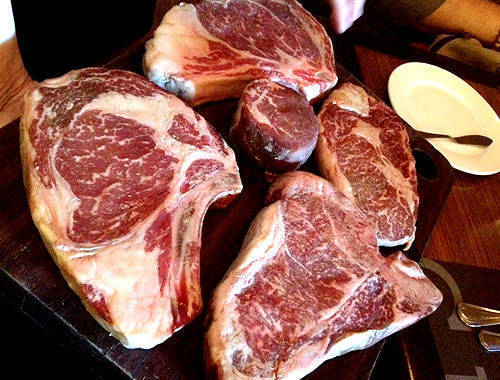 We choose option C (bottom), the porterhouse.
But when information is overwhelming and budget is tight, our suggestion is to go for what you're familiar with. No matter the cut or cook, Chops sears and flavors all their steaks to equal levels of perfection. Take for one the aforementioned porterhouse. A mouthwatering sear covers the surface of the hulk of beef before you; the strip of fat around the perimeter charred to a smokey crisp. The marbling-then beautiful white swirls of fat raw-dissolves into delicious salty juices that run to the bottom of the plate like a second sauce. The actual sauce, a sweet-tangy brown concoction on the side of the plate, in turn, remains largely ignored.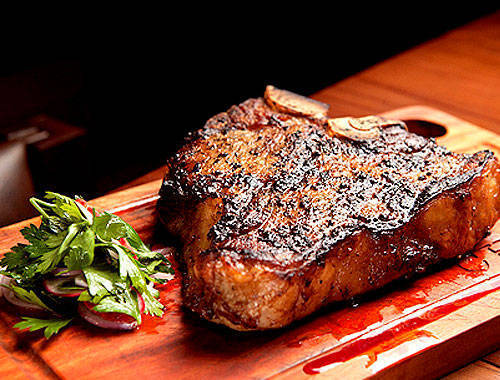 CONTINUE READING BELOW
Recommended Videos
Take it from us, the "little arugula salad" on the right serves as mere embellishment and is not a side dish.
The task of eating more than a pound of beef is daunting, but if and only if you think about it. Take our advice and just enjoy the tenderness of the slice, the melt-in-your-mouth goodness soaked in its natural juices. The medium rare is so perfectly demonstrated that after, you won't feel like your jaw went to the gym-which is where you should be headed after your meal.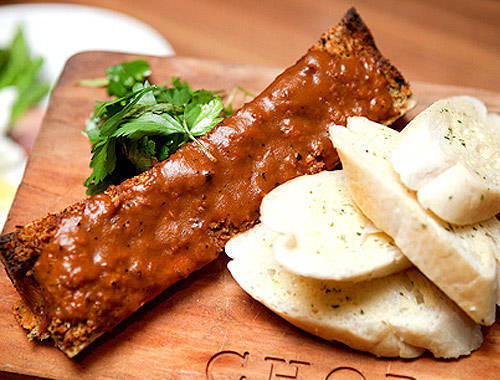 Deep, beautiful bone marrow


But before you slip your feet into those trainers, consider the rest of the menu first. The Bone Marrow (P295) is roasted and deep, full of that slippery, savory butter-like richness that, on a piece of toasted crostini, would make you shut your eyes and shake your head wondering how something so heavenly could be so sinful; sprinkle some lava salt for that earthy edge. The heavy slab of bacon (P320) has the same effect. Leaving nothing to be desired, the charbroiled length of meat is leaner than most with thin strings of fat in between layers of succulent pork. The sweet pomegranate-honey-mustard sauce is a seamless foil to that deep, delicious smoke.
ADVERTISEMENT - CONTINUE READING BELOW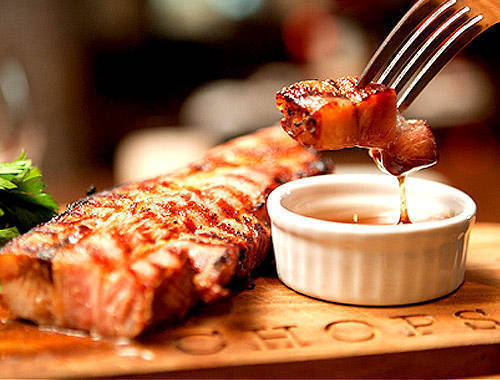 On top of the Bacon Slab and Marrow, Chef Peter's also planning burgers called Animal House (three types of meat) and Vegetarian's Nightmare.


The confusion doesn't end there. At this point, you'll ask yourself whether Chef Peter Ayson, genius that he is in the kitchen, wants to feed you or kill you. The Triple Cookie Barb (Chops changes desserts every month) stacks three types of mostly chocolate cookies in one giant cake a la mode. Spices infused into the ice cream leave a surprisingly pleasant, slight peppery flavor that lingers in your mouth as the sweetness melts away. The whole spectacle is paired with Chops' signature cannoli-looking chocolate cigar which is finished with a hair of the world-famous Speculoos.

Taking its cue from the beefy menu, Chops Chicago Steakhouse takes a more masculine approach in its interiors: stone, brick, hardwood in shades of brown. They deem themselves as a "gentleman's steakhouse," but in a place where even the salad is speckled with bacon and the menu features a 9.1-kg Tomahawk cut, gentleman or not, Chops isn't for the faint of heart. And while you're not sure what their intentions regarding your happiness and health are, you can be sure that everything-every steak-is an A+.
ADVERTISEMENT - CONTINUE READING BELOW

P.S.

Do your steak homework and read our Fake It Like You Know It: The SPOT.ph Guide to Ordering Steak before visiting Chops.
Share this story with your friends!
---
Help us make Spot.ph better!
Take the short survey
Load More Stories