Top 10 Roast Duck in Manila (2013 Edition)
The best roast duck dishes in Manila have flocked together in one list.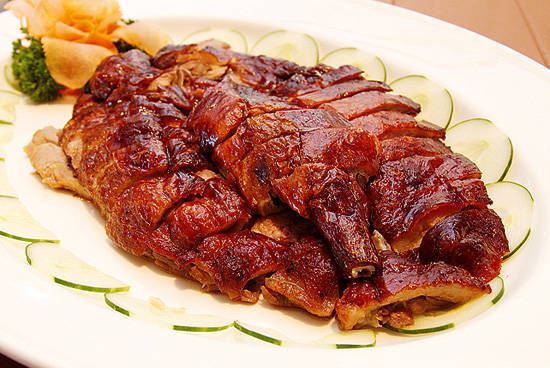 (SPOT.ph) Duck is as much of a tradition in China as tea. Among their popular variations are the Peking Duck and its oft-confused culinary cousin, the Roast Duck. The confusion is understandable since both are cooked in practically the same way. Roast duck, however, is just that-a duck that's roasted until tender, while the Peking style calls for seasoning and glazing before heading into the oven to hang. Plus, the former is eaten as is or with rice while the latter, with pancakes or steamed buns. A more in-depth comparison between the two is a story for another day. For now, we're going simple in this list of Manila's Top 10 Roast Ducks.
Read our Top 10 Roast Duck in Manila (2011 Edition).
Photos by Anson Yu and Angelo Comsti
All SPOT.ph Top 10 lists are researched, paid for, tested, and selected by the writers and editors. They are discreetly conducted without any notice made to the restaurants or their owners.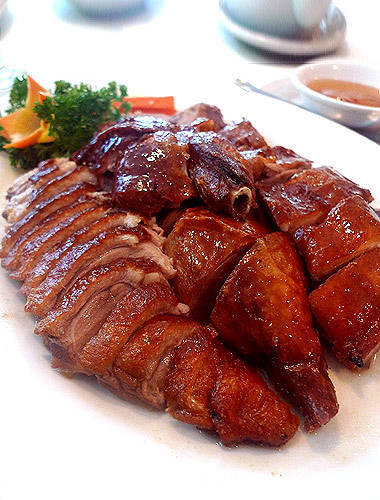 ADVERTISEMENT - CONTINUE READING BELOW
10. Hai Shin Lou
Newcomer
The tray, loaded with a beautiful arrangement of glossy, brown pieces of perfectly roasted duck, is a feast for the eyes. While the layer of fat underneath the skin made the meat a tad chewy, it didn't lack the flavorful juices that highlights every single bite. It was so flavorful that the plum sauce was almost a non-factor. According to the menu, the duck comes from the U.S. which might be the reason why this will set you back P1,300 for half a portion and P2,500 for whole.
810 Arnaiz Avenue, San Lorenzo Village, Makati; tel. 892-5148; open daily from 10:30 a.m. to 10 p.m.
CONTINUE READING BELOW
Recommended Videos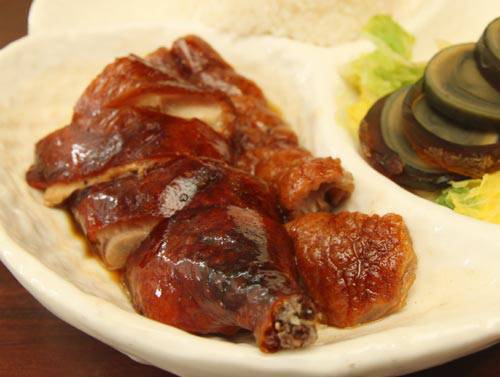 9. Gloria Maris Dimsum Kitchen
Formerly No. 8
What's great about Gloria Maris is that it allows you to enjoy the duck whether you're with a big group or just dining solo. Orders come in half (P756), whole (P1,512), in a noodle soup (P195), and as a rice meal (P218). The latter is served with Taiwan pechay and slices of century egg. It's comparably smaller than others, but it's lean and flavor-packed with skin that's perfectly crisp. Looking for a quick and affordable duck fix? Then Gloria Maris is for you.
ADVERTISEMENT - CONTINUE READING BELOW
202 Wilson Street, Greenhills, San Juan; tel. 724-5011 to 12; open daily from 7 a.m. to 11 p.m.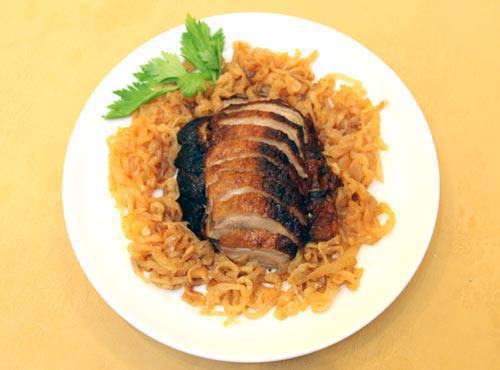 8. Jasmine
Formerly No. 2
Of the lot, this is the most generous order of roasted duck, not because it had more slices than the usual but because it came surrounded with strips of jellyfish. The charred color may be a bit off-putting, but when it comes to flavor, it's just right. For an interesting play of texture, pair the jellyfish with the roasted meat. Jasmine's jellyfish is pleasantly biting and matches well with the duck's subtle gaminess. Jasmine's Roasted Duck comes only in one size-small for P580, which is good for two to three people.
2nd Floor, New World Hotel, Esperanza Street corner Makati Avenue, Makati City ; tel. 811-6888; open daily, 11:30 a.m. to 2:30 p.m., 6 p.m. to 10 p.m.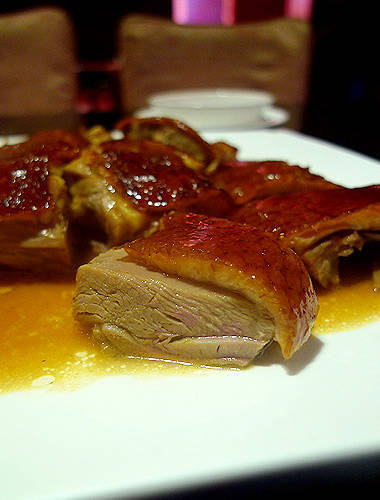 ADVERTISEMENT - CONTINUE READING BELOW
7. Choi Garden Seafood and Shark's Fin Restaurant
Newcomer
The row of roast ducks, pigs, and pigeons hanging near the entrance calls passersby to the restaurant. But the duck is the most entrancing: a fourth of an order (good for one person) will set you back P450 (P900 for half and P1800 for a whole) but will certainly have you indulging in succulent roast duck bathing in a puddle of its gingery drippings. The hint of sweetness lent by the complimentary plum sauce marries well with the meaty flavor, so it's a must to dunk each slice in this sweet condiment.
12 Annapolis Street corner Purdue Street, Greenhills, San Juan; tel. 723-5890, 726-8487, 727-6042; open daily from 10 a.m. to 2:30 p.m., 5 p.m. to 10:30 p.m.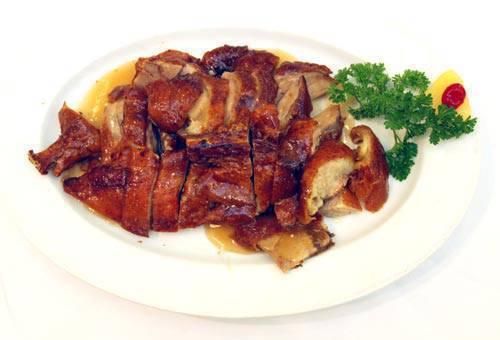 6. Century Seafood Palace
Formerly No. 3
Forget that the slices of duck were plated without a lot of thought or that they were sitting on a shallow pool of oil. It will be easy to get over the initial impression after the memorable first bite. For one, the mouthwatering brown skincrackled while the meat was tender and juicy, like a sponge that has soaked up loads of flavor. The house-made sweet and sour plum sauce? A subtle but perfect foil to the flavorful main course. The roast duck is available in two serving portions-half (P700) and whole (P1,400), which, all things considered, isn't bad at all.
ADVERTISEMENT - CONTINUE READING BELOW
GF, Century Park Hotel, Pablo Ocampo Street corner M. Adriatico, Malate, Manila; tel. 524-1821; open daily from 10:30 a.m. to 3pm, 6 p.m. to 10 p.m.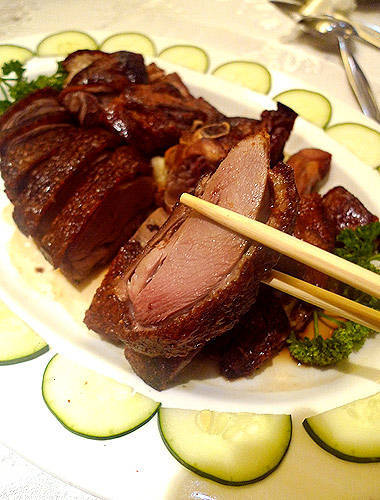 5. Greenhills Uno Seafood Palace
Newcomer
Despite being named Hong Kong Roast Duck (P900 for half, P1,800 for a whole), it's not quite like the roast ducks in Hong Kong. However, the velvety dark skin was a delicious foil to the moist, toothsome meat. The dish comes with hoisin sauce, but ask for the plum sauce for a savory sweet and tarty delight instead. The dish came with a ring of half-rounds of cucumber, meant not simply for aesthetics, but to add freshness and to cut the duck's gamey flavor.
43 Annapolis Street, Greenhills, San Juan; tel. 742-6192 to 93, 722-8743; open daily from 10 a.m. to 2:30 p.m., 6 p.m. to 10 p.m.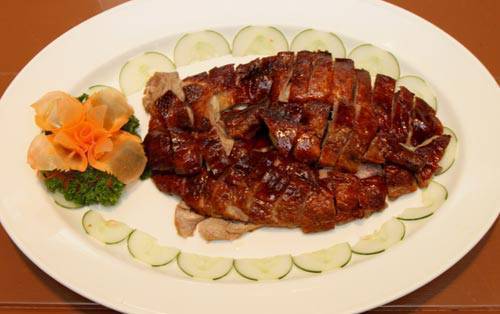 ADVERTISEMENT - CONTINUE READING BELOW

4. Xin Tian Di
Formerly No.5
The duck's exquisite, gleaming dark caramel color in contrast to the meat's pink hue is a head turner-a perfect cook that translates to delicious savor. This first impression alone already makes the roast duck (P1,330 for half, P2,560 for whole) undeniably enticing and appetizing. It's simply beautiful both inside and out.
4th Floor, Crowne Plaza Galleria, Ortigas Avenue corner ADB Avenue, Quezon City; tel. 633-7222 (loc) 7240; open daily from 11 a.m. to 3 p.m., 6 p.m. to 10 p.m.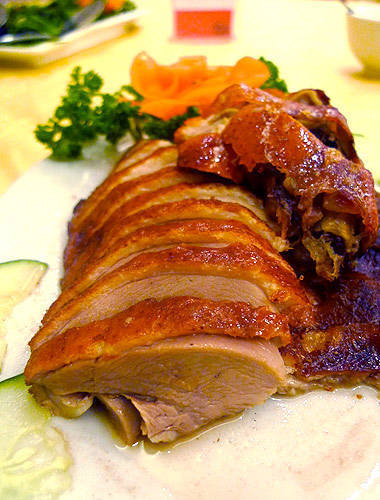 3. King Chef Fine Dining
Newcomer
Thanks to its great menu, King Chef has become such a crowd favorite that it has taken over the spot next door to accommodate more people. Like many of its dishes, it's spot on when it comes to its Roast Duck (P450 for a quarter, P900 for a half, P1,800 for a whole). In fact, it boasts of the most tender meat on this entire list. The meat hardly puts up a fight when you slice it and it's not so greasy that the fatty oil leaves an uncomfortable mouthfeel. It's served with hoisin sauce, but the dish can stand on its own even without it.
ADVERTISEMENT - CONTINUE READING BELOW
989 Banawe Street, Quezon City; tel. 410-4919, 441-4177; open daily from 10 a.m. to 11 p.m.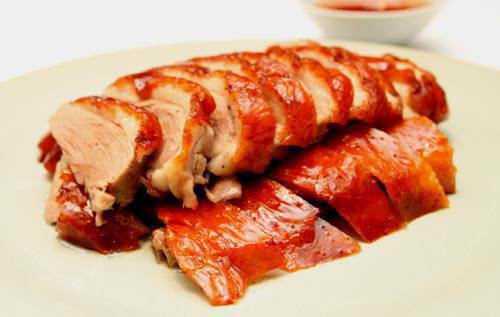 2. Li Li
Formerly No. 1
Li Li's offering has a striking tan shade that brings to mind lechon kawali ratherthan duck. The duck was served plain with no garnish and only a side of plum sauce, as if to let the dish speak for itself. And boy did it speak volumes in terms of flavor. The succulent meat is soft, juicy, and so good that a half order (P1440) may not be enough (a whole order costs P2880). Li Li is among the city's best Cantonese restaurants and the way it prepares and roasts its ducks is a testament to that.
5th Floor, Hyatt Hotel and Casino, 1588 Pedro Gil corner MH Del Pilar, Malate, Manila; tel. 245-1234; open daily from 12 p.m. to 10 p.m.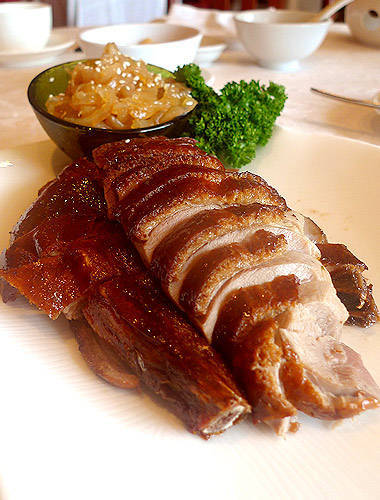 1. Summer Palace
Newcomer
ADVERTISEMENT - CONTINUE READING BELOW
It's hard to find any fault with this one. The roasted golden brown color of the skin is gorgeous and the meat is in that perfect grayish brown. The small order (P840), plated in a single row, isn't swimming in a vat of fat, and comes with a bowl of jellyfish sprinkled with sesame seeds. Adding succulence to already succulent meat is the homemade plum sauce. Unlike other establishments, it comes in plating sizes and not as a fraction of the duck-P1,260 for medium and P1,680 for large. And if you're up for a different experience, the Palace also has roasted duck with fruits (P1,575 for medium, P3,150 for large), a lovely combination that will definitely please your adventurous palates. It's hard not to go wrong with this one.
Tower Wing, 1 Garden Way, Ortigas Center, Mandaluyong; tel. 633-8888 ext. 2927; open daily from 11:30 a.m. to 10:30 p.m.
Share this story with your friends!
---
Help us make Spot.ph better!
Take the short survey
Load More Stories