(SPOT.ph) There once was a restaurant at SM Mall of Asia named Peydro's which opened early in 2010. A short-lived, unfortunately unfancied, hole-in-the-wall-ish venue that defined itself by selling sosi street food. The fancification started with the extra Y in their name all the way to the fish "bowls," fish balls served in ceramic and with an extra twang. Banana cue came in the form of a crystallized sugar flambe and Pancit Malabon was rechristened as Pancit ng Mga Taga Fort (or is it Bonifacio Global City?).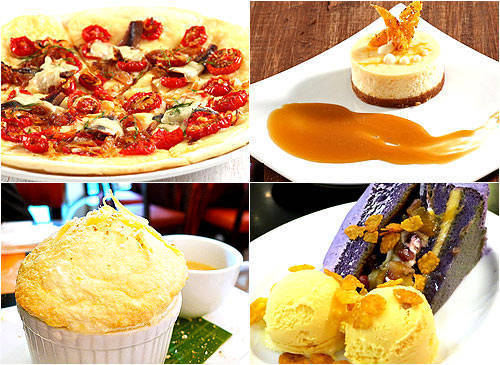 ADVERTISEMENT - CONTINUE READING BELOW
Peydro's is closed now and has been for a while, a quiet shutdown that didn't exactly trigger a cultish protest. The concept was cute but it wasn't spectacular. Maybe doing it all at once was too much of a shock to the tight-fisted market who aren't willing to spare P100 for something you can get for a quarter of a price off the street. Peydro's didn't work, but the elevation of street food to a higher level is a rising fad in restaurant du jour. We've selected the ones that have become individually successful.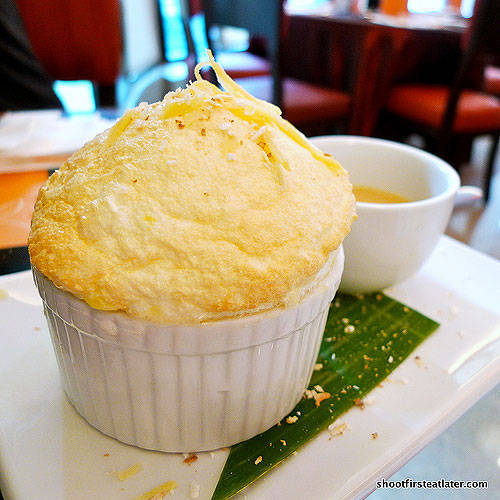 Photo from Shoot First, Eat Later
Bibingka Souffle at C2 Classic Cuisine
Take the rich buttery promise of bibingka and imagine it with the soft, mouth-melting goodness of a perfectly baked souffle. It's creamier than the standard confection but it's airy nonetheless with the individual flavors of bibingka-briny salted egg, sharp queso de bola, and nutty coconut-radiating in every bite.
Bravo de Balut by Crisostomo
Boiled duck embryo, while an iconic Filipino offering, is absolutely screaming for a makeover. While we don't question the balut's subtly sweet and thick flavors, it takes a strong stomach to swallow the feathery fetus that actually houses those flavors. Serving it sizzling does wonders in terms of presentation. With the shell already peeled, a fuller flavor profile is added to its existing savor as the round fleshy egg soaks in a salty soy-sauce-infused broth.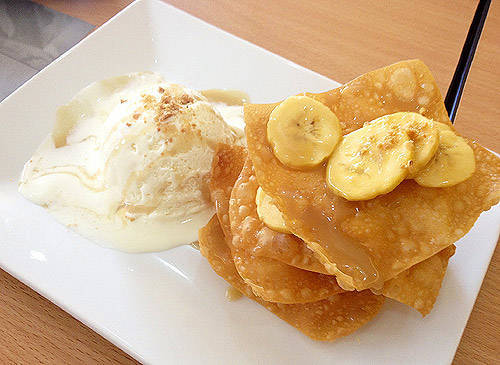 ADVERTISEMENT - CONTINUE READING BELOW
Turon de Gregoria at Oriang
There's not much you can do to turon without losing its integrity so Chef John Cu-Unjieng instead takes the elements from the classic and reworks them into a more complex trifle-style confection where the square spring roll wrappers are fried and layered alternately with slices of banana. Served a la mode and drizzled with dangerously thick latik, this four-tiered dessert gives turon a posh facelift; the conventional style is much easier to eat, though.
Prime Rib Tapa at Maple
"-Silog" and all its variations were derived as a cheap but filling alternative to other rice meals but it's not that difficult to take it up a notch. We've seen Angus tapa before, but Prime Rib, cured and dried to that salty-tangy perfection, is a first. The steak, served whole and not sliced as per usual, covers beautifully made sunny-side-up eggs and garlic rice. It's almost like the tapsilog in our neighborhood karinderya.
ADVERTISEMENT - CONTINUE READING BELOW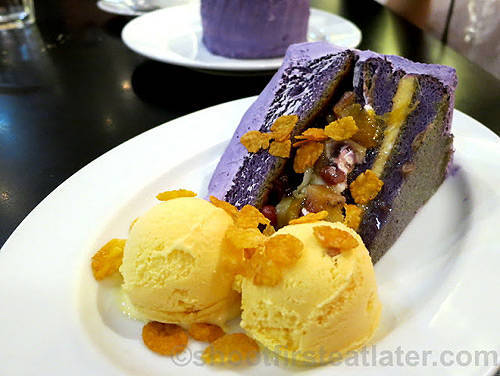 Photo from Shoot First, Eat Later
Halo-halo shake in Sebastian's and Halo-halo cake in UCC
This dessert staple is so easy to make that you can find it on any corner, but of course there are those who try to push it more (you might have heard about our love affair with Milkyway Deli's rendition), and still, some take it 
even further than that. The artisanal way, according to dessert artisan Sebastian's, is to chuck all the ingredients into a processor and blend them into a sweet beverage. And while it's not everyone's cup of, er, halo-halo, each ingredient resonates better when they've been ground; plus it eliminates the frustration of digging into the bottom of the glass.
ADVERTISEMENT - CONTINUE READING BELOW
Not to be outdone, UCC Cafe has concocted their own version with a halo-halo-inspired cake. A more thought-out interpretation, ube cake is layered with a slip of leche flan, beans and more ube paste then crowned with cornflakes and langka.
What's next?
In a city where street food is an integral part of culture, there's more than enough material left over to convert into upscale permutations. Couple that with the rising number of mochi offerings in the country and we're expecting bilo-bil0-inspired mochi soon. The cream- or ice-cream balls encased in glutinous rice shouldn't be too much of a problem for local confectioners especially with our selection of kakanin. Imagine the teasing flavor of coconut infused in that that soft, chewy wrap which, when bitten, releases a surge of coconut cream caressing your tastebuds with that smooth nuttiness. Add some toasted coconuts into the mix for a bold and sweet crunch. Or how about sweetened cassava ice cream inside mochi topped with coconut flakes a la pichi-pichi? We do hope some restaurant takes our hint.
ADVERTISEMENT - CONTINUE READING BELOW
Share this story with your friends!
---
Help us make Spot.ph better!
Take the short survey
More Videos You Can Watch
Load More Stories