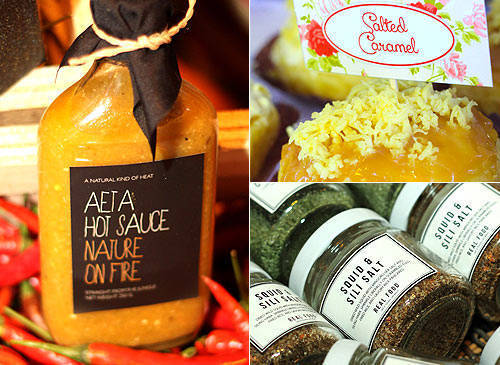 (SPOT.ph) Thank God for annual food fairs like Yummy Eats, staged in time to bring spice to the local food scene. There were the usual cupcakes (Cupcake Lab takes my vote) and French macarons (Alchemy is my pick), and then there were these, which brought hope to the flat lining culinary pulse. Here are 10 food items to try NOW.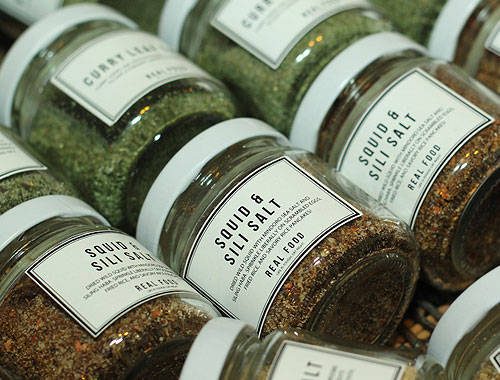 10. Raw Honey, Flavored Salts and Chocnut Butter by Ritual
While many stalls offered something to indulge in that very moment, Ritual offered items guests could take home to enjoy with their daily meals. Raw honey from Palawan, Oregano Brujo honey stored in test tubes, and a range of salts spiked with the flavor of curry leaf, squid and sili, and mushroom-condiments you won't find in your neighborhood grocery stores. And while many people are currently hooked on Speculoos, Ritual does something homegrown and nostalgic: Chocnut Butter, a smooth chocolate-peanut spread.
Contact info: 400-43-26
ADVERTISEMENT - CONTINUE READING BELOW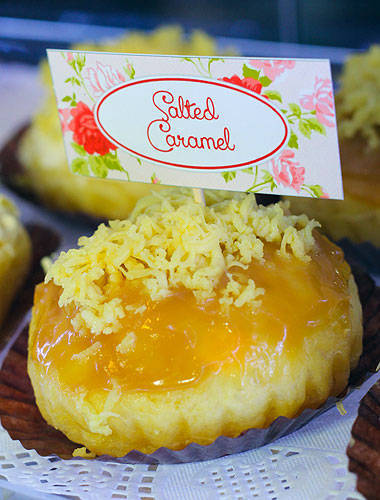 9. Flavored Ensaymadas by Hey Gourmet!
Even before Judy Ang graduated from college, she and her friends could already be seen at weekend markets, selling boxes of their prettified ensaymadas. It's a choose-your-own adventure kind of dessert and it starts off with the traditional buttery pastry as base. They are given a whole new look, glazed with a variety of creams including Belgian chocolate, coffee, green tea and salted caramel, then sprinkled with a topping of your choice, like crushed Oreos, almonds or marshmallows. Whatever you slap on there, it's sure to make your saccharine dreams come true.
Contact info: 0922-857-91-51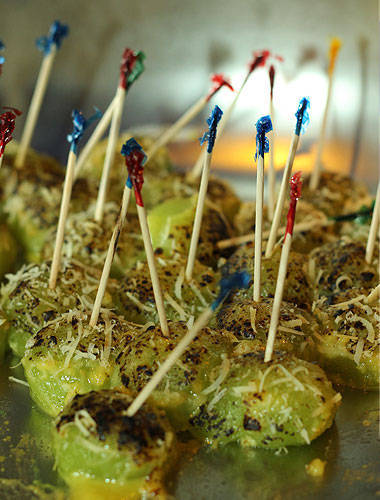 CONTINUE READING BELOW
Recommended Videos
8. Pichi-pichi with Quezo de Bola by Chef Tatung's Restaurant
If you haven't eaten at this Pinoy restaurant in Taguig yet, then you're definitely missing out not just on delicious food like the Lemongrass Chicken Relleno and Adobo Bisaya (cooked ala confit) but also on a worthwhile garden dining experience. Their pichi-pichi, pandan-flavored cassava dumplings are blanketed with custard sauce and covered with quezo de bola brulee. They're so addictingly good that people would drive to this destination restaurant just for that one dish. A small bite, and you'll fully understand why.
Contact info: 0915-846-32-34, 661-77-03, 0932-710-00-10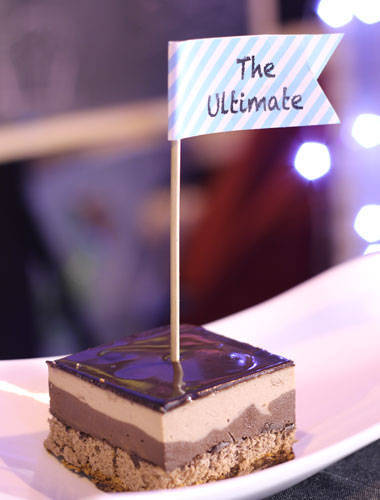 7. The Ultimate Gourmet Cake by Blue Toque
Baking has been her passion since high school, when she would sell goodies to friends and classmates and now, at 24, Mary Anne Ramos has started a promising pastry business in the form of Blue Toque. Belgian cookies sitting on fancy milk bottles may have lured people to her stall but what got themhooked is the exquisitely made mousse cake with a crisp base, meringue layer, velvety chocolate mousse and the embrace of a glossy ganache. It tasted as beautiful as it looked.
Contact info: 0917-828-57-78
ADVERTISEMENT - CONTINUE READING BELOW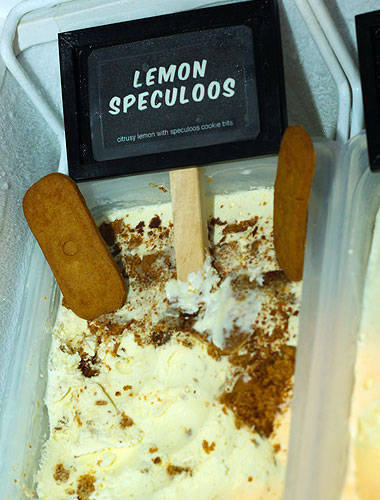 6. Lemon Speculoos Ice Cream by Merry Moo
Kelvin Ngo, the brains behind this artisanal ice cream brand, has always been one to come out with unique flavors. He has the trendy bestsellers (Sea Salt Caramel and Earl Grey Tea) and creative flavor combos (Mango Star Anise, Rosemary and Cheese, and Poprocks and Mallows). During the food fair, he introduced a flavor which covers both bases harmoniously: Lemon Speculoos. And keeping price and accessibility of ingredients in mind, he used his own home-baked Speculoos cookies to make his frozen treat.
Contact info: 0917-528-95-90, 633-36-01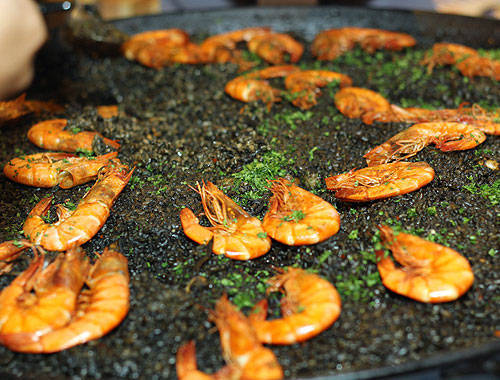 ADVERTISEMENT - CONTINUE READING BELOW
5. Bagnet Paella and Seafood Paella Negra by Pio's Kitchen
Former flight attendant Chin Gallegos has picked up more than just souvenirs and album-worthy photos from her trips abroad. The cooking lessons she took while in Spain, Thailand, and Vietnam have  surely paid off; her promising private dining business has been creating a buzz. She also does on-the-spot paella cooking, edu-tainment perfect for those hosting parties. Among her most requested varieties, it is the Bagnet Paella that has become the bestseller.
Contact info: 0917-532-28-92, 509-45-29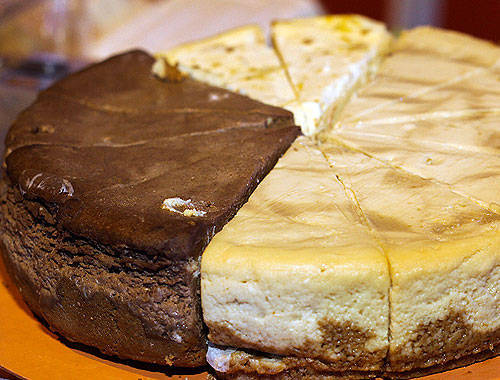 4. Famous Cheesecakes by Food Lab
Arkansas-native Kevin Mize has been piquing the appetites of many pastry lovers since he came out with a line of unique cheesecake flavors. Cerveza Negra in your cake? It might elicit initial apprehension but after the first bite, all hesitations will be gone. His cheesecake is smooth and not overly sweet. For the purists, he has the New York Traditional, but for the more adventurous, he has these to tease you with: Chocolate Sili Labuyo, Wasabi Ginger, and Root Beer Float Cheesecakes.
Contact info: 0947-445-08-73, 845-36-26



ADVERTISEMENT - CONTINUE READING BELOW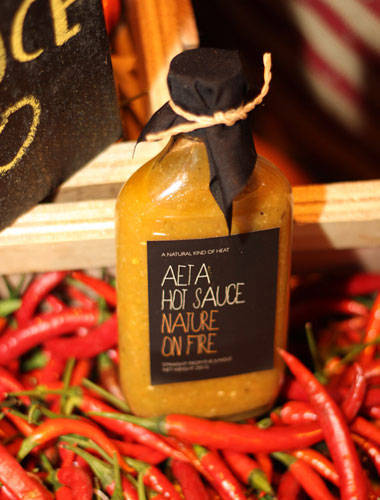 3. Nature on Fire Hot Sauce by Aeta Organics
Possibly the best dressed stall last Saturday, walking by Aeta Organics had the Alicia Keys song playing in my head instantly. "Girl on Fire" could refer to both the head-turning Aeta Organics purveyor Bianca Mabanta or her line of mouth-burning sauces. By enjoying this fiery organic condiment, you help and support the Aeta farmers and community at Pastolan who grow chili peppers for a living. Now, that's a novel effort we all should be fanning the flame on.
Contact info: 0917-532-83-04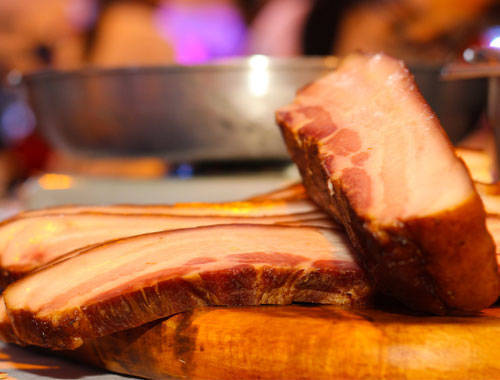 ADVERTISEMENT - CONTINUE READING BELOW
2. Dry-Cured, Home-Smoked Bacon from MAD Meats
As with many great things, this home business started over a bucket of beer with owner Martin Adriano contemplating what he could make that he would never get tired of. His answer: bacon. To date, he carries three kinds: regular, organic, and black pepper. Each is carefully handcrafted, with Martin doing everything from start to finish. There is no MSG, no flavor enhancers, no unnecessary preservatives-basically, no screwing around.
Contact info: 911-02-22, 0917-898-78-04, 0917-898-78-05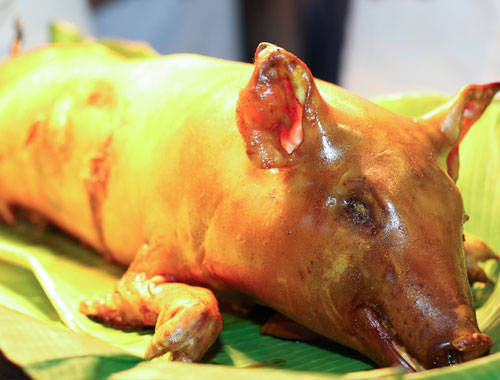 1. Stuffed Lechon by Pepita's Kitchen
Ex-photographer turned food entrepreneur Dedet dela Fuentes extends her creativity to the kitchen and concocted the idea of stuffing brick-oven roasted pigs with a variety of mouth-watering combos including laing rice, garlic and marbled potatoes, and pancit (yep, she calls it Birthday Lechon). What she served at Yummy Eats, the lechon stuffed with truffle rice, remains the most popular. Crisp skin, fall-off-the-bone tender meat, and rich, flavorful rice-salivating yet?
Contact info: 0917-866-06-62, 425-46-05
ADVERTISEMENT - CONTINUE READING BELOW
Share this story with your friends!
---
Help us make Spot.ph better!
Take the short survey
Load More Stories