(SPOT.ph) Pinoy spaghetti-one of the first loves of practically every Pinoy kid, until the sad revelation of "proper" pasta, at which point the idea of putting diagonally sliced hotdogs, grated filled cheese, and a ketchup-based sauce on spaghetti seems absurd. And yet, whenever we're faced with a heaping platter of that ever-familiar Pinoy spaghetti, we can't help but dig in and groan with pleasure because we've forgotten how good it is.
That's the main appeal of Pinoy spaghetti. Not necessarily because it's the height of gourmet cooking, but because it takes you back to when your mom would cook spaghetti as a weekend afternoon treat, when you would eat it at a birthday party, or when your parents would take you to a restaurant after, say, church or grocery shopping, and you would order-what else?-spaghetti. We happily dug into plate after plate of spaghetti and came up with 10 that best represent our childhood favorite.
ADVERTISEMENT - CONTINUE READING BELOW
All SPOT.ph Top 10 lists are researched, paid for, tested, and selected by the writers and editors. They are discreetly conducted without any notice made to the restaurants or their owners.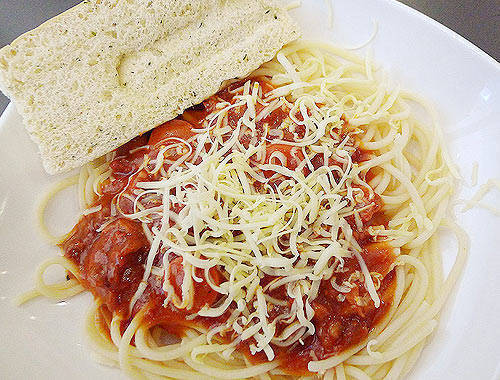 10. Classic Spaghetti (P65) at Red Ribbon
Kicking off our list is Red Ribbon's spaghetti. Topped with stringy grated cheese, this contains those unmistakable hotdog slices and strikes a nice balance between traditional Pinoy spaghetti and, shall we say, the more grown-up meaty red sauce. It's sweet without being too unusual-tasting and without overwhelming the flavor of the meat, producing a comfortingly familiar taste.
Branches nationwide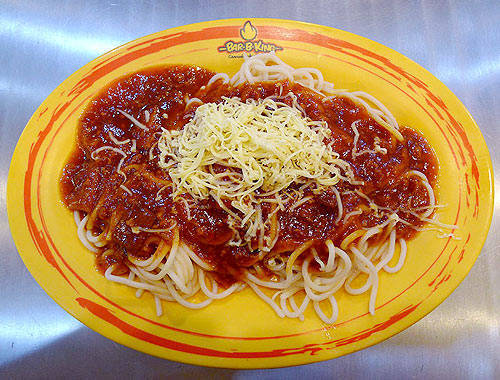 9. Spaghetti (P65 with a drink) at Bar-B-King
This was bathed in so much sauce that we had quite a lot left over after we polished off the noodles, almost making us wish that it came with some garlic bread. The sauce was quite drippy and amusingly sweet, and would most likely cause any Italian spaghetti purist to foam at the mouth over what Bar-B-King has done. We wouldn't notice, mind or care, though, because this particular spaghetti is a delightful snack.
ADVERTISEMENT - CONTINUE READING BELOW
SM Megamall, Mandaluyong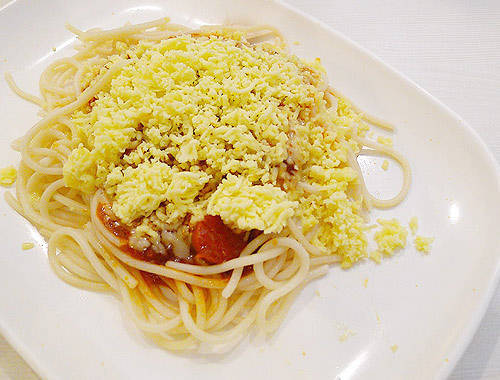 8. Cheezy Meattie Spaghetti (P59, P69 with a regular drink) at Mister Donut
We could have had the regular version of spaghetti, but why would we, when there's an extra cheesy version available? It contains the usual suspects, namely ground meat and hotdogs. You might not think the spaghetti has enough sauce, but that's because there's more under the weight of an insane amount of grated cheese. Mix everything together and you'll end up with a super creamy tomato sauce that makes the whole thing taste sinful. Be sure to get a drink, because the sauce will attempt to cling to the insides of your mouth.
ADVERTISEMENT - CONTINUE READING BELOW
Branches nationwide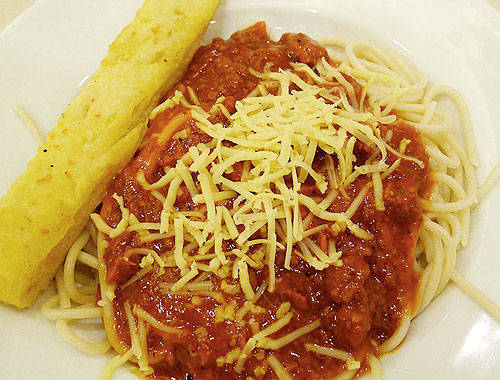 7. Spaghetti Supreme at Greenwich (P59)
Greenwich is all about pizza and pasta with a more Pinoy flavor, so we're not surprised that it got the spaghetti right. The Spaghetti Supreme features a thick sauce with a generous helping of ground beef and mushrooms; we're particularly loving the distinct tomato flavor and the mild sweetness. It's also a lot more filling than we expected.
ADVERTISEMENT - CONTINUE READING BELOW
Branches nationwide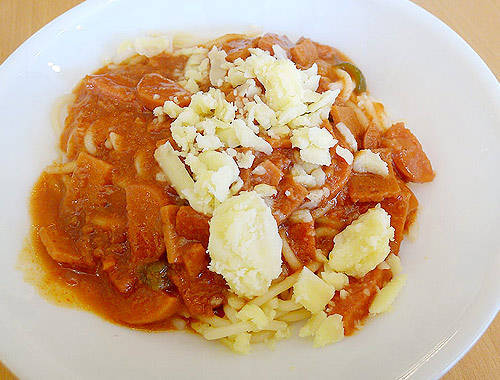 6. Makati Supermart Spaghetti (P88/regular, P108/medium) at Makati Supermart
You won't miss it on the menu; it practically says, "Yes, this is THE Makati Supermart spaghetti that everyone has raved about." Topped with chunks of cheese, drizzled with sauce that seems more meat than anything-plus pickles!-and accompanied by hefty slices of bread, this spaghetti is a filling treat and is a great reason for people to make the trip all the way to the Makati Supermart coffee shop to sample their most famous dish.
ADVERTISEMENT - CONTINUE READING BELOW
Makati Supermart is at Alabang Town Center, Muntinlupa.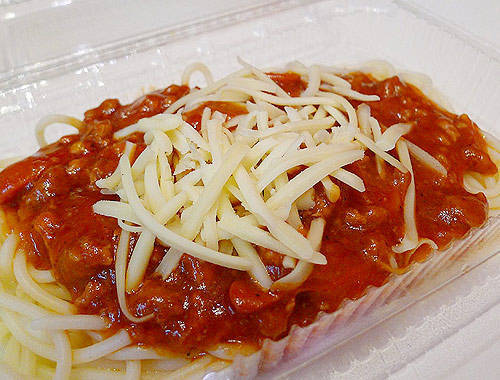 5. Wham! Spaghetti (P95) at Wham! Burgers
This is not necessarily the best-tasting spaghetti ever, but trust us when we say that taking one bite will make you think that you're right in the middle of a kiddie party. It's so familiar that you'll be marveling with every bite, especially if it's been a while since you've had Pinoy-style spaghetti. It's very much like the party spaghetti you used to eat-you know, the kind that was served on paper plates along with red hotdogs and marshmallows on a stick.
ADVERTISEMENT - CONTINUE READING BELOW
Branches around Manila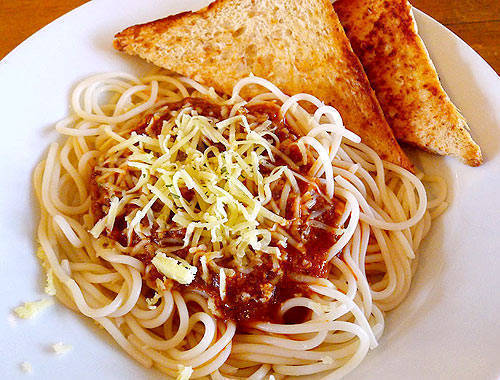 4. Spaghetti (P165) at Cafe Breton
It seems strange to find Pinoy spaghetti in a creperie, but, well, life's full of surprises. Although it's simply called "spaghetti" on the menu, you'll find the taste very familiar. Expect a refined, subdued take on Pinoy spaghetti.
Branches around Manila
ADVERTISEMENT - CONTINUE READING BELOW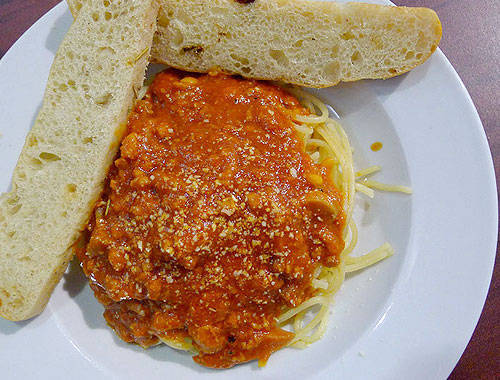 3. Spaghetti in Chunky Meat Sauce (P115) at Tsoko.Nut Batirol
Sliced sausages and mushrooms work together to add heft to the meat sauce of this spaghetti. They're not typical Pinoy spaghetti fixtures, but they make Tsoko.Nut Batirol's spaghetti different. This toes the line between being Pinoy spaghetti and being spaghetti bolognese, as it's not too sweet and the tomato sauce is pretty rich, but the Pinoy aspect wins out.
ADVERTISEMENT - CONTINUE READING BELOW
Branches around Manila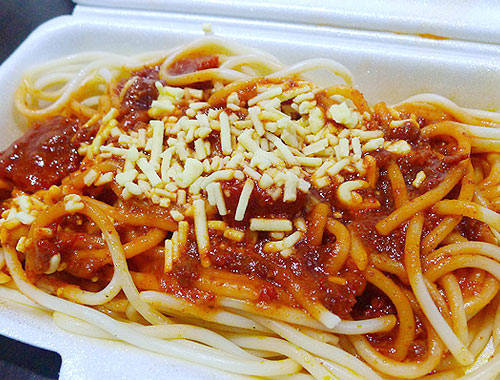 2. Jollibee Spaghetti (P46) at Jollibee
It's the epitome of Pinoy spaghetti these days. Sweet? Check! Hotdogs? Check! Ham? Check! Unusual redness? Check! And a definite plus: you can find it everywhere. The best thing about the Jolly Spaghetti is that its taste has remained the same for as long as we can remember, and we can be sure that its chopped-up hotdogs and ham slices will never, ever go away.
ADVERTISEMENT - CONTINUE READING BELOW
Branches nationwide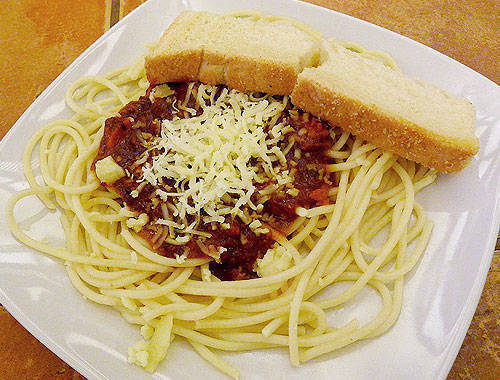 1. Spaghetti (P70/small) at Buddy's
It's a bit of a cop-out to say that homemade spaghetti is still the best spaghetti in town, so we're going with the closest thing. All we really wanted to say about Buddy's spaghetti is, "Wow, this is perfect," but we know you're looking for a lot more than that. The sauce-meat ratio is just right, as is the mix of sweetness and tanginess. One bite and all your happy childhood memories will come rushing back to you.
ADVERTISEMENT - CONTINUE READING BELOW
Buddy's has branches in Kakarong Street, Makati; Ayala Center, Makati; Timog Ave., QC; Market! Market!, BGC; and Pearl Drive, Ortigas
SPECIAL MENTION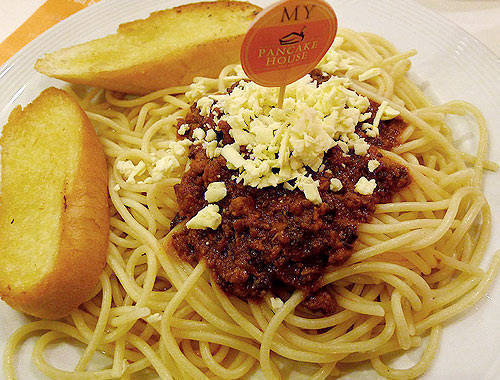 Spaghetti with Meat Sauce (P175/regular, P278/large) at Pancake House
It's nothing like the usual Pinoy spaghetti, but it deserves a special nod because it's an old favorite whose flavor has remained consistent throughout the decades. We love its somewhat sweet, mostly meaty taste, and you can count on its sauce to always be thick, with a texture you'll definitely savor.
ADVERTISEMENT - CONTINUE READING BELOW
Share this story with your friends!
---
Help us make Spot.ph better!
Take the short survey
More Videos You Can Watch
Load More Stories