Eat Like a Local at These Neighborhood Favorites
Where to eat when you find yourself in a new area? Not necessarily the best, these eateries and restaurants are beloved by their respective neighborhoods.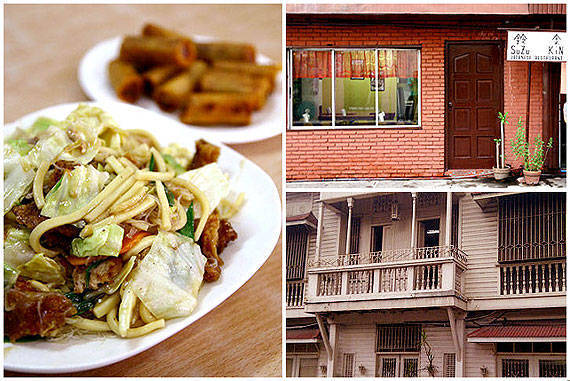 (SPOT.ph) Before its Mango Bravo became a sensational hit across Manila, Conti's Pastry Shop and Restaurant was BF Parañaque's best kept secret. Residents would proudly bring their visitors to the President's Avenue eatery to sample any of Conti's cakes, or they'd bring Conti's super saucy palabok to a potluck party, much to everybody's delight. Everybody knew Parañaque's secret was bound to get out, and it did. There are now nine branches of Conti's across Manila, 10 if you count the one in Laguna. The mother ship still stands tall in President's Avenue, complete with function rooms mind, but Conti's is no longer just BF Parañaque's anymore. It does, however, remain Parañaque's proud son, or, uh, daughter.


Each city, we are sure, has its own Conti's, waiting to be discovered, if it hasn't already been so. We asked our foodie friends, clicked links upon links upon links on the Internet, and followed the crowd to discover a few diamonds in the rough. No, these are probably not as polished as a lot of the new restaurants opening in the city, but these eateries sure are darlings of their people. Read on so you may know how, next time you end up deep in Mandaluyong, to eat like a local.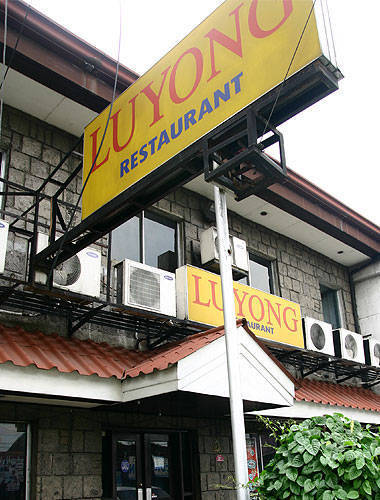 ADVERTISEMENT - CONTINUE READING BELOW
Luyong, Marikina
21 Gil Fernando Ave, Marikina City
Tel. No.: 645-0162
Operating hours: 10:30 a.m. to 2 p.m., 4:30 p.m. to 10 p.m.

Ask any Marikeño for chow recommendations, and Luyong will come up. Established sometime in the 50s, Luyong is famous for its pancit. There are about 10 types of noodles on the menu, which features "Chinoy" dishes, as the owners like to call their Cantonese cuisine with a Filipino twist cooking.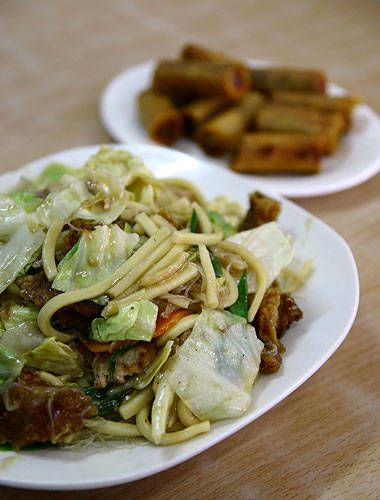 CONTINUE READING BELOW
Recommended Videos
While Luyong's Miki-bihon (P140) is the most popular of the lot, all Luyong pancit comes out the same: generously topped with all sorts of vegetables, with thick cuts of lechon kawali-served just as generously-taking front and center. "Partneran niyo ng lumpiang shanghai," one of Luyong's wait staff tells SPOT.ph on our visit. "Yan karaniwan ang sabay na in-o-order sa pancit."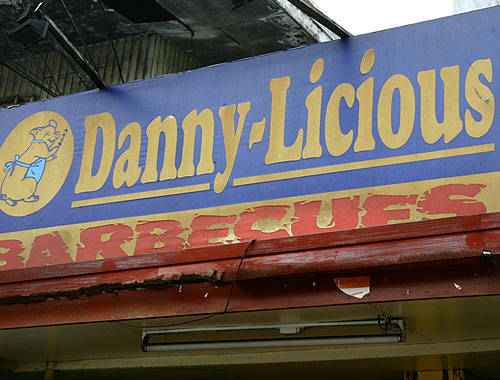 Dannylicious
176-C Kalantiaw St., Project 4, Quezon City
Tel. No.: 437-3359
Operating hours: Monday to Saturday, 10 a.m. to 10 p.m.
ADVERTISEMENT - CONTINUE READING BELOW
Dannylicious has been serving delicious barbecue since the 70s. No wonder it's Project 4's go-to place for grilled goodies; it's safe to say it's become something of a neighborhood habit.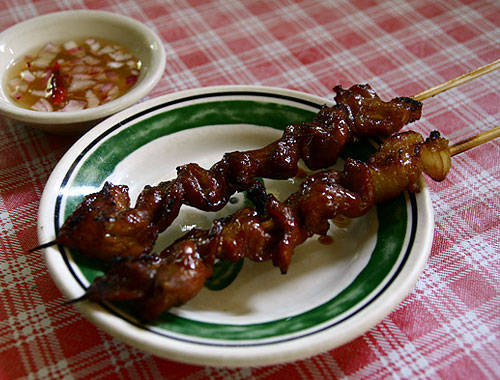 Though the karinderia has moved from the more accessible Rajah Matanda to the more out-of-the-way street of Kalantiaw, the makeshift eatery remains full with hungry diners and take-outers, all raring to have that P23-pork barbecue.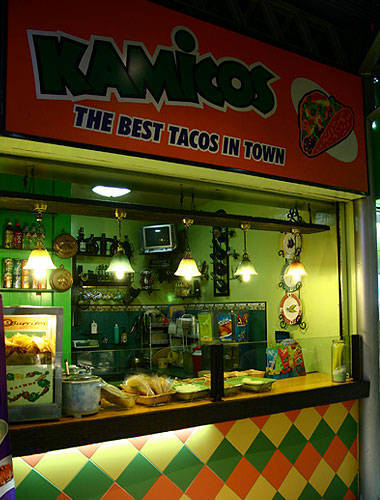 Kamico's Tacos
Food court level, Theater Mall, Greenhills Shopping Center
10 a.m. to 8 p.m.

While Greenhills Shopping Center looks nothing like its famous 1980s self, some good things have remained. Like Kamico's Tacos. It's been serving "the best tacos in town" plus a few other Mexican items since 1982. Currently, Kamico's is located at the food court level of Theater Mall, but if you're feeling nostalgic, swing by the second floor of Shoppesville, where you will find an old Kamico's stand.
ADVERTISEMENT - CONTINUE READING BELOW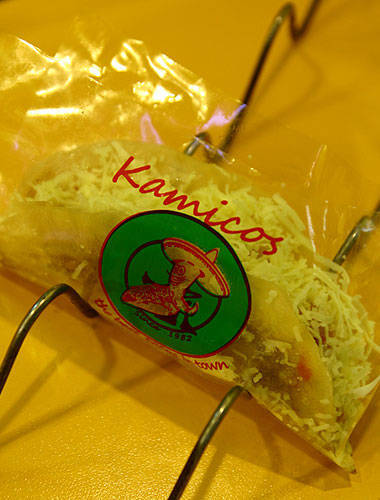 The "best tacos in town" claim will probably be contested time and again, but it's hard to dispute age-old tradition, especially when it tastes like high school and everything that goes with it: first dates, first kisses, first nights out, the whole nine yards.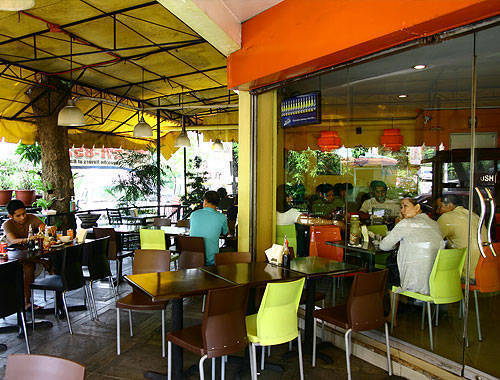 Bacolod Chicken Parilla
10 Scout Gandia corner Scout Reyes, Laging Handa Quezon City
Tel. No.: 371-8522
Operating hours: 11 a.m. to 12 midnight

Even during slow hours, Bacolod Chicken Parilla in Quezon City is bustling with families and barkadas and solo flyers all ordering chicken inasal. Many food writers and critiques claim Parilla is the closest thing Manila has to Bacolod's famous export and perhaps, that's also the reason why people make the northbound trek.
ADVERTISEMENT - CONTINUE READING BELOW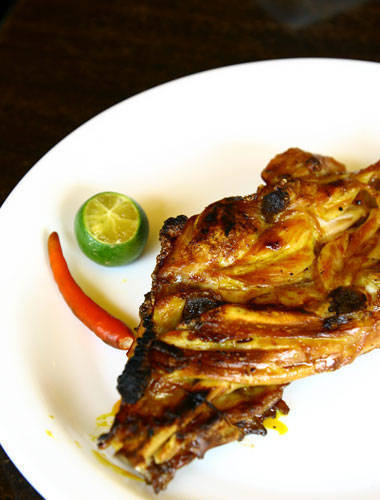 It is inasal at its best. The residents of the Scouts area are just happy to have had this seven-year-old neighborhood joint they can slip in for a quick meal, and it is a quick meal: apart from the delicious inasal on offer, the service is ace and fast.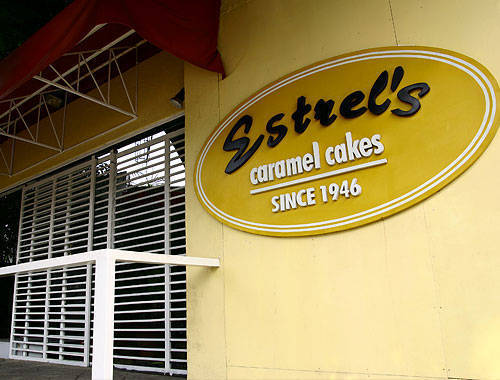 Estrel's Bakeshop
54 Scout Tobias corner Scout Fernandez Streets, Barangay Laging Handa, Quezon City
Tel. No.: 371-2965, 371-7938, 376-7317
Operating hours: Mondays to Saturdays 8:30 a.m. to 7 p.m.; Sundays 8:30 a.m. to 5 p.m.

Estrel's has been making delicious caramel cakes for over 50 years-since the 40s, in fact, as Estrella's-but it was only in 2001 when they finally opened shop in Scout Tobias, Quezon City. From its original Recto headquarters, the made-to-order baking business moved to Quezon City (where founder Estrella Ylagan lives) in the 70s to accommodate the residents in the area. Soon, Estrel's caramel cakes gained recognition as QC's own. Their bread and butter is still made-to-order cakes, but the bake shop has started offering small pastries and round cakes to accommodate walk-in crammers.


ADVERTISEMENT - CONTINUE READING BELOW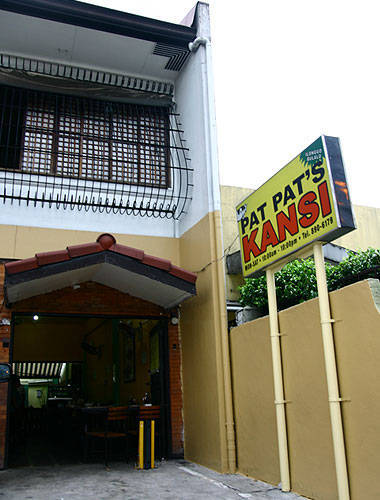 Patpat's Kansi
8809 Sampaloc St., San Antonio Village, Makati
Tel. No.: 890-6179
Operating hours: 10 a.m. to 10 p.m. Monday-Saturday


A house converted to an eatery, Patpat's Kansi has been serving Makati city some mean bulalo since 2006. "Galing kaming Jaro, Iloilo. Doon since 1999 itong Patpat's," says one of Patpat's very friendly wait staff as she places the tools you'll need for your meal: spoon, fork, knife, a barbecue stick, and a long spoon usually used for Halo-halo. That much you'll need to get the best of Patpat's enormous and very affordable kansi (P145).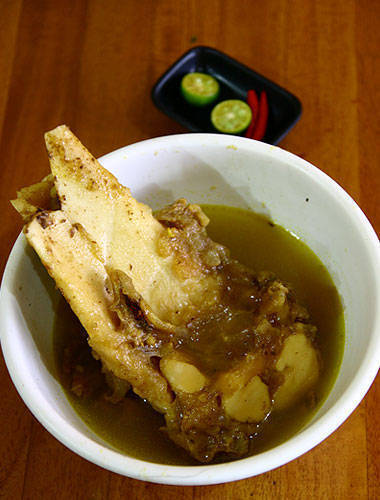 ADVERTISEMENT - CONTINUE READING BELOW
You'll find different sorts of people enjoying Patpat's : from Makati CBD professionals looking to de-stress from their morning meetings to cab drivers looking for a filling meal, to residents, who are sometimes dressed in their too comfortable pambahay, looking to skip the chore of cooking, to just about anybody looking for a treat, a pick-me-up, or straightforward good food.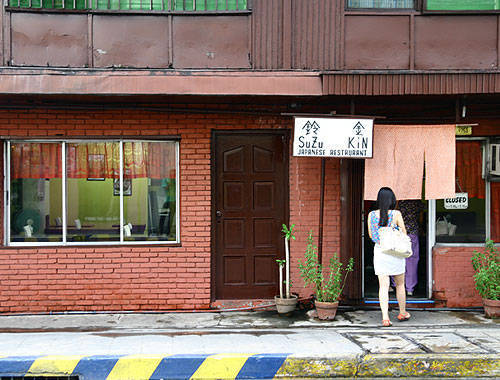 Suzu Kin
9753 Kamagong St., San Antonio Village, Makati
Tel. No.: 896-07143
Operating hours: 10:30 a.m. to 2 p.m., 5:30 p.m. to 9 p.m.

Once a upon a time, Suzi Kin was the place for fancy dates. Thirty two years later, Suzu Kin has lost its shine but not its good and affordable Japanese food on offer. In place of its luster are dependability and comfort, making it the official neighborhood Japanese joint.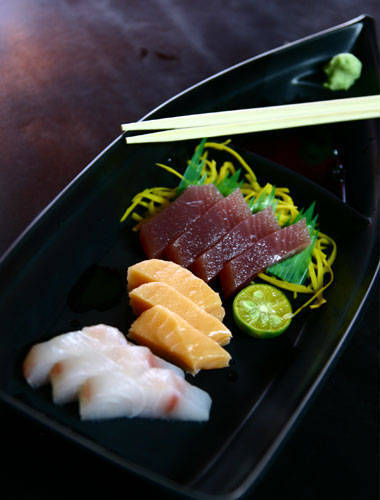 ADVERTISEMENT - CONTINUE READING BELOW
Residents and employees of the area know Suzu Kin's operating hours by heart. As soon as it opens for dinner service at 5:30 p.m., hungry diners from out of nowhere swing by the restaurant and begin reciting their roster of items to eat.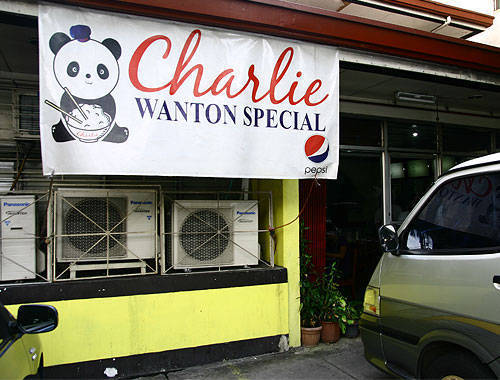 Charlie's Wonton
265 Haig St., Mandaluyong
Tel. No.: 718-1880
Operating hours: 9 a.m. to 10 p.m.

At the border of San Juan and Mandaluyong stands Charlie's Wonton, the locals' go-to place for no-fuss, all-good chow. The service is fast, the food is good, and the dining area is comfortably lived-in.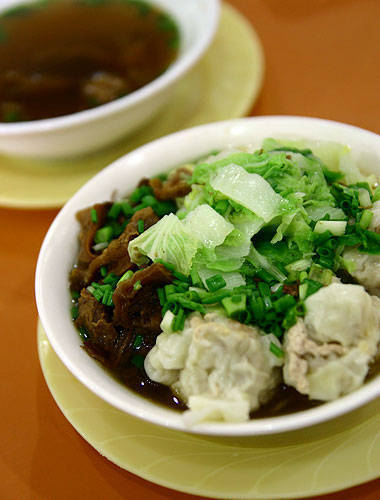 ADVERTISEMENT - CONTINUE READING BELOW
People come to Charlie's for their various Chinese offerings but people really come here for its Beef Wonton Mami (P150)-which they almost always pair with a plate of crunchy pinsak (P180). To look and sound more like a local, know that the word "special" in Charlie's menu actually means "large."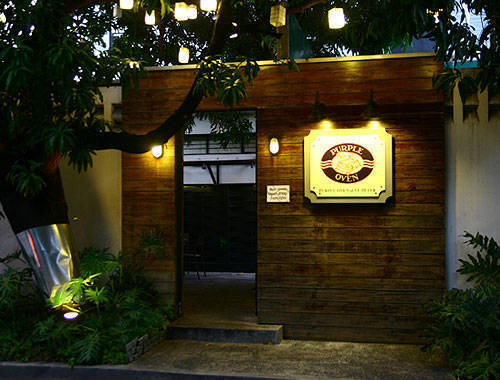 Purple Oven
63 St. Peter's St., Oranbo, Pasig
Tel. No.: 631-4221
Operating hours: 7 a.m. to 8 p.m.

It started out as a pastry supplier for many coffee shops across Manila but Purple Oven's anonymity was inevitably short-lived. It has finally become a formidable brand-and rightfully so. Not only have they opened their doors to accept take-out orders because Pasiguenos love to bring Purple Oven goodies to dinner and potluck parties, but recently, they've also set-up a little nook for those who want to stay for coffee.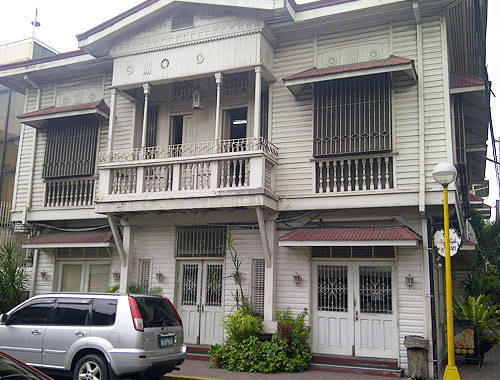 Photo from Richric.blogspot.com
ADVERTISEMENT - CONTINUE READING BELOW
Becky's Kitchen
1601 P. Ocampo St., San Andres, Manila
Tel. No. 525-1648
Operating hours: Tuesday to Sunday 6:30 a.m. to 8:30 p.m.

Contrary to popular belief, Becky's Kitchen is not run by Scholastican nuns, and neither is its Valle Verda 1 post the first Becky's Kitchen shop. Before its brownies became the unofficial Christmas gift in Metro Manila, Becky's Kitchen was providing Manila residents and students from nearby universities homebaked goodies that, we deduce, is how a bear hug must taste like. Becky is Rebecca Villegas, who, after teaching at St. Scholastica's, started baking in her Manila home in 1987. She elevated the status of the lowly crinkles and brownies, so much so that Becky's Kitchen could now be found in Pasig, as well.
Share this story with your friends!
---
Help us make Spot.ph better!
Take the short survey
Load More Stories