(SPOT.ph) All hail the almighty, much revered sinigang.
There are those who are inclined to call sinigang a method of cooking rather than a dish-and truth be told I agree with that: it's a stewing method where you cook a savory stew with protein and vegetables and finish it with a souring agent, the most common of which is probably sampaloc. There are many variants of it up and down our lovely islands, and it is-like our beloved adobo-a great social leveler: I don't care if you wear diamonds around your neck or you are a humble sari sari store owner-a bowl of steaming hot sinigang sends ripples of delight down any true Pinoy's spine.
And it's Aga Muhlach's favorite dish. (I saw it in a chick's slambook, okay?!)
Anyway. Back to the topic.
Again, like our adobo, this method/dish is definitely a debatable topic, especially as to who makes it best. I guarantee most people will volunteer their mother/aunt/grandmother as the Jedi master of sinigang. As I am sure they are all deserving of accolades, especially those who-ahem-still do it from scratch and not from some chemical-laden mix (applause please!), let's keep the peace and remember that food and sinigang will always be subjective.
So where, oh where, to get sinigang outside of Lola Conchang's or cousin Mercedita's home, especially as the rainy season descends on us? You tell me! In the meantime, here are a few of my favorite restaurant versions: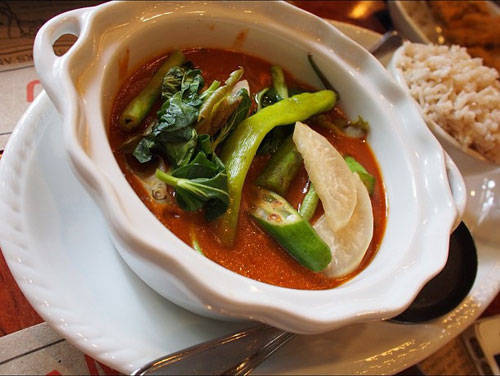 ADVERTISEMENT - CONTINUE READING BELOW
Mamou Kurobuta Sinigang
Mamou (Kurobuta Sinigang)
You may be wondering why I am putting this restaurant on my short list, when their claim to fame is as a place to get your rich, meaty, fatty steak fix (with steak rice to boot!) Well, I would ask myself the same question, if not for one fateful evening when my buddies and I went there and someone just happened to be hankering for some sinigang and ordered it. We all thought she was a little crazy-who goes to Mamou for sinigang? But when it arrived-surprise, surprise-it was excellent! The broth had a nice deep flavor (granted it was made of Japanese Kurobuta, the Ferrari of pork), and was sufficiently sour. Quite the stylish sinigang, if I do say so myself. Curiosity was the winner that night-and now I'm passing on that info to you. Eat immediately.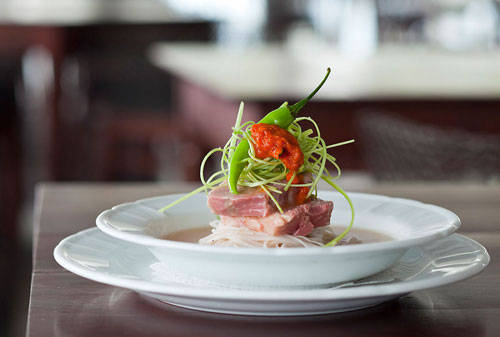 Antonio's Sinigang (Photo from their official website)
CONTINUE READING BELOW
Recommended Videos
Antonio's Grill (Sinigang Na Baboy)
Well, sheesh. Can this guy do wrong, to begin with? Don't mean to gush here, but in my book, not really. Another stylish sinigang can be found here, with an offering of different souring agents to float your boat: sampaloc, mangga or bayabas. Pick your poison: pork belly, bangus, prawns, salmon sa miso, or if you're feeling particularly virtuous, plain ol' gulay. If you ask me, they should just do a tutti frutti siningang-everything in it! This is good stuff, and when eaten on a nice breezy evening, it is the perfect way to soothe your spirit and your stomach.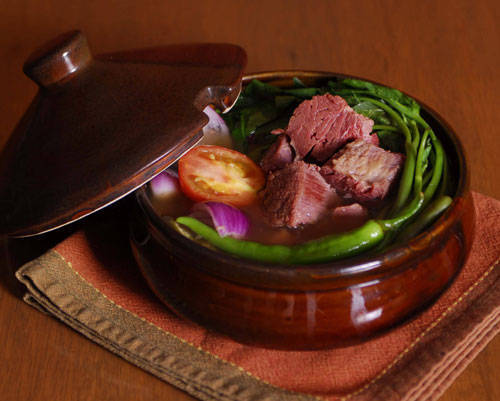 Sentro 1771 Corned Beef Sinigang
Sentro 1771 (Corned Beef Sinigang)
This is arguably one of the most famous (and fiendish!) of the modern-day sinigangs. Who is the mad scientist who thought of putting corned beef-that other Pinoy favorite (we may as well call it the "other" Spam)-into our beloved sinigang? Whoever it is, I want to shake their hand, because it is one of those unlikely matches that fit together like a hand in a glove. My favorite thing is when they ask you how sour you want your broth-a most thoughtful touch. A go-to of mine, and something I love making foreigners try because I think it's a great introduction to sinigang.
ADVERTISEMENT - CONTINUE READING BELOW
There you have it! Pass the patis and hot steaming rice, please. With the cooler, rainy months coming, go ahead and be a sour puss, and dig into some sinigang.
Share this story with your friends!
---
Help us make Spot.ph better!
Take the short survey
Load More Stories