(SPOT.ph) Easy to make and easy to eat, siomai has quickly become one of Manila's oh-it's-everywhere food picks. Whether you're just getting off the train, ambling through the mall, or crossing a busy intersection, a siomai fix is only a stall away-sometimes for only two bucks a pop!
While cheap streetside siomai does have its charms (seriously, two pesos!), we plumbed the Manila streets for the most bang-for-your-buck pork dumplings. The best on-the-cheap siomai has character, doesn't fall apart, and, of course, is easy on the wallet. Even if you don't dip it in the signature calamansi-toyo-chili oil sauce, the meat-at this price point, it's usually paired with shrimp and mushroom-should still stand on its own.
Read our Top 10 Siomai Under P100 (2010 Edition) here.
All SPOT.ph Top 10 lists are researched, paid for, tested, and selected by the writers and editors. They are discreetly conducted without any notice made to the restaurants or their owners.
ADVERTISEMENT - CONTINUE READING BELOW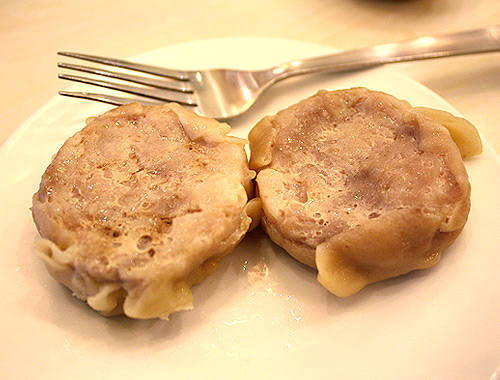 10. Ma Chicken Noodle House (P30/piece)
Ma Chicken Noodle House is most famous for its-can you guess? -noodle soup, usually paired with siopao. Their Special Pork Siomai, however, is intriguing: it's served flat, like a congealed pork cake or some meaty hopia. It was quite solid and dense, making it a bit difficult to slice it with a fork. The pork was firm, filling, and not fatty at all. For form factor alone, the Ma Special Pork Siomai is worth checking out...you'll find it's quite the hearty merienda.
Branches throughout Manila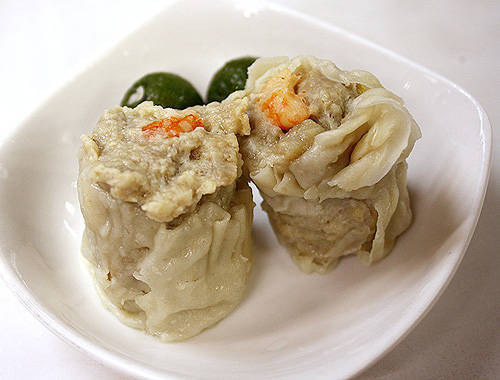 9. Ling Nam (P70/two pieces)
Ling Nam's dimsum is big enough to count as a meal instead of just merienda-there's need to add rice for this pair of jumbo dumplings. The thin wrapper seemed to be just a formality; the whole thing seemed to be meat through and through. They don't skimp on the shrimp either. If your stomach has the space, we recommend that you pair it with their excellent mami.
ADVERTISEMENT - CONTINUE READING BELOW
Branches throughout Manila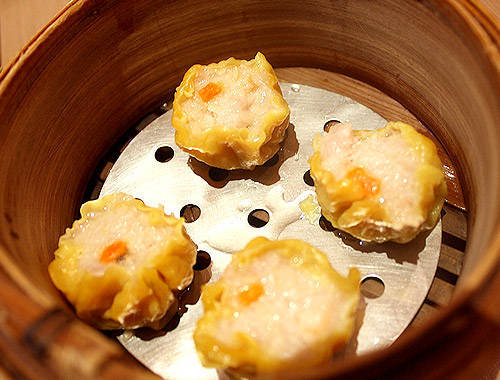 8. Won Ton (P80/four pieces)
Certainly one of the chewier siomai we've tasted, the shrimp in Won Ton's Siu Mai packed a lot of bite. The Siu Mai was on the moist side, and the small serving size lets you pop the whole thing in your mouth and just let it melt. Proof of its moistness? The sticky wrapper, which clung to the bottom of the bamboo steamer. We must give a shoutout, too, to Wan Ton's chili oil. Unlike the brown, bagoong-like sauces of other restaurants, their version is fiery orange and quite rich.
ADVERTISEMENT - CONTINUE READING BELOW
2/F Promenade Bldg., Greenhills Shopping Center, Greenhills, San Juan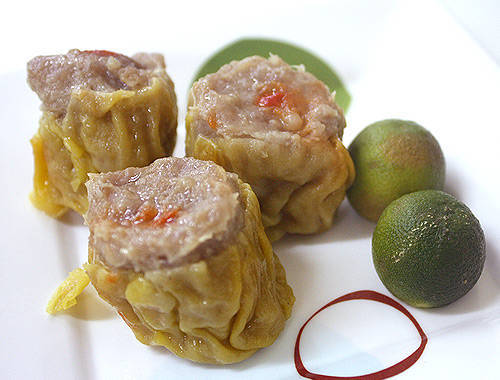 7. Muy Hong (P40/three pieces)
Sometimes you just want no-frills pork dumpling, and the siomai in Muy Hong, a little eatery along Banawe, fits the bill. Slice through it with a fork, and it neatly keeps its shape. The ground pork is evenly cooked throughout, with no dryness or fatty bits sullying the experience, and just the right amount of mild-tasting softness all throughout. It's good enough to eat even without toyomansi. If you want added punch, though, add more calamansi to the sauce to give it even more tartness.
ADVERTISEMENT - CONTINUE READING BELOW
552 Banawe St., Quezon Ave., Quezon City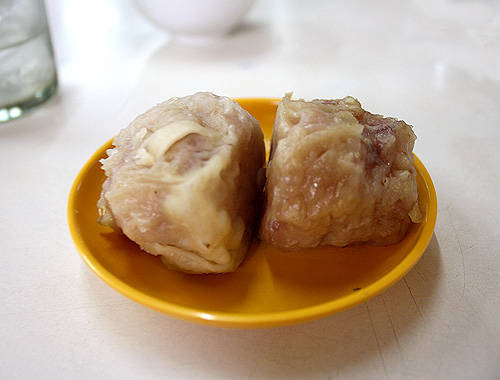 6. Masuki (P35/piece)
The reason Masuki made it into this list is obviously not because of its looks. Supersized, shapeless dumpling globs, they don't look too appetizing. But don't let appearances fool you. Their ground pork is sweet and dense, almost like a Chinese sausage. We actually preferred dipping into the house sweet sauce instead of toyomansi. And as one of Manila's biggest siomai, this pair of dumplings is a value-for-money siomai fix you won't get anywhere else.
ADVERTISEMENT - CONTINUE READING BELOW
931 Benavidez St, Binondo, Manila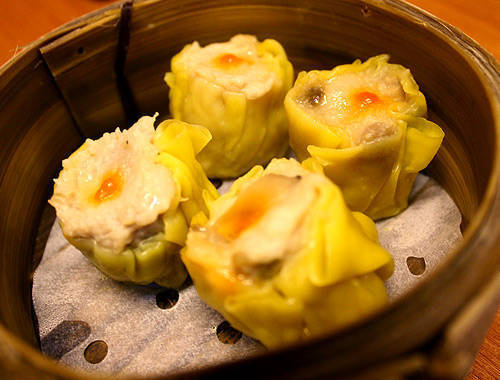 5. Mei Sum Tea House (P65/four pieces)
Or as we like to call it, Mushroom the Siomai. Seriously, from the moment it's served to you in a bamboo steamer, you can immediately spot the mushrooms struggling to burst out of that siomai wrapper. Set them free! Take a bite. Of course, thanks to the mushrooms, there's a rich, chewy texture to this one, complemented by the generous amounts of shrimp. Even the wrapper is thick and pasta-like, so sticky that it clings to the roof of your mouth.
ADVERTISEMENT - CONTINUE READING BELOW
965 Ongpin, Sta Cruz, Manila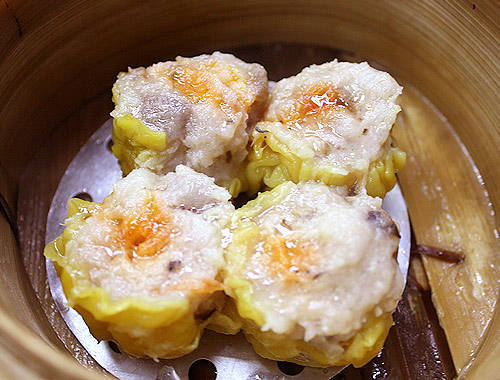 4. Wai Ying (P65/four pieces)
Wai Ying's siomai arrives on your table in a riot of color: daubs of orange across the top, the crumpled tan of the wrapper, and the dark submerged forms of the shrimp and mushroom. Wai Ying's pork siomai is a Chinatown institution-and with good reason. It's flavorful, it's juicy, it's relatively cheap, it doesn't skimp on the shrimp, and it's just begging to be put on Instagram. If you're ever in Binondo, make sure you order this for merienda.
ADVERTISEMENT - CONTINUE READING BELOW
810 Benavidez St, Binondo, Manila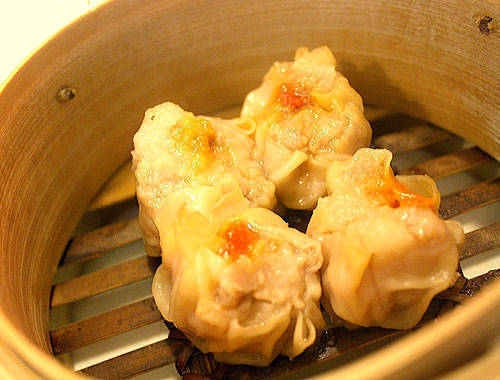 3. Le Ching Tea House (P85/four pieces)
If you like your siomai on the meaty side, Le Ching Tea House's offering is just for you. In fact, the shrimp almost feels like an afterthought with the overpoweringly robust taste of their filling. Taste-wise, their siomai takes its cues from Le Ching's famous pork spareribs. We peeled the wrapper off and took a separate bite-even the wrapper is quite savory, with just the right amount of give.
ADVERTISEMENT - CONTINUE READING BELOW
Branches throughout Manila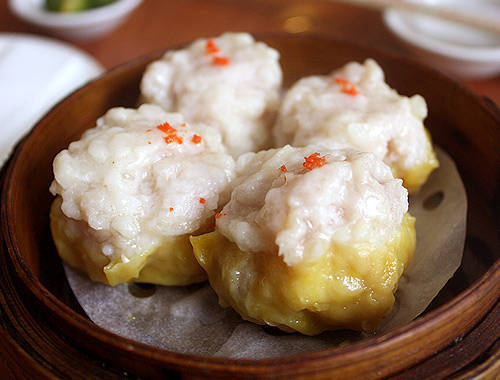 2. Emperor's Dimsum and Tea House (P98/four pieces)
At that price point, Emperor's Dimsum and Tea House's pork siomai just barely made it to our list. But good thing it did, because this is seriously one amazing dumpling. A piece looks almost like a cupcake: the wrapper only covers half of the dumpling, with an ingenious "frosting" rising above the wrapper like a cloud. Tasty and firm slices of pork make up the bottom layer, with a mild, heavenly taste.
ADVERTISEMENT - CONTINUE READING BELOW
202 Wilson St., Barangay Addition Hills, Greenhills, Mandaluyong City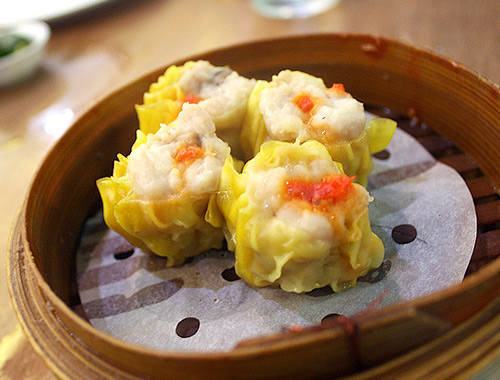 1. Causeway Seafood Restaurant (P70/four pieces)
The secret to Causeway Seafood Restaurant's hall-of-famer siomai? The seafood. Their siomai's ground pork is mixed with cod roe, which imparts a rich flavor. Plus, there's the shrimp. Generous in their servings, the shrimp is chewy, and most important, fresh, so you can really taste the complementary contrast between the pork and the seafood. Even the wrapper is doughy, almost al dente. Causeway keeps its number one spot in our Top 10 Siomai under P100 list-and with good reason, too.
ADVERTISEMENT - CONTINUE READING BELOW
883 Banawe St. cor. Del Monte Avenue, Quezon City
Share this story with your friends!
---
Help us make Spot.ph better!
Take the short survey
More Videos You Can Watch
Load More Stories