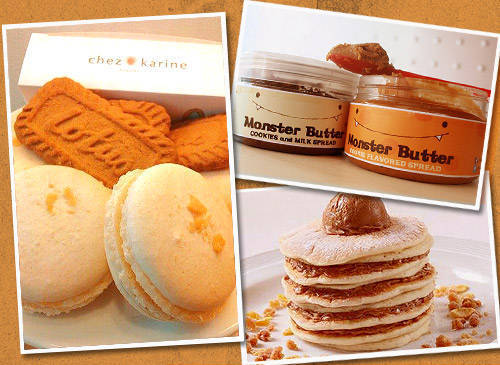 (SPOT.ph) The "unusually delicious spread reminiscent of gingerbread and made with crushed biscuits" has spread itself past the surface of toast and onto the palates of many Filipinos who've been hit by the gingery contagion. Barely two months after our attempt to dissect the obsession, after the speculoos configurations such as donuts, ice cream, ensaymada, shakes, polvoron, and pies took over dessert menus, chefs and culinary artisans have come up with yet more newfangled concoctions.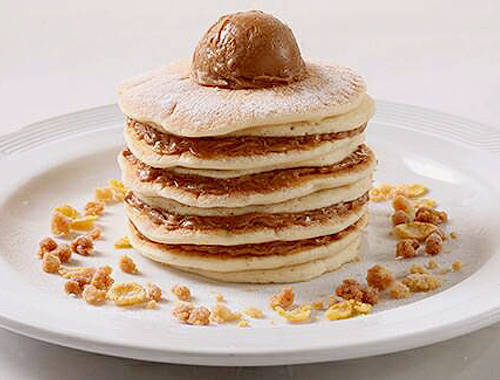 ADVERTISEMENT - CONTINUE READING BELOW
Never too late to jump on the bandwagon, Pancake House follows up their contentious attempt at red velvet hotcakes with a stack of classic pancakes laced with Trader Joe's Cookie Butter in between layers. A scoop of the sugary brown stuff finishes it off, and just for good measure, it's topped with crushed cornflakes and streussel.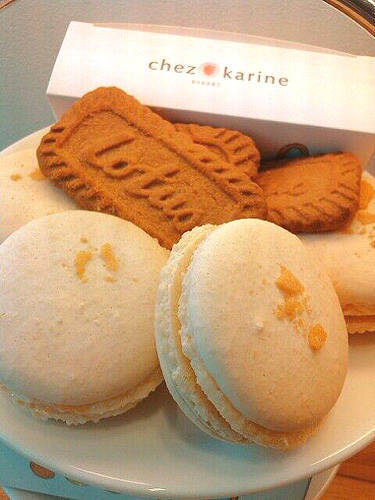 It took a bit of time before macaron emporium Chez Karine decided to capitalize on the trend and release their own interpretation of the cinnamon- and cardamom-spiked spread. Always au courant when it comes to baked goods, Chez Karine took their time, but like everyone else who knew what they were capable of, we waited; it was sure to be something that would blow us all away. Basing their macaron on Lotus Biscoff instead of the more commercially popular Trader Joe's, the confection features a more teasing but potent spice that pairs beautifully with the soft crumble of the freshly baked pastry.  It's a formula of restraint and technique that proves that a lot of a good thing is still undeniably good.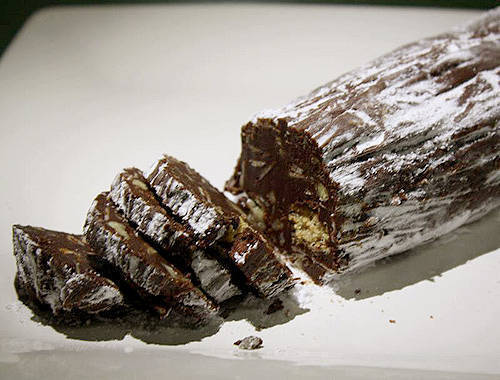 ADVERTISEMENT - CONTINUE READING BELOW
The innovation award goes to Gino's Brick Oven Pizza with their dessert "salami," a roll of chocolate infused with speculoos (the cookie, and not the spread), almonds, and walnuts. It's melt-in-your-mouth chocolatey bliss with bursts of crunchy nuttiness and just a whisper of spice. Too bad it's only sporadic on the menu and not encouraged for delivery.
But while some take what they get and work from there, there are those who treat that only as a jumping-off point to start something else. The people behind Monster Butter use the magic of speculoos as inspiration and create something entirely their own. After learning about Trader Joe's Cookie Butter in February, Monster Butter creator Ana Marfori realized the potential of spoonable cookies in a jar. After three months of experimentation and taste-testing, she ended up with two flavors-Cookies and Milk and Cookie Flavored-both sold online.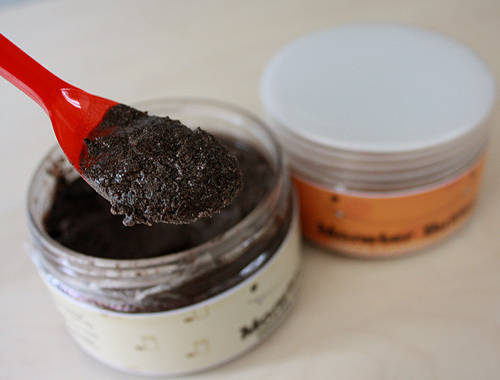 ADVERTISEMENT - CONTINUE READING BELOW
Compared to Trader Joe's Cookie Butter and Lotus Biscoff Spread, Monster Butter isn't as creamy: in fact, it fights a little if you try to spread, cracking as you lather it on bread. Designed more to be a "spoonable" treat, it's much grainier, almost bordering on sandy. The coarseness is a bit of an adjustment if you're expecting something gooey, but, on a spoon and with flavors that pat rather than hit, it builds a crunchy experience that makes for something so addicting it should be illegal. Unlike its predecessors, Monster Butter operates on a "cookie turned confecture" architecture and not just a spread sprinkled with bits of biscuits.
The Cookie Flavored is more familiar to the current tastes of Filipinos. It has that hint of a spice just like speculoos and in that same tan hue. The faint whiff of cinnamon adds a heady fragrance that invites you to just dig in and lick your woes away with its sweetly spiced comforts. The Cookies and Milk, on the other hand, is really just a variation of the classic cookies 'n' cream. Place a jar of this in front of your toddlers and you'll be assured of a few moments of peace as they happily guzzle the gritty goodness of a flavor that can do no wrong for children and children at heart.
ADVERTISEMENT - CONTINUE READING BELOW
So go ahead, do a Meet Joe Black with a spoonful of Monster Butter.
Text 0915-648-3957 for Monster Butter orders. Cookie Flavored is P200, Cookies and Milk is P220.  Orders are for pick up only to ensure freshness.
Share this story with your friends!
---
Help us make Spot.ph better!
Take the short survey
More Videos You Can Watch
Load More Stories