Saboten Japanese Cutlet
Ground Floor, Serendra
Bonifacio Global City, Taguig
http://www.saboten.ph/
Tel. No. 625-2000 or 2888
Open daily from 11 a.m. to 11 p.m.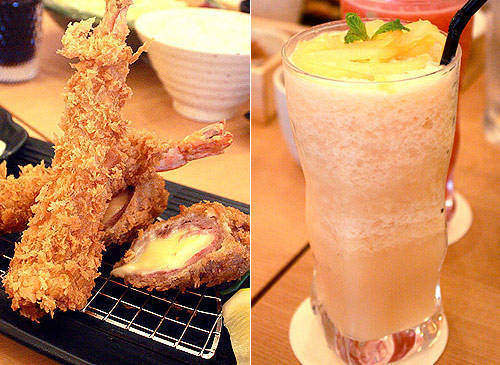 Does Saboten deserve all the hype?

(SPOT.ph) It can be hard to get a table at Saboten, the katsu restaurant that just opened in Serendra. It is always full and reservations are not allowed (this has more to do with Filipinos being horrible about arriving on time than anything else). A two-hour wait time during peak meal hours is not uncommon. What exactly is Saboten's allure? Why are folks willing to quell their hunger for the amount of time it takes for them to get a table, place their order, and wait for their meal to arrive? What kind of magic do the chefs include in the pounded pieces of breaded fried pork?

Saboten is a franchise of the biggest katsu chain restaurant in Japan. Opened in 1966, not only was Saboten one of the first of its kind in their county, it also blazed the way for what are now katsu restaurant staples like the eat-all-you-can shredded cabbage and make-your-own katsu sauce. Their passion for excellence and perfection is what has made them stand out as one of the best up to this day. Since we're talking about a Japanese company, you know that those words are more than just PR. The Japanese are known for their dedication to quality, and Saboten is no different, even if this particular branch is not in Japan.
ADVERTISEMENT - CONTINUE READING BELOW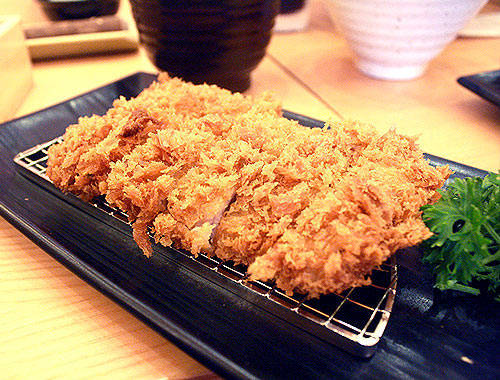 Pork Tenderloin Katsu
For one thing, Saboten's tonkatsu isn't your average piece of pounded breaded fried pork, or shrimp, or fried anything, for that matter. The process starts in the farm, where the type of pig and what it eats has to be approved by the Head Office in Japan. Everything has to meet Japanese specifications down to the chopsticks customers use. "The first week we opened, it was probably 70% Japanese people inside, and it still continues to this day," owner Andrej Wisniewski says. "A bunch of them said, 'This feels like Tokyo. The flavors, the taste, the smell of it.'"

But let's talk about the food. Saboten's menu revolves around a few key dishes, with most choices being a mixing and matching of their fried offerings. Aside from the simply fried katsu that includes two kinds of pork, shrimp, crab cakes, and chicken, they also serve katsu curry, katsu with radish on top, katsu with a miso sauce, and rolled katsu with a choice of asparagus, cheese, or plum filling. The creativity with which they expand their menu based on a central concept is amazing. Ultimately, you know that they're different combinations of the same breaded fried things, but you want to keep coming back to try them all, anyway.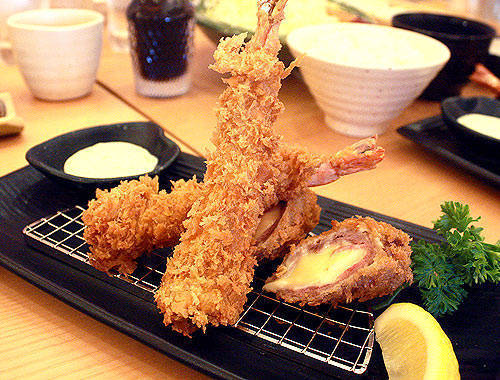 "Snow" set: Shrimp and rolled cutlet with bacon and cheese


We tried the Shrimp and Tenderlion Set (P495), which includes two pieces ika fry and two pieces tenderlion tonkatsu. Surf n' Turf, katsu style. All sets come with unlimited cabbage, rice, pickles (radish and cucumber), and miso soup. Not a bad bargain, especially if you adore vegetables as much as I do.

We particularly enjoyed the pickles, especially the radish, which is sweet and crunchy and slightly addictive. The pickled cucumber is less sweet, but crunchy and refreshing and just the thing to whet the appetite.

There are two sauces that you can use on the cabbage, the creamy goma (sesame) and the tangy yuzu (citrus and soya). The beauty of the make-your-own starter/side dish is that it gives you something to do while you wait for your order, and despite being in a restaurant, allows you some sort of control over your food, making the dining experience more fun and homey.
ADVERTISEMENT - CONTINUE READING BELOW
The katsu has a lovely breading that's more spikey than crumby. It sticks well to the meat and gives a nice crunch without being too oily. The breadcrumbs are made in-house from a special kind of bread-the Saboten staff brought in a Japanese bread expert to learn how to make it. The restaurant goes through about 20 loaves a day. The tenderloin is soft and juicy, imparting a beautiful pork flavor. The difference between the tenderloin and the loin is that while the tenderloin is the softest part of the pig, the loin has a lot more flavor, partly owing to the slim ream of fat included in every katsu. Of the two, the loin is the more popular dish in Japan, though it has yet to gain traction here. The shrimp in the ebi fry was bigger than we thought it would be; not a tiny piece of shrimp made bigger by the breading around it. Of course, it tasted awesome. The whole thing made for quite a substantial meal. We couldn't finish all of it.

The rice is white and fluffy, beautifully moist, fragrant and flavorful in a way that only well-cooked rice can be. The miso soup is hot, brimming with tofu and seaweed.

The reason we dwell on how good all the eat-all-you-cans are is to drive home the point that Saboten prides itself on doing everything well. It's a given that many restaurants are popular because they serve good dishes. But it's not often that-especially in Manila, where every side dish and condiment has to be paid for, and where eat-all-you-cans are often half-heartedly prepared-to have eat-all-you-can dishes that are actually well-made. It speaks of Saboten's pride in all aspects of its work, something that tends to get lost in a lot of restaurants' understandable bid for profit.
ADVERTISEMENT - CONTINUE READING BELOW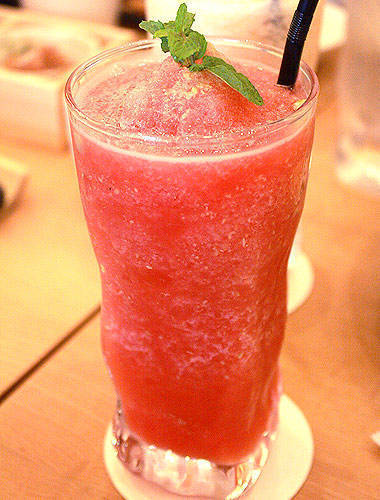 Watermelon and Wasabe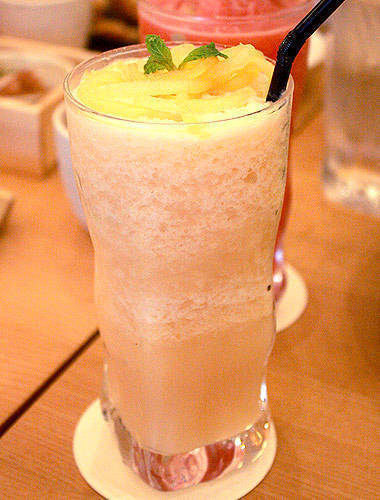 ADVERTISEMENT - CONTINUE READING BELOW
Fresh Melon and Yakult
The restaurant isn't just about the katsu, however. Saboten's menu has an interesting array of drinks and desserts. There are Japanese and local beers, wines, sake, and martinis, as well as iced teas and sodas. The smoothies are especially interesting, with flavors like Fresh Melon and Yakult and Watermelon and Wasabe (P115 each). The Watermelon and Wasabe is a current go-to, the watermelon's sweetness given an extra kick by the wasabe's spice. It's a weird combination that refreshes the senses and cleanses the palate.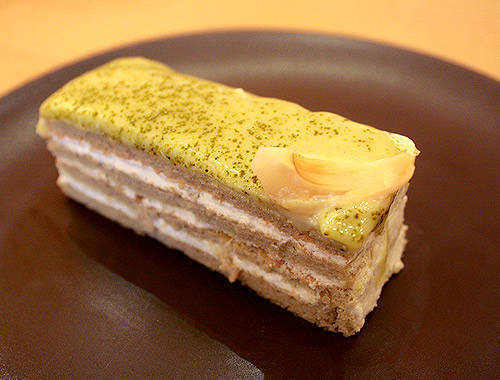 ADVERTISEMENT - CONTINUE READING BELOW
Matcha Lychee Almond Cake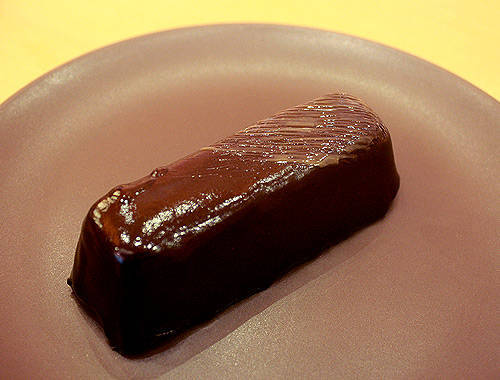 Chocolate Hazelnut Cream Cake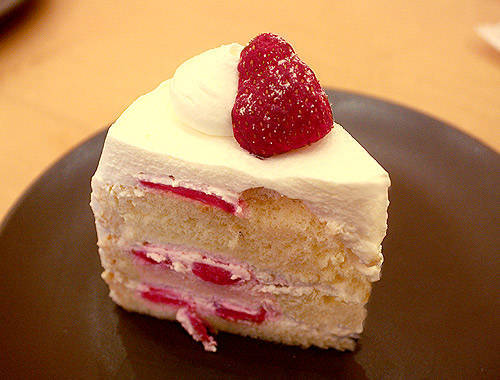 ADVERTISEMENT - CONTINUE READING BELOW
Strawberry Shortcake
To end the meal, we went with the Matcha Lychee Almond Cake (P210), a lovely little cake that isn't too sweet, where the flavors of green tea, lychee and almond meld subtly and seamlessly into a delicate dessert. Folks with a serious sweet tooth will enjoy the Chocolate Hazelnut Cream Cake (P195), which is densely flavored without being heavy. The classic Strawberry Shortcake (P195), meanwhile, never fails to please with its fresh flavor from strawberries and cream sandwiched between vanilla sponge cake.

It may be hard to get a table at Saboten, but provided you aren't ravenously hungry, or worse, hangry (angry and hungry), then dining in this little piece of Tokyo is worth the wait.
Share this story with your friends!
---
Help us make Spot.ph better!
Take the short survey
More Videos You Can Watch
Load More Stories