Top 10 Pancakes (2013 Edition)
With the sudden boom of "breakfast" places, can old top 10 hold on to their places?
(SPOT.ph) The perfect pancake is a fluffy, gently risen cake from a batter cooked on a well-seasoned skillet. Its texture can range from slightly crispy on the outside from that initial sear of the hot pan to a delicate, almost impossibly soft cake that welcomes melted butter and sweet sticky syrup into its sponge. So if it's a pancake you're craving, here is an updated review of some of our favorite pancakes:
Read our Top 10 Pancakes (2012).
All SPOT.ph Top 10 lists are researched, paid for, tested, and selected by the writers and editors. They are discreetly conducted without any notice made to the restaurants or their owners.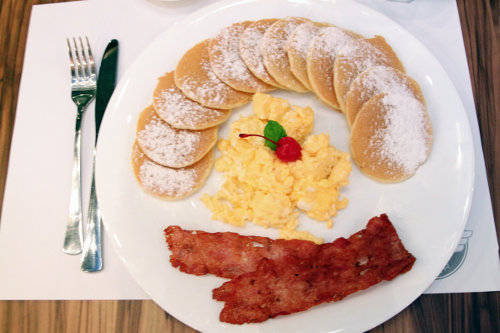 10. Grams Diner
What diner doesn't serve good pancakes? At Gram's, their small golden brown pancakes are a delight to eat. The Riddles from the Griddle's Silver Dollar Pancakes (P230) are dainty, light, and fluffy, and served with scrambled eggs and homemade bacon. The eggs are standard fare-but the bacon really seals the deal, with a flavor that is similar to that of crispy pork jerky that you can find in Chinese groceries, and a saltiness that, of course, complements the sweetness of the pancakes excellently.
ADVERTISEMENT - CONTINUE READING BELOW
Grams Diner is located on Sgt. Esguerra cor. Mother Ignacia, Quezon City; Molito Commerical Center, Alabang; Crossroad, 32nd St., Bonifacio Global City or visit www.gramsdiner.com for more info.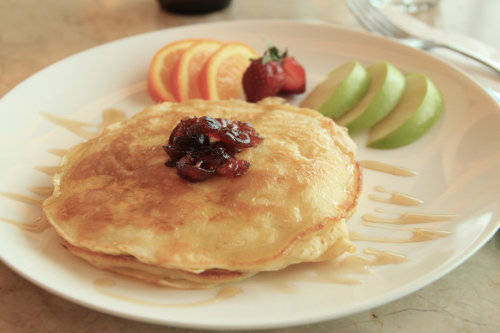 CONTINUE READING BELOW
Recommended Videos
9. Brida Bistro
The buttermilk pancakes (P159) come as a two-piece set. Fairly large in size, they are not perfectly round or even in color, but are nicely light and fluffy, served with a slathering of maple syrup and dried cranberries. The tart and sweet flavors of the cranberries are a perfect foil to the richness of the pancake. Also served with the pancakes are slices of fresh oranges, strawberries, and green apples-a refreshing and healthier alternative to the usual side dish of bacon or sausage.
Brida Bistro is located on R2 201 Level 2 Power Plant Mall, Rockwell Drive, Poblacion, Makati City. Tel. no. 823-3537. (Available only between 10 a.m. to 3 p.m.)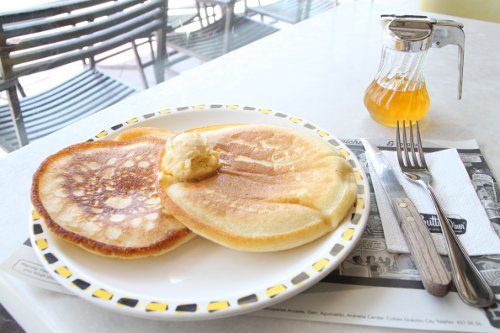 ADVERTISEMENT - CONTINUE READING BELOW
8. Butter Diner
Their classic pancakes remind us of the ones that mom used to make, but much better. They are not perfectly round and mostly light golden-brown in color, with some darker brown spots. Their slightly crispy exterior belie their soft and fluffy interior. There is a slight "egg-y" taste-but it isn't too obvious. The pancakes, which come in sets of two, cost P90.
Butter Diner is located on GF, Shopwise Arcade, Araneta Center, Cubao, Quezon City, open from 6 a.m. to 1 a.m., Saturdays until 2 a.m., or call 421-0030 for more info.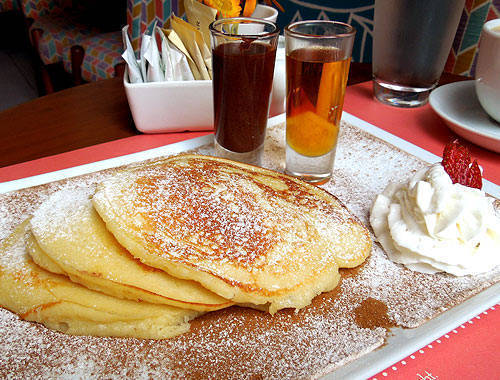 7. Early Bird Breakfast Club
These pancakes come in threes with a surprise between every layer! Early Bird Signature Pancakes (P325) are a stack of fluffy pancakes with a slight tang from the buttermilk that are neither too big nor too small. It's served on a large plate with two syrups on the side: a maple syrup and a dark tsokolate. But what makes this plate of flapjacks unique (and ultimately, more) delicious is the liberal dusting of cinnamon sugar over the entire plate, and the surprise filling between the pancake layers (strawberry and blueberry!). And if those extras are not enough, there's sweetened whipped butter topped with a fresh strawberry served on the side.
ADVERTISEMENT - CONTINUE READING BELOW
Early Bird Breakfast Club is located at Unit C, GF, Fort Pointe 2 Building, 26th Street, The Fort Complex, Bonifacio Global City, Taguig, open Sundays to Thursdays, 7 a.m. to 10 p.m., 24 hours on Fridays and Saturdays, or visit www.earlybirdbreakfastclub.com for more info.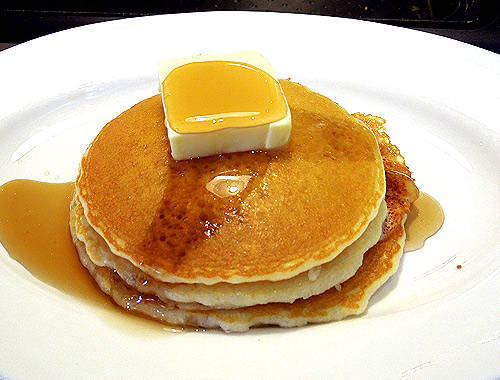 6. Slappy Cakes
Pancakes are our excuse for eating cake in the mornings, and at this joint, they make pancakes fun by letting you make it just the way you want it. Orders come in squeeze bottles and their basic buttermilk batter pancakes (P225 per 8-ounce bottle), once cooked, are thin yet soft and fluffy served with two syrups: a plain sugar syrup and a delicious mango-flavored syrup. There's a sizzling hot griddle at every table, so if buttermilk is just too plain, you can jazz up your DIY pancake experience, whether you want large or tiny (or shaped!) pancakes or some sweet and savory "fixins" and "toppings." Fun!
ADVERTISEMENT - CONTINUE READING BELOW
Slappy Cakes is located on Unit 1880-5, GF, Eastwood Mall Open Park, Quezon City, open daily at 7 a.m. until 10 p.m., or call 909-3501 or visit www.slappycakes.com.ph for more info.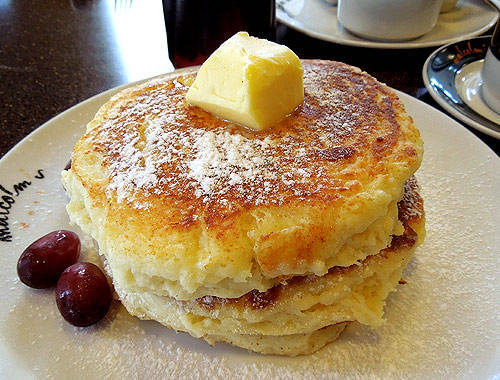 5. Malcolm's Deli
This deli serves some real good pancakes never mind that it's a place more known for its steaks and meats. Like their signature steaks, their buttermilk pancakes-also known as Malcolm's Stack (P280)-are thick and heavy, yet fluffy, with tiny globs of buttermilk lumps, and topped with a good-sized pat of real, salted butter (nothing whipped or light about this dish!) for those with big appetites. A sprinkle of powdered sugar and some seedless grapes are the only things that take the manliness out of this hefty breakfast plate.
Malcolm's Deli is located at GF, Fairways Tower Fort, 5th Avenue Corner Mckinley Avenue, Bonifacio Global City, Taguig, open for breakfast starting 7 a.m., or call 556-3188 for more info.
ADVERTISEMENT - CONTINUE READING BELOW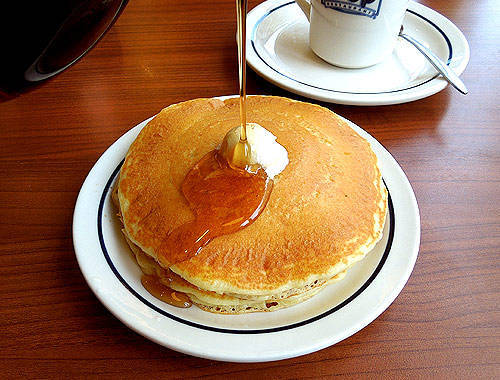 4. IHOP
Hype or not, this all-day breakfast chain (short for "International House Of Pancakes") does cook up some good pancakes. You can taste the wheat in each bite of their Original Buttermilk Pancakes (P195). It's soft, fluffy albeit a little bland, serving as the perfect sponge for any (or all!) of the trio of flavored syrups (old fashioned, butter pecan, and strawberry) placed on each table. And if you like your pancakes with something savory, their extensive menu offers breakfast combos that give you your choice of pancakes to pair with your savory craving. But should long lines cause you to veer away, IHOP is now open 24 hours Fridays to Saturdays and now accepts reservations so this pancake place just might be the place for you, whatever time you're craving.
IHOP is located on W Global Center, 30th Street corner 9th Street, Bonifacio Global City, Taguig. Open Sundays through Thursday 6 a.m. to 12 a.m., and 24 hours from Fridays to Saturdays. Or call 808-9589 for reservations from Mondays-Thursdays, 6a.m. to 6 p.m.
ADVERTISEMENT - CONTINUE READING BELOW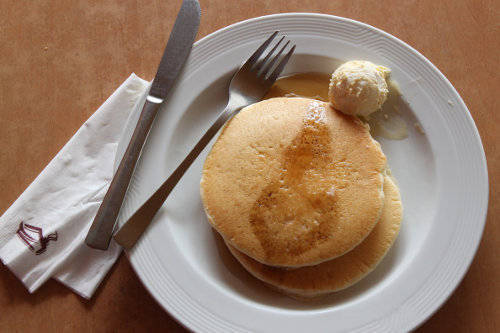 3. Pancake House
This all-day breakfast restaurant still delivers some of the best pancakes even after years of an almost undisputed monopoly. An order gives you two Classic Pancakes (P140) that are soft yet firm enough to withstand tablespoons of melted butter and golden syrup seeping into its depths without a forkful of it disintegrating into mush before reaching your mouth. Plus, they serve one of the best coffees to complement that short-yet-delicious stack AND deliver their pancakes to your doorstep as early as 5:30 AM.
Visit www.pancakehouse.biz for their list of branches around Metro Manila or call 588-2468 for delivery.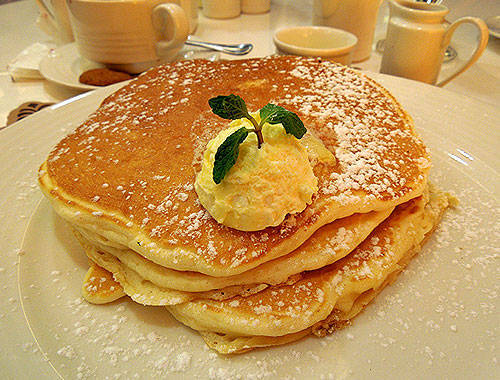 ADVERTISEMENT - CONTINUE READING BELOW
2. Maple
It's no wonder that this relative newcomer to the breakfast scene already has a following it serves some of the lightest, softest Buttermilk Pancakes (P275) to come out of a kitchen. An order is three of their incredibly fluffy, almost melt-in-your-mouth pancakes that's the size of your plate. But if you're feeling indulgent, don't settle for the regular, artificially flavored pancake syrup you can get anywhere. Order the real maple syrup (+P75), a golden liquid with almost no aroma (surprise!) that nonetheless delivers enough of the sweetness required.
Maple is located on the L/GL, Shangri-la Plaza Mall, East Wing, open during mall hours,, and 2F, San Antonio Plaza, 50 Mckinley Road, Forbes Park, Makati City, open daily from 6:30 a.m. to 11 p.m. or call 621-6211 or 621-6764 for more info.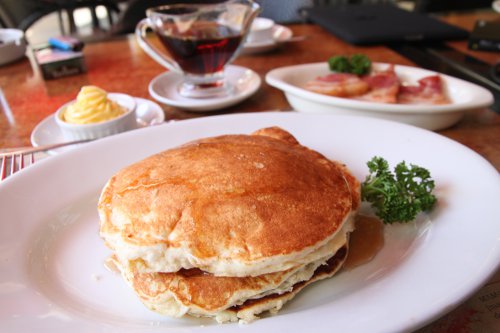 1. Mamou
The owner of this restaurant claims that the pancakes they serve here are the ones that they serve at home. Dubbed as Pol's Pancakes, they look charming with their golden brown color and perfectly round shape. They are thick, but soft and fluffy. At P395, they are not the cheapest pancakes in the market, but they do come with your choice of side dishes. We picked the bacon steaks, whose rich meaty and salty flavor worked well with the pancakes. They're only served on weekends, so they're the perfect weekend treat after a long week at work.
ADVERTISEMENT - CONTINUE READING BELOW
Mamou is located in Serendra, Bonifacio Global City, Taguig; Powerplant Mall, Rockwell Center, Makati. (Breakfast is available Saturdays from 11 a.m. to 3 p.m. and Sundays from 10 a.m. to 3 p.m.).
Share this story with your friends!
---
Help us make Spot.ph better!
Take the short survey
Load More Stories