Top 10 Tapsilog (2013 Edition)
We rank the 10 best of this Pinoy breakfast favorite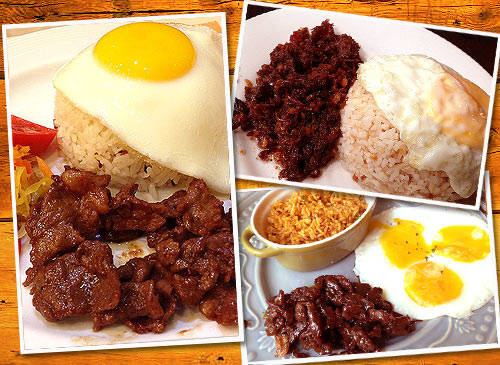 (SPOT.ph) A tapsilog meal which consists of tapa, sinangag or fried rice, and fried egg, is more than just a breakfast meal for most Pinoys-it serves as default comfort food or even as a post-drinking session plate. What separates a so-so plate from one you keep returning to over and over again? Whether it's the sundried version or the saucy kind, the best tapsilog plates will always have tender rather than tough and chewy meat, well-seasoned, marinated beef strips (or chunks!) that are neither too salty nor sweet, paired with fried rice and eggs.
ADVERTISEMENT - CONTINUE READING BELOW
CONTINUE READING BELOW
Recommended Videos
We taste-tested tapsilog plates anew and stuck to the classic recipe-you won't find  Angus beef variations and gourmet takes on the Pinoy meal on this list. Here, our tapsilog top list for 2013:
Read our Top 10 10 Tapsilog (2010 Edition) here.
All SPOT.ph Top 10 lists are researched, paid for, tested, and selected by the writers and editors. They are discreetly conducted without any notice made to the restaurants or their owners.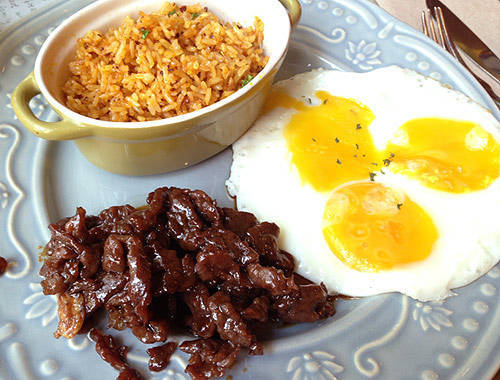 ADVERTISEMENT - CONTINUE READING BELOW
10. Café Mary Grace (P325)
We think this truly indulgent plate is a meal that's meant to satisfy: the tapa tips lean on the sweet side rather than have savory flavors and the salted egg and tomato relish and the atchara are just a wonderful plus. Oh, and did we say it's served with three fried eggs and rosemary fried rice? Yum.
Serendra, Bonifacio Global City, Taguig. Tel. No. 856-0858/431-9786.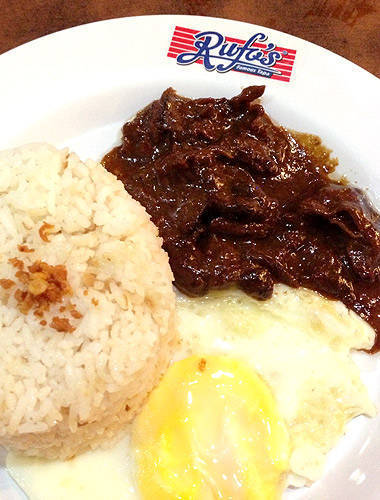 ADVERTISEMENT - CONTINUE READING BELOW
9. Rufo's (P108)
Nostalgia will always lead one to Rufo's: the spot has been known to pay host to those looking for post-drinking meals. Their famous tapsilog, a serving of tender beef tips swimming in too-sweet sauce paired with fried egg and a cup of rice, is a satisfying perk-me-up for the tapa-hungry, especially those who like their tapa plates with a more saccharine zest. The serving size may have become smaller in recent years but a plate still satisfies for under P150.
GDC Building, Shaw Boulevard corner Sheridan Street, Greenfield District, Mandaluyong City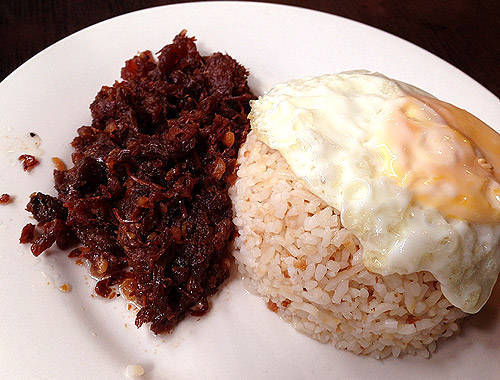 ADVERTISEMENT - CONTINUE READING BELOW
8. Tapsi ni Vivian at Bulaluhan (P80)
The famous eatery, which first opened in Marikina and has been in the business since 1984, serves affordable "silog" meals below P100 and their tapsilog is easily one of the most famous. It's dished out by the kitchen quickly and although you get a pre-cooked plate, it is surprisingly good: there's texture in the meat strips but tender to the bite, and the beef flavors peek out with every spoonful. Somehow, you just know that Vivian-whom all the diners assume crafted all the recipes in the eatery-was someone who loved home-cooked meals.
6 Lauan St., Barangay Duyan-Duyan, Project 3, Quezon City; Tel. No. 433-4267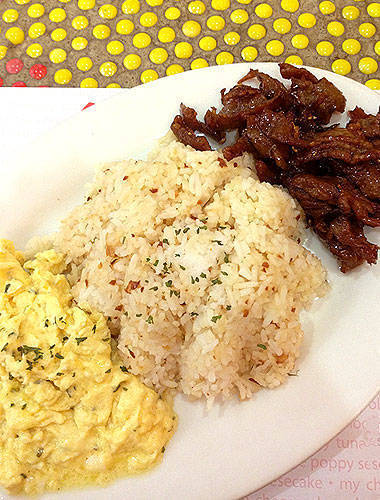 ADVERTISEMENT - CONTINUE READING BELOW
7. Banapple (P170)
Banapple's all-day breakfast menu will not leave you wanting when it comes to meal choices but their Garlic Beef Tapa with Creamed Parsley Eggs is an easy crowd-pleaser: garlicky and salty tapa tips fried in melted butter are plated with a whopping serving of sinangag. Creamy, parsley eggs replace the usual sunny-side up - we think it's a welcome twist to the famous Pinoy breakfast plate.
225 Katipunan Avenue, Blue ridge, Quezon City. Tel. No. 439-2675/ 438-2675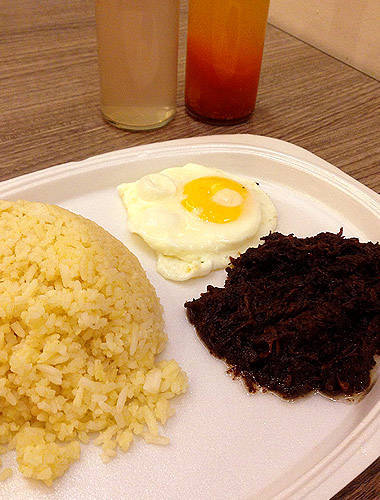 ADVERTISEMENT - CONTINUE READING BELOW
6. Sinangag Express (P70)
When Sinangag Express first opened in the South, it seemed that those who lived in the Paranaque area had their own little secret. Thankfully, more branches have opened in Makati and Mandaluyong, offering plates of what made the eatery famous among Southern dwellers. The finely-shredded tapa is generously and perfectly-seasoned: it was neither too salty nor sweet and while the beef tasted good on its own, Sinangag Express' spicy vinegar was an excellent match to the humble plate, too.
320 Aguirre Avenue, BF Homes, Paranaque. Tel. No. 825-8579; Worldwide Corporate Center, Shaw Boulevard, Mandaluyong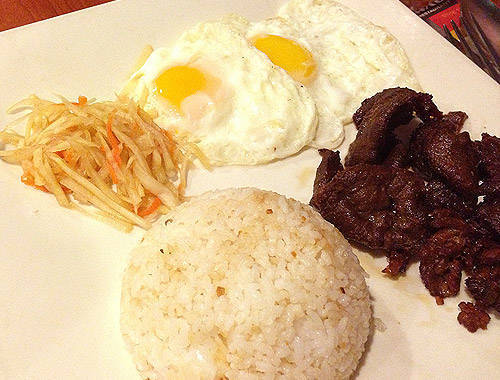 ADVERTISEMENT - CONTINUE READING BELOW
5. Max's (P160)
True, the Tapsilog at Max's won't probably the first menu item you'd think of ordering. But if you're a big tapa fan, we think this version is one you'd like to have more than once (it's available all day, too): the sundried yet tender beef tips are equal amounts salty and sweet and is served with the customary yet perfectly-fried eggs. Hold off on dipping the beef tips in vinegar, the tapa is that good.
21 Scout Tuazon, Quezon City; with branches all over Metro Manila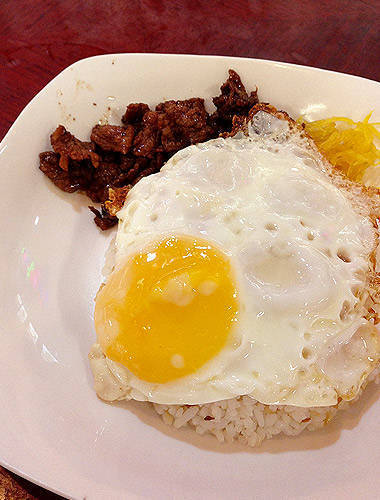 ADVERTISEMENT - CONTINUE READING BELOW
4. Tapa King (P95; add P10 for drinks)
We'd choose the Tapa Queen over the restaurant's house special any day-its sweet and spicy combo is truly king: we especially like how the beef pieces are chewy yet tender, flavored with a sheen of sweetness and whispers of spice from the chili marinade. The best thing about Tapa King variants? Their "Tapantastic" meals also come in snack-friendly bowls for P69.
Pioneer Street, Mandaluyong. Tel. No. 633-8272; with branches all over Metro Manila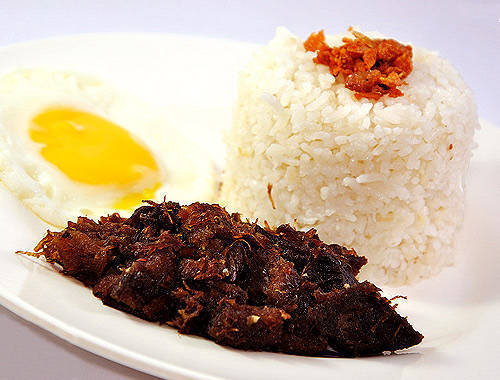 ADVERTISEMENT - CONTINUE READING BELOW
3. Maty's (P65)
The cheapest one on our top list surprisingly deserves to be part of Metro Manila's tapsilog royalty: Maty's no-nonsense version has the sweet-salty combo down pat and has "comfort food" written all over the simple plate. Whether as a breakfast meal or as post-party fuel, Maty's tapsilog is an easy choice for those looking for a satisfying meal.
0395 Quirino Avenue, Dongalo, Parañaque. Tel. No. 854-0889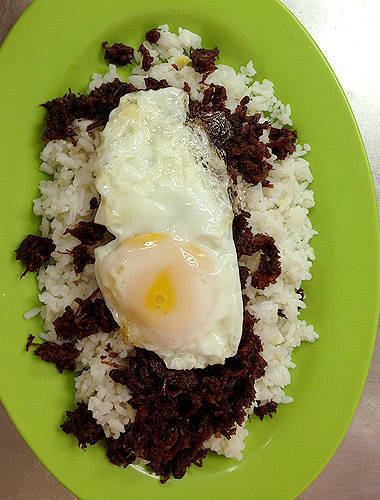 ADVERTISEMENT - CONTINUE READING BELOW
2. Rodic's (P75)
The humble meal which made UP Diliman a food-enthusiast destination consists of a plateful of rice, a fried egg on the side, and shredded beef tapa haphazardly sprinkled on top. The eatery dishes out perfectly salted and sundried tapa shreds and Rodic's fans usually mix the shredded beef and rice together for a hearty, below-P100 plate. Be warned: come in early for lunch or dinner or you'll be forced to wait for a table along with college students looking for a delicious tummy-filler. The tapa meal can be ordered for take-out, too.
Stall 9 UP Shopping Center, University of the Philippines, Diliman, Quezon City. Tel. No. 436-4389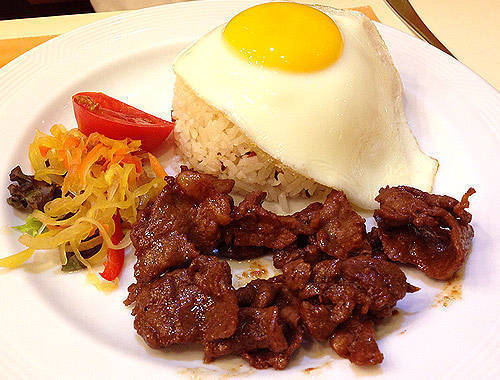 ADVERTISEMENT - CONTINUE READING BELOW
1. Pancake House (P240)
Sundried tender tapa strips that have well-balanced sweet and salty tones-this plate gets our nod for the best tapsilog in Metro Manila and with good reason: each tapa bite is flavorful without any need to dunk the beef in vinegar. Pancake House's kitchen has nailed the tricky balance of sweet and salty flavors and you get garlicky hints from the smattering of golden brown bits in the rice. The best part? Pancake House has perfected this meal and you almost always get the same consistent plate in most of their branches in the city.
Greenbelt 1, Makati City; with branches all over Metro Manila
Load More Stories