Top 10 Eggs Benedict
Which restaurant nailed this brunch staple?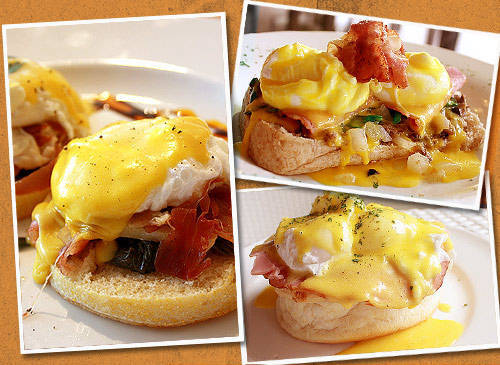 (SPOT.ph) The graceful artistry in a plate of Eggs Benedict begins and ends with the pair of poached eggs precariously tucked between warm hollandaise sauce, ham, and bread. At the lightest touch of a knife, pudgy yolks burst, running over the succulent meat, saucing the bread, and mingling with rich hollandaise. A second off in the pan and it would be too dry or too...raw; a heavy hand could easily smush the eggs before it could make its way out of the kitchen; a minute too long to eat and the yolks congeal into a gooey mess. As far as eggs go, the benedictine order is intricacy, technique, and spot-on flavors.
Superb balance plays out in the best of this dish: flavors of subtle smokiness from the ham, richness from the eggs, and tanginess from the hollandaise complement each other perfectly, belying the contrasting textures of crunch, cream, and crisp. More creative types would wedge in a green somewhere in the middle, but still only the more perfect ones can caress the right aspects of your palate.
The origins of Eggs Benedict are foggy, to say the least, with more than one person (including an eponymous pope!) claiming propriety. But whether it was developed as a hangover cure in 1894 or as a papal request in the 18th century, this brunch staple has become so iconic that it's been constantly reworked over time to use foie gras, spinach, salmon, or even grits. The classic ham-English-muffin combo, however, remains to be a favorite.
ADVERTISEMENT - CONTINUE READING BELOW
For purposes of ranking, SPOT.ph has stuck with the traditional architecture (particularly in the use of ham) of Eggs Benedict in its selection. The use of add-ons (greens such as spinach or lettuce or tomatoes) to that official structure were considered bonuses, depending on how well they jibed.
All SPOT.ph Top 10 lists are researched, paid for, tested, and selected by the writers and editors. They are discreetly conducted without any notice made to the restaurants or their owners. Hotel restaurants were not considered in the making of this list.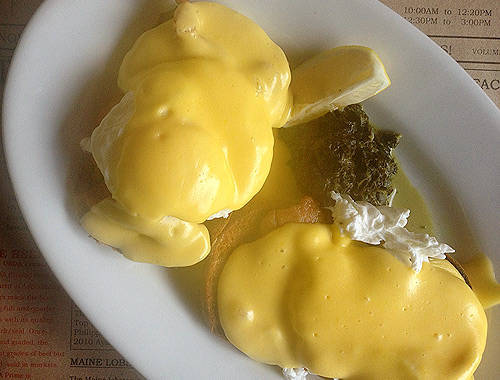 CONTINUE READING BELOW
Recommended Videos
10. Eggs Benedict (P395) at Mamou
The bread loses it for Mamou. A little burned, a little too wide for the miniscule egg that favors only one side. The fact that it comes in a pair doesn't help it either. But the hollandaise is a masterpiece: unabashedly generous and tangy, the kind that makes your tongue tingle for more.
ADVERTISEMENT - CONTINUE READING BELOW
Mamou has branches in Serendra, Taguig and Power Plant Mall, Rockwell, Makati.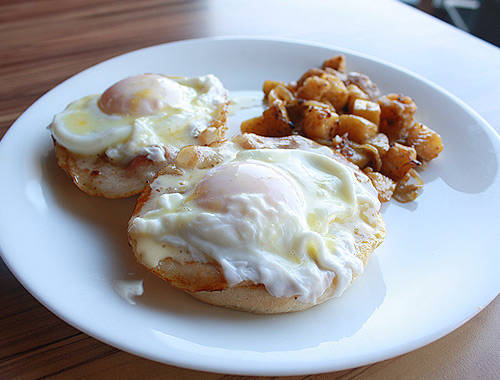 9. Eggs Benny (P290) at Gram's Diner
Instead of the three-decker edifice that photo-conscious chefs have come up with, Gram's Eggs Benny is thin and effortlessly presented with skinnier-than-usual English muffin halves, sliced ham, and rather deflated eggs. The ratio, however, serves its purpose well: the dish is easier on the palate and the slight carb is enough for the paper-thin, fat-laced ham. The eggs are perfectly runny and more than makes up for their thin attempts at hollandaise. Gram's also serves their Eggs Benedict with a side of yummy home fries, salty sauteed potato chunks with bits of sweet onion.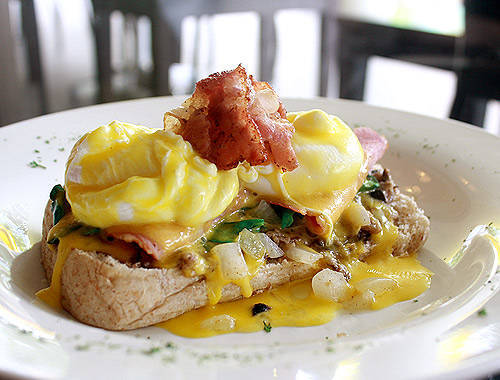 ADVERTISEMENT - CONTINUE READING BELOW
8. Hungry Man's Eggs Benedict (P390) at Slice
Slice teeters on being over the top. Apart from the requisite ham and hollandaise, they've added a layer of mushroom pâté, chopped onions, spinach, and bacon over a length of ciabatta, simulating some sort of open-faced, poached-egg omelet sandwich. The bacon pushes for saltiness, the mushrooms call for earthiness,  but the lightly cooked onions, however sparse they are, take over with their punchy, spicy sweetness and resounding crunch-a shame because the smokey ham on perfectly poached, runny eggs is one of the best on this list.
Slice has branches in Bonifacio High Street Central, Bonifacio High Street, Taguig and The Podium, Mandaluyong.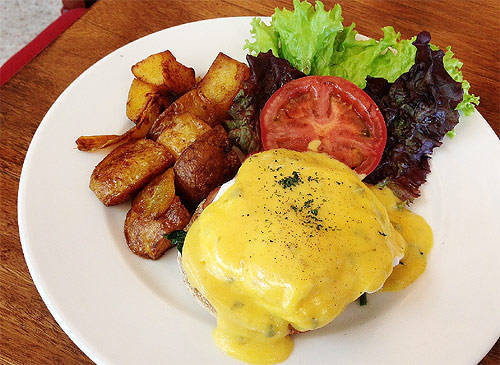 7. Apartment 1B's Eggs Benedict (P300/one piece, P460/two pieces)
Two out of the three times this writer has ordered Eggs Benedict at Apartment 1B, one from the pair of eggs was overcooked.
That said, we've tasted it at perfection and it's simply divine. The Canadian ham is thicker, juicier, with a more pronounced smokiness that wraps around the richness of (the one) runny yolk. Slicing through Apartment 1B's Eggs Benedict is like listening to an orchestra: there's a slight pop when you pierce through the bulging egg, a whoosh as air is released from the bread, a bit of grit from the mouthwatering ham. Capers add more brightness to already tangy hollandaise while fresh, sauteed spinach gives the entire ensemble a slight sauciness that really lifts up the velvety eggs.
ADVERTISEMENT - CONTINUE READING BELOW
Apartment 1B has branches in One Lafayette Square, Salcedo Village, Makati and One Rockwell, Makati.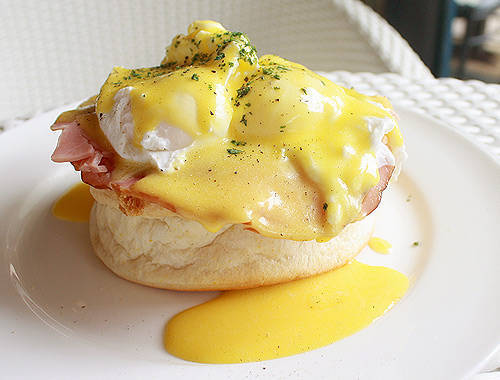 6. Bizu's Eggs Benedict (P335)
Bizu's is an awe-inspiring, jaw-dropping structure: a single tower held up by a large, plate-sized pandesal that disguises itself as an English muffin. The sheer thickness of the bread intimidates the rest of the components, but sink your knife through it and notice how it sinks, releasing excess air and shrinking into manageable proportions. The hollandaise is delectable tangy, working up the palate for the richness of gooey, beautifully poached egg (the second egg, unfortunately, was a tad over). The choice of deli ham, instead of the smokier, fuller-flavored thicker variety, is questionable. It's thin, with only a hair of saltiness-though Bizu seems to be aware of this fact as they layer four slices on as if to make up for it-that can't quite stand up against the delicious, parsley-laced hollandaise.
ADVERTISEMENT - CONTINUE READING BELOW
If we eat only with our eyes, this would definitely have ranked higher.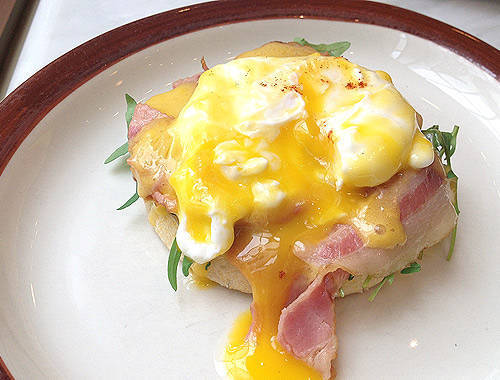 5. Country Ham and Gruyere Cheese Eggs Benedict (P475) at Chelsea
Considering the small scone-like structures on the dish which is bare of any sides save for a couple of orange wedges, P475 is a pretty penny to pay for brunch, but if that's the price of perfection, we'll take it.
Chelsea's rendition comes to the palate in stages: the savor of country ham assaults your senses from the first bite while the nutty bitter notes from arugula hit you in the next. Finally, and only after some thought (which hungry non-foodies would most likely ignore), the tanginess of hollandaise enters gently-almost like a whisper. When the flavors finally come together somewhere in the middle, however, it's a powerful explosion of a taste and texture.
Chelsea also receives plus points for impeccably cooked on the eggs-both chubby and bursting. The gruyere gets a little lost in the muddle which is a disappointment, but the arugula is enough to give it the push it needs to rank high.
ADVERTISEMENT - CONTINUE READING BELOW
Chelsea Market Cafe has branches in Serendra, Bonifacio High Street, Taguig and The Podium, Mandaluyong.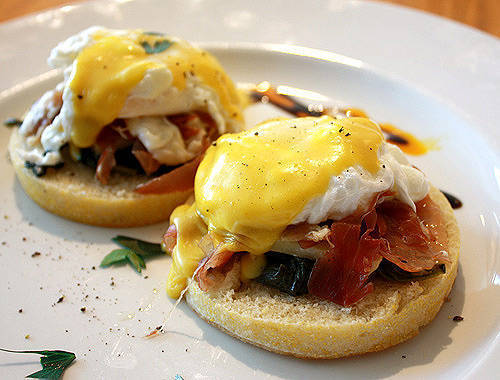 4. Eggs Benedict (P328) at Balboa
Marvin Agustin and company finally take their attention off fusion Japanese with an Italian-American affair at Shangri-La Plaza's new East Wing. Like its namesake boxer, Balboa's Eggs Benedict catches you from behind with proscuitto and cheese replacing the usual smoked ham. Prosciutto is thin, but Balboa piles a hefty amount on, adding a punchy brine that works with all the other layers. The choice of cheese is a nice touch as well: Gruyere is distinct but not overpowering, delivering a standout savor in the profile, especially with the salty sauteed spinach and zesty hollandaise. Yolks from perfectly-poached-breaks-at-the-touch eggs tone everything down and ties everything together.
The construction is carefully thought out, but service could be faster than 40 minutes. Until that's sorted out, we're giving Balboa rank No. 4.
ADVERTISEMENT - CONTINUE READING BELOW
Balboa is at Shangri-La Plaza, East Wing, Mandaluyong City.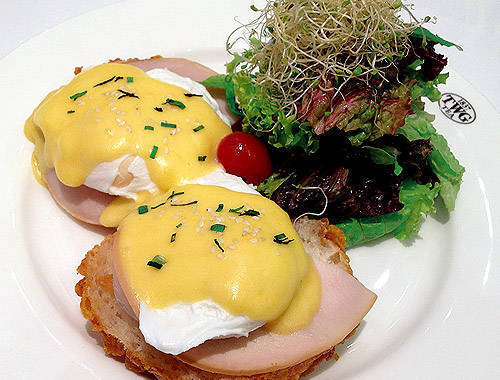 3. Eggs Benedict (P420) at TWG
This upscale tea haven does wonders with Earl Gray and oolong, but the magic is carried over to their dishes which, unfortunately, take a backseat despite the equal display of innovation. For instance, TWG paints a pretty picture with their Eggs Benedict: toasted, cornflake-encrusted homemade corn muffins sliced in half are daintily crowned with sesame-speckled, pale yellow hollandaise atop plush poached eggs and slices of light pink turkey ham. The bread component alone is a work of art. Unlike the denser and more compact English muffin which tends to muffle the juices, their spongy corn version absorbs and thus highlights flavor instead. Moreover, that extra crackle from the crust is beautiful music to any diner's ears. And, while turkey ham brings down the calorie and fat content, it doesn't scrimp on those smokey flavors we've come to look for in our Eggs Benedict.
ADVERTISEMENT - CONTINUE READING BELOW
TWG has branches in Greenbelt 5, Makati; Power Plant Mall, Makati; and Resorts World Manila, Pasay.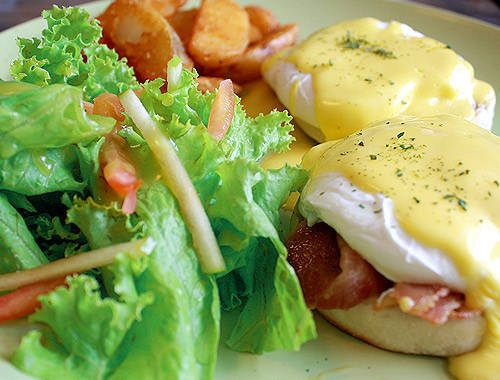 2. Benny's Classic (P225/single, P315/double) at The Clubhouse
First the architecture. We're not one to carp, but for a successful Eggs Benedict-such as the Benny's Classic-the layering has to be precise: the quivering yolks, perfectly poached, centered to evenly coat the delicious edifice underneath; the sizes accurate to ensure that each bite comes complete with all the components; the hollandaise, a perfect dome around the eggs; the muffin, enough crunch for the knife to slice through.
Next, the flavors. Like we said, there's nothing fancy to mask any sort of imperfection; here, we see a symphony of ingredients that effortlessly let their natural flavors sing. The tang of hollandaise tickles creamy egg yolk and offsets the brine of sauteed spinach; while ham, with a commensurate amount of fat to be juicy, wraps everything together 
with a mouthwatering smokiness.
ADVERTISEMENT - CONTINUE READING BELOW
The Clubhouse is at Robinsons Magnolia Town Center, Quezon City.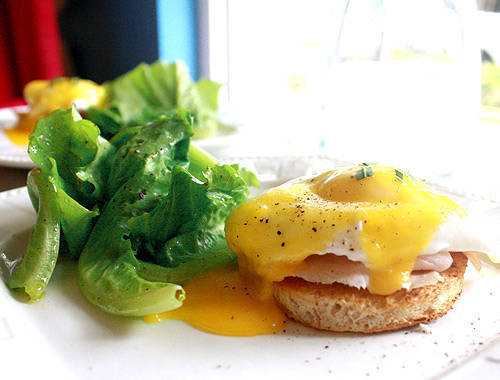 1. Classic with Homemade Ham (P360) at Cafe 1771
There's certainly nothing spectacular about this Classic. There's no foie gras peeking out underneath the folds of smoked ham; there's no secret spice embedded in the hollandaise; there are no gold leaves-not even normal spinach!-embellishing the muffin. It's as if someone in Cafe 1771 said, "Okay, I'm sticking to the plan. I'm going to do it step-by-step, but perfectly." What keeps this pretty plate on top is perfect execution, spot-on flavors-and when all that is nailed, there's really no room for gimmickry.
The two confections on the plate are dainty and topped with gorgeous, round eggs that are poached to a puffy, ready-to-burst perfection. The use of organic eggs hardly makes a difference in the flavor, but it makes us feel good, anyway. Underneath, the homemade ham is a thick clump, only mildly smoky, and gritty enough to keep things interesting in your palate. A thick blanket of hollandaise  ties everything together in creamy, tangy revelry. The base, a piece of toast cut to follow the shape of the egg, is an impressive soggy-proof construction that's thin enough to be sliced easily. The Classic with Homemade Ham is a delicate delicacy that warms up the palate rather than knocks it out cold, a perfect breakfast any time of the day.
ADVERTISEMENT - CONTINUE READING BELOW
Cafe 1771 is at El Pueblo, Ortigas Center, Pasig City.

SPECIAL MENTION:
The following interpretations did not make the list due to a technicality, that is, they did not use ham as their primary protein:
Brasserie Cicou's Eggs Hemingway
Lola Cafe's Tapa Benedicts
Torch's Truffle Eggs Benedict (which uses bacon)
Malcolm's Deli's Irish Eggs Benedict (which uses corned beef)
2nd's Benedict Burger
Share this story with your friends!
---
Help us make Spot.ph better!
Take the short survey
Load More Stories