Top 10 Sugar-free Desserts (2013 Edition)
We're celebrating Diabetes Awareness Week with a few choice desserts!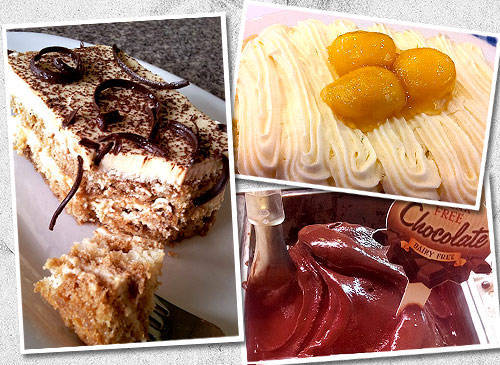 (SPOT.ph) In 2011, SPOT.ph set out to find the "10 best guilt-free, great-tasting treats" in town. We have definitely proven that sugar-free does not mean taste-free. Years later, the popularity of healthy food and healthy restaurants has increased, so we think that it's high time to update the list. Here are the most delicious treats that everyone-diabetics, weight watchers, and dessert lovers alike-can enjoy.
Read our Top 10 Sugar-free Desserts (2011 Edition).
All SPOT.ph Top 10 lists are researched, paid for, tested, and selected by the writers and editors. They are discreetly conducted without any notice made to the restaurants or their owners.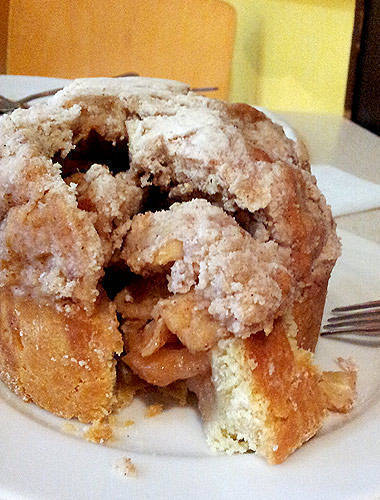 10. Apple Pie (P330) from Sugarhouse
Sugarhouse's Apple Pie can be described by three C's: chunky, cinnamony, and crusty.  This deceptively light four-inch dessert is packed from top to bottom with huge apple chunks that taste as fresh and juicy as if they're newly harvested. The fruits are slathered with a sweet, sticky cinnamon-infused filling with a scent so strong you can catch a whiff of it before you even start eating. Together, the apples and the cinnamon are enveloped in a thick, powdery dome of streusel-like crust. Eat it with a cup of your favorite hot drink, and you've got the perfect kind of comfort food for a rainy day.
ADVERTISEMENT - CONTINUE READING BELOW
Click here for a list of Sugarhouse branches.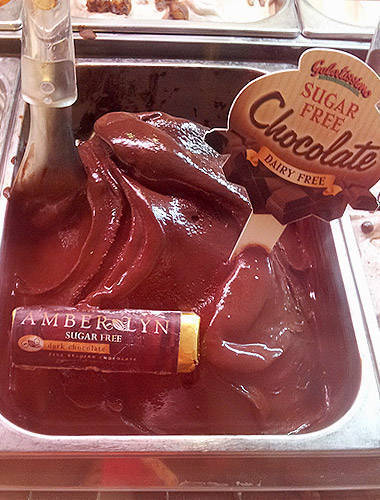 CONTINUE READING BELOW
Recommended Videos
9. Dark Chocolate Gelato (P110/small) from Gelatissimo
Don't be fooled by the block of sugar-free chocolate on display. This cool treat is definitely as sweet as its "with sugar" counterparts. With a rich flavor and a creamy texture that will remind you of homegrown drink Tsokolate eh, Gelatissimo's only sugar-free offering will make you forget the ingredient was never there. The gelato explodes with seemingly sinful chocolatey sweetness the minute the spoon hits your tongue, perfect for chocolate lovers of all ages. We say "seemingly sinful," because while this delicacy can satisfy even the most demanding sweet tooth, it is made of sugar-free Amberlyn chocolates, which are low in carbs and gluten-free. No guilt, just pure, unadulterated chocolate.
Click here for a list of Gelatissimo branches.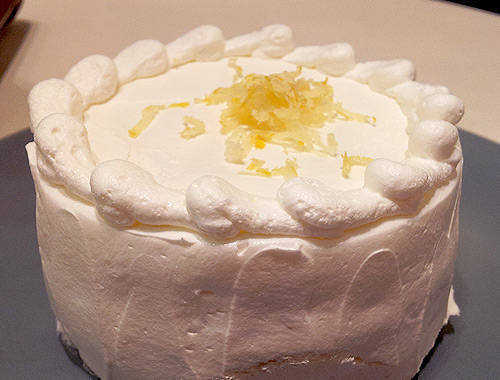 ADVERTISEMENT - CONTINUE READING BELOW
8. Lemon Torte (P265) from Classic Confections
Another dish making a comeback on our list is Classic Confections' delectably complex Lemon Torte. This frosted white delight is a mixture of zesty lemon curd, chewy meringue and chunky cashews that produce an interesting burst of flavors. Lemon provides a sharp and tangy taste, while the meringue is layered with pops of sweet and crunchy cashew goodness. A bite into this truly flavorful dessert is definitely a unique experience.
Click here for a list of Classic Confections branches.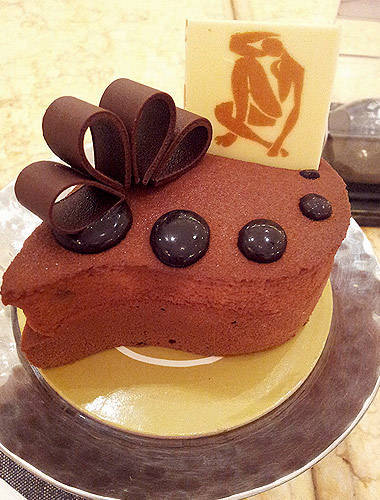 7. Naomi (P275/personal) from Bizu Patisserie
Upon taking a bite of Bizu's Sugarless Naomi, the first words that come to mind are those that can also be used to describe a ball of cotton-light, fluffy, and soft. Every swipe with the fork feels like you're slicing through the softest of edible clouds. Despite the rich dark chocolate mousse mixing in with layers of chocolate cake, this dessert doesn't feel sinful at all. Made with unsweetened milk, it has enough moisture without becoming too heavy. Cocoa liqueur is sprayed liberally into the mix for a delicious triple chocolate effect. With a natural and subtle flavor only dark chocolate could produce, Naomi is perfect for those who prefer a barely there sweetness in their desserts.
ADVERTISEMENT - CONTINUE READING BELOW
Click here for a list of Bizu branches.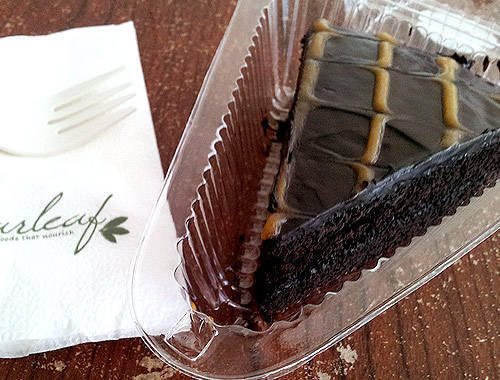 6. Choco Fudge Cake (P80) from Sugarleaf
Choco Fudge Cake is Sugarleaf Organic Market and Café's healthier take on the classic chocolate dessert. Made with Suchero natural sweetener other "guilt-free" ingredients, their cake has a simple sweetness that tastes just right-not too sweet, not too bland. The drizzle of caramel on top is deceptive; you'd expect an extremely cloying flavor to accompany the chocolate, but instead you find only a wispy, almost fleeting, sugar-like taste. In fact, this whole dish is so light that you can easily finish a slice (or two) in one sitting.
Sugarleaf is at the Health Cube Building, Wilson Street, San Juan.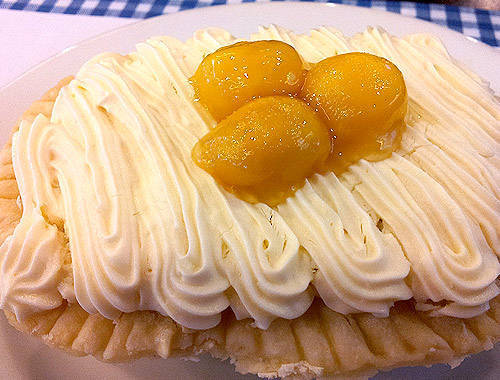 ADVERTISEMENT - CONTINUE READING BELOW
5. Mango Cream Pie (P160) from Mom and Tina's
Perhaps the most common pet peeve with pies (or any pastry with filling, for that matter) is that you usually have to get through a whole lot of crust before you get to taste the actual filling. This is not the case with Mom and Tina's sugarfree Mango Cream Pie. There is an immediate sweet-sour mango flavor upon first taste, even if you've only just hit crust. The mild tartness of the fresh Philippine mangoes is balanced by the sweet and frothy goodness of the cream filling, creating a great contrast of flavors. Encased in a soft but non-crumbly crust, this simple dessert makes for a delightfully light merienda.
Mom and Tina's has branches at Katipunan, Quezon City; E. Rodriguez, Pasig City; Perea Street, Makati; St. Esguerra, South Triangle, Quezon City.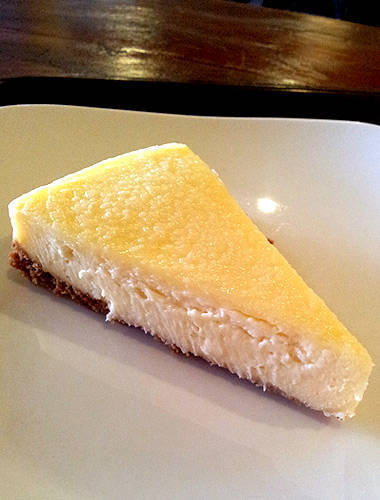 4. New York Cheesecake (P130) from Bo's Coffee
Looks can be deceiving. This tiny, unassuming slice of a popular cheesecake packs a punch of luscious flavors. The smooth and thick goodness of cream cheese blends perfectly with the thin, crumbly crust, creating a delicious contrast of both flavor and texture. This version of the NY Cheesecake is light but not bland; cheesy but not salty, with just a hint of sweetness lying within its layers. It's a great punctuation to any meal.
ADVERTISEMENT - CONTINUE READING BELOW
Branches around Manila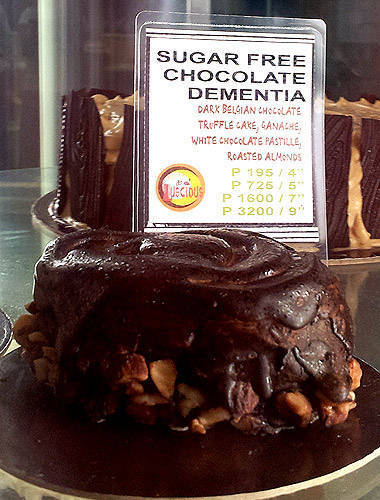 3. Chocolate Dementia (P195) from Kooky and Luscious
Kooky and Luscious' best-selling dessert is true to its notorious name. A dark chocolate truffle ice cream cake infused with luscious ganache and sweet white chocolate pastille while surrounded by roasted almonds on the side, Chocolate Dementia will truly drive you nuts with its rich, bittersweet, salty taste. Many of this restaurant's office-dwelling visitors have tasted and testified to the insanely mouth-watering flavor of this frozen treat.
Kooky and Luscious is at Ayala Avenue, Makati City.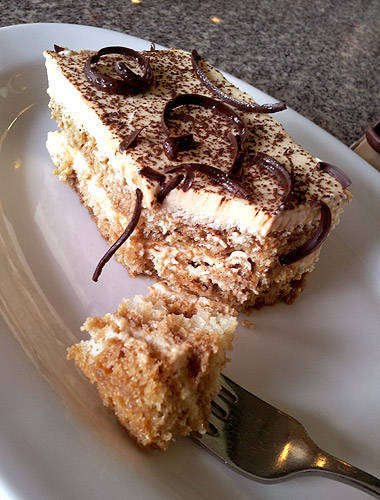 ADVERTISEMENT - CONTINUE READING BELOW
2. Tiramisu (P295) from UCC Vienna Café
UCC's tiramisu makes a comeback onto our list, and with good reason. This layered mocha chiffon cake with mascarpone cheese and coffee is a deliciously moist dessert that excites the taste buds and leaves everyone wanting for more. It's a combination of creamy and crumbly that makes a delightful contrast of textures in your mouth. Its flavorful layers are packed with an addictingly bittersweet mocha flavor. Sprinkled with coffee and chocolate shavings, this beautiful and tasty treat is a must-have for everyone who visits UCC.
Click here for a list of UCC branches.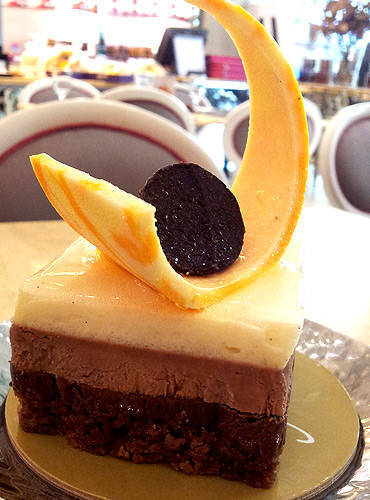 1. Jolie (P295/personal) from Bizu Patisserie
Bizu's Sugarless Jolie Cake has the all the makings of a perfect dessert. The sugarless and flourless chocolate mousse cake is doused with addicting Kahlua and infused with a special chiboust cream that create an undeniably delicious taste. Hidden within its layers are tiny hazelnuts that add an excitingly crunchy texture to this already enticing dish.  Delightfully sweet, suitably moist, and surprisingly nutty all at once, it's no surprise that after two years, this cake is still on top of our sugar-free list.
ADVERTISEMENT - CONTINUE READING BELOW
Click here for a list of Bizu branches.
Share this story with your friends!
---
Help us make Spot.ph better!
Take the short survey
Load More Stories