Top 10 Tsokolate (2013 Edition)
The best kind of bittersweet kiss is at the edge of these cups.
(SPOT.ph) A cup of tsokolate brings comfort like nothing else in the world. But my oh my, how the brew varies. Fortunately, it's nearly impossible to go wrong with chocolate. There are numbers that go along with the hot drinks on this list but there is no definitive way of ranking something that stirs different feelings for so many people.
Some prefer it thick and rich while others long for the smoother texture that milk brings. What is too intense for one can be just right for another and thus, the list features drinks that match different personalities: absurdly sweet to steady and mellow.
And while we're all avid fans of that familiar cup of hot chocolate, using tablea as base is the main requirement for the hot beverages on this list-aside from being delicious, of course.
All SPOT.ph Top 10 lists are researched, paid for, tested, and selected by the writers and editors. They are discreetly conducted without any notice made to the restaurants or their owners.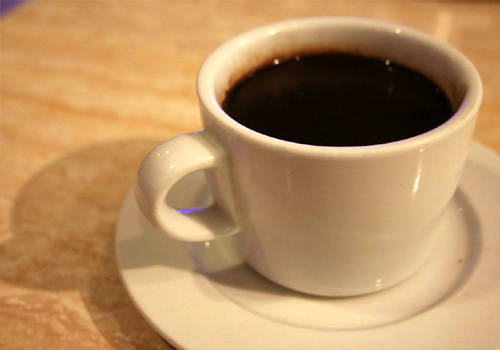 ADVERTISEMENT - CONTINUE READING BELOW
10. Spanish Style Chocolate at Café Via Mare (P85, plus service charge)
The indistinct white cup looks even more pale against the dark Spanish Style Chocolate from Via Mare. It's served with both sugar and milk, but have a sip first. Though it appears to have the consistency of chocolate syrup, it's thicker than it looks. The texture is smooth (afficionados might miss the grainy feel of tsokolate) and the sweetness needs a little moderation but there's no denying the taste of cacao. This is for those who want a light but toothsome cup.
Click here for a list of Café Via Mare locations.
CONTINUE READING BELOW
Recommended Videos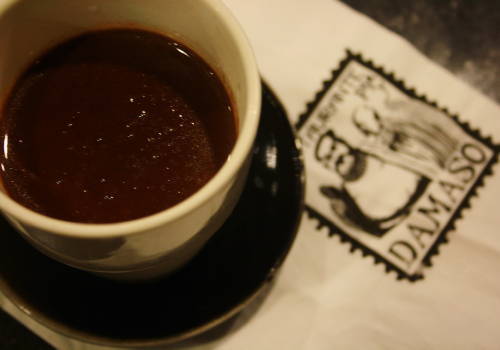 9. Tsokolate Eh with Malagos' Goat's Milk and Davao Tablea Cacao at Restaurante Pia y Damaso (P175, plus service charge)
The name is a mouthful and so is the drink. Pia y Damaso's version of this beverage is served in a cup that resembles a tiny pot and fits the description "rich" more than any other drink on this list. With a consistency that resembles cake batter, it may prove to be a bit too dense for featherweight enthusiasts. However, those who live for chocolate would probably gather a choir to sing praises for this thick mixture. A light dinner paired with this as dessert will prove to be a sweet experience.
ADVERTISEMENT - CONTINUE READING BELOW
You can also try the Belgian Chocolate (P125) or Belgian Chocolate with Coconut Milk (P150).
Restaurante Pia y Damaso is at Greenbelt 5, Ayala Center, Makati City.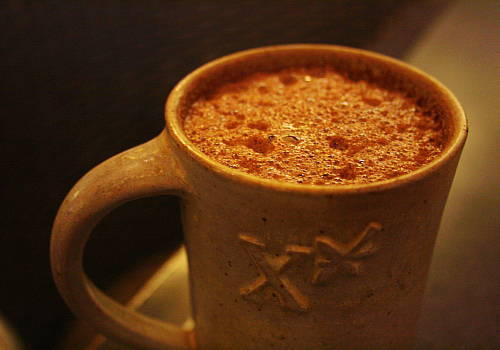 8. Tablea de Xocolat at Café Xocolat (P115)
Tablea de Xocolat is a shy drink, with the sweetness diluted into a powdery but fine texture. It doesn't assault you with richness, opting for a more subtle approach with the flavor. Do away with your thoughts of sugary instant chocolate in a styrofoam cup and let this serve as an introduction to the more muted, rather unsweetened taste of tsokolate.
Click here for a list of Café Xocolat store locations.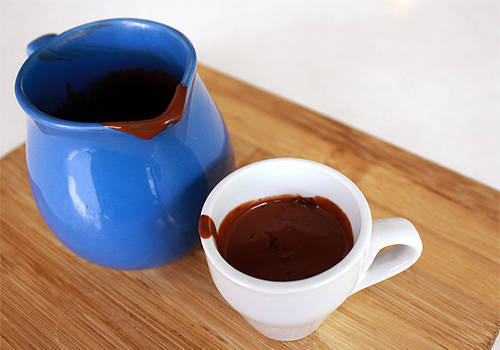 ADVERTISEMENT - CONTINUE READING BELOW
7. Belgian Dark Choco at Slice (P150, plus service charge)
In a word: sinful. We recommend that you ask for an extra cup when they serve you the pitcher filled with melted Belgian tablea since one cup is more than enough and you will want to share the goodness. It's heavy both in consistency and flavor so for anyone who finds joy in licking off the soft bits of a chocolate bar that clings to the wrapper, this is the drink for you. The molten sweetness will save you the trouble of making out with foil.
Slice is at Bonifacio High Street Central, West Superblock, Bonifacio Global City, Taguig.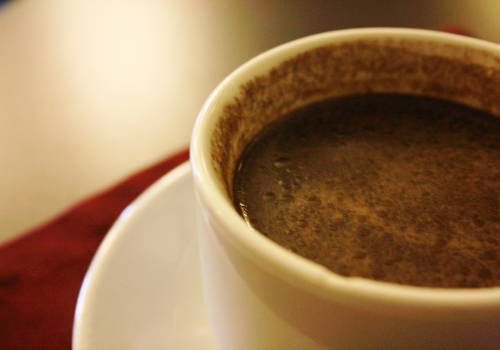 6. Tsokolate at The Chocolate Kiss Café (P75)
The sad thing about being simple is that you tend to get overlooked and we don't want to make that mistake with this Tsokolate from The Chocolate Kiss Café. It's exactly what you think tsokolate would taste like and with just enough body to qualify as thick. There's no froth over the beverage and instead, you see this cup filled with the perfect shade of brown. The grains are minute but you feel it on your tongue along with the mellow flavor of cacao.
ADVERTISEMENT - CONTINUE READING BELOW
The Chocolate Kiss Cafe is at Ang Bahay ng Alumni, Magsaysay Street, UP Diliman, Quezon City; 1/F Korben Place, 91 A. Roces Avenue corner Scout Tobias, Quezon City.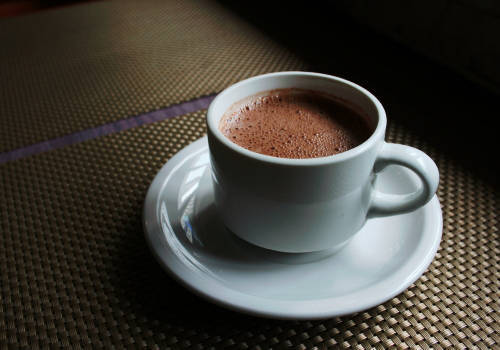 5. Hot Chocolate at Za's Cafe (P85)
Za's Cafe carefully treads the line between granular and just downright coarse. Those who prefer the added character of the tablea residue floating around will definitely enjoy this cup and for first timers, you'll find that the particles enhance the flavor. It's moderately sweet and a great pick-me-up for rainy days.
Za's Cafe is at Bocobo Street, Ermita, Manila.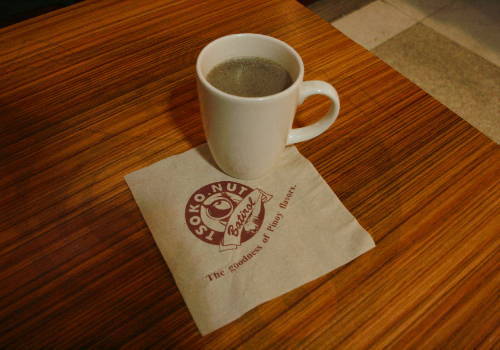 ADVERTISEMENT - CONTINUE READING BELOW
4. Tsokolate Ah Batirol at Tsoko.Nut Batirol (P175, plus service charge)
A lot of people equate chocolate with comfort and this uncomplicated drink runs away with that concept. Inside the casual mug is a very light brew that's a bit foamy-even malty-at first sip but as you work your way to the last drop, the bittersweet flavor becomes the perfect companion for a late-night read or something similar. It's not harshly grainy-just enough texture not to be flat and very faintly nutty. The flavor brings out feelings of studying for exams late at night, back when you weren't friends with that jolt from a cup of joe.
Tsoko.Nut Batirol is located at SM Makati, Ayala Avenue, Ayala Center, Makati City.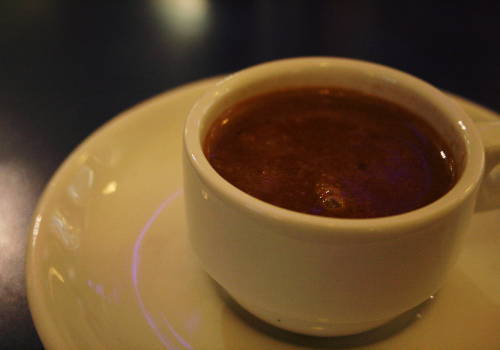 3. Hot Chocolate at Cucina Victoria (p95, plus service charge)
The serving is small but the flavor is not. As the waiter brings it over, the unmistakeable aroma of chocolate will waft over your table faintly. It doesn't attack you with its sweetness-the thinness of the drink allows for the taste of cacao to glide over your tongue gradually. Due to its size, it's best taken as a meal-ender rather than a cup to nurse.
ADVERTISEMENT - CONTINUE READING BELOW
Cucina Victoria is at Power Plant Mall, Rockwell Drive, Makati.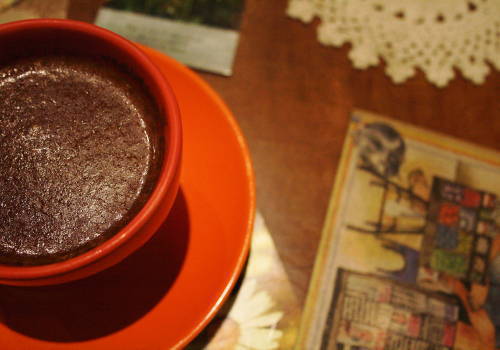 2. Traditional Chocolate at Café Mary Grace (P110, plus service charge)
Thick but smooth, Café Mary Grace's Traditional Chocolate is a sweet and calming brew. The vibrant color of the cup is charming but even without the extra point it earns for presentation, it's the undeniable presence of the bittersweet flavor of cacao that will win you over. You don't have to pair it with anything, it's a cup you can enjoy on a rainy day for warmth and the soft flavor of chocolate.
Click here for a list of Café Mary Grace store locations.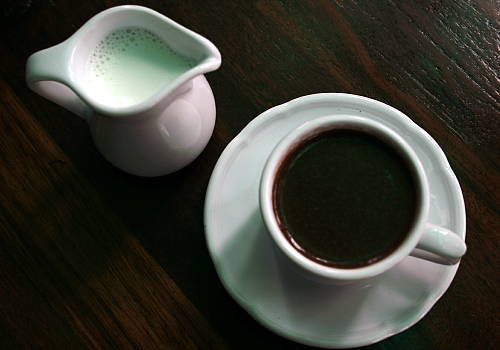 ADVERTISEMENT - CONTINUE READING BELOW
1. Chocolate Eh at  Cafe Adriatico (P75, plus service charge)
In this tidy white cup is everything that tsokolate should be: bittersweet with a grainy yet refined texture that will please the most avid of tsokolate drinkers, but it's mild enough for those averse to the richness of tablea. The flavor is mellow but not understated and the blend gets smoother with each sip. As you reach the halfway mark in your cup, pour the milk from the dainty pitcher and enjoy a creamier drink. It's a quite delightful way of getting more out of an alreadysulit cup.
Cafe Adriatico is at M. Adriatico Street, Remedios Circle, Malate, Manila.
Share this story with your friends!
---
Help us make Spot.ph better!
Take the short survey
Load More Stories